We all know how important word-of-mouth recommendations are when it comes to growing your customer base. It's why testimonials are so powerful for small businesses.
With the massive growth in the popularity of video marketing, and 51.9% of marketers agreeing it's the channel with the biggest return on investment, video testimonials have huge potential for driving your business forward. Indeed, it's been found that website users are a whopping 64% more likely to buy something online after they've watched a video.
We've talked about the power of video testimonials before, touching on how a video of a happy customer helps instil trust in viewers. Today we're going to give you some inspiration for how your video testimonials could look by checking out a few examples of businesses who've done a great job with theirs.
Sell My Home 
Online estate agent Sell My Home interviewed one of its customers and used the resulting video as a testimonial on their website homepage. Under a heading that gives visitors a reason to click the play button – "Find out why Penny loves us" – the video is embedded from YouTube.
The video is short and simple yet effective, with questions written out on screen to avoid the need for an interviewer to be present in the video. Subtitles are added for viewers who are hard of hearing or otherwise unable to play sound. The video has an upbeat but unintrusive soundtrack, and adds interest by interspersing the interview footage with a few property photos.
The video appears to have been filmed in the customer's own home, adding an authenticity that will help instil trust and show that Penny is a real customer. The questions are effective because they don't just require yes or no answers; they encourage her to talk about her experiences of using Sell My Home, which is a great way of showcasing what the company has to offer.
Importantly, Penny also addresses a key concern for potential customers: "although it was an internet-based thing, it was personal, because I knew I was talking to the same people at the other end of the phone." Statements like these feel much more believable when they come from a real person, rather than the company shouting its own virtues, and that's why this video works so well.
Tip: Putting the time into planning your questions carefully will help you get the most insightful comments from your customers.
Booker
Software company Booker makes great use of video testimonials on its Customers page. The full page-width image you can see here at the top features a play button that brings up a video when you click on it.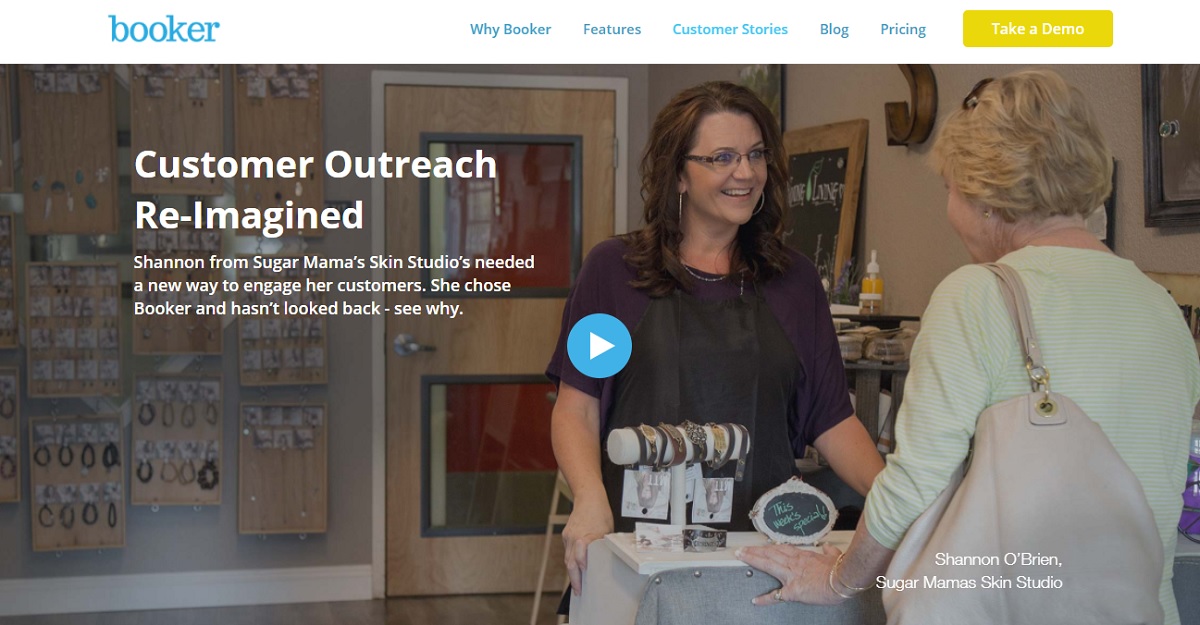 It features an interview with the founder of a company talking about her experiences of using the software. The great thing about this video is that it makes the customer look just as good as the software company itself, enhancing the professional tone. For added visual interest, the footage isn't just of the interviews; it also shows treatments being carried out, as well as people actually using the software on a tablet.
Beneath this sleek main video is a series of simpler video interviews with some of the company's other customers. These all appear to have been filmed at a conference or exhibition, and are a much quicker way of using happy customers to help persuade others to sign up.
Tip: You don't need professional camera equipment to film a great testimonial. These could easily be filmed on a smartphone, ideally resting on something to keep the camera still.
99designs 
Online graphic marketplace 99designs uses a video testimonial to capture attention on their homepage, where visitors can play the clip straight away, and also on their testimonials page above their written reviews.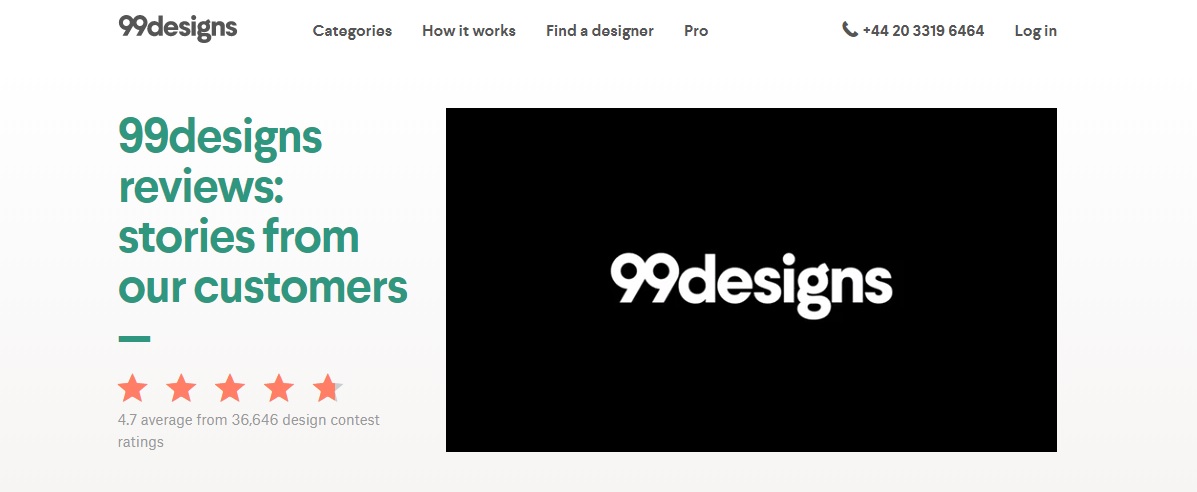 The video is just over a minute long and features the story of how one business found their perfect logo through 99designs.
Within the first 10 seconds it's clear to the viewer who the video is about and what their connection is to 99designs. The short, sharp statement is followed by a really nice introduction to the business owner and their products followed naturally by how 99designs has helped them.
The video also features lots of different imagery and clips of the city and products as well as an interview with the business owner, keeping viewers interested throughout the clip. The logo of 99designs also appears at both the beginning and end of the clip, a good way of gently reinforcing the brand. 
Tip: Focus on the customer's story and personality as well as the testimonial explaining why they love your business.
Codecademy
Codecademy teaches people how to code. Its 'Stories' page provides those thinking of signing up with inspiration in the form of written case study interviews or 'learner stories', along with a nicely edited 'Life Stories' video.
It's only 50 seconds long, but it does a great job of showing how learning coding skills with Codecademy can change your life for the better.
The video has a mix of shots, with Tommy himself talking about his experiences of Codecademy as well as views of the computer screen and some of the publicity he's received for his work. Towards the end, a call-to-action pops up encouraging viewers to: "Join Tommy and 24 million others around the world who are learning the skills they need to succeed in today's digital world."
Tip: End your video testimonial with a call-to-action, using peer persuasion to help convince viewers to buy from you or sign up for your service.
If these great videos have inspired you to create your own video testimonials, or you just want to get more from your testimonials generally, find out more about what makes a great testimonial and start using happy customers to grow your business.