It's easy to get overwhelmed when you're running a product-heavy business.
Between shipping, storage, audits, and recalls, there's a huge amount of data flying back and forth on a daily basis.
And if you're still running a wholesale, distribution, or manufacturing business on paper and spreadsheets, I've got some good news for you:
There's a better way.
Inventory management software has come a long way in the last few years – and it's now easier than ever to get a better grip on what's going where and when.
I've put together a list of the 6 best inventory tools for small businesses and freelancers. But first, we need to cover the basics: what inventory software can do, and how it can help your business.
Why do I need inventory software?
You probably feel comfortable using Excel (or worse – pen and paper).
But if you've been managing massive volumes of data on spreadsheets for years, you probably don't know what you're missing out on.
A fully equipped piece of inventory software (like some of the cloud options listed below) can help you by:
Connecting all the different areas of your business, and keeping the same data up to date across all of them
Giving you real-time reports on your stock levels and incoming goods – often with mobile access for each of your employees
Integrating directly with your accounting software – so you won't have to waste time with double-entry (or with correcting human errors)
Automating your manufacturing processes – including bills of materials, and assembly and component lists
And simplifying how you manage your suppliers and third-party logistics companies
So what does that mean for your business in real terms?
It means you'll be able to:
Save time – 55% of businesses say that inventory software saves them 5 hours a week or more (and 16% say that it saves them a whole day's work out of each week)
Minimise errors and rarely go out of stock – by automating your data entry and giving you real-time access to your stock levels
Save money – by comparing your different suppliers, and through reducing your labour costs (which for a warehouse, can often be as much as 70% of your budget)
Now that you've got an idea of how inventory software can help your business, we can start to look at the options you have.
Here are 6 of the best software packages for small businesses who need better control over their inventory:
1. Cin7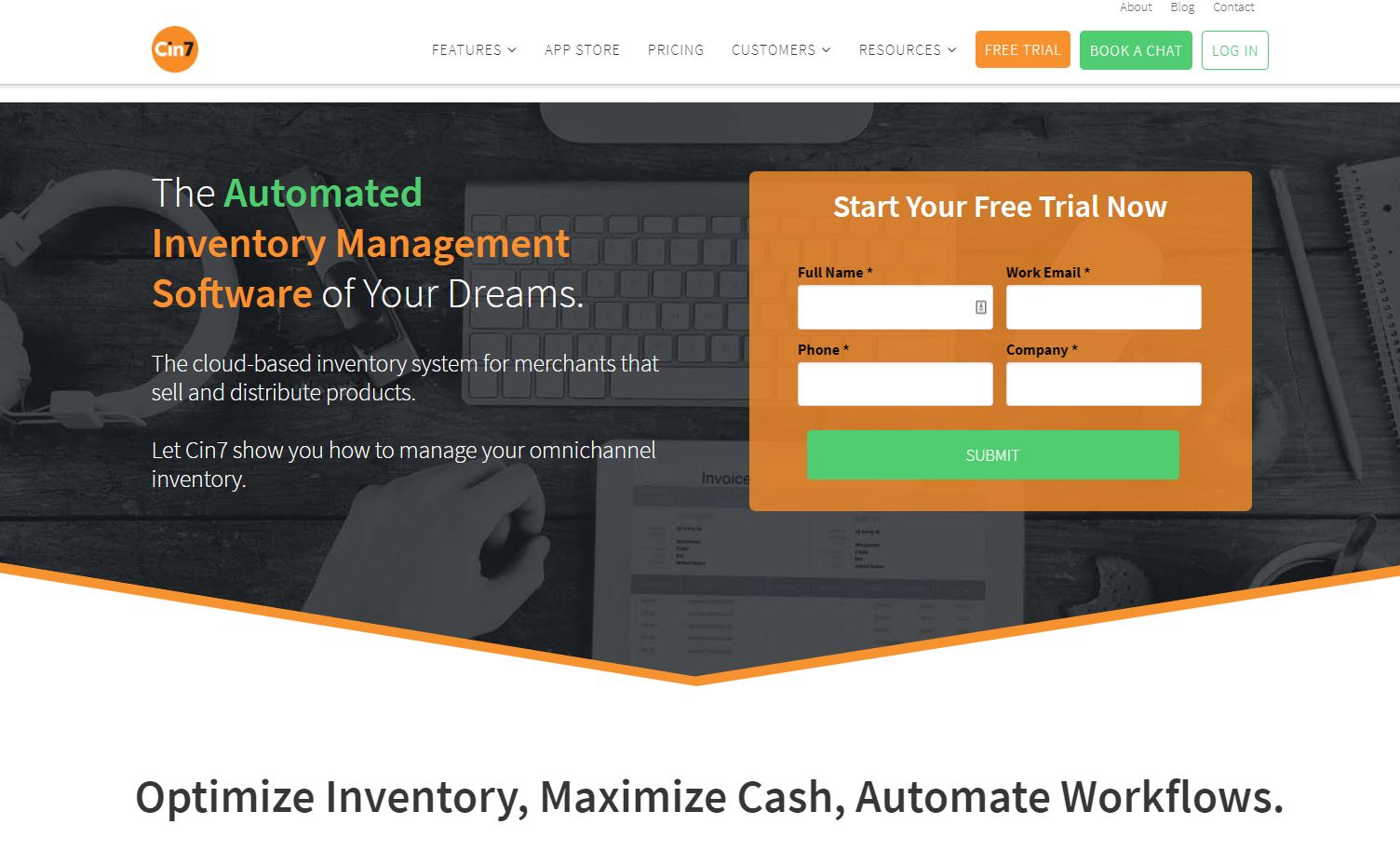 If you're looking for an exhaustive bundle of features that brings just about everything you need into one cloud package, Cin7 is a great place to start looking.
With an all-in-one inventory management suite like this one, you'll be able to:
Link your point-of-sale (POS) software directly to your stock system – so your sales teams can sell products directly from your warehouse, or from goods that are still in transit
Connect your software to all the hardware devices you need – things like barcode scanners, receipt printers, cash drawers, and mobile devices or tablets for doing stock-takes on the move
Create unlimited stores and warehouses (for both real and virtual locations), with options for storing products in multiple locations
Get detailed real-time reports and insights about your sales, stock levels, and costs – with custom KPIs (Key Performance Indicators), and automated reports to help you avoid manual entry
On top of all that, Cin7 also comes with options for integration with 3PL (third-party logistics) and EDI (Electronic Data Interchange – which is essential if you want to start selling to bigger retailers in the future).
Cin7 starts at £199 per month for basic users, with a free trial available on request.
2. Unleashed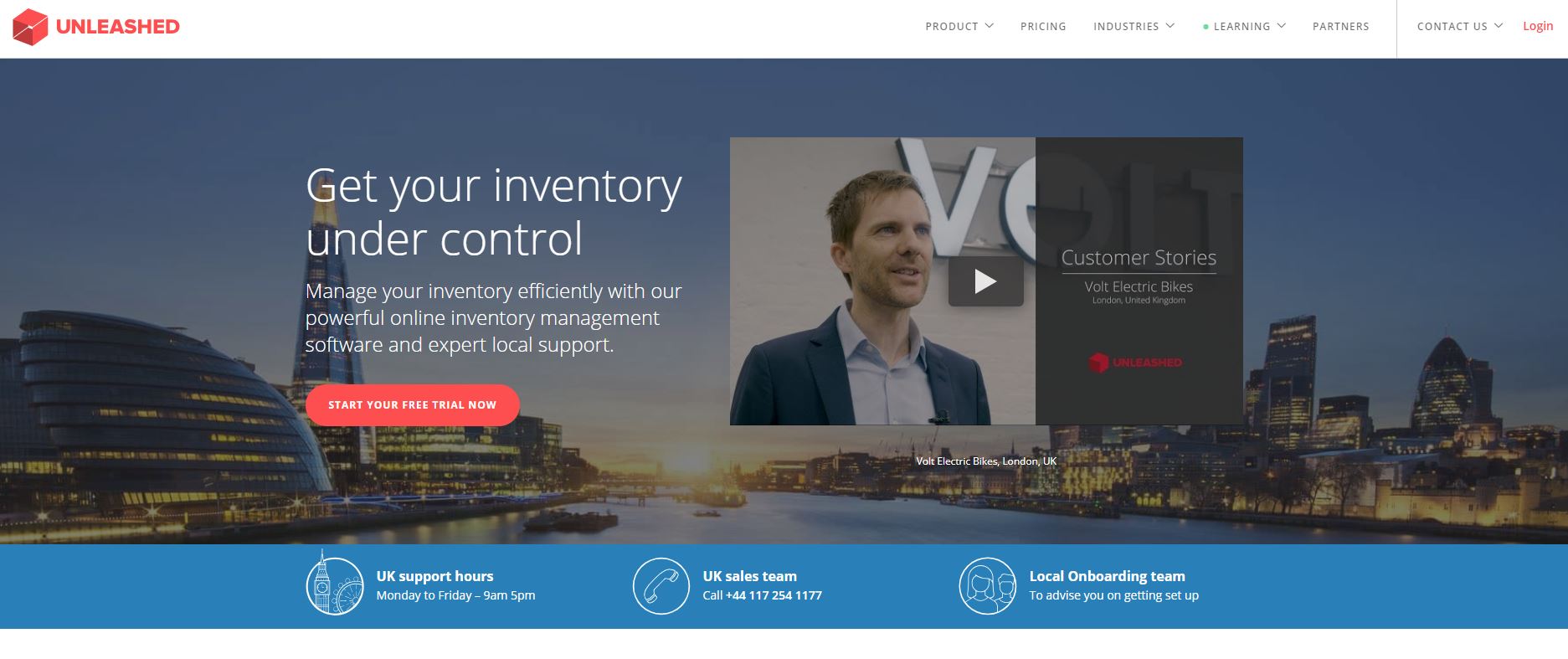 While Cin7 positions itself as an all-in-one package for any business that sells, Unleashed has a tighter focus: it's mostly aimed at manufacturers, distributors, and wholesalers.
So if you're a B2B business (and especially one that builds products) you're in luck. Unleashed comes with a wealth of crucial features, such as:
A dedicated B2B e-commerce portal – where your customers can manage repeat orders, check the availability of your stock, and keep track of the orders they've placed with you
Access to detailed bills of materials and recipes – so you can manage your stock levels for individual components, and automatically add their costs to your finished products
Batch and serial number tracking – so you can identify and trace both your raw materials and your finished products in case there are any problems.
Since Unleashed is focused almost entirely on B2B production and sales, you won't find the same built-in options for things like POS.
But it does have a huge marketplace of available add-on apps that it can integrate with. So if your manufacturing business also needs these customer-based options, it's easy to add on new functions as you go.
Unleashed starts at £66 per month (for one user), with a 14-day free trial if you want to test things out for yourself.
3. ABC Inventory

If you're a young business with a tight budget (or a freelancer working on your own), you might not be ready to commit to a paid service without first seeing what an inventory management package can do.
If that sounds like you, you ought to give ABC Inventory a try.
It's a completely free alternative to apps like Cin7 and Unleashed. And for a single user, you can manage:
Multiple companies, warehouses, and currencies
Automatic purchase orders and quotes
Serial numbers, pick-and-pack lists, barcode scanning, and RFID (Radio Frequency Identification)
And multi-level bills of materials
The free version gives you an unlimited number of records, and it can be installed on an unlimited number of workstations.
However, you won't be able to link different workstations so they share the same data – and you won't get any email or phone support for the software.
ABC Inventory is completely free – and it's a great way to dip your toes into inventory management software.
But while there is an option to upgrade to a paid service, you might feel more secure looking at one of the bigger and more established bits of software if you want to be completely future-proof.
4. DEAR Systems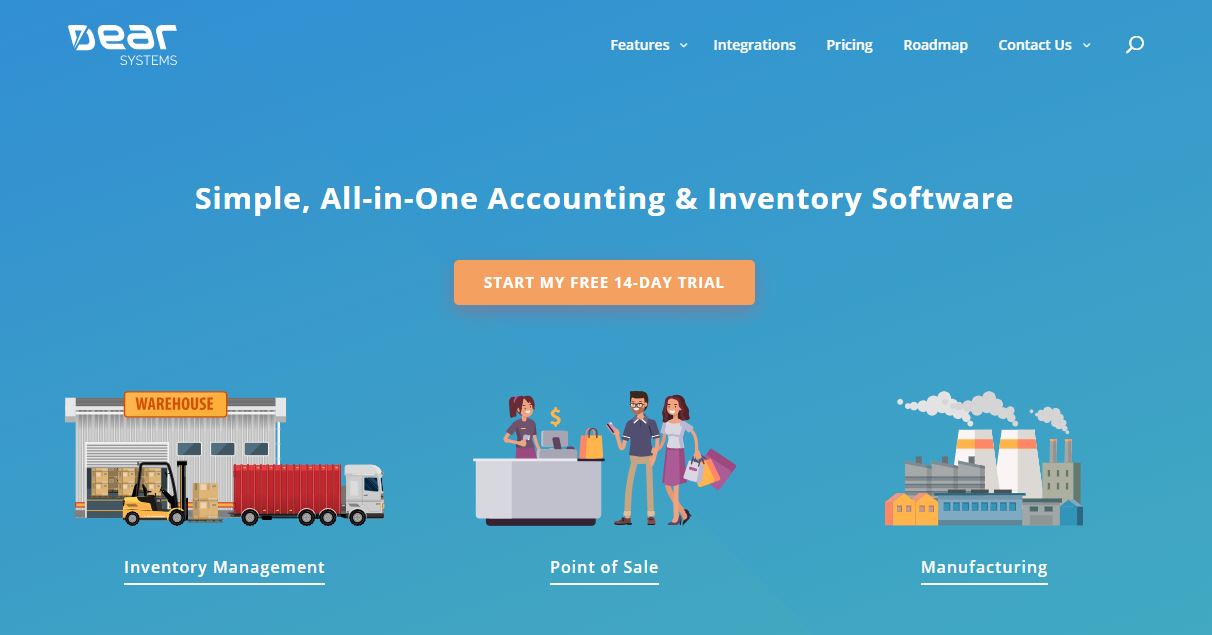 Just like Cin7, DEAR Systems is intended as a comprehensive package that covers inventory, warehousing, and e-commerce.
But it's got a particular focus on smaller businesses – its typical customers are companies with 50 people or less.
As well as the usual integrations with accounting software (like Xero) and sales channels (like Amazon or Shopify), DEAR also gives you:
Simple POS software that works with Android, PC, or Mac – both online and offline
Automatically generated product data – with product families, stock-keeping units (SKUs), as well as descriptions and photos
Powerful manufacturing modules – including bills of materials, job costing, material levels, and sub-assemblies
Automated helper features to improve your staff's efficiency – with things like guided walking paths through your warehouses, and automated alerts for stock levels, sales, and document authorisation
DEAR is a solid solution for any small business that needs a one-stop shop to unite its inventory, sales, and fulfilment – and it has plenty of advanced features for manufacturers.
But it's not ideal for businesses that produce complex made-to-order products – or for service-based businesses that don't have any real inventory requirements.
For a basic package that covers 5 users and 2 external integrations, DEAR starts at around £160 a month – with additional costs for its B2B Portal or POS system.
5. TradeGecko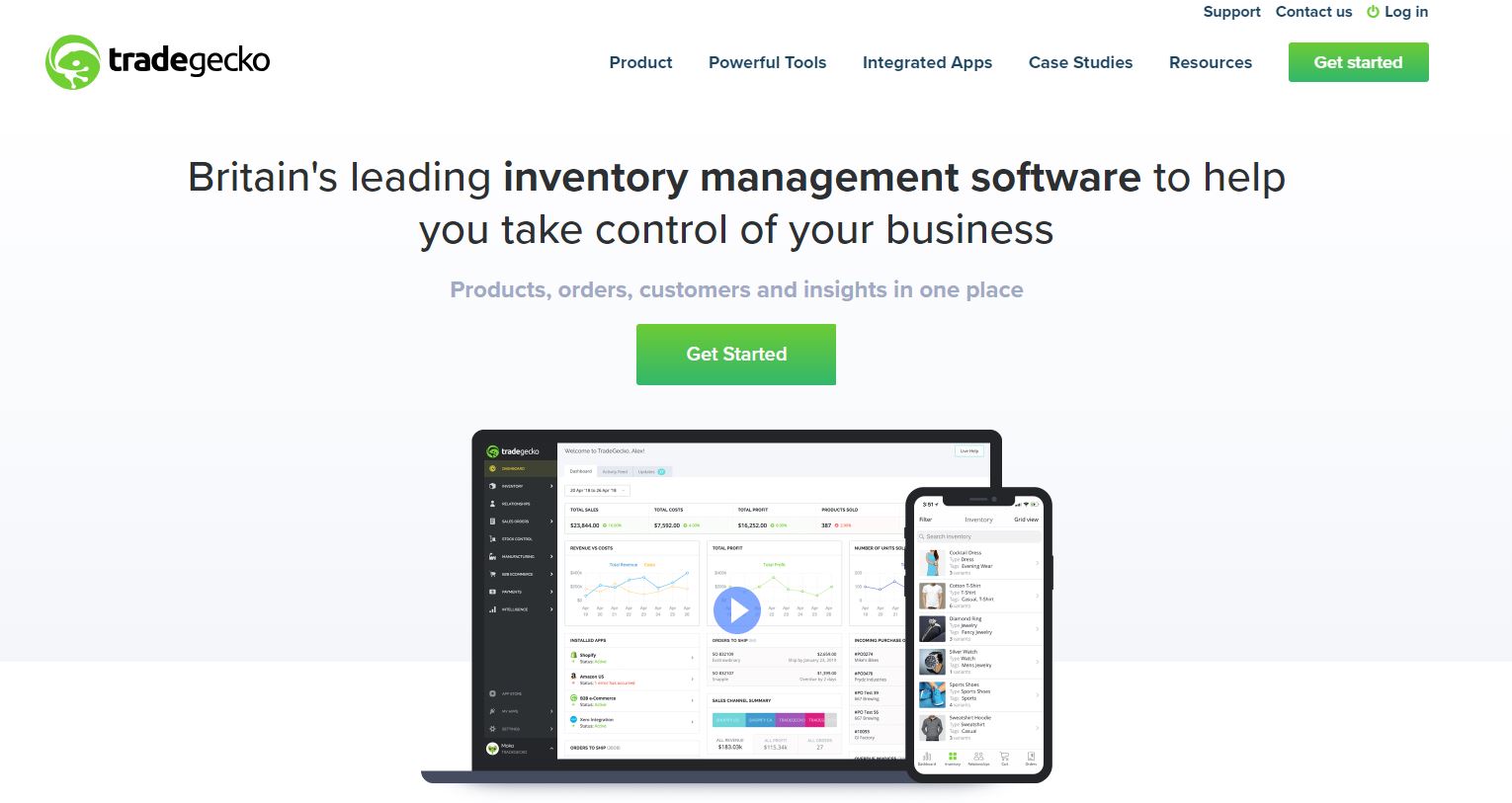 If you're running a business with no manufacturing and no physical retail aspect, then TradeGecko can give you a streamlined service that's focused on exactly what you need.
Instead of spreading itself across things like POS systems or bills of materials, it's dedicated to multi-channel online brands – especially wholesalers and distributors.
In particular, TradeGecko can help you with:
Setting up a customisable B2B e-commerce store
Linking together multiple sales channels (like Amazon, Shopify, and WooCommerce) into one master inventory list
Inventory optimisation functions – such as automated demand forecasting, and automated metrics for things like reorder points and stock cover
Batch and expiry tracking – to make traceability and product recall simple.
TradeGecko's first paid tier starts at around £80 per month for 2 users and up to 150 sales orders a month – with a free trial that comes with unlimited access to all of its features.
6. Zoho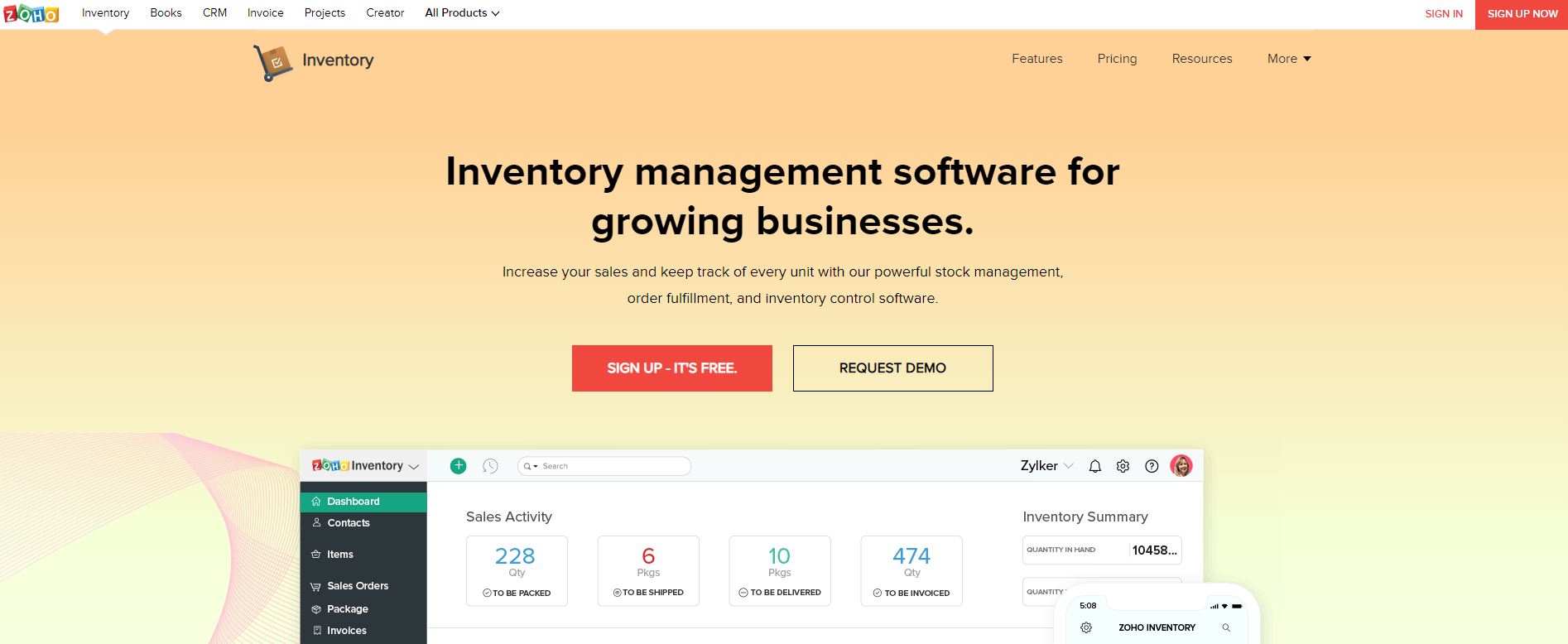 Just like ABC Inventory, Zoho offers a completely free inventory management software package.
But where it differs from ABC Inventory is that Zoho's inventory module is just one part of an entire business management suite.
So if you hate having multiple apps to worry about (or you're new to digital business tools and you want to get a taste of everything in one place), Zoho is a great place to start.
With Zoho's inventory module, you'll get:
Easy integration with multiple sales channels, including eBay, Etsy and Shopify
Invoicing, billing, and purchase orders – with support for multiple currencies
Detailed warehouse management options – and real-time shipping and transit details with multiple shipping integrations.
Zoho's inventory management package starts with a completely free first tier – but you will be limited by the number of warehouses, users, and monthly orders and shipments.
But what makes Zoho so attractive (especially for tiny businesses or those with budget constraints) is that you can also get access to several other Zoho modules for free at the same time.
Currently, Zoho has free pricing tiers available for things like:
Invoicing
Expenses
Taking online payments
Workflow automation
So, if you're looking for one single place to get to grips with all the basics of taking your business online (including inventory), then Zoho can give you a huge range of options without you having to spend a penny.
Keeping on top of your inventory, warehousing, and shipping is just one part of running a business smoothly. If you'd like to learn more about how to use digital tools to improve your business, you can read more helpful articles across E-Commerce and Retail.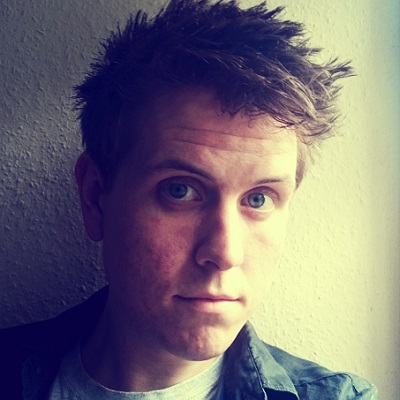 Ed Palmer is a freelance copywriter at Keep This Copy. He's spent more than five years helping businesses look good and sell more stuff – writing for and about almost every business and industry there is.
Read full profile