Social proof can be a powerful tactic for online marketers, and one which can help to persuade more customers to convert.
Consumer reviews are the most obvious form of social proof, but it takes several forms in online retail. In this article, I'll look at what social proof is, how it's been used by marketers in the past, and the various ways in which marketers can use social proof to inform and persuade customers.
Let's start with a definition, taken from Wikipedia:
"Social proof (also known as informational social influence) is a psychological and social phenomenon where people assume the actions of others in an attempt to reflect correct behaviour in a given situation."
Social proof is also one of Dr Robert Cialdini's six principles of influence, methods which can be used to persuade people to take certain actions. In essence, social proof tells people that other people have taken the same steps, bought the same product, which tells them that they should have no concerns about following suit.
Social proof, in a marketing context, is nothing new. An early example involves Edward Bernays, known as the father of public relations. In the 1920s, tobacco firms were looking to expand their market by selling cigarettes to women, but they were faced with a challenge – smoking was not considered to be socially acceptable for women and most were reluctant to take up the habit.
Bernays was able to overcome this with a PR stunt which helped to rebrand cigarettes as 'Torches of Freedom', and associate them with women's equality. With the press warned in advance, women paid by Bernays walked in the New York Easter Sunday parade smoking cigarettes. The resulting press attention helped remove the stigma for women and increased rates of smoking amongst women. This wasn't a great result from a health perspective of course, but it's an example of the power of social proof.
In online retail, social proof can influence a shopper's product choices, reassure people that their decision to make a purchase is the right one, and even persuade them to act more quickly. Before we show some uses of social proof, I think it's important to stress that the various forms of social proof need to be used more honestly than by Edward Bernays in the example above.
Used well, it should help the customer to make an informed decision, not to push them into it through a false sense of urgency. It's also important not to overdo it. If every item a customer views is close to sold out, or being viewed by 10 other visitors at that moment, then shoppers will no longer trust the information.
With that in mind, here are some of the ways online retailers can use social proof:
User reviews
User reviews are powerful. Indeed, a survey from BrightLocal found that 85% of consumers trust online reviews as much as personal recommendations. They are now a key part of the research process for customers and can be enough to persuade or deter people from making a purchase.
They tell the customer that other people have bought the same product or service, and have found it useful and enjoyed it. Or, perhaps that the product was unreliable or somehow unsatisfactory. Reviews can be used in various ways and various places. Product pages are perhaps the most common place to use reviews, which makes sense as this is likely to be the place where most customers are making a decision to buy.
It's important to think about the presentation of reviews, to make them as useful as possible for customers, and to help them make an informed purchase decision. Many customers may just look for two pieces of information, the average review score and the number of reviews.
The combination of average score and number of reviews gives a quick indication of customer feeling about a product. If the score comes from a reasonable number of reviews, then it is likely to reflect customers' sentiments, and therefore can be trusted.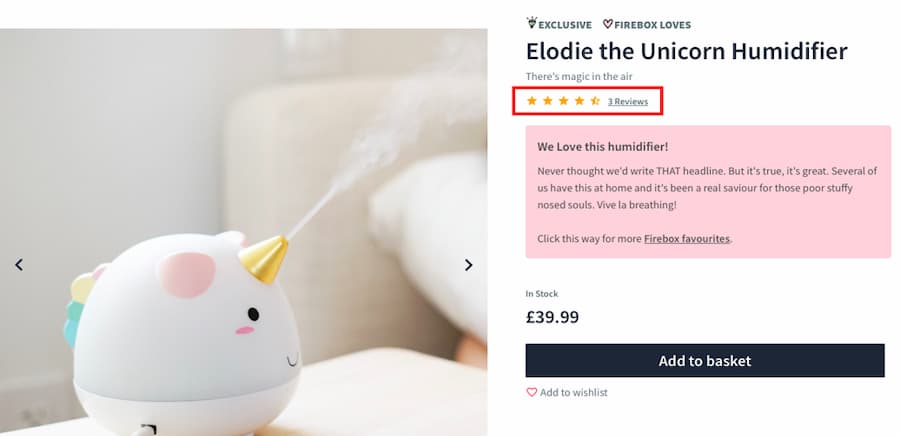 Some customers will want more detail, so it's a good idea to place full reviews further down the page, linked from the average review score.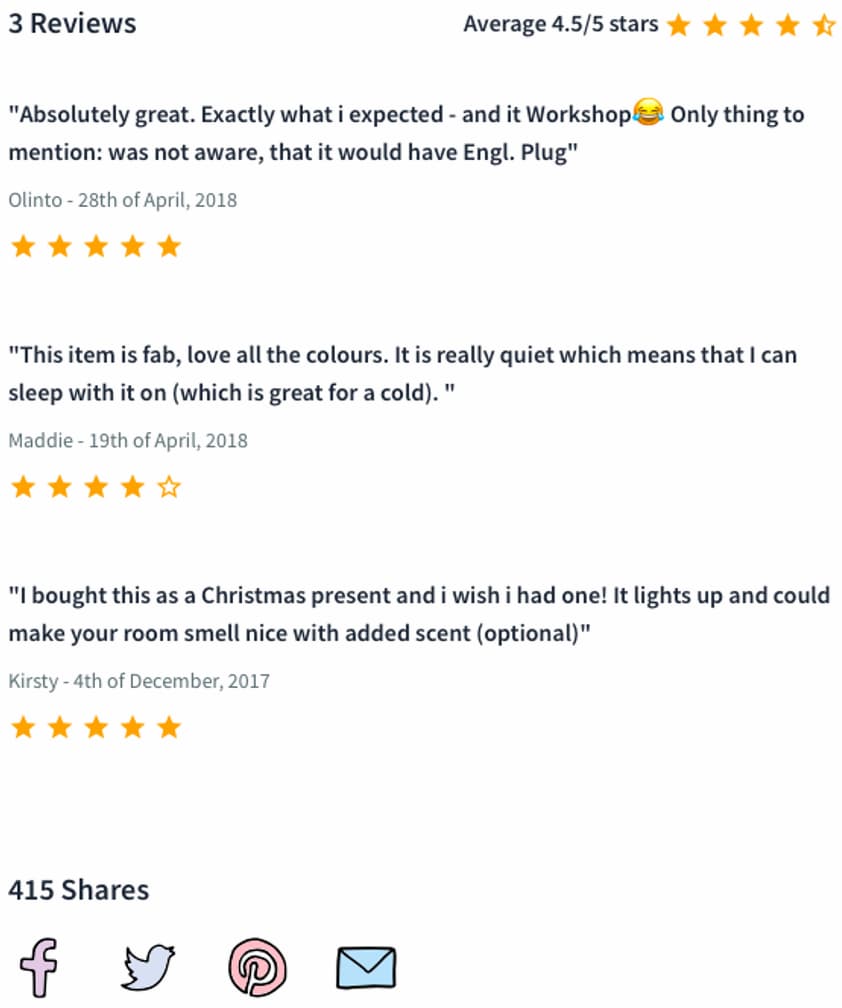 It's also good to help people to dig into the detail, especially when the product is more complex than a unicorn humidifier. Many products aren't necessarily good or bad, at least not in a way that can be identified through consumer reviews.
Instead, they can be right for some people, but not others, and the presentation of review information can help people make a more informed decision in this respect. For example, this compact digital camera has an average of 4.1 stars on Amazon, from almost 900 customer reviews.
That's a pretty decent average and, given the number of reviews, it looks like a good indicator of general feeling toward the camera. Based on that information alone, many people would feel reassured about making the purchase.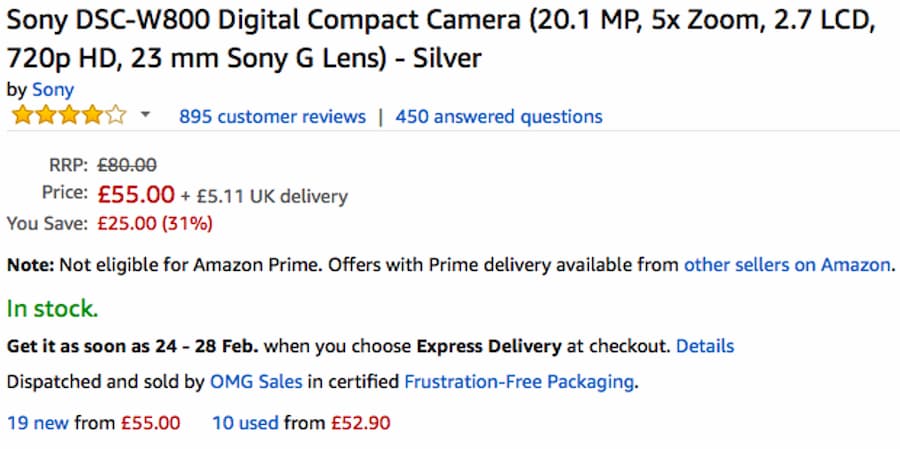 However, when you dig down into the reviews we start to see negative comments about battery life, even in some generally positive reviews.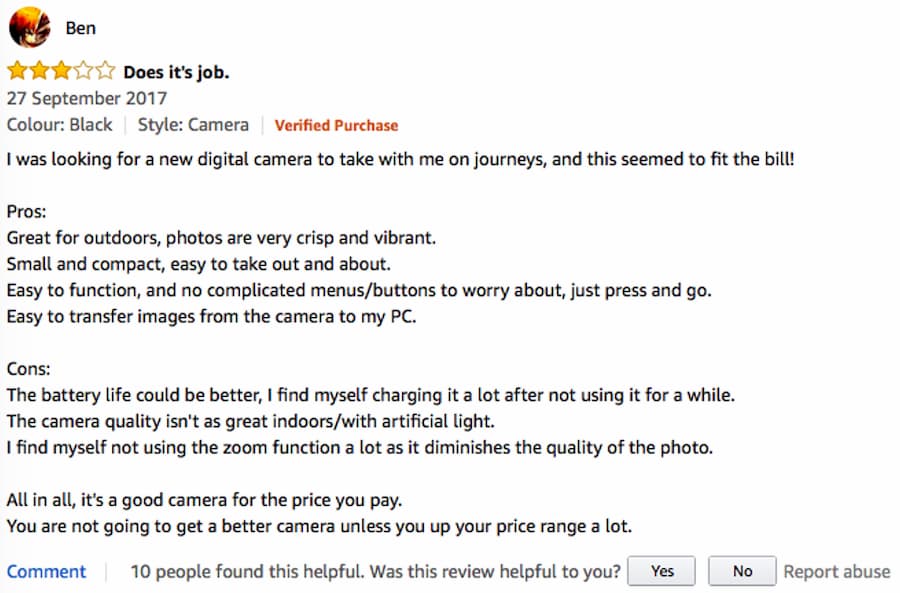 On balance, this is perhaps a decent camera for the price, but there are clearly pros and cons.
For retailers, the challenge is to present review information to draw out key pieces of information like this. It's better to have customers make an informed decision based on pros and cons than to have dissatisfied customers coming back complaining about poor battery life.
Customer testimonials
Testimonials from satisfied customers are another form of social proof. Similar to reviews, but they're more likely to be used to express opinions about the business as a whole, rather than individual products. For smaller business like Hartwell&Co, which are not necessarily well-known, testimonials can tell potential customers that they're reliable, and customers have been happy with their products and service.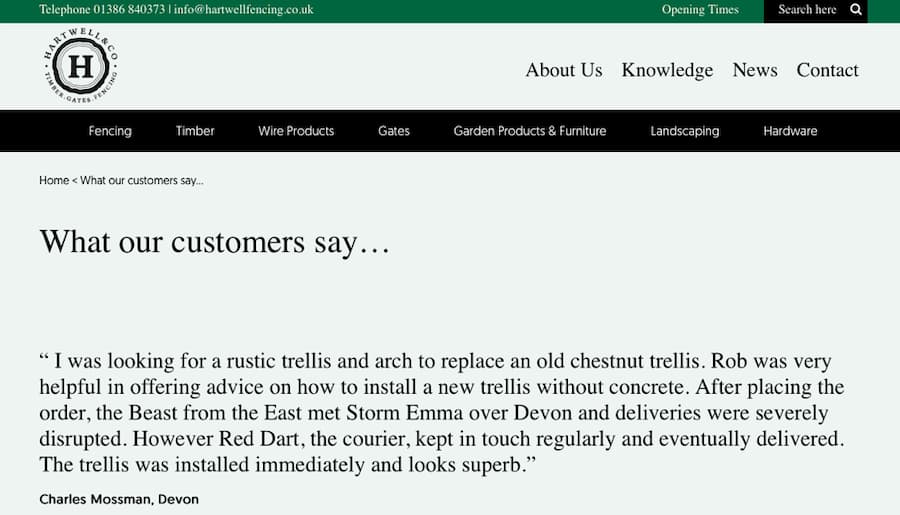 User Generated Content
User generated content is great social proof, as it's authentic, and the fact that customers have taken time to send in photos or share products of social media speaks volumes. One great example of this comes from US retailer Modcloth, which invites customers to send or post photos on social media wearing their clothing.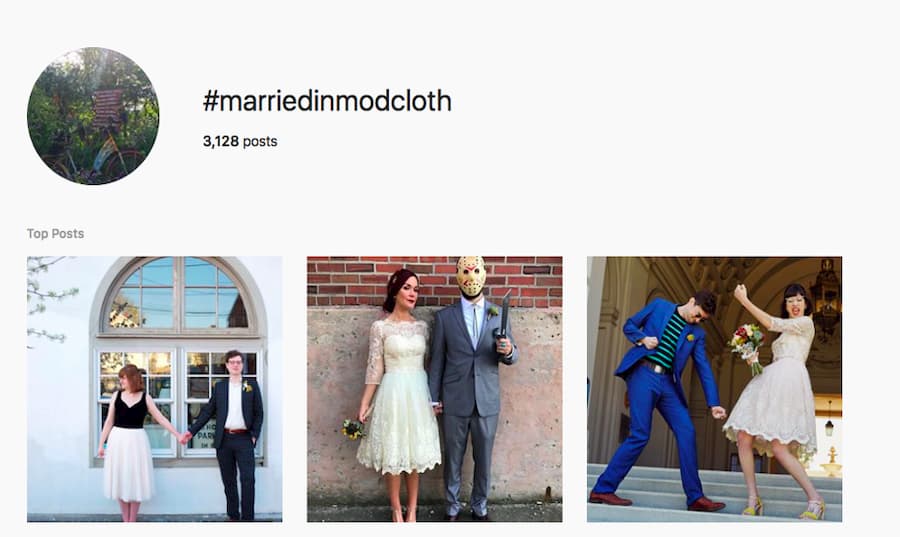 These images can be used on social profiles, but Modcloth also uses them on product pages, where they can have a more direct impact on shoppers when considering a purchase.

This has a number of positive benefits:
It tells new customers that plenty of people have bought clothes from the site and have been happy with their purchases.
It's an opportunity for potential buyers to see the clothes on real people so they have more information to help them decide on a purchase.
The level of enthusiasm required to take a photo and upload it to the site is an indication of the quality of the products and the level of customer satisfaction.
It's great for customer retention and the promotion of repeat purchases. If customers are actively involved in the community sections, they're more likely to buy again.
Urgency and scarcity
These tactics are perhaps most often seen on travel sites like booking.com, advising customers of the number of people that are currently booking or considering booking a hotel room.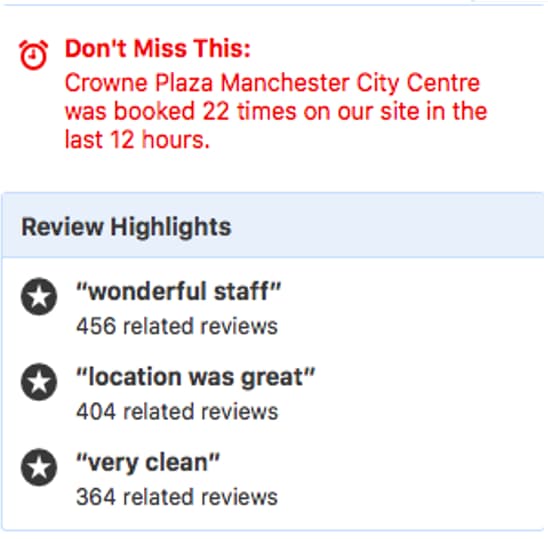 Some of these sites come close to over-using these tactics, but they can help to tell people when particular hotels are likely to be busy, and that they need to act fast if they don't want to risk missing out.
While urgency works very well for travel sites, it can work in different ways for other e-commerce sites. For example, low stock levels can be highlighted, which lets the customer know they're in danger of missing out on the item in their size and nudges them into making a faster decision.
Countdown timers are a great way to use urgency, and they can be used to show customers how long is left during a sales period, or the amount of time left to order in time for next day delivery.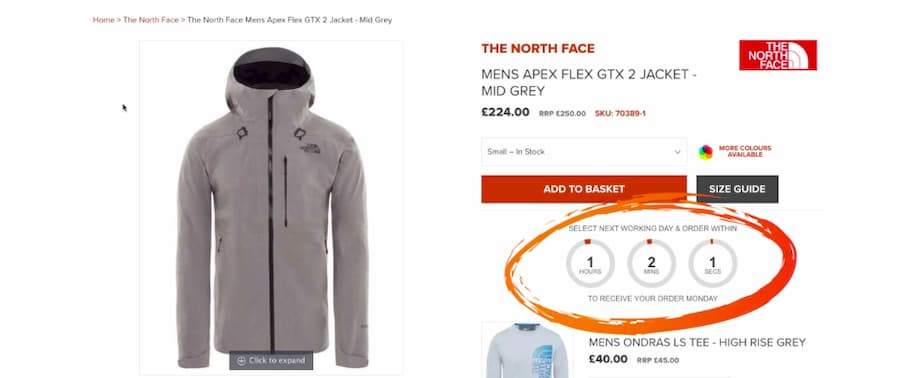 It's a powerful visual cue which conveys useful information to the customer while helping the site to drive more sales.
Business ratings and reviews
Business ratings and reviews can be valuable for smaller businesses, that may be less well-known. If a customer searches or clicks through from search results, then ratings like this can offer reassurance.
There are several third-party providers of reviews for business, which gather customer ratings based on performance in areas such as delivery performance and customer service.
These can be displayed on site, used in marketing, and can also be shown in Google My Business listings and paid search ads.
Here's an example which shows how ratings can make paid search ads stand out, as well as providing instant social proof for businesses.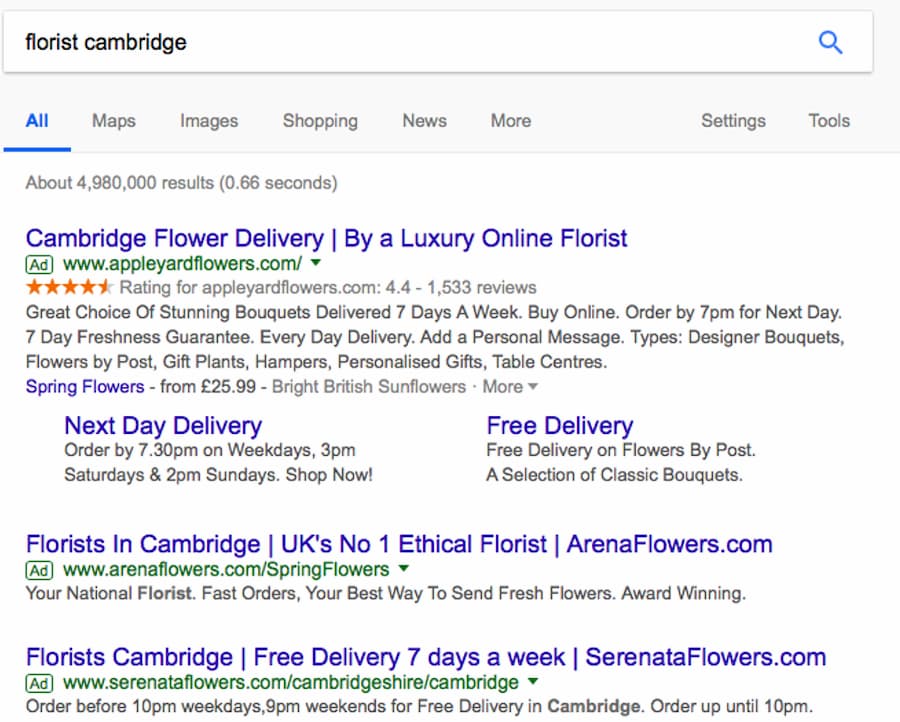 In Summary
Using social proof can help customers to make more informed decisions about both businesses and the products they sell, but there are some important points to remember:
Honesty is the best policy. Social proof techniques like urgency can be so effective that there may be a temptation to use fake stock levels and other deadlines to push sales. However, this approach comes with the risk of alienating customers and reducing the chances of them returning to the site.
Don't overdo it. If social proof is overused, customers may lose trust in the information. It's only effective when customers trust the information they're being given.
Provide useful information. Retailers should view social proof as a way of helping customers, by helping them to find sites they can trust, finding key information about products from other buyers, and being able to view stock levels and delivery deadlines.