It's that time of year again, and after what's been largely a write-off of a year, we're still holding out hope for some festive spirit to cheer ourselves up this December.
It's been a year when a huge number of small businesses have been put under unprecedented strain, but despite an ever-changing list of restrictions, all is not lost when it comes to making the most of the pre-Christmas marketing period.
Today, I'm going to be looking at some Christmas campaign ideas to liven up your social media and boost your sales in the run-up to Christmas.
Why run a Christmas social media campaign?
Many of the UK's shops may be shut during a crucial retail period, but that doesn't mean you can't still capitalise on record online sales by running a social media campaign in the run-up to Christmas.
The idea of a Christmas social media campaign is ultimately to boost engagement and sales, either directly through social media or indirectly by sending traffic to your website. To do this successfully, your campaign needs to get social media users into a Christmas mood, making them feel warm and festive so that they want to share your posts with their friends.
This doesn't have to cost a penny, so if you're short on budget (and who isn't this year, of all years), don't panic. If you can tap into the festive spirit, using it to inspire warm feelings towards your brand, that's half the battle won. The interaction that follows gives you the added benefit of raising your brand awareness, which will hopefully last beyond the Christmas season.
Ideas for your Christmas campaign
To give you some inspiration for your Christmas social media campaign, I'm now going to look at a few examples of ways in which you can harness your social media channels of choice to drum up business in the crucial pre-Christmas trading weeks.
The ideas I've covered below don't cost a fortune to implement, and they're achievable to set up and run even though it's relatively late in the day for planning Christmas campaigns (well, relatively speaking – the big brands plan their campaigns many months in advance). They're also COVID-friendly, meaning that you'll be able to run them regardless of what restrictions are in place leading up to Christmas.
1. A Christmas video
You only have to look at the popularity of the big retailers' Christmas ads to see that festive videos have enormous marketing potential. While a small business won't have the budget for something as elaborate as the much-talked-about John Lewis ad, that doesn't mean you can't still make a success of a Christmas video shared on your social media platforms. Here's a fantastic example of a Christmas video from web development agency Torchbox, which uses the Christmas Jumper Day hashtag to capitalise on a trending topic:
They do Christmas videos like this every year, and it's a great way to show off their digital marketing skills while raising a smile. Here's another one of theirs. You can find some top tips for filming professional videos on a smartphone here.
2. A festive giveaway
Everyone loves a giveaway, and even better when there's a festive theme to it. A great way to boost social media engagement and get people sharing your posts, festive giveaways often take the form of a post about the competition that people have to like, share and/or tag their friends in the comments to enter (the winner then being picked at random from those who've completed the required actions). Here's an example from H&B Style, a shop in Winchester: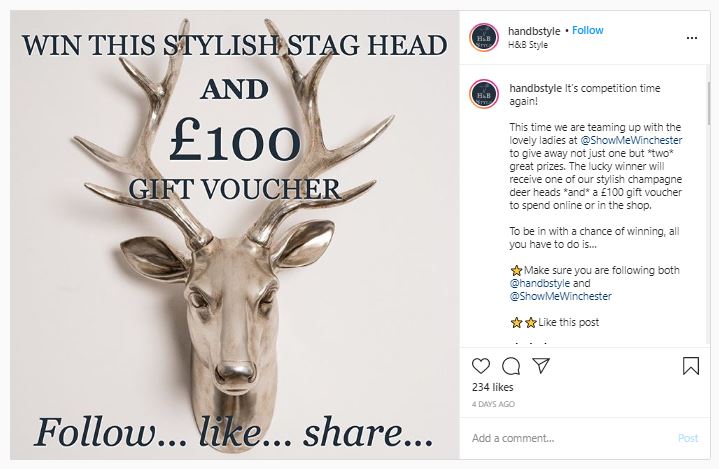 There are apps, such as Gleam, that can help you with this, which can be useful if you have large numbers of entries. Alternatively, if your goal is to send people directly to your website, your post could include a link to your website with a form to fill in for a competition entry. Make sure to read up on any competition rules on your social platform(s) of choice.
Your festive giveaway could be a one-off, or you could go all-out and go for a 12 Days of Christmas theme, giving away a different prize each day for 12 days, as in this example from Joules: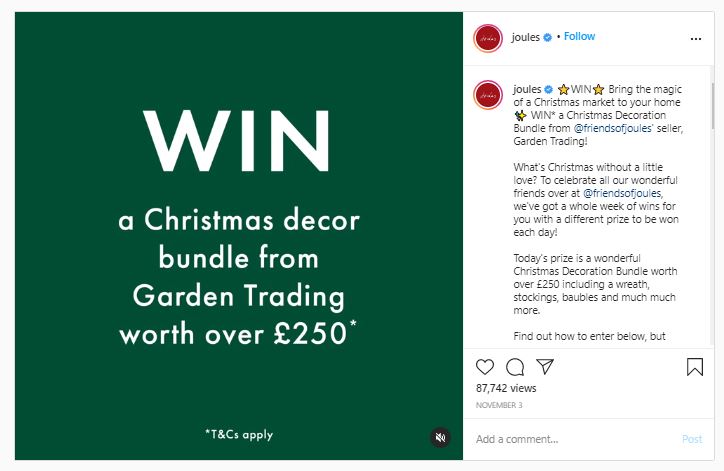 3. An advent calendar
There's nothing quite like an advent calendar for helping us all count down to Christmas, and with all manner of products now available in advent calendar form (beauty products, wine, beer… you name it), it's fair to say that they're as popular as they've ever been. So why not take the idea online and create a social media campaign with an advent calendar theme?
Some brands combine this idea with a festive giveaway, with a different prize to be won behind each 'door', but 24 prizes might well be beyond your budget. Nor do you have to throw lots of money into getting elaborate content designed and created for this idea to work. Instead, your 'advent calendar' could simply be a post each day with a unifying theme: an interesting fact of the day, perhaps, or delightful behind-the-scenes pictures (your employees' pets, for example, or their Christmas trees).
Whatever theme you go for, the idea is that it's relevant to your business and gets people sharing. Some 'doors' could highlight your star products in some way – perhaps offering an exclusive one-day-only discount code – but don't make it all about pushing sales. As with social media at any time of year, the aim isn't to give your followers the hard sell.
4. A photo competition
Another great option for a Christmas social media campaign is to run a photo competition, with a prize for the winner. This could be anything from a simple caption competition to a full-on contest in which you ask people to send in their photos. The advantage of the latter option is that you could end up with lots of user-generated content, which you could share (with permission) on a page or blog post on your website.
Ideally, the competition should be relevant to your brand. So, if you sell pet food, for example, your photo competition could ask people to send in photos of their pets dressed up for Christmas. If you sell homeware products, you could award a prize for the photo depicting the cosiest scene of a follower's home decorated for Christmas. You could also use this to get some exposure for your products; for example, if your star product is a reusable water bottle, you could ask people to send their photos of themselves using your bottles in interesting places, with a festive theme.
5. A Christmas gift guide
Many of us struggle to think of gift ideas for friends and family, so a timely gift guide makes another great Christmas social media campaign idea. There are a number of ways of executing this idea, such as:
Create a gift guide on your website – either as a dedicated section or as a blog post that picks out a few products for each category, perhaps grouped by the intended recipient (him, her, kids, couples, grandparents etc) – and then write a series of social media posts to publish in the run-up to Christmas with links to different sections
Use Instagram and Facebook Stories to highlight top gift ideas, a section at a time, pinning them to your profile as Story Highlights as you go along and using swipe up links to take followers straight to your product pages
Set up Facebook Shops, which allow you to feature products on Facebook and Instagram and enable followers to buy directly through the social media platforms
Here are a couple of examples of small businesses using Instagram Stories to highlight festive gift ideas. In this case, Burford Garden Centre and Sophie Allport have shared some beautiful images from their Christmas ranges and saved them as Story Highlights so that the pictures stay on their profile beyond the usual 24-hour expiry of this format.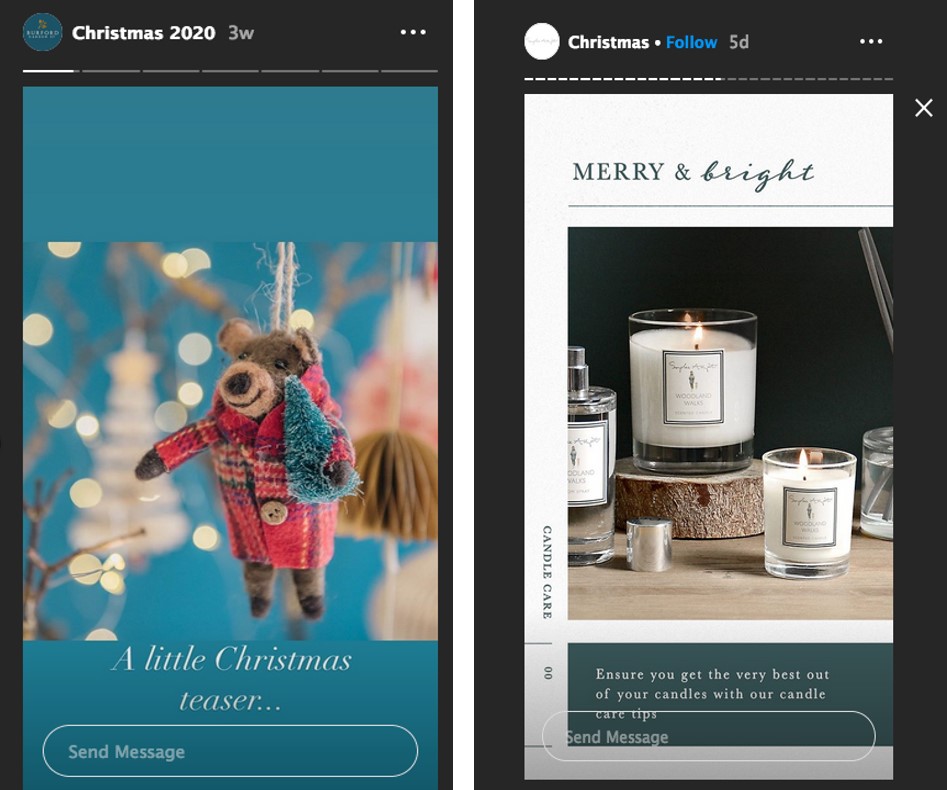 6. Partner with a charity
Christmas is the season of goodwill, and what better way to show goodwill than partnering with a deserving charity? There are lots of ways such a collaboration could work, whether it's helping raising awareness of a good cause in a series of posts or advertising the fact that you're donating a small proportion of each sale to your chosen charity.
This has mutual benefits to you and the charity, as it shows your followers that you're a business that cares. If there's a charity with a natural fit for your business then so much the better – a food bank if you're a restaurant, for example.
Whichever Christmas social media campaign idea you end up going for, it's important to plan it carefully and be clear about what you want to achieve from it. As with any social campaign, having a strategy and goals in place will help give your efforts direction, ensuring you get maximum value from the time and resources you spend on it.
And finally, don't forget that although your ultimate goal is to boost your sales, the way to do that is by conjuring up some Christmas spirit – so have some festive fun with your followers and you can't go far wrong…