This year, Facebook Messenger is becoming a go-to marketing tactic for businesses of all kinds. Over a billion people message businesses each month via Facebook, knowing that it'll meet their expectation of an under-5-minute wait time for customer support.
And who can blame businesses for adopting Facebook Messenger. With a 50-80% open rate, click-through rate of 20% and a conversion rate 3-5% higher than Facebook desktop ads, its ROI beats any other marketing tactic.
But with the growing use of "Chat Blasting" and Messenger bots, is it a good addition to your social media strategy? Some might be skeptical about how this sits alongside more traditional forms of online marketing.
I'll explore what Facebook Messenger means for business marketing, how you can get started and how to use it to the best advantage for your business.
Why use messaging apps for marketing?
1. They get results
As we've seen, the open, click-through and conversion rates of Facebook Messenger marketing is hard to argue against. There's no other marketing channel that will give you those kinds of results without a major monetary input, even email which is notoriously effective for achieving results.
2. They're surpassing social media feeds
Not long ago, social media feeds were the go-to channel for connecting with your customers in real time. And they still are, to an extent, especially among the social platforms, like Facebook, who have a messenger app attached. 
As of 2017, however, messenger apps officially overtook social media in terms of active usership.
And whilst only 1% of businesses are using messenger apps to reach their customers, the potential there is huge. It is, after all, where your customers are, and where many of them are expecting to hear from you.
3. Chatting with a business is important to customers
According to research, over half of consumers would rather contact a customer service rep over message than calling a call centre. It's quicker, usually issues are dealt with in under 42 seconds, so it doesn't take out too much valuable time waiting on the phone.
The availability of direct messaging also influences consumers' choice of who to shop with. 53% of customers say they'd prefer to shop with a business that they can message directly.
Other than sheer speed, customers are also much more receptive to the conversational tone of messenger apps, as opposed to email which, with all the personalisation in the world, cannot match the informal nature of an instant message.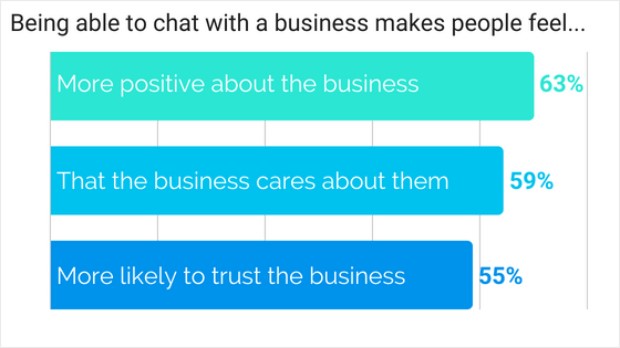 Image source: Optimonster
4. Facebook Messenger marketing is relatively low-cost
According to Mobile Monkey, one FB Messenger Bot business, the cost of generating leads on "Send To Messenger" Ads costs 30-50% less than what you'd pay for Facebook Ad campaigns.
And Facebook Messenger bots help businesses to increase conversions and their rate of returning customers. Tommy Hilfiger's chatbot, for example, has increased their returning customers by 87% and Sephora's reservation assistance , powered by Messenger, has increased their booking rate by 11%.
Facebook Messenger Bots
When people think of "bots" they often think of black-hat marketing hackers spamming a mass audience with generalised content.
But not all bots are bad. Some bots – service bots, data bots, sales bots – can be good, and often useful. In fact, the majority of us are using bots all day long, with our Siri virtual assistant on our phones, or Amazon Alexa at home.
In reality, "bots" are just automated tools that mimic tasks humans would traditionally carry out. Often these are in the form of Chatbots which deal with high volumes of frequently asked questions or common problems with a blanket answer. If you think of it like that, it's no different from having an FAQ page on your website.
Facebook Messenger Bots fall into the "sales bots" category, and if you've ever contacted a business via Messenger, it's more than likely you'll have been talking to a bot rather than a real person.
How Facebook Messenger bots work
Facebook Messenger bots are essentially widgets built by third-party companies to work on Facebook Messenger. They allow businesses to communicate with their customers from their website via the Facebook Messenger app. 
This has a number of benefits for businesses, aside from being able to instantly contact their customers:
They receive all the customer's contact information and even the profile picture.
They can send the customer push notifications (if they've opted in).
They receive the customer's Facebook ID – this should last forever as opposed to emails which expire and change as people change jobs etc.
They can remarket to them using Facebook Ads.
What Facebook Messenger bots let you do
Once you've built your messenger bot (most likely via a third-party company) you'll be able to:
Deliver messaging sequencing to people in Messenger
Create a sales funnel to bring in sales within Messenger
Send content and downloads to people via Messenger
Automate conversations with real users using AI on Messenger
"Chat blast" your customers with promotional or non-promotional content
Your Messenger bot strategy
1. Choose your tool
There are plenty of Messenger chatbot builders available to you. They're all relatively similar in price-point and functionality, and will take care of the technical side of things for you.
2. Choose your messaging tactics
Standard messaging lets you send messages, whether promotional or non-promotional, within 24 hours after a person has sent your chatbot a message. And within this 24-hour window, you can send as many messages as you want. When the 24 hours has lapsed, you can only send one additional message to that person until they respond.
Alternatively, subscription messaging lets you "chat blast" non-promotional messages as regularly as you want. To do this, however, you'll need to apply for subscription messaging which takes around 10 minutes.
3. Advertise your availability
Setting up a Messenger bot is one thing, but it's no good if your customers don't know it's there.
Make sure you add a Facebook Messenger button to your website as well as Facebook Page (you can do this within Facebook Page Settings), and you can also link to Messenger within your email footer.
How to use Facebook Messaging (without a bot)
Content delivery
Consumers are increasingly moving away from email for day-to-day admin, and instant messaging is proving a perfect alternative.
HubSpot has tested using Messenger to broadcast content against email as a content delivery method, and the results showed a 242% higher open rate and 619% higher click-through rate.
As well as broadcasting content, you can also use Messenger to send personalised content to your users.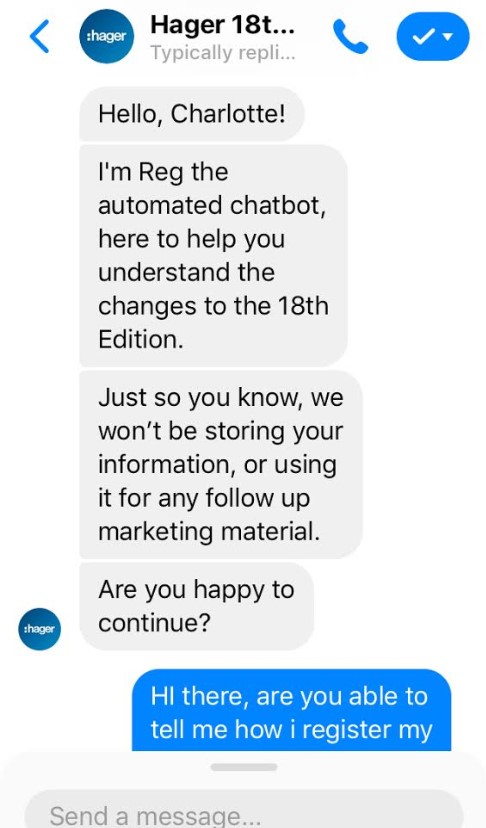 To provide valuable content via Facebook Messenger, you need to first give your customers the option to choose how they'd like to receive their content. This not only ticks GDPR boxes, but also ensures your customers are on board from the start. Say they've bought a product from you, you can alert them to the option of Messenger communication in their confirmation email.
Lead generation
Facebook's "Click to Messenger" feature will help you to garner leads directly via their Messenger app. Click to messenger is a sponsored ad that lands in your target audience's Facebook or Instagram feed, with a call-to-action such as "Learn more" or "Sign up". Clicking on this takes them through to the Messenger app where communication continues.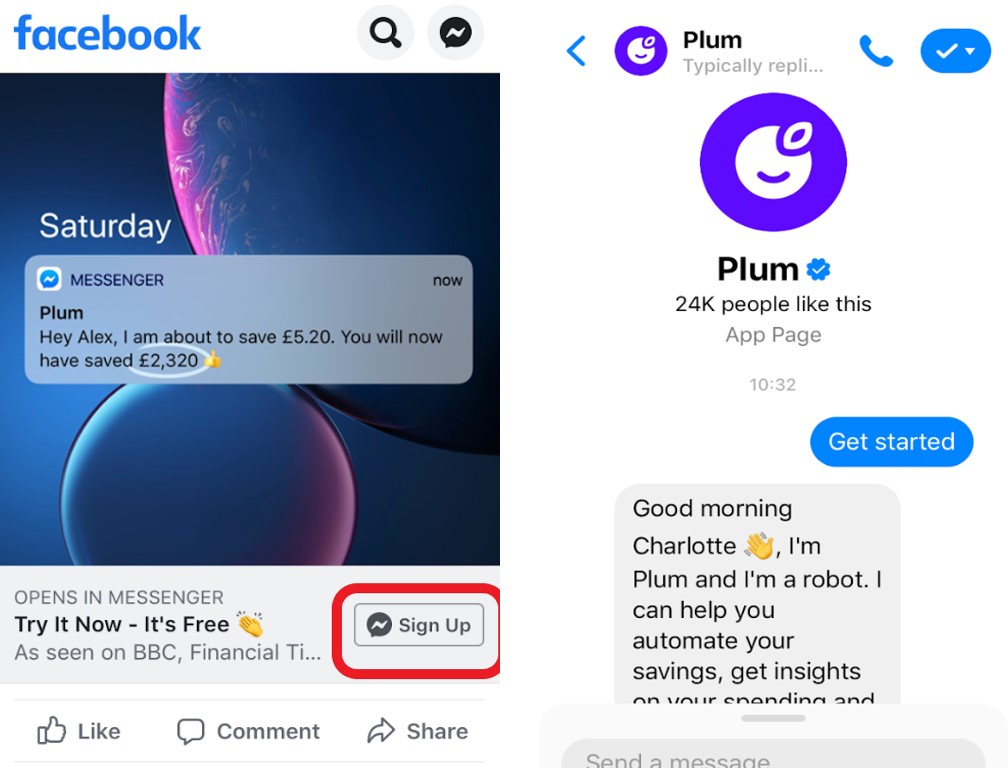 Customer support
Not only does Facebook Messenger provide you with another option for staying in touch with your customers, but it also gives you options for receiving feedback and providing ongoing support.
Whilst you can provide your Messenger support via a bot, you can also find ways of providing it without one. The trick is to make sure your customers know that they can reach you via Facebook Messenger.
The first thing to do is to ensure that your Facebook Page is set up so that people can easily contact you on Messenger. To do this, go to your Facebook Page and click on Messenger Platform on the left-hand menu.
Within your settings you can set up your Facebook Page, as well as your website, to maximise the chances of customers getting in touch via Messenger. You can also copy and embed your unique Messenger link into your other media.
You can set up your chat plugin so that your customers can choose to connect with you via Messenger when they land on your website.
You can also dig into the more advanced Messenger settings such as allowing you to be found in the Discover section in Messenger, where they'll be able to search for your brand and message you directly.
Messenger tricks
Once you've made yourself available, you can adopt some Messenger tricks to save you time when responding to your customers.
Messenger Greetings can be set up to display as the first thing that shows up when a customer gets in touch with you via Messenger.
Instant Replies let you set an automated response when a customer gets in touch with you via your Facebook Page. If you're the Page admin, you can set your instant reply to on or off, whenever you want.
Saved Replies let you write and save predictable replies to frequent questions. They're then saved and easily accessible when you need to respond to a customer.
Advertising
Sponsored messages are ads that will show up in your customer's chat box.
Because you can only send these ads to customers who've already engaged with your over Messenger, it's better for re-engaging customers who've gone quiet, or reaching existing customers with promotional offers or recommended products.
To set up your ads, follow the same process as you would for setting up an ad in Facebook Ads Manager, and choose Sponsored Messages as your message destination.
Adhering to GDPR guidelines
In May 2018, the European Union's General Data Protection Regulation (GDPR) was introduced to outline rules that businesses need to follow in order to respect consumers' privacy.
Thankfully, Facebook Messenger has GDPR guidelines built in, making it easy for businesses to keep within the guidelines. Messenger will only let businesses contact their customers if they've explicitly opted in.
However, it's worth noting that if you use a third party company to build your chat bot, you'll need to check out their data privacy guidelines. The rule of thumb for keeping your Messenger activity GDPR compliant is to ensure:
You offer a messaging opt-in in your chatbot.
You make unsubscribing explicit and clear.
You adhere to the 24+1 rule, meaning that in the first 24 hours when someone engages with your chatbot, you can send them as many messages as you like; after 24 hours you can only send one more message.
Summary: The future of Facebook Messenger for businesses
Messaging has already surpassed 'traditional' social media feeds as the consumer preferred medium of communication with businesses. It's quick, easy, and costs nothing to the customer, but also proves to be an effective lead generation, customer nurturing and after-sales tactic for businesses.
I've shown you just the tip of the iceberg for Facebook Messenger. Whether you choose to install a Messenger bot, or you go down the more manual route, you will no-doubt see results. Especially if you make it known as an option to your customers and use it to support more traditional forms of communications, like email or phone support.
Of course, with any new tactic, make sure you set up suitable tracking so you can monitor its effectiveness. It's only by checking if you're receiving a decent ROI that you can make an informed decision about whether it's worth sticking with long term.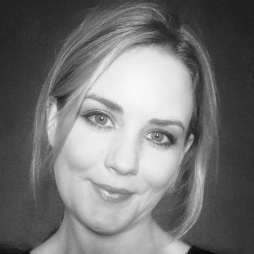 Charlotte Jenkins is an Oxford-based content marketer. She has several years' experience in content writing, editing and digital marketing, helping clients communicate their businesses online.
Read full profile