A quick Google of "QR codes" and you'll be greeted with a range of articles disputing their relevance in today's consumer society. Many headlines question whether QR codes are dead, while others argue that they're having a renaissance among online marketers.
QR (Quick Response) codes have been around since the 1990s when they were developed by a subsidiary of the Japanese giants, Toyota, to help support the supply chain of parts in the manufacturing process. Their potential was later adopted by the retail industry for providing extra information about products.
However, their relevance has waxed and waned over the last 15 years or so.
For a while, when smartphone owners were in the minority, their relevance was limited, and the process clunky.
Recently, however, because nearly half of smartphone users rely on their phones while shopping in-store, marketers are beginning to turn to QR codes to help them with their decision-making. 
I'll look at the possible ways you can incorporate them into your sales and marketing campaigns and make an assessment as to whether they're worth using at all.
What are QR codes?
Essentially an advanced barcode, QR codes are the black-and-white, square-shaped symbols you can scan via a smartphone to find out more about a product.
Unlike barcodes, which can only be read left to right, QR codes can be read from any direction. Also a vast amount of data can be contained within one code. The data is held in the black and white squares within the grid, and the variation of information is extensive.
QR codes also allow you to include text information, rather than just numbers. They can include links, coupons, promotions, and other details that might help a consumer with their purchase or finding more about it once they've bought it.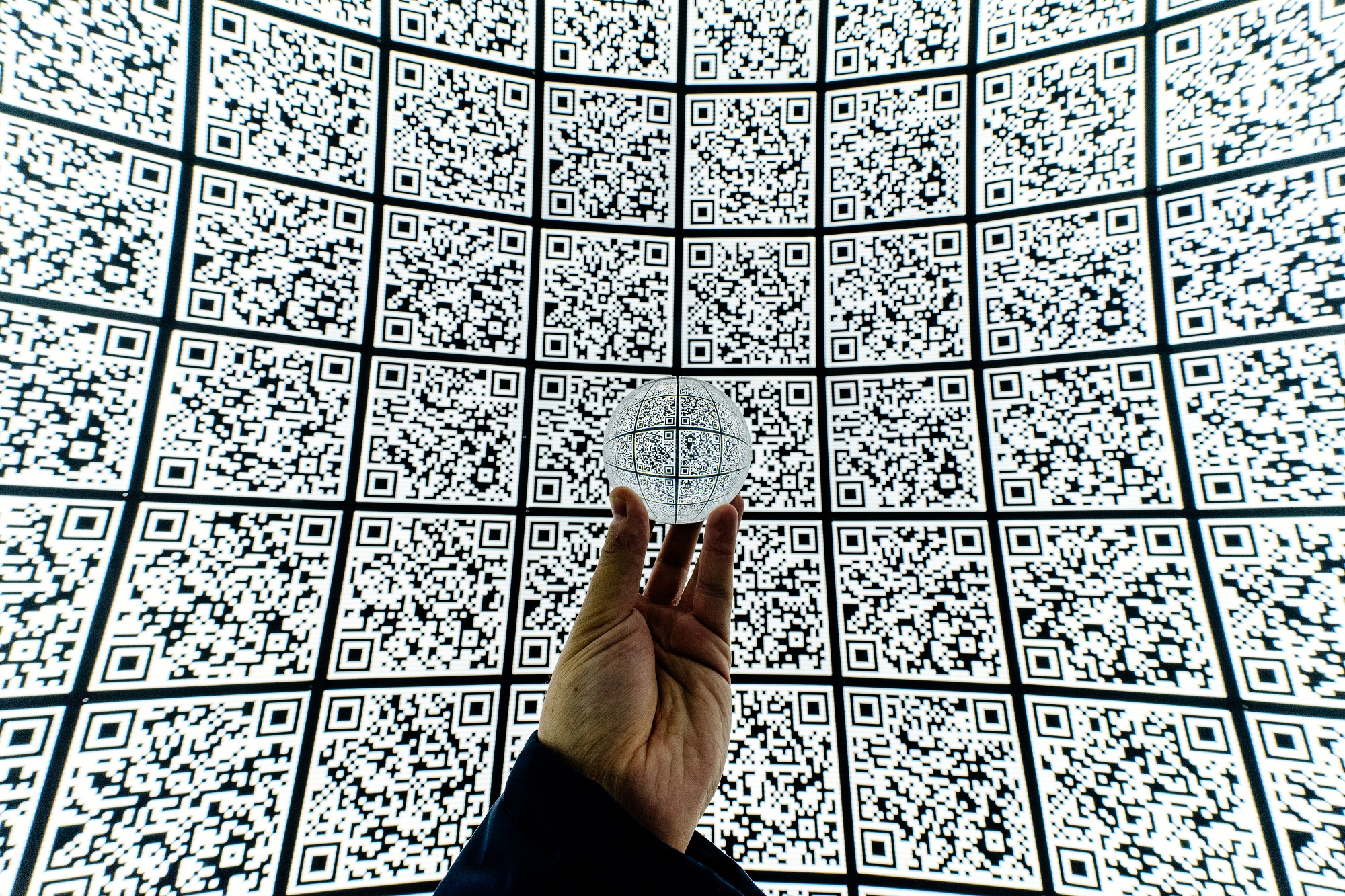 How do QR codes work?
Many smartphones these days come with a built-in QR scanner, or a scanner app can be downloaded from your iOS or Android store. When a consumer sees a QR code, they open their QR scanner app to scan the code and access further information.
Marketers need to have set up their own QR code using a special generator and the process is relatively simple. Here's a 4-step guide from HubSpot.
The QR code is then placed where the customer is most likely to see it, and crucially be able to scan it. For example, you might put a QR code on a leaflet, at the bottom of an email or receipt, or on an in-store poster, rather than a huge billboard.
How to incorporate QR codes into your marketing campaigns:
The main benefit of QR codes for SMEs is that it allows you to join up your on and offline sales and marketing efforts. We recently discussed the omnichannel customer journey in this blog, highlighting the importance of keeping consistency across all your sales channels, particularly when you're leading your customers from your website to your store, or vice versa.
QR helps you to create a superior experience for your customers by linking up information and signposting customers through their journey.
QR codes will also help your SME with day-to-day logistics and inventory management, marketing activities such as promotions and loyalty schemes, improve customer analytics, and provide exclusive content to your customers.
For customers, QR codes can give them a more integrated customer experience. They can access loyalty programmes and promotions, learn more about products, check out product reviews or carry out product comparisons, all by checking in with the QR code on their smartphone.
Here are some ideas on how QR codes can be used by businesses:
1. Extend shopping hours
One of the main benefits of QR codes is that they allow you to operate (and make sales) beyond your normal opening times.
Consumers might have a limited amount of time in your store but can scan a few of your product QR codes, take them away, and peruse (and hopefully make a purchase) outside your opening hours.
Top tip: To facilitate this, include the salient information such as price and availability, along with deeper detail about the product (how to use it, how it compares to other products, the key benefits etc.).
2. Facilitate payment processing
Similarly, your QR code can help point your customers to online payments after they've looked at your products in-store. They can even make the purchase whilst they're still in your store just by scanning the QR code, checking out the product details and then proceeding to checkout on their mobile device.
In fact, spearheaded in China, QR codes are being used around the world to process payments, rather than directing consumers to a website or third party checkout. Look out for it coming to the UK in due course.
Top tip: Make sure your website's checkout is optimised for mobile. If you're not sure, take a journey through the checkout from your phone. If you have to zoom in on your screen, or the site doesn't fit onto your screen then the chances are it's not mobile optimised. In this case, here are some tips for making your site responsive.
3. Providing more information for customers
QR codes can help SMEs provide customers the opportunity to find out more about a product, just by scanning a code.
A QR code in a poster, leaflet, or in-store print advertising, might provide them with extra information about the product and encourage them to check out similar items, or find out the provenance or story behind an item. They might also be able to access details on the availability, price and location of the product.
Look at the following example of a QR code campaign run by Bad Boy Apparel. The following QR code, when scanned by your reader, takes you straight to a page, where you can find out more about the materials they use to make their garments: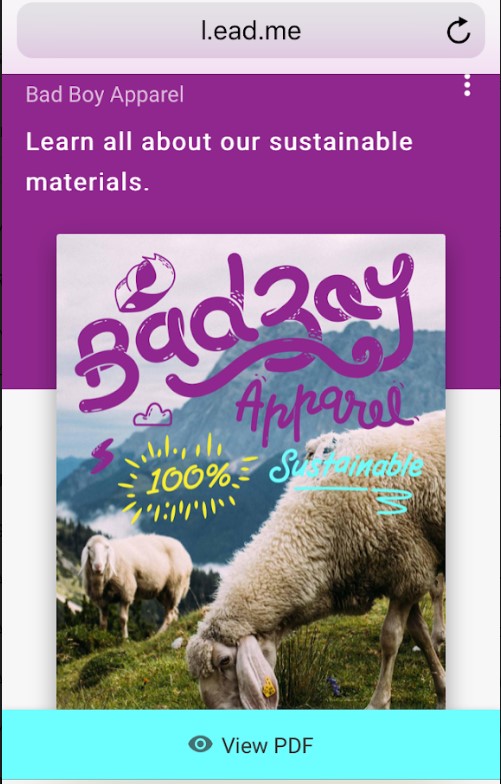 When a customer makes a purchase, you can provide a QR code on their receipt so they can find out more about how to make the most of the product they've just bought. You can even make sure that when they scan the code, they receive an instant SMS to ask them for SMS opt-in, so that they can ask you questions directly.
Top tip: Use your persona research to identify where in the customer journey your QR codes could be used to provide customers the right information at the right time.  For example, if your customers have bought one of your ethically sourced garments, they can scan the code and find out the provenance behind that garment – where the materials came from, where it was manufactured and by whom, and where they can find similar garments.
4. Direct traffic in-store
A strategically placed QR code, perhaps on a poster, can help to direct local traffic into your store. People could see your poster and rather than just forgetting about it and carrying on with their day, they can scan your QR code where you'll give them a reason to visit your bricks-and-mortar store.
Top tip: Give consumers a compelling reason to head to your store. This might be an exciting new product, or more irresistible, a voucher or discount code they can download when they scan your code.
5. Gather customer data for improved personalisation
Whenever someone scans a QR code, they leave trackable data. This allows marketers the ability to further understand their customers needs and preferences. Not only does this allow for a greater insight into customer behaviour, interests and demographics, but it also helps marketers develop more personalised customer experience.
Amazon  – the kings of personalisation – are doing this to great effect. Their "SmileCodes" – their version of QR codes – allow you to scan a SmileCode with your smartphone when you see it in a magazine, and you'll be taken to the Amazon product page. Amazon then learns this information and helps to deepen your future recommendations.
Top tip: Track from where and when (the days of the week and times of day) your audience is scanning your QR codes. Tools like Rebrandly will let you track your QR codes just like they're links, so you'll be able to garner information about your customers.
6. Direct people to your app
QR codes can be a useful way of driving customers to your app, if you have one. Customers just scan your code and they're taken to a download page where they can get your app.
Or you can incorporate QR codes into your app to foster more engagement. Snapchat's QR codes enable its customers to add friends more easily, and thus grow the community.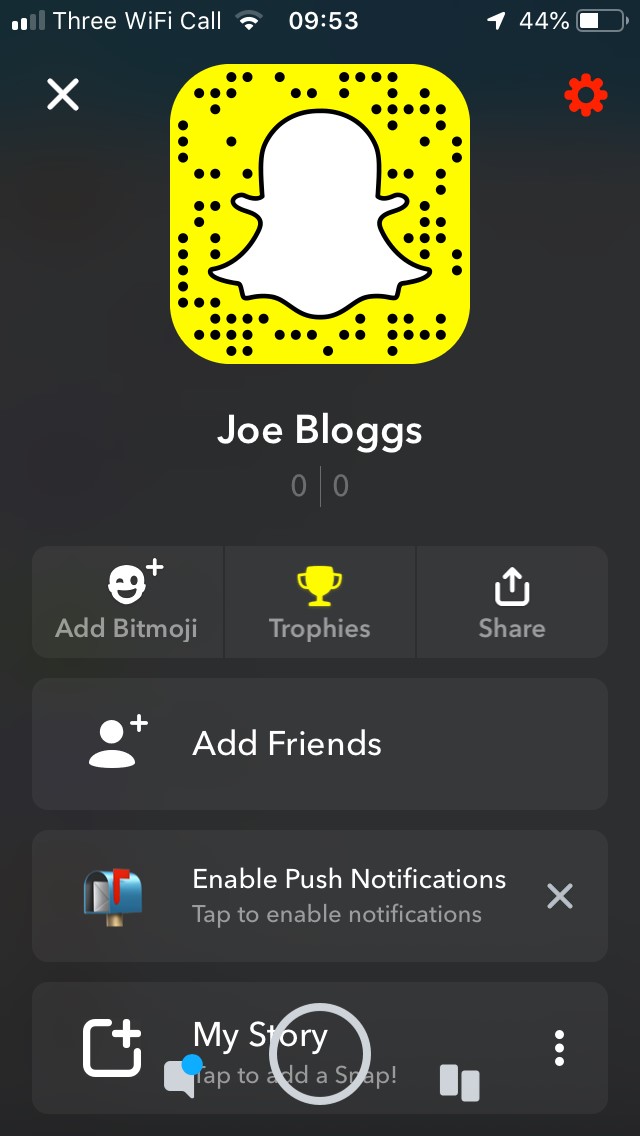 Top tip: Use an engaging CTA to give people a compelling reason to download your app. You could offer a free 28-day trial, or a discount offer.
7. Extend your store/showroom space
If your bricks-and-mortar store simply isn't big enough to stock all your products, then QR codes are a useful way of showcasing all your products in a virtual space. Or, if one of your products becomes unavailable in-store, then you can direct people to your ecommerce site via a QR code.
It's estimated that 40% of consumers who use their phone in-store are carrying out comparisons. QR codes allow people to compare and contrast products and prices but keeping them on your channel rather than going to a competitor.
Top tip: Use your QR code to keep people on your channel.  Make sure the destination page you're sending people to is mobile optimised and is engaging. Use appropriate CTAs on your landing page to direct people towards conversions. Also, to let you measure traffic to the landing page, use a unique URL that's matched to your QR code.
8. Lead generation
As part of a lead generation campaign, QR codes can be used to garner more subscribers to your newsletter, or sign ups to your social media profiles.
Top tip: Use your QR code to provide an offer in return for a subscription to your newsletter. For example, "Subscribe, and we'll send you 50% off your next purchase".
The verdict: Are QR codes worth adopting?
Whilst this isn't an exhaustive list of uses for QR codes, it does demonstrate their potential for your sales and marketing campaigns.
They're a cost-effective way of capitalising on the growing use of smartphones for making purchases; they can help improve the buyer journey by tying up on and offline touchpoints, and they can help companies provide a personalised shopping experience with targeted and localised offers.
However, QR codes shouldn't be used for the sake of it or you'll find yourself wasting a lot of time and money.
To make the most of QR codes you must make sure:
You use engaging calls-to-action.
Your destination page is mobile optimised.
They're relevant to the audience who's seeing them.
They're distributed properly (so they're seen by the right people at the right time, and where there's a WiFi connection available to scan it).
You place them on the right materials where they can be scanned properly (they'd be wasted on a huge billboard or a TV advert where they're gone in an instant).
Your destination page is kept updated and all the links are working properly.
And it's worth noting that QR codes are still in their infancy. We're already seeing them being used to process payments in China and this is being rolled out across global markets.
This said, the future of QR codes' relevance is uncertain.
It's still a one-way medium, where data tracking is still limited. Whilst QR codes can be printed on everything from posters to receipts to menus and leaflets, as well as placed online for easy-scan on smartphones, they're still a one-way transaction.
And their most exciting launch, instant payments through QR codes, is being rather overshadowed by Apple Pay and Google Wallet.
And, crucially, despite the recent steps towards making them customisable and beautiful, QR codes are still ugly.
So, the verdict? QR codes are cost-effective and useful as part of your broader marketing campaigns but watch this space before assigning a lot of time and resources to making it a priority.