In this series of articles, we look at how SMEs can adapt their online retail campaigns around the seasons, or work around specific events to market to their customers.
This time we'll look at the various bank holidays in the UK and how retailers can use these events as a hook for their marketing and promotional efforts.
We'll go through the various bank holidays, looking at the unique opportunities for each, as well as some ideas for campaigns around these dates.
Some of these bank holidays, such as those around Easter and Christmas, are already tied in with other seasonal campaigns (which we'll cover in other articles) so here we'll focus on the remaining bank holidays, which take place between May and August.
Bank holiday themes
Excepting Easter and Christmas, the remaining bank holidays take in the beginning and end of summer, so there are plenty of related themes to hang marketing campaigns around.
Of course, much can depend on the products you sell. Bank holidays are an obvious fit for DIY and home improvement brands, or those selling gardening supplies and products for example.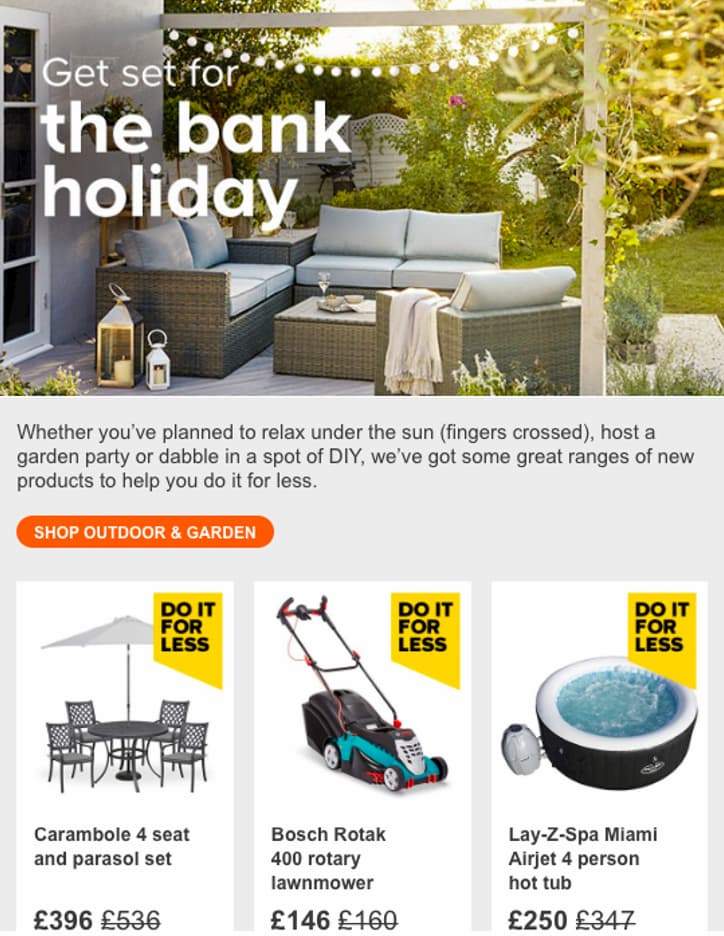 Themes include:
Outdoor activities – it's a time when people are heading outside more after winter, or perhaps improving the garden.
Home improvement is another theme, as people take advantage of long weekends to get some jobs done.
Holiday planning – people are choosing holidays, planning staycations, buying gear for their holidays.
Back to school – the August bank holiday marks the end of summer, and the school holidays.
UK bank holidays in 2019
1 January: New Year's Day
19 April: Good Friday
22 April: Easter Monday
6 May: Early May bank holiday
27 May: Spring bank holiday
26 August: Summer bank holiday
25 December: Christmas Day
26 December: Boxing Day
What's different about bank holiday marketing?
Bank holiday campaigns are unique, as we're generally looking at a one-off event, around which marketing can be planned.
It's time-limited too, so campaigns will have a relatively short lifespan, making it important that the message hits home. We're often looking at long weekends, where there are plenty of retail opportunities for consumers.
There are unknowns in every bank holiday too, certain events like Royal Weddings or sports tournaments may coincide with bank holidays and force some sites to adjust campaigns accordingly.
Then there's the British weather. Sunny weather during Spring bank holiday is perfect for food and DIY brands appealing to customers planning a weekend outdoors, with maybe a barbeque, but bad weather can quickly scupper this kind of marketing.
The various bank holidays have different characteristics, spread across all four seasons, so they'll require individual approaches which cater for these differences.
Therefore, it's about a mixture of planning, with the ability to adapt to changing circumstances, producing campaigns on-site and elsewhere which can appeal to customers even if weather and events intervene.
Bank holiday campaign strategies
Here are some general best practices and ideas for planning and executing bank holiday campaigns.
Think long-term for SEO
With the exception of the bank holidays which occur around Easter and Christmas, bank holiday related terms are not necessarily a big win from an SEO perspective. Shoppers are more likely to be searching for the products they want or need at these times rather than the event itself.
Therefore, it's hard to plan SEO specifically for bank holidays. Instead it's about a long-term SEO strategy which looks to optimise for key product terms so they're visible in the search engines when people are searching for them.
Bank holiday content strategy
Think about how your product or service is relevant to bank holidays and the long weekends that come with them. It's also good if you know about your audience – their interests, what they are likely to be doing on bank holiday weekends and see how you can help them.
This could be some useful advice, ideas for things to do on bank holidays, or perhaps tips for home improvement.
Here's a good example from Asda, with some recipes for the bank holiday weekend.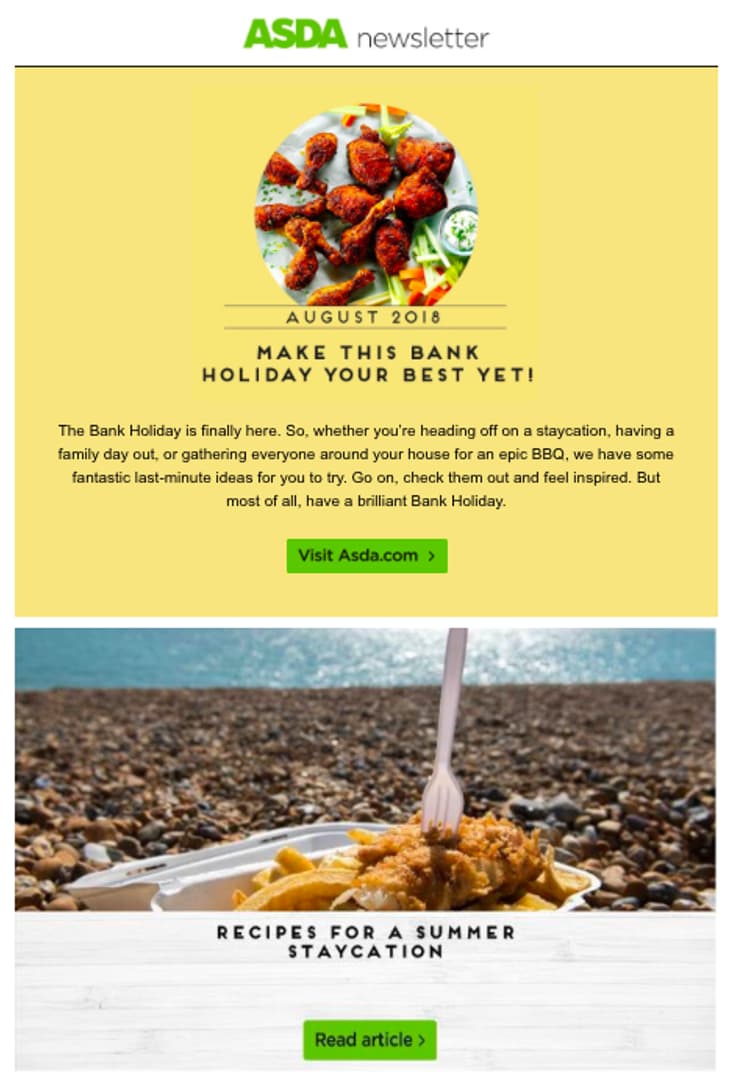 Timing is key
Campaigns need to be timed to appeal to people in the run up to bank holidays, when they're making plans and thinking about purchases. Launch campaigns too early and you risk people ignoring messaging as they're not ready, too late and they'll have no time to act upon them.
Pure360 found that retailers who ran email campaigns on the Thursday and Friday before the bank holiday weekend drove 26% more clicks and 17% more conversions than those brands that limited campaigns to just the weekend.
Don't be afraid to test to find the best timings. Learn from previous campaigns and put these lessons into practice.
Use short-term offers
Bank holidays are an ideal time to attract customers with special promotions and discounts.
It's a short period, so presents an ideal chance to use a little urgency to persuade people to buy, with time-limited sales and offers.
By limiting sales and special offers to the duration of the bank holiday weekend, customers know they'll need to act fast if they want to take advantage.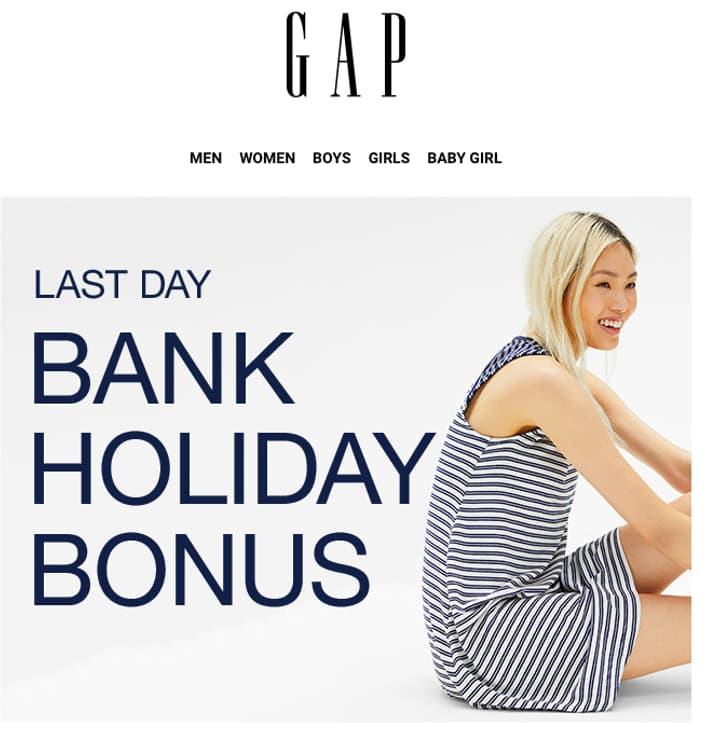 Last minute delivery offers
Last minute delivery offers can boost sales, as customers can stock up on essentials in time for the bank holiday weekend.
This is a good example from 31 Dover using the urgency of the 4pm delivery deadline well, and adding the carrot of free delivery.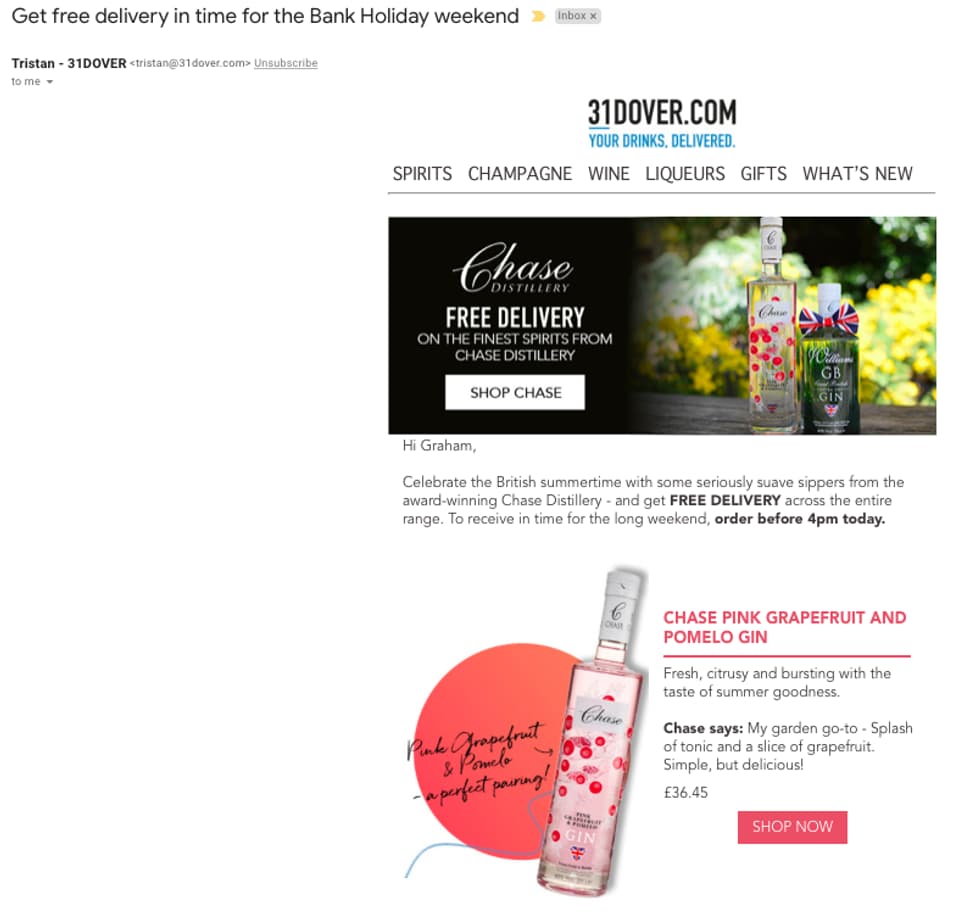 Use SMS for last minute messaging
SMS marketing is low cost and can be direct and highly effective, and it's perfectly suited to short, sharp campaigns around bank holidays.
It can be used to alert customers of special offers or sales events, to tempt people to your site with voucher codes, or to run competitions.
However, SMS is direct but can also be intrusive, so it's important not to annoy your customers by overusing this tactic.
Look out for the weather
Just like people's bank holiday plans can fall foul of the weather, so can marketing campaigns. If you build a campaign around outdoor activities, then it can fall flat if it rains all weekend.
Build contingencies into your planning and be prepared to adjust in response to changes in weather, good or bad.