It won't come as much of a surprise that research shows people increasingly find adverts annoying. Even leaving aside the undeniable irritation caused by an unexpected pop-up ad interrupting a blog post we're reading, there's a fine line between an advert that's eye-catching enough to grab attention and one that's just annoying or intrusive.
You don't need us to tell you that adverts need to be relevant to the people they're targeting, but we'd argue that this is why it also makes sense to tailor them to where they'll be appearing, if possible. Today we're looking at the different ways in which you can tailor your ads so that they're more in keeping with the sites they appear on, and so that they're more likely to appeal to the people you're targeting.
Choosing where to advertise
If you're advertising online, you'll already have put some thought into who it is you want to appeal to – that is, your target audience. You might have chosen a few websites likely to be frequented by the people you want to become your customers. For example, if you're a garden centre, you might choose to advertise on websites about gardening. If you sell beautiful things for the home, you might want to advertise on an interior design blog.
A well-tailored ad will match the site it's on, fitting neatly with everything else your target audience will see on the page. A one-size-fits-all ad may not cut it if you're advertising on a variety of different sites, because what works for one site may look jarring and out of place on another.
Here's an example of well-chosen ads on the lifestyle blog Roses and Rolltops. The two adverts on the right – for clothing brand Boden and interiors company Graham and Green – fit with the content of the blog, which has a big focus on interior design and often features clothing in a lifestyle context as well. The simple white box of the Boden ad matches the other items in the sidebar, while the Graham and Green ad features smart interiors photography akin to that on the blog.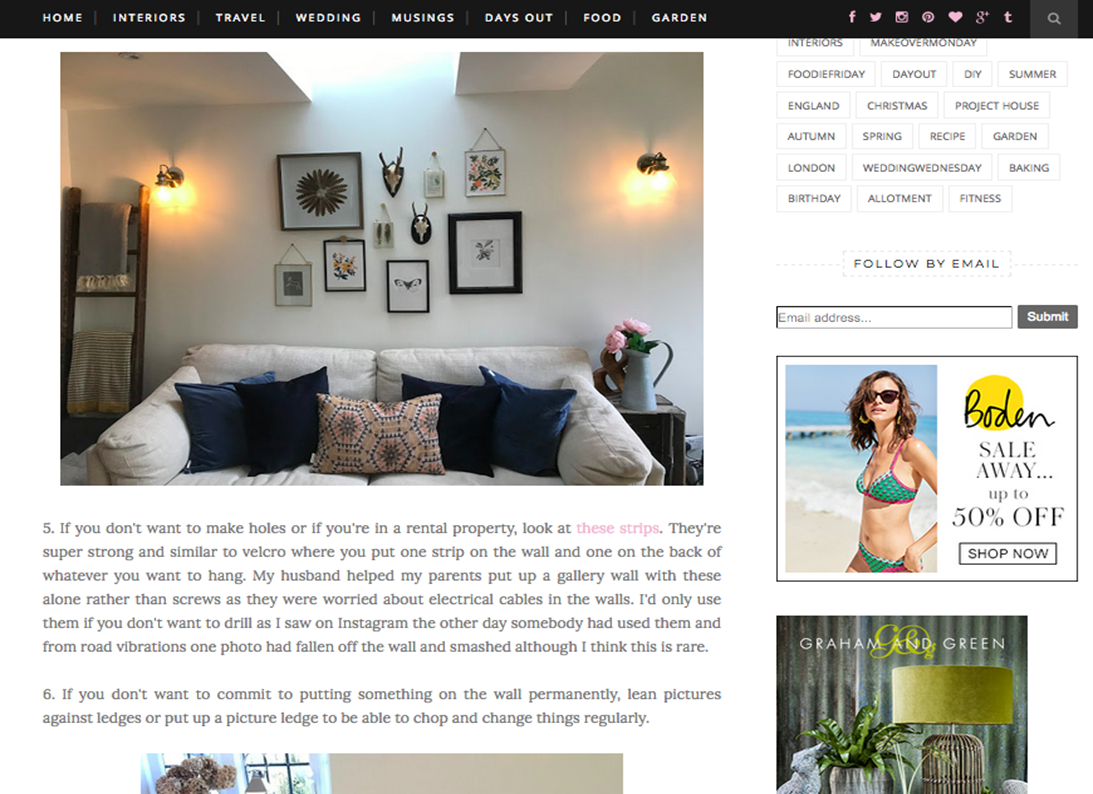 Tailoring what your ad looks like
So, when you're advertising on a specific site, it's worth customising the appearance of your advert to fit in with the design of the site you're advertising on. You'll still need to remain true to your own branding to ensure that your advert is visually consistent with your website when visitors click on it, but even the strictest brand guidelines have some room for manoeuvre to ensure an advert works in a particular context.
For instance, if you're advertising on a site that mostly uses a pastel colour palette, the use of bold colours will be jarring. While you could argue that it would get your ad noticed, it's also possible that visitors would feel the ad spoils the look of the site, which could put them off clicking on it. In this situation, if a pastel colour palette didn't fit with your branding, you could instead opt for a monochrome ad that won't clash with the site. The same consideration applies to images in ads: using photographs that match the look and feel of the site they're on means they're less likely to annoy.
It's also worth thinking about the amount of copy to include in your ad, and the language you use. The use of contemporary slang would be lost on the audience of a site aimed at the over-50s. Some sites might be aimed at audiences who respond better to images, in which case you'd want to keep the copy to a minimum. From an aesthetic point of view, you could even tailor the font(s) to be similar to those used on the rest of the site, so that your ad is less visually jarring.
Size matters
The size of the advert is another aspect that can be tailored. If you're advertising on a site with a sleek, minimalist design, you'll want a smaller, pared down advert that doesn't detract from the look and feel of the site. It's likely that your ad will be displayed on mobile devices as well as desktops, so tailoring them to specific types of device will help ensure they're seen at their best.
It's worth considering how many adverts there are already on the site, too. If you're competing with lots of others for readers to notice you, you might want an attention-grabbing full-width banner, for example, while a small and unobtrusive advert on a side bar might be more appropriate for a site that keeps advertising to a minimum.
A note about Google Display Network
When you're going directly to individual websites and paying for an online advertising package, you'll know exactly where your advert will appear, but you may not have this luxury with other forms of online advertising. With Google's Display Network, you have the convenience of being able to manage your online advertising from one central hub, but you have less control over where they'll appear and no control over what part of the page they'll be placed on.
Like the ads in the main Google search results, you can choose to target your ads automatically based on relevant keywords. Google recommends this option but says: "you can choose whether you want your ads automatically placed on partner pages related to your products within the Display Network, or specify target sites yourself." Whichever option you choose, the ads you create may be a good match for sites they appear on, but they may not, so you might need to opt for 'one-size-fits-all' ads that stay true to your brand without too much risk of being jarring.
You're also able to choose from different ad formats, including text or image ads, video ads, and ads designed specifically for display on mobile devices. You can also customise the colours, fonts and images, which means that you can still, to an extent, match the style of your advert to your branding and to the kind of sites you want to appear on. You can read more about how to set up a Display Network campaign here.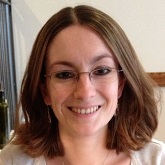 Rachel Ramsay is a freelance copywriter with a background in digital marketing. She's written copy for clients ranging from the United Nations World Food Programme to The North Face, and particularly enjoys working with lifestyle and travel brands. In her spare time, she volunteers for Guide Dogs and flies light aircraft and helicopters.
Read full profile