Whether it's from a desire to reduce food waste or a need to save time, food subscription companies are big money these days. Today we're looking at three fantastic examples and how they've created easy-to-use websites that make you want to sign up and start receiving scrummy food in the post without delay…
Gousto
The homepage of home delivery meal kit company Gousto is clean and simple, with an attractive image of the product taking centre stage alongside minimalist copy that describes the company's offering: "A recipe box. Simple." A subheading goes into more detail, along with a call-to-action: "Get started".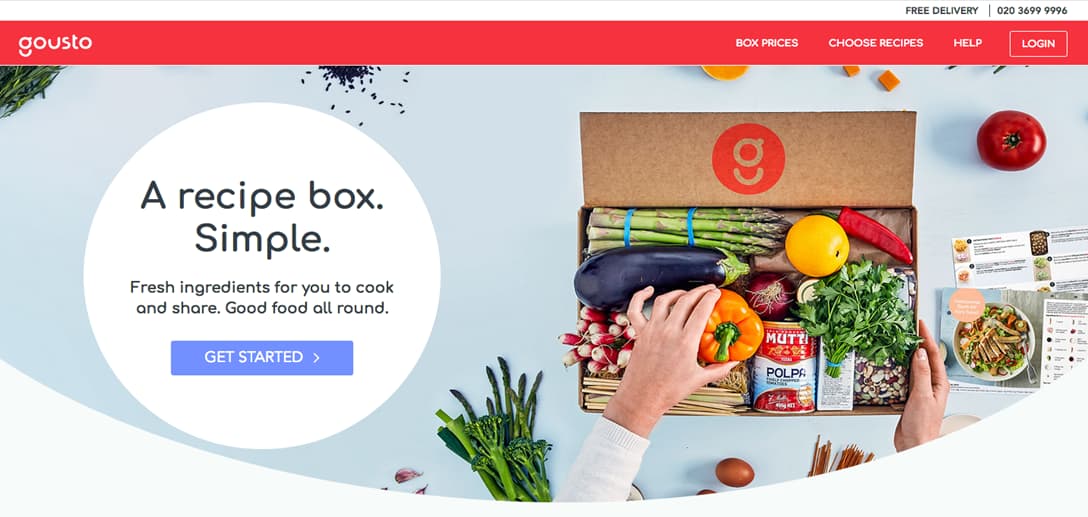 There are very few items on the top navigation bar – they've pared it down to links to find out pricing, choose recipes, get help and log into your account – which keeps the site uncluttered and easy to find your way around. Scrolling down, you find a simple three-box summary explaining how Gousto supports wholesome cooking by making it easy to cook delicious food at home. The three boxes highlight some important selling points of a Gousto recipe box: they contain good-quality, fresh ingredients; the recipes are easy to follow; and there are recipes and ingredients to suit all tastes, including vegetarian diets (which immediately removes a potential barrier for vegetarians wanting to know whether they can get meat-free boxes).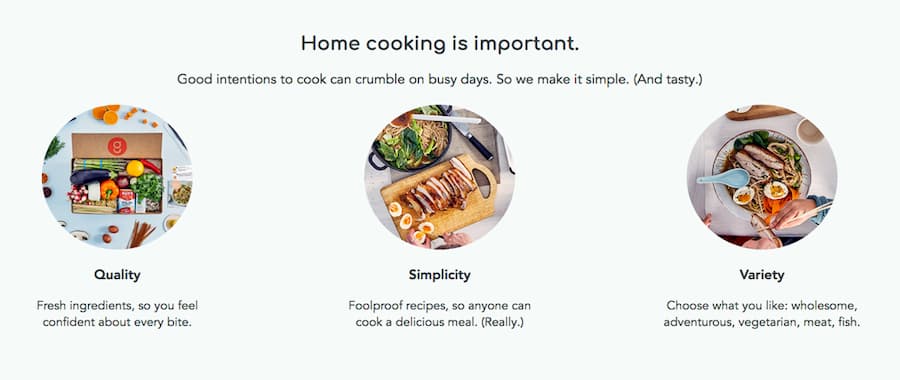 This is followed by a similar three-box explanation of how the service works, underneath which you can see some examples of recipes, captured to full mouth-watering effect with beautiful photography. The headline – "Now, what looks good?" – is a nice way to make the copy reflect what you might say if you were choosing ingredients you like the look of in the supermarket, while a second "Get started" call-to-action encourages visitors to start the sign-up process.

For those who haven't yet clicked "Get started", keep scrolling and you'll find a simple breakdown of exactly what you'll get in your box. The picture this time is a child looking eagerly into a Gousto box, evoking every adult's childlike curiosity at opening a parcel. Another key selling point is highlighted in the list: the ingredients are perfectly measured out, meaning no food waste. There's another call-to-action at the bottom of the list.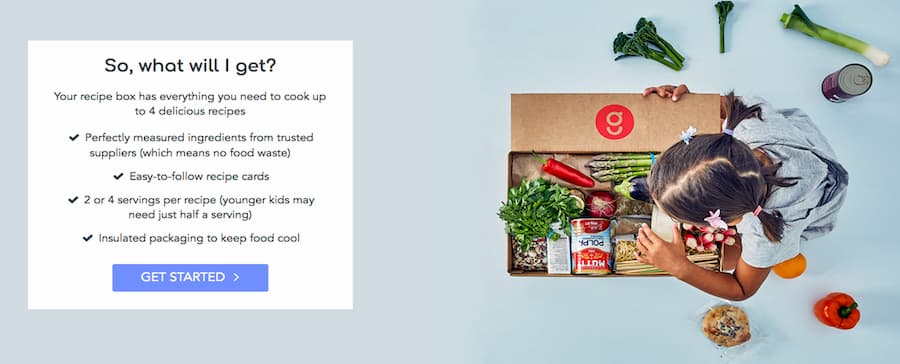 If the visitor needed any more convincing, there's a section below this with Trustpilot reviews, logos for big companies who've "tested and loved" the service, and a trust-building heading saying "Over 1 million meals delivered", and a box where you can sign up to the newsletter for "top foodie tips and exclusive offers".
So, what happens when you click that "Get started" button? You're taken through a clear and simple sign-up process that starts with this question: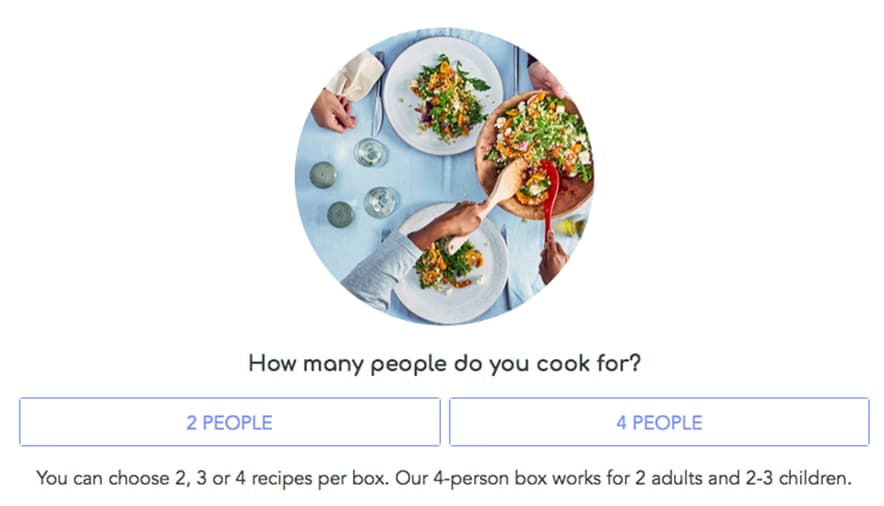 There are just a few stages to complete and they couldn't be easier: choose how many people you're cooking for, enter your postcode, select your delivery date and then you go straight to choosing your recipes. As in the image above, each stage includes simple explanations to help you along the way. For instance, the delivery date section advises: "Our insulated box and ice packs help keep your food cool. And if you're not home, we can leave your box in your chosen safe place."
Each recipe has simple guidelines on how long it takes to prepare, how long the ingredients last and whether you'll need additional equipment to create them. There's also a starred review system displayed with each recipe, including the number of reviewers.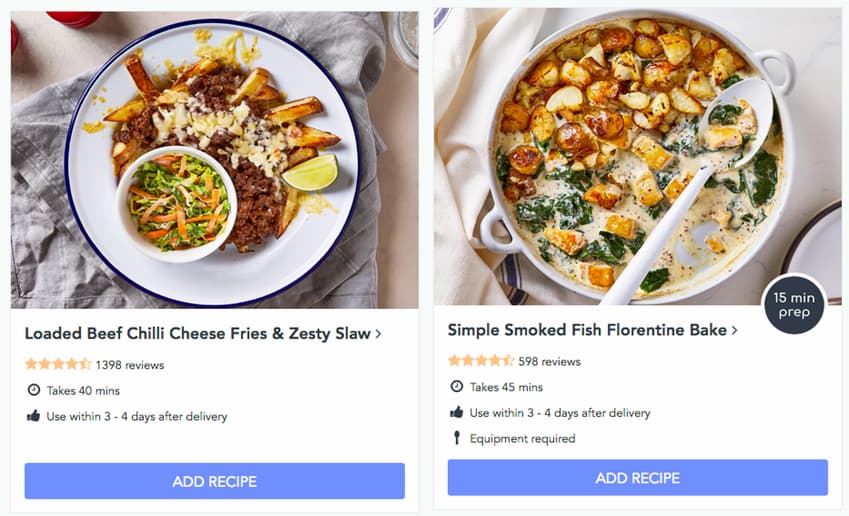 The rest of this incredibly well-designed site is equally impressive, including the pricing page.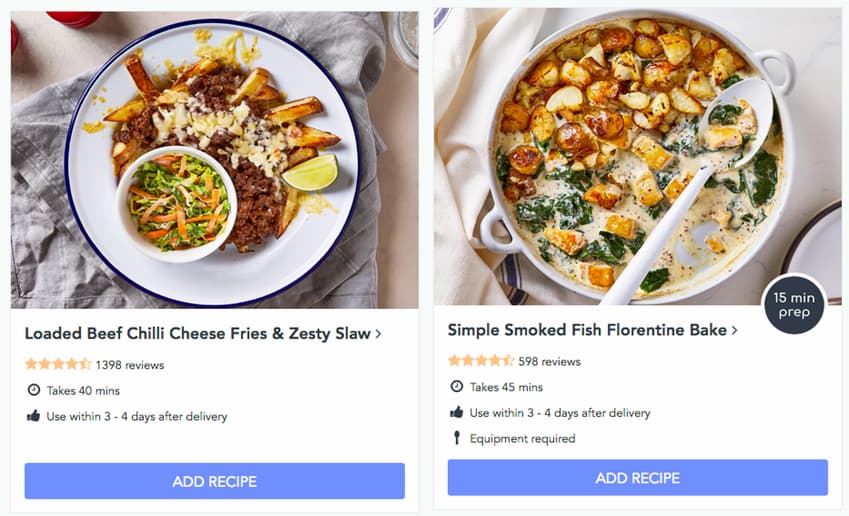 In short, it's a case study in simple, clear user experience design, and it's not hard to see why it's already secured tens of millions of pounds of investment since its launch in 2012.
HelloFresh
Like Gousto, HelloFresh offers a home delivery recipe box service. While its website perhaps isn't quite as sleek as Gousto's, its homepage leads with the clever headline "Dinner is solved", accompanied by "View our boxes" as the main call-to-action (along with "Get started" in the top navigation).
The "Chat with us" box at the bottom stays in the same position on the screen as you scroll down, making it easy to contact the company for immediate answers to questions. Scrolling down the page, you get a simple summary of how the recipe boxes work, followed by a bullet point list of what's inside your weekly box. The copy highlights important points such as the fact that the boxes "fit perfectly in your fridge".

Underneath this, you get to see a few of this week's recipes, which include preparation time and category (such as "Under 750 calories").

Under the headline "Our customers say it best", tweets from happy customers are embedded instead of reviews or testimonials – a good way to show that these are real people. Deeper into the site, you'll find lots more useful information including how the service works, a section dedicated to family dinners and details of pricing.
Abel & Cole
The final website we'll look at today is a slightly different service in that it offers home delivery organic fruit and veg boxes as well as organic meal kits (the latter a more recent offering doubtless capitalising on the growing popularity of such services). Abel & Cole has a strong sense of brand identity throughout its website, packaging and marketing materials, with a distinctive tone of voice and aesthetic that includes an instantly recognisable font.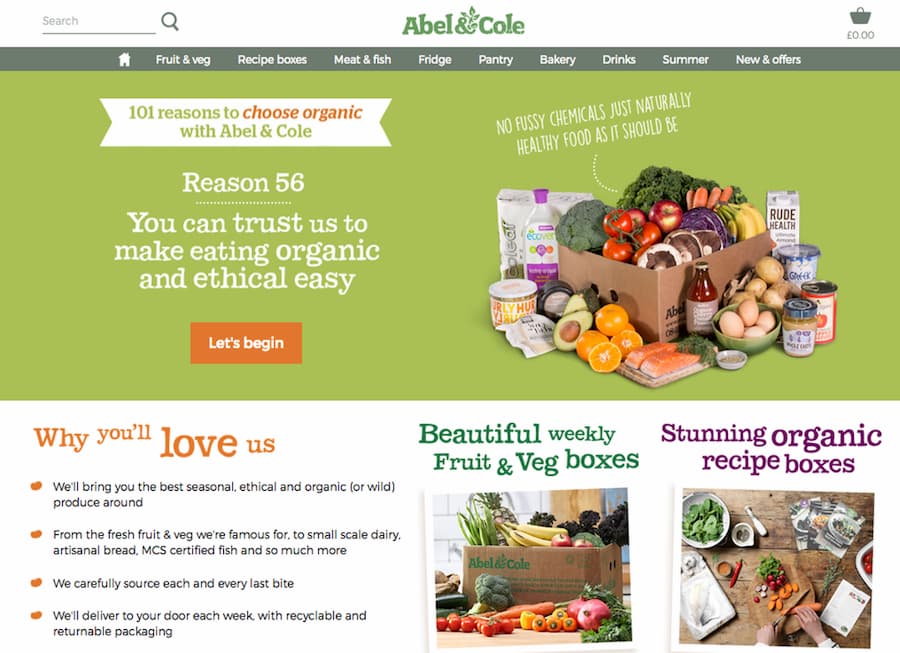 A simple green background is a great choice for a cut-out photo of an Abel & Cole box, with the company's ethical credentials taking centre stage with "no fussy chemicals" highlighted next to the image. "Let's begin" is a friendly call-to-action, bringing up a pop-up box for your postcode so that you can find out when they deliver to your area. The homepage gets straight into the reasons "Why you'll love us", and further calls-to-action under the two box options encourage you to "Start with fruit & veg" or "Let's get cooking".
That's followed by five-star Trustpilot reviews to instil trust in potential customers, and below that you'll find a selection of the company's latest blog posts for you to "hop over to". The company has a more diverse offering than the previous two sites we've looked at, so it's a bigger site with more pages, but clear navigation keeps it simple to find your way around.
The recipe boxes have their own section, supported by excellent images and quirky copy ("Packed full of top notch sustainable stuff from fantastic growers we've worked with for donkeys' years"). Clear options give you a choice of different style of box, from Simple ("Fresh takes on old favourites to prove great food doesn't have to be complicated") to Foodie ("If you're looking to impress with your culinary prowess, you'll find your inspiration here").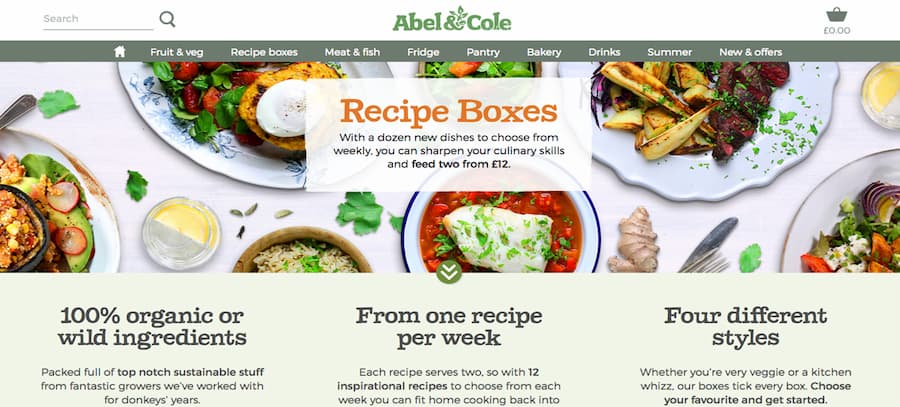 Every page of the site conforms to the same distinct branding, even down to the page selling simple products such as milk. These pages start by giving you the background on where the product comes from, and even features an embedded video introducing you to the farmers.
For people who like to know exactly where their food comes from, it doesn't get much better than this.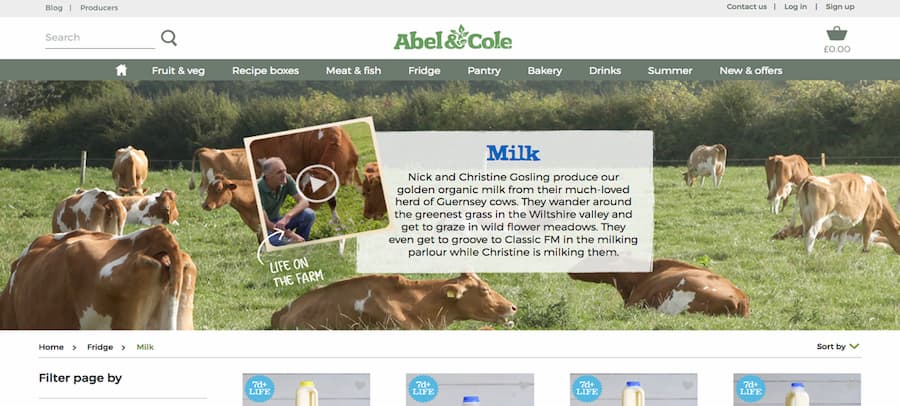 If you've been inspired by any of these wonderful websites, why not take the next step towards creating one for your own business? Visit our Get Online pages to find out more about how to establish a strong web presence and grow your company on the internet.