With so much competition, hotels face a challenge in grabbing the attention of users online, but a great website can make a big difference.
In this post, we'll look at the challenges faced by hotels online, what makes a great hotel site, and some examples from brands who are getting it right.
Online is the key growth area for the travel industry, and the data underlines this. According to ABTA's 2017 Holiday Habits Report, 83% of travellers booked online in 2017, compared to 76% the previous year.
Online is were much of the action happens for hotels, but they face competition from Online Travel Agents (OTAs) such as hotels.com or airbnb. In the UK, OTA's share of the hotel market was 39% in 2016, and expected to rise to 41% by 2020.
Let's look at how hotels can optimise their websites to capture more direct bookings…
What information do visitors need and how should it be presented?
First impressions are important, and hotels can do a lot to convey their brand message on the homepage or landing pages which visitors first arrive at.
This can be done with small pieces of copy which underline the value proposition. Here's an example from The Megaro, a hotel near King's Cross Station in London. With a little copy and images of its bedrooms the hotel explains its brand very nicely.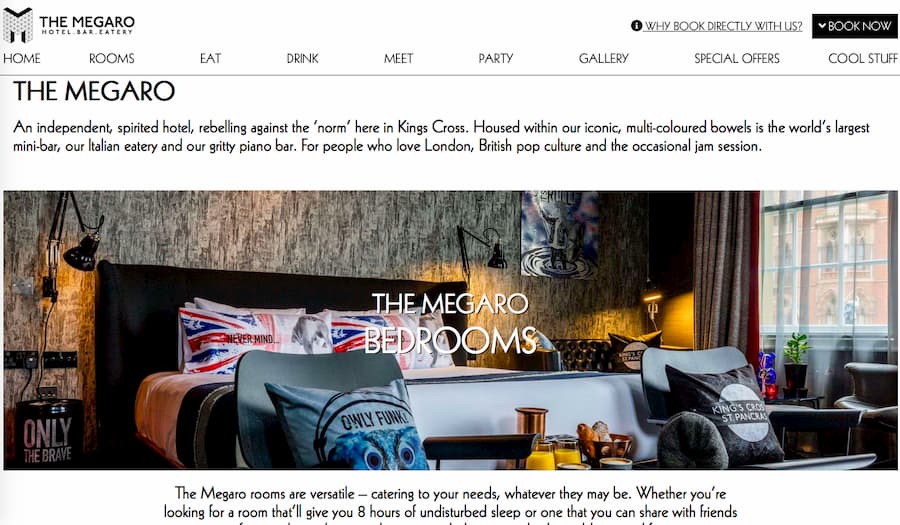 The Joiners Arms in Northumberland is perhaps targeting a different audience, but still sells its proposition clearly, by emphasising its policy on dogs for example.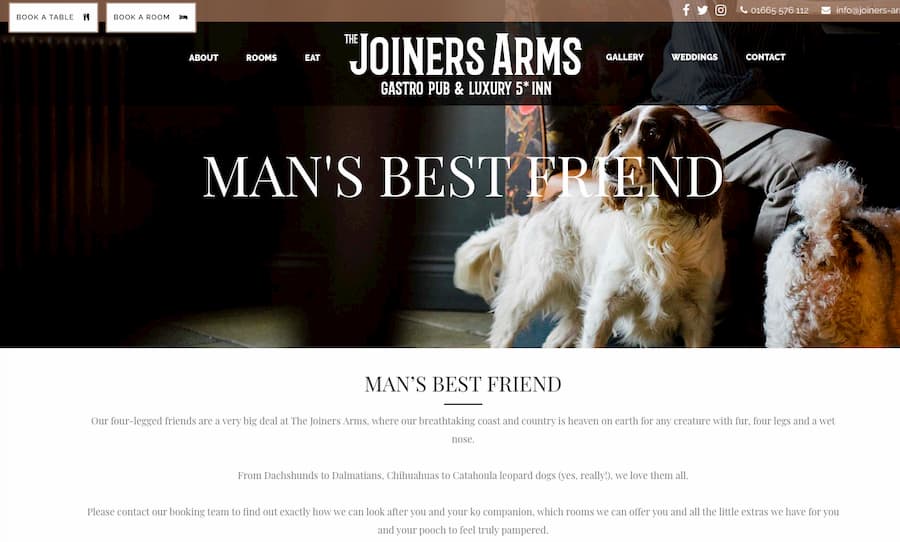 Imagery can work with copy to give first time visitors a great impression, and an idea of what the hotel is about.
For example, boutique Edinburgh hotel Tigerlily uses large high quality images on its homepage to show its luxury side and create a great first impression for visitors.
It immediately conveys much of what the hotel is about, and this looks better than any listing on booking.com or hotels.com could. It's in areas like this where hotels can really get their brand across and sell the hotel to visitors better than they can through third party sites.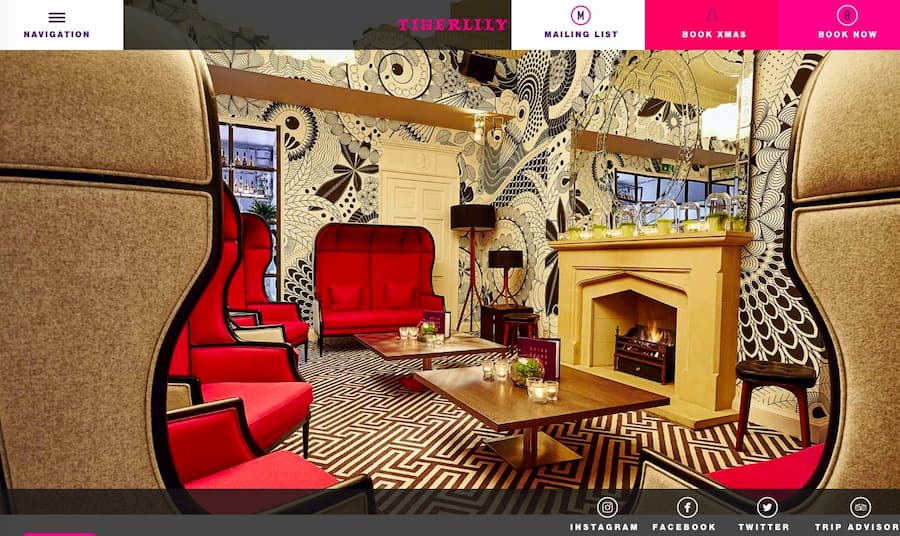 It's not necessarily about image of luxury. Budget hotels, like Stylotel in London, can do a lot to convey what they're about through homepage copy and imagery.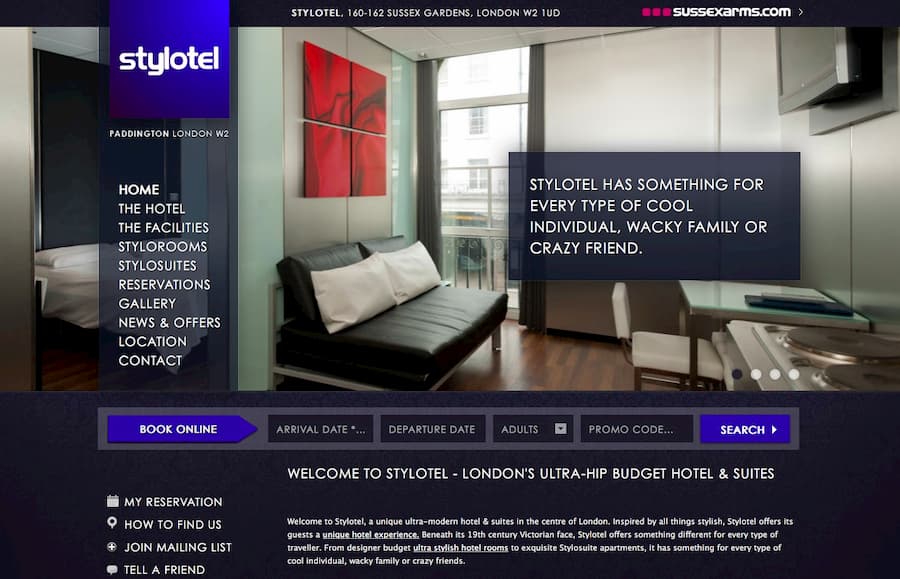 There are differences between approaches to a homepage, depending on how hotels prioritise different goals. In the first three examples especially, the hotels are looking to show the brand, using great visuals.
Others choose to use these pages to encourage customers to start looking for available dates. Stylotel has a more prominent search tool, while Travelodge, which is less worried about luxury branding, places its search box front and centre.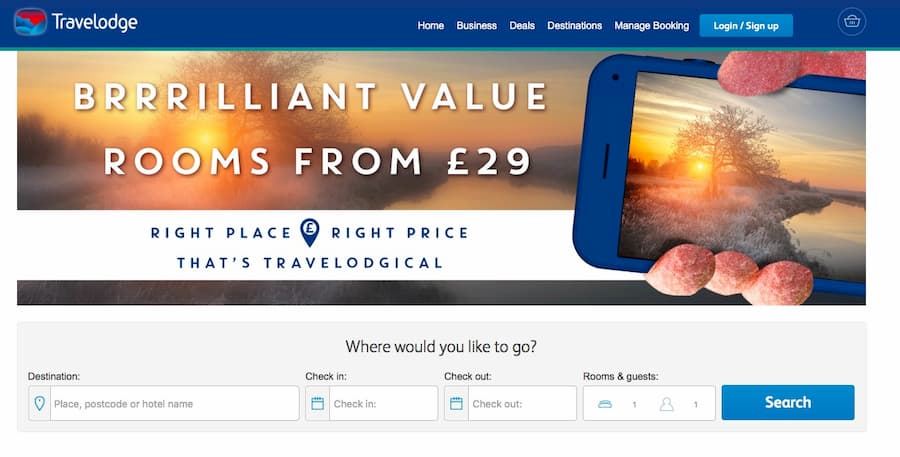 The search and booking process
Hotels can increase bookings by making it easier to search and book online. One thing many OTA sites like booking.com have in common is that they provide an excellent user experience during booking, whatever the device used.
Hotel sites need to match this to remove one of the key advantages enjoyed by these sites. Here are some ways to achieve this.
Bookings via mobile
Of all types of travel booking, hotel bookings are perhaps best suited to mobile. It fits with user behaviour, as there are plenty of scenarios where hotels may need to be booked on the move – last minute changes of plan, business trips at short notice, and so on.
Indeed, Criteo stats show that up to 80% of last-minute bookings are now made on mobile devices.
The challenge for hotels is that OTAs seem to be doing a better job of converting mobile bookers. OTAs take 45% of bookings from mobile devices (39% of these on smartphone) compared to just 16% (10% smartphone) for hotels direct.
The visibility in search engines, and brand recognition for OTAs can partly account for the OTA's success, but UX has a lot to do with it. In general, it's simply easier to book a hotel on booking.com than the average hotel site.
Here's the booking form on booking.com. It's front and centre for mobile users, fields are large and easy to complete, and the calendar selection tool works well.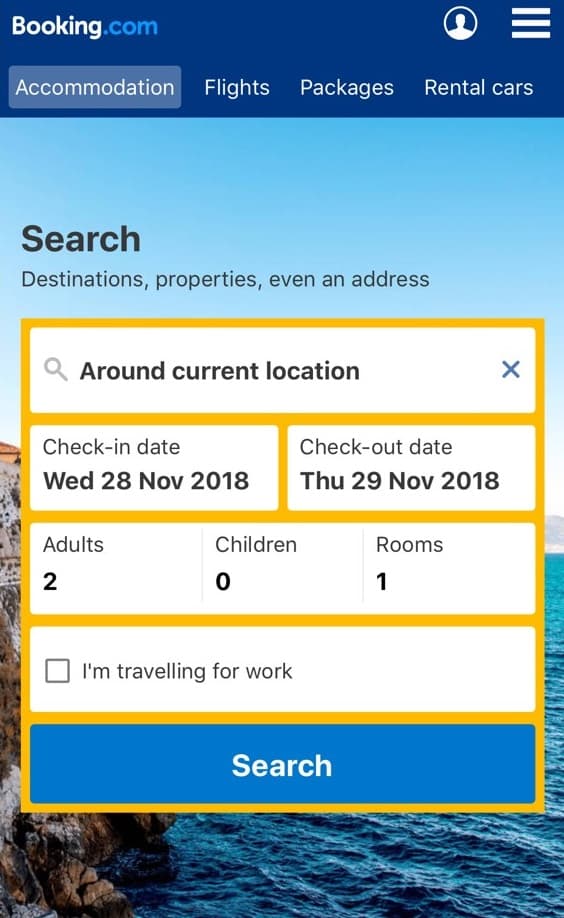 Contrast this with a hotel website. The way this booking form has broken suggests a lack of testing for mobile.
With parts of the calendar not visible on the screen, it's almost impossible to select the check in and check out dates.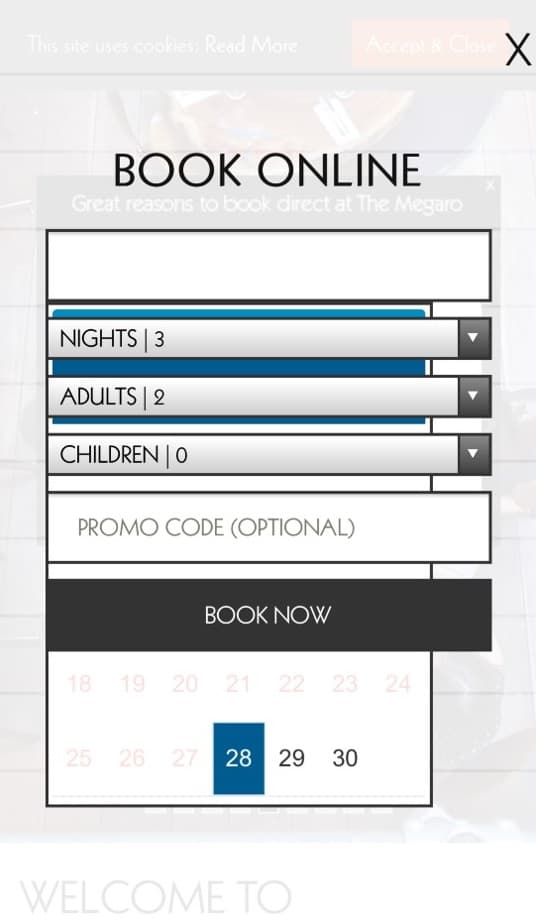 Hotel websites can do better, and in some cases, it can be better to use third party booking forms, if the skills and resources aren't available in-house.
Here, a Cambridge hotel has outsourced this to a booking engine, which provides a simple and usable booking form.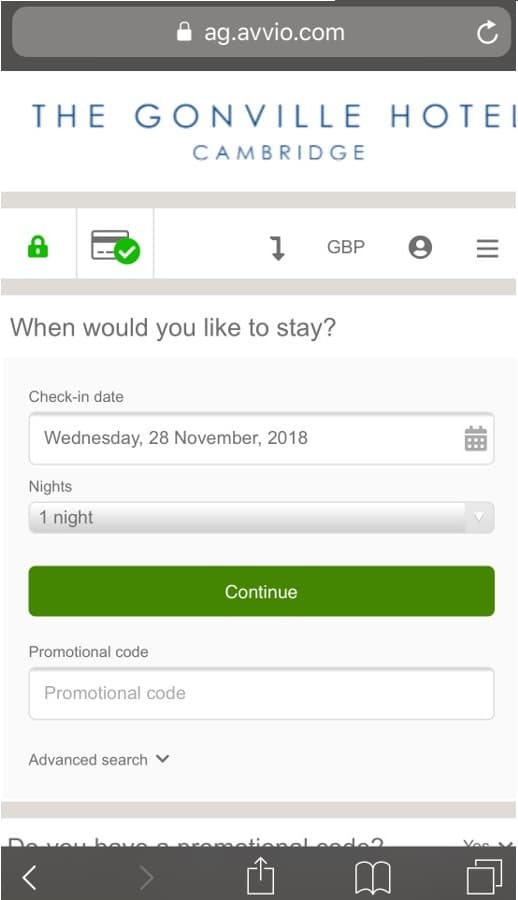 Search results
Booking search results should be clear to understand, and should also sell the benefits of the hotels and rooms.
In this example, from The Megaro, rooms are shown over a week so users can easily see what's available, and when it's cheapest to stay for price conscious users.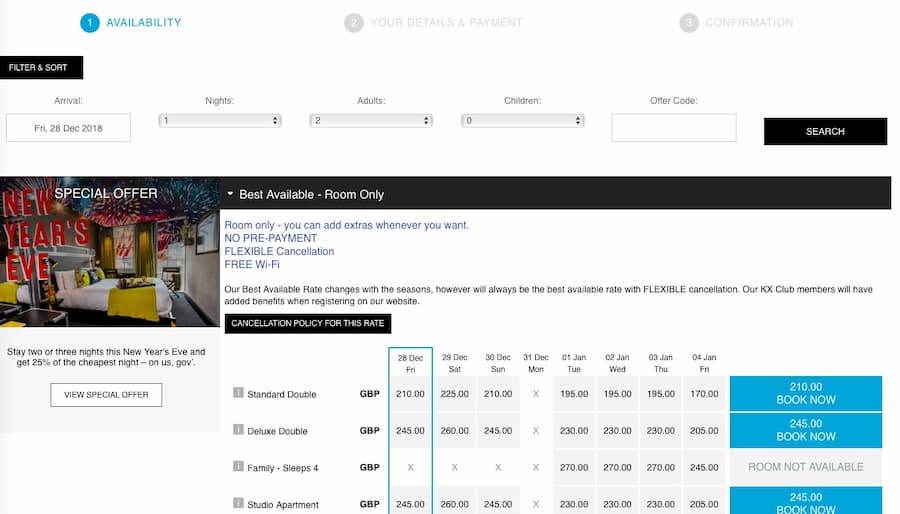 Tigerlily borrows a little from OTAs like booking.com, with some urgency in the messages – 'last reservation was made 1 hour 50 minutes ago' and 'limited availability'.
This can help to push users towards a decision to purchase, as they may miss out if they take too long.
In addition to the urgency messaging, it's a good idea to pick out key selling points like the city centre location and online booking discount. This can reinforce the wisdom of booking direct at the very point where the decision is being made.
The results are also well presented, showing images of rooms and summaries of key features along with prices.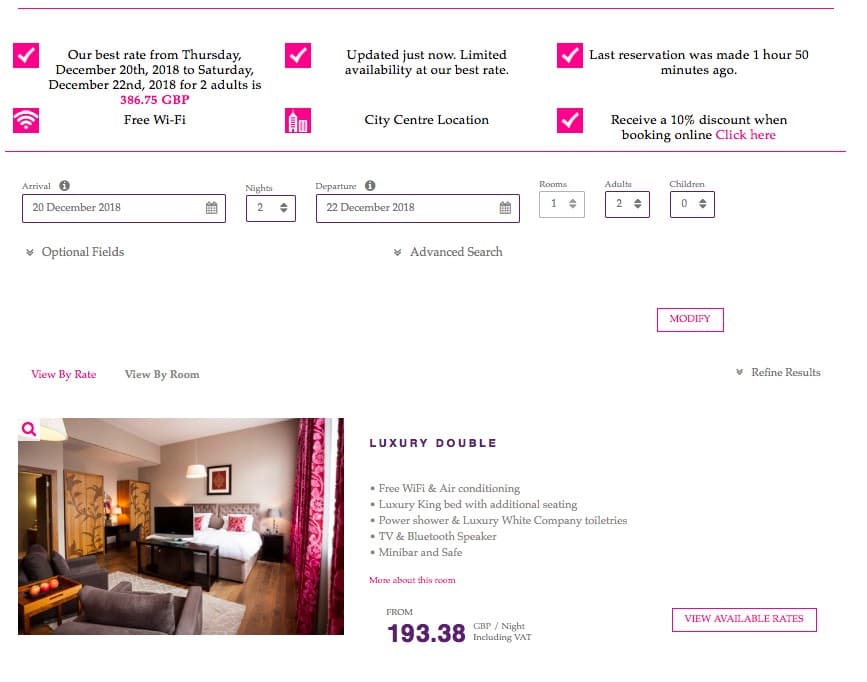 Maps are a great tool for helping customers too. For hotel chains they can show the availability of hotels near places of interest or events that guests may wish to attend, and they make it much easier for customers to see if their chosen hotel is in a suitable location and matches their needs.
For many hotels, Google has done much of the work, so it makes sense to use Google Maps to show location for potential customers, and directions for people arriving to check in.
This is a good, simple example from Hotel Noir in York. The map embedded on the page reinforces its good review rating and show the hotel's location in relation to local landmarks and places of interest.

Once people have decided to book, it's all about smooth payment forms which don't present any obstacles to customers when they pay.
Looking through several hotel sites, many payment forms are very basic, and while they work reasonably well, they don't always match the professional look of many ecommerce payment forms. It's a key area for hotels to work on, as customer trust at this point can easily be undermined.
Many sites are using booking engines, and these do generally deliver a good level of usability. There is room for improvement in general though. For example, hotels can do more to cater for mobile users by offering alternative payment methods like PayPal and mobile specific solutions such as Apple Pay.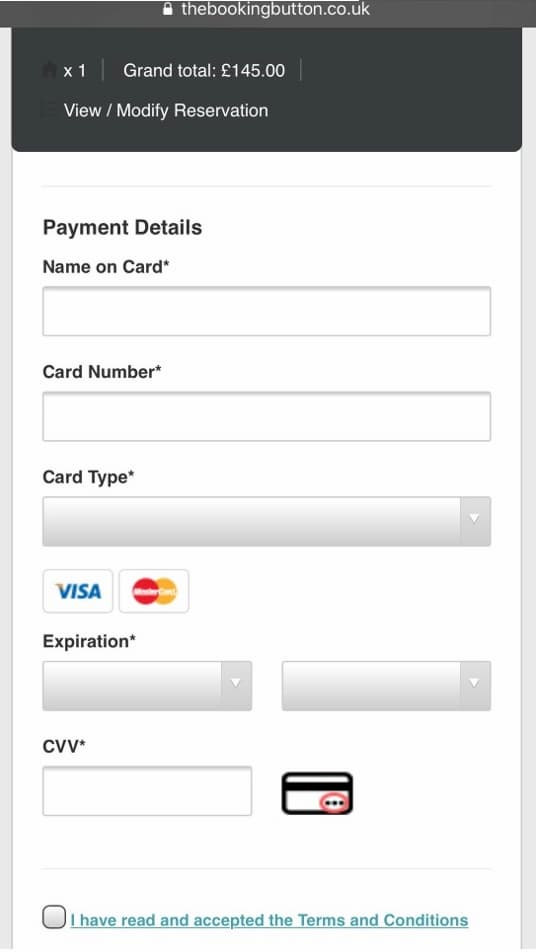 Techniques for encouraging direct bookings
It's great to have some listings on OTAs like booking.com, which occupies a position in travel and hotels similar to that of Amazon in online retail.
However, just like selling through Amazon is for ecommerce sites, there are drawbacks for hotels driving bookings through OTAs. Acquisition costs are higher due to commission and fees paid to OTAs, and you don't have control over the relationship with your guests.
A key aim should therefore be to encourage more direct bookings, though it would be a brave decision to move away from OTAs altogether.
Here are some ways to boost direct bookings…
Underline key selling points of direct bookings
If there are clear advantages for users, spell them out. Here's a good example, where the selling points are highlighted for visitors, such as cheaper bookings, perks like free internet access and more.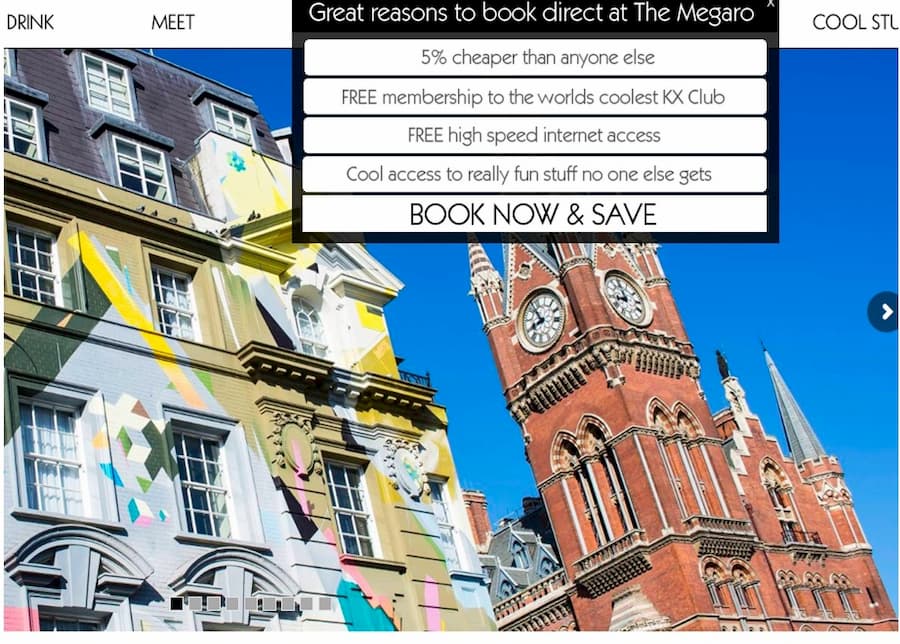 Promote loyalty
Booking.com rewards frequent bookers, so why not hotels for direct bookings? If customer loyalty is rewarded with perks, special offers and discounts, they'll be much more likely to head straight to hotels to book, ignoring the OTAs.
It doesn't just have to be about formal loyalty schemes, hotels can easily identify frequent users and high spenders and use email offers to reward them.
Copy OTA tactics
As in the Tigerllily example shown above, hotel sites can learn from OTAs and borrow some tactics, such as use of social proof and creating a sense of urgency.
Reviews
User reviews provide an extra level of detail for potential hotel bookers and help them to trust the information they're reading on a hotel site.
For hotels, online reviews are dominated by TripAdvisor and reviews in Google Business listings.
As the primary travel review site, TripAdvisor is likely to be a destination for many people researching travel purchases.
Providing reviews on-site can remove one reason for shoppers to leave your site to conduct more research or, by highlighting your excellent reviews on site, a quick visit to TripAdvisor can help to persuade site visitors to make a booking.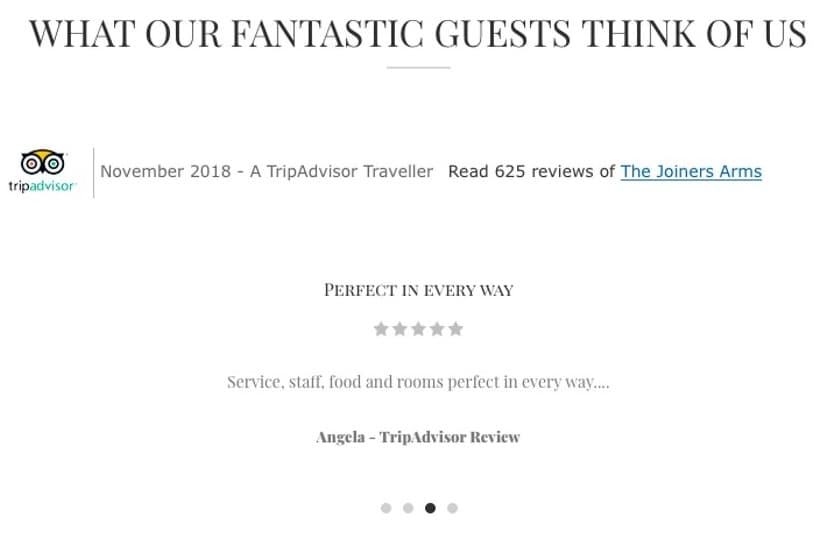 Upsell hotel extras
This is one area hotel sites can make the most of, and one which can help them to increase revenue from direct bookings.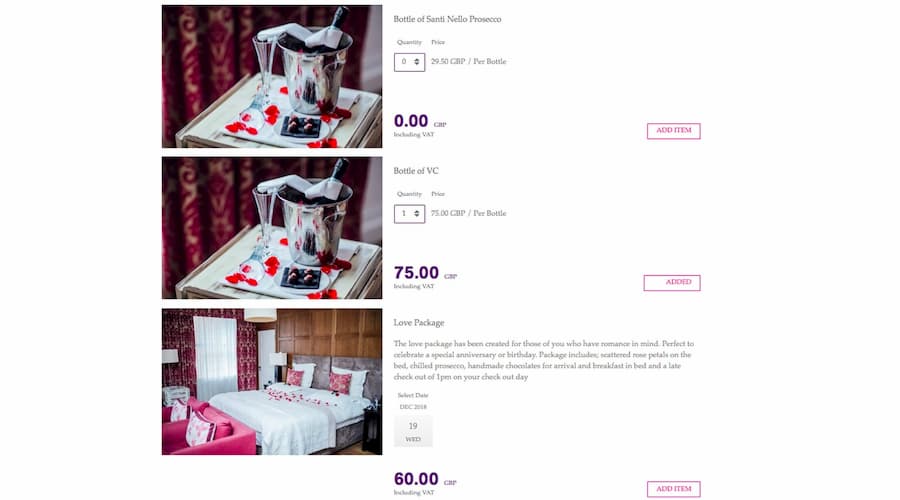 Extras could include meals and afternoon tea, bottles of prosecco or champagne to greet guests, or extras like the 'love package' above which includes wine, chocolates and breakfast in bed.
For more inspiration, take a look at these three great examples of accommodation websites.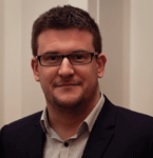 Graham Charlton is Editor in Chief at behavioural marketing company SaleCycle. He has previously worked for Econsultancy and Search Engine Watch, and has written several best practice guides on e-commerce and digital marketing. Follow him on Twitter
Read full profile