Content marketing is a great way for small businesses to build their online presence. It's cost-effective, and can improve search performance and appeal to potential customers.
For some businesses, ideas for blog content, social media posts and videos may seem relatively simple to come up with, and you can easily imagine their appeal to visitors.
A site selling Mexican ingredients can come up with interesting recipes for tacos or talk about the provenance of their products, travel sites can produce guides to the great places people can visit, fashion sites talk about the season's trends, and so on.
On the other hand, if you're selling spare parts for lawnmowers, home insurance cover, or stationery, the ideas for content may seem less obvious at first. You may wonder whether it's worth creating content at all.
However, even if your products or service don't seem to be too exciting, or are even a bit boring, there's always a way to create some content around them which can appeal to potential customers.
Here, we'll look at some examples of content from businesses selling relatively dull products, and some tips on how to think about creating content, whatever it is you're selling.
1. Do your homework first
All content marketing should begin with some solid research into your audience and their interests. In this way you can target them more effectively.
You may know a lot already from your existing customer database, and tools like Google Analytics. In addition, information from customer surveys and common calls or emails to customer service can add an extra layer of insight.
The key here is to have an idea of your customers so you can write content with them in mind – think about the groups you're targeting, the problems your content can solve, and take it from there.
2. Carry out keyword research
The content you create can improve your performance in the search engines, and so it should be written with search in mind.
When it works well, it's a virtuous circle – the content you create helps you improve search rankings and visibility, while better search performance means that more people view your content.
Keyword research has a part to play as it allows you to identify search terms related to your content and the problems it addresses. It helps from an SEO perspective to identify key terms to target, and can also be useful for developing content ideas.
For example, using a tool like Answer the Public, which uses Google auto-complete data, can help you to identify some popular search terms around your product, but also generates some useful content ideas.
For example, this query about lawn mowers returns results which reveals other common customer questions around the product – using it on steep slopes, uneven ground, different types of lawn mower and so on.
Creating content around these questions can help your customers research products and improve your search performance at the same time.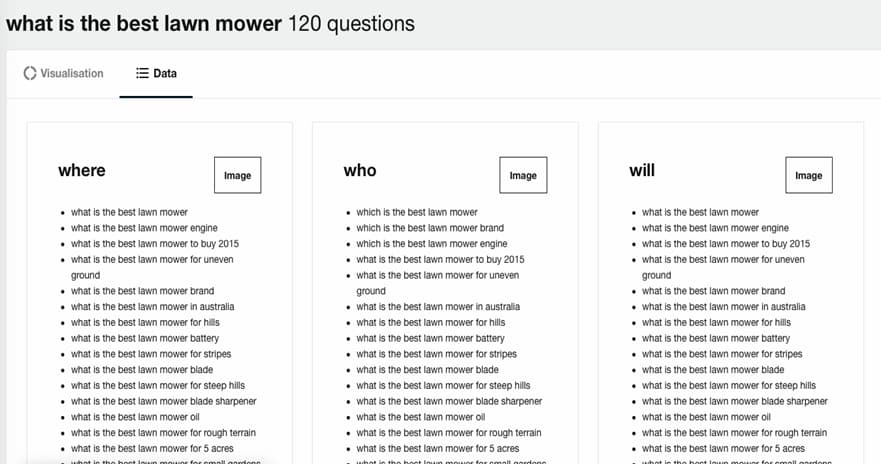 3. Educate visitors about your product or service
Customers may know they need the products you sell, but may not know about how to use them or how to find the version that suits them best.
Content can help here by addressing possible customer concerns and questions around products. In this way, you're educating them about your products while selling the benefits at the same time.
To continue using the lawn mower theme, here's an example of how this kind of content can work.
Here, Gardenlines has produced a buying guide to lawn mowers, which explains the pros and cons of various lawn mower types, including those that are best for uneven ground.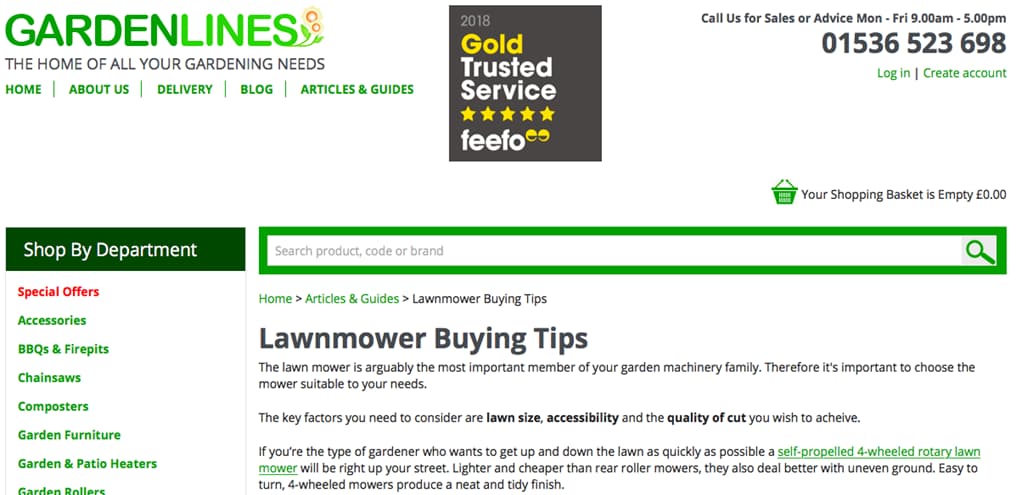 It's useful content for shoppers which helps them decide which product is best for them, and it has also achieved its search goals. It's currently ranking number one on Google, while a featured snippet is a very welcome bonus.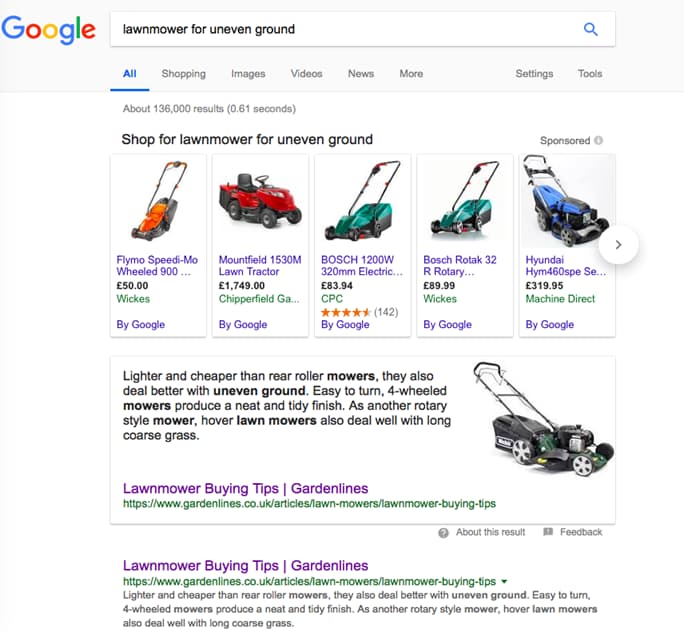 There are other ways to be helpful, producing walkthroughs showing how to complete certain DIY tasks for example.
Here's one from B&Q which explains how to lay laminate flooring. Not the most exciting topic for many, but very useful advice for those that need it.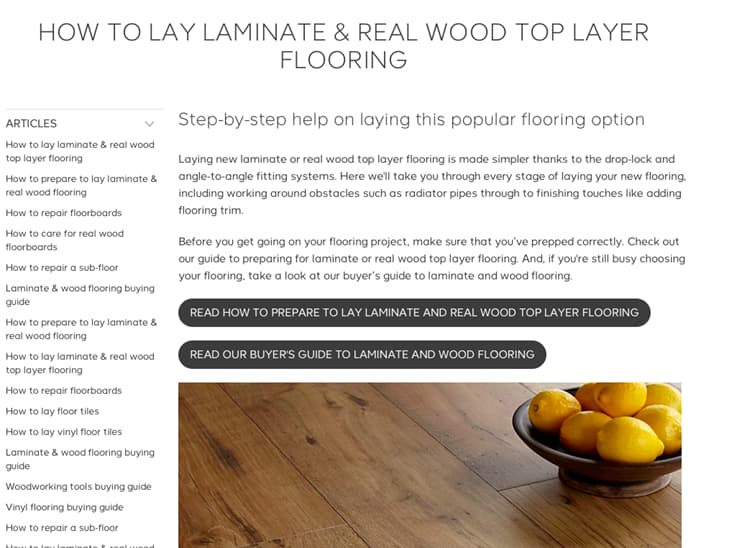 4. Use humour
Content doesn't have to be all serious and helpful all the time. Instead, brands can inject a bit of humour and take a sideways look at their topic.
Rentokil's blog is a great example. Pest control isn't perhaps the sexiest topic, but it does a good job of mixing some humor in along with the useful advice.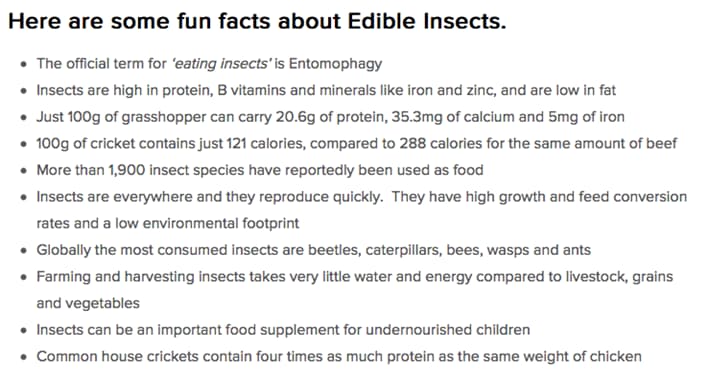 Arena Flowers is another example. There is some useful product related content on the website, flower care guides for example, but it chooses to use social channels to show the brand's humorous side.
There are a few mentions of flowers here and there, but it's mainly jokes. The result is that these tweets have received more coverage than standard product content would have, and a few more people are aware of Arena Flowers as a result.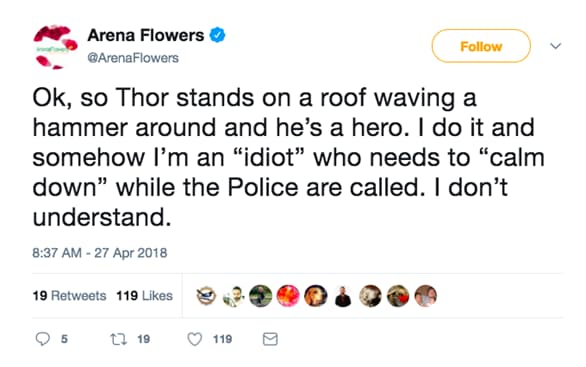 5. Create useful tools
Resources which help customers use your products or services is a great content angle to try. If it works well, then it helps to build awareness of your product and brings people to your website.
If your resources are useful and help solve customer problems then people will also share and link to them.
Think about the questions people have around your products and any problems you could potentially solve with useful tools.
The tools you create will depend on your products, and some ideas may be relatively obvious. For example, finance sites can create tools which help people to decide how much they can afford to pay out for a mortgage or bank loan.
Here, Paint Direct has created a paint calculator tool which helps customers to see how much paint they'll need to buy. It saves the customer time and helps to bring in the site's target audience.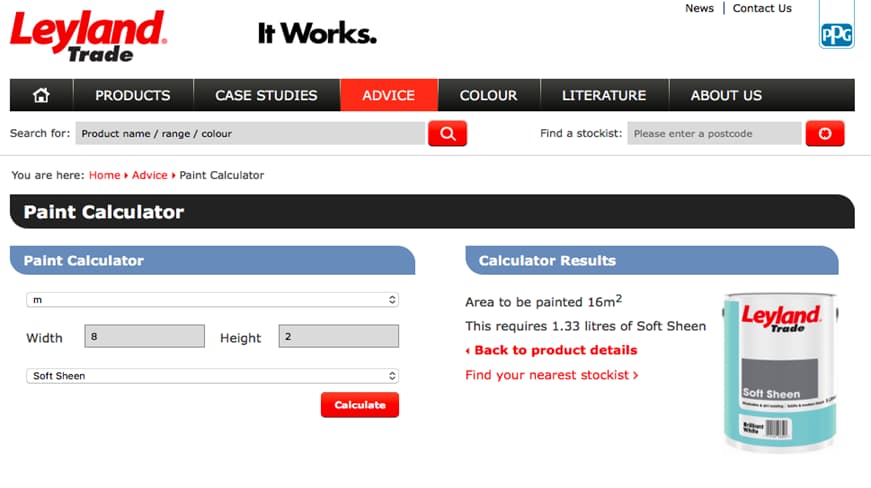 6. User generated content
If you can get your customers to create some content for you, all the better. Consumer reviews are the most obvious example, and can be used beyond product pages amongst other forms of content.
User generated content (UGC) can add that extra layer of persuasion for potential customers, as it tells them that others have used and enjoyed your products, to the extent that they're willing to make the effort to write reviews or post photos.
Visual content is another great format for user generated content. Images of people wearing or using your products makes for great content, as well as being excellent social proof.
Here, Modcloth has an instagram account showing satisfied customers wearing its clothes on their wedding days.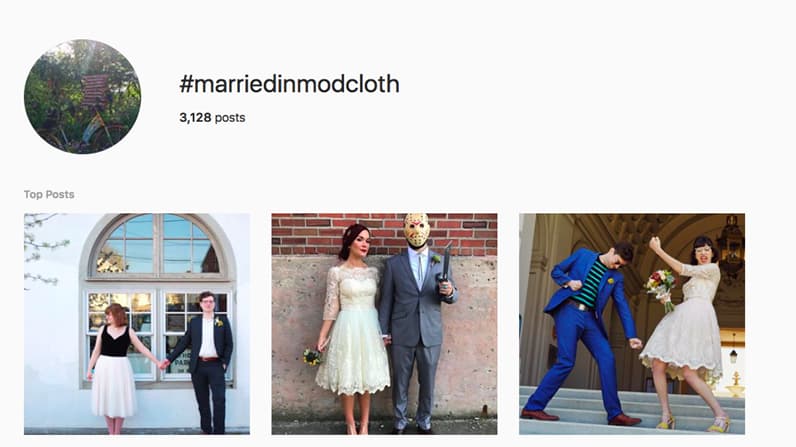 It can work for more boring products too. For example, Home Depot customers answer questions from potential buyers about products, as well as uploading images of sheds and other products they've assembled.

7. Answer questions about your products
Answering customer questions is a good approach to content marketing in general, and can help to focus your strategy.
You can use questions commonly asked by your own customers, or by using some keyword research around your products and the problems it addresses. This will also make useful content for FAQs pages.
After a rough time in 2008, River Pools chose this content strategy, and its CEO credits blogging for the subsequent upturn in its sales and making it the most popular pools company website.
The River Pools strategy is quite simple; they answer every question a customer might have about buying and maintaining a fiberglass pool.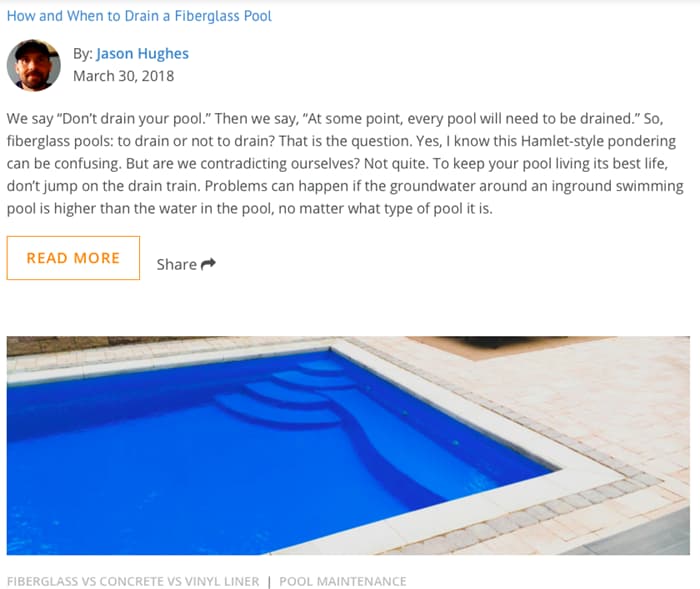 It's useful for visitors, helping them to make an informed decision when thinking about buying a pool, and also works for existing customers looking for advice on maintenance of the pools they've bought.
As an SEO strategy, it's a great angle to take, as it covers the questions people may need answers to when they're in the research phase.
As a result, River Pools ranks highly for lots of pool related searches, with content on some relatively dull topics like warranties.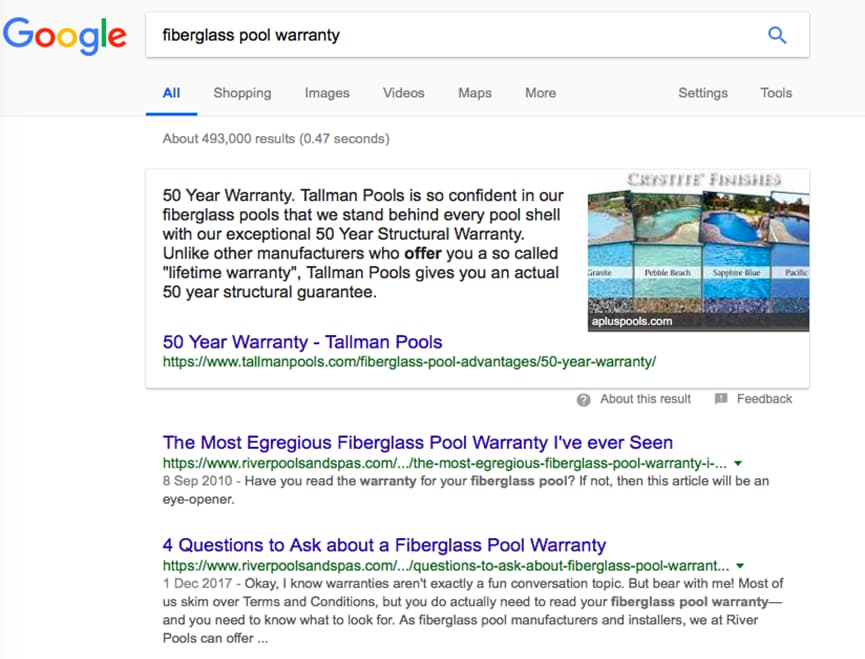 8. Interview people in your industry
Interviews are a good source of content and, even if your product is relatively mundane, the people using them, or the things they do with it may not be.
For example, stationery website Paper Source has a series of 'Meet the Maker' interviews with inspiring women.
As well as giving you some interesting content for your readers, industry figures and experts can help to give you some exposure.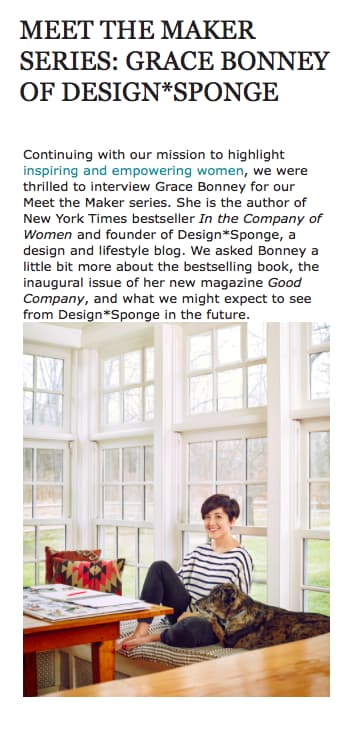 9. Use data
People like stats and insight, and this can be a good angle for content creation. For example, you may have some data which can be used to create some interesting content.
Otherwise, using data around your product can help inspire some useful content, infographics for example.
Canadian lawn care specialists TruGreen use infographics with lots of soil and garden related facts. It's a good way to bring a relatively dull topic to life.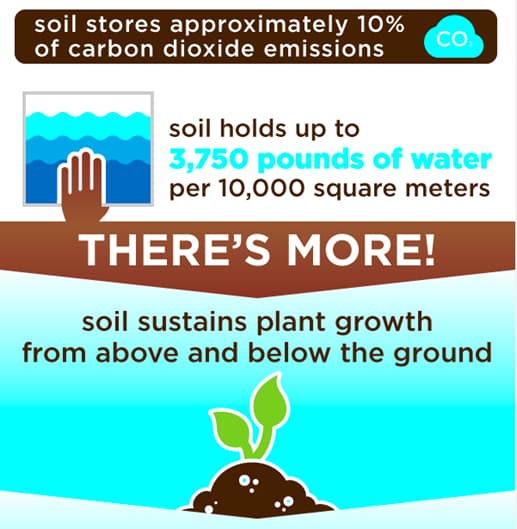 10. Think beyond written content
Content marketing doesn't have to be about written content and blogs, so think about using formats like infographics, images and video.
For example, the laminate flooring advice could be a good idea for a video, with the added advantage that viewers can see the flooring being laid and learn by example.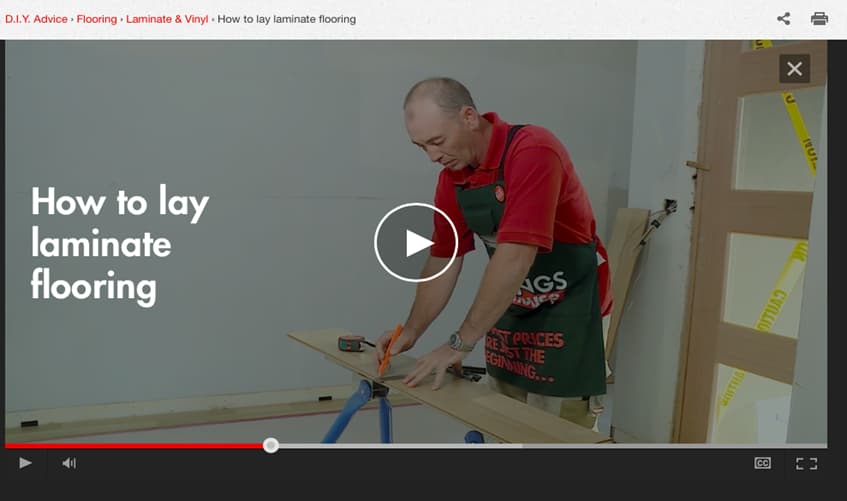 A famous example of video content for a relatively boring product is Blendtec, with its 'Will it Blend?' series, in which a series of bizarre objects (iPhones, golf balls and more) are liquidised using its blenders.
The videos are funny, but they also help to demonstrate how powerful and sturdy its blenders are. The campaign is said to have led to a sales increase of 700%.
Hopefully these ways to generate content topics spark some new ideas within your business. Why not start by doing some keyword research and brainstorming some new content titles using humour, user generated content or questions?