In recent articles, I've looked at how podcasting can help you connect with your audience and support your broader marketing efforts.
When your listeners are tuning in to your podcast, they feel connected in a more intimate way than if they were reading a written message. And because they can listen while they're doing other things – cooking, driving, walking to work – it can even feel like they're catching up with an old mate.
But increasing your listenership is easier said than done. Apple has recently announced that there are around 550,000 podcasts available to download. That means that although people are ready to listen to podcasts, you need to fight for your audience.
And while it's possible to pay to advertise your podcast, there are other organic tactics you can try first or alongside sponsorship opportunities.
Google's recent updates
Before I start, it's worth discussing what Google is currently doing to help your podcast get found online.
Because podcasts are a booming format – 5.9 million people are listening to podcasts worldwide  – Google now recognises podcasts as their own unique format. Therefore, if you type "list of podcasts" into the search bar, you'll be given a direct list of podcasts that are also split into categories: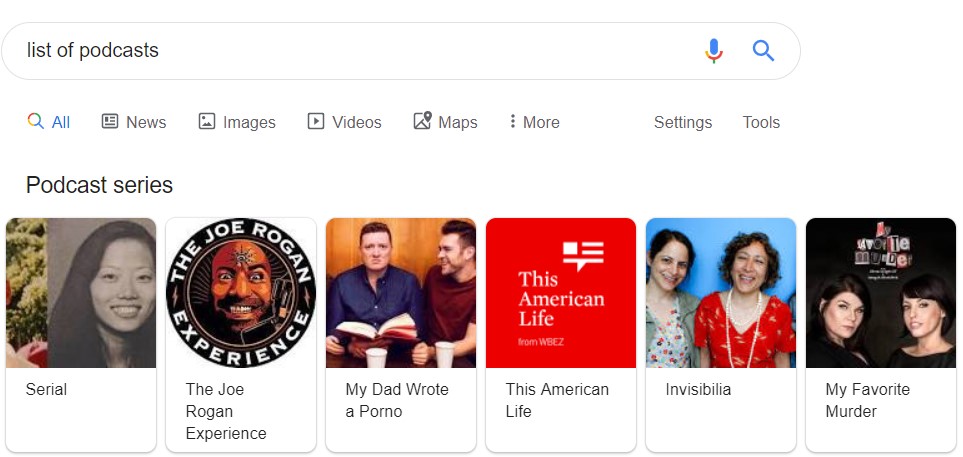 The only issue is that you'll need to tell Google that your audio content is a podcast, so you'll have to follow Google's guidelines to make sure it's recognised as such.
Secondly, Google has started automatically transcribing podcast content so that search engines are essentially "reading" your audio. This means that the content you include in your podcast counts towards the general SEO health of your website.
So, even if you just publish your podcast as it is, with no regard to optimising it for search, Google is still helping it get found in search. That said, there are still plenty of proactive steps you should take to ensure you're giving your podcast every chance of getting found by potential listeners.
How to increase your listenership organically:
1. Publish consistently
Podcast audiences remain loyal if they know when they can expect to tune in to each new episode. For podcast fanatics, there's nothing more infuriating than not knowing when they'll hear from their favourite show again.
Consistency is key to both retaining your existing audience, but also growing it. It's been shown that podcasts that publish at least once a week are more likely to grow a loyal audience. And if you want even more detail, it's Tuesdays and Fridays that are the most common publishing days.
If you already have a podcast, or are thinking of starting one, then plan enough content to be able to publish weekly, and make sure you stick to the same day of the week. This way, you'll be creating anticipation among your existing audience, but will also start to become a familiar sight among new listeners who are browsing podcast platforms.
2. Include keywords in your audio filename and metadata
As with all content you publish online, you can employ some SEO tricks to give it the best chance of getting found.
This means that you need to consider the keywords to use in your show title, description and show notes pages. You can even make sure you use your keywords in your show notes and transcripts, so that they don't get hidden in your audio file.
3. Create a new post/page on your site for each episode
A separate page for each of your podcast episodes might sound like a huge amount of effort. But the benefits it brings are well worth it.
Google cannot "listen" to your audio as such. Instead, it must rely on all the text information around it to decipher the context and value of your podcast content.
It also means you can keep your audio file, as well as the transcript, show notes, and referred resources all in one place. Your listeners can tune in to listen to your audio and know where to find it if they want to come back later.
Use your page to link to all the external resources you've discussed throughout the episode to build up your link profile. You can also use it to ask for reviews which, again, helps to boost your podcast and overall website marketing, or even to host exclusive additional content.
If transcribing your podcast sounds like a chore too far, then there are tools that can help you. Speechpad, for example, will let you upload your audio, and they'll transcribe it to text for as little as $1 (around 80p) per minute for a 4-day turnaround (you pay slightly more to get it done quicker).
Once your podcast has been transcribed, insert the text into the body copy of your episode page, adding your show notes and links to other resources. Make it as content-rich and helpful as possible, and you'll be rewarded by extra visitors and better search results.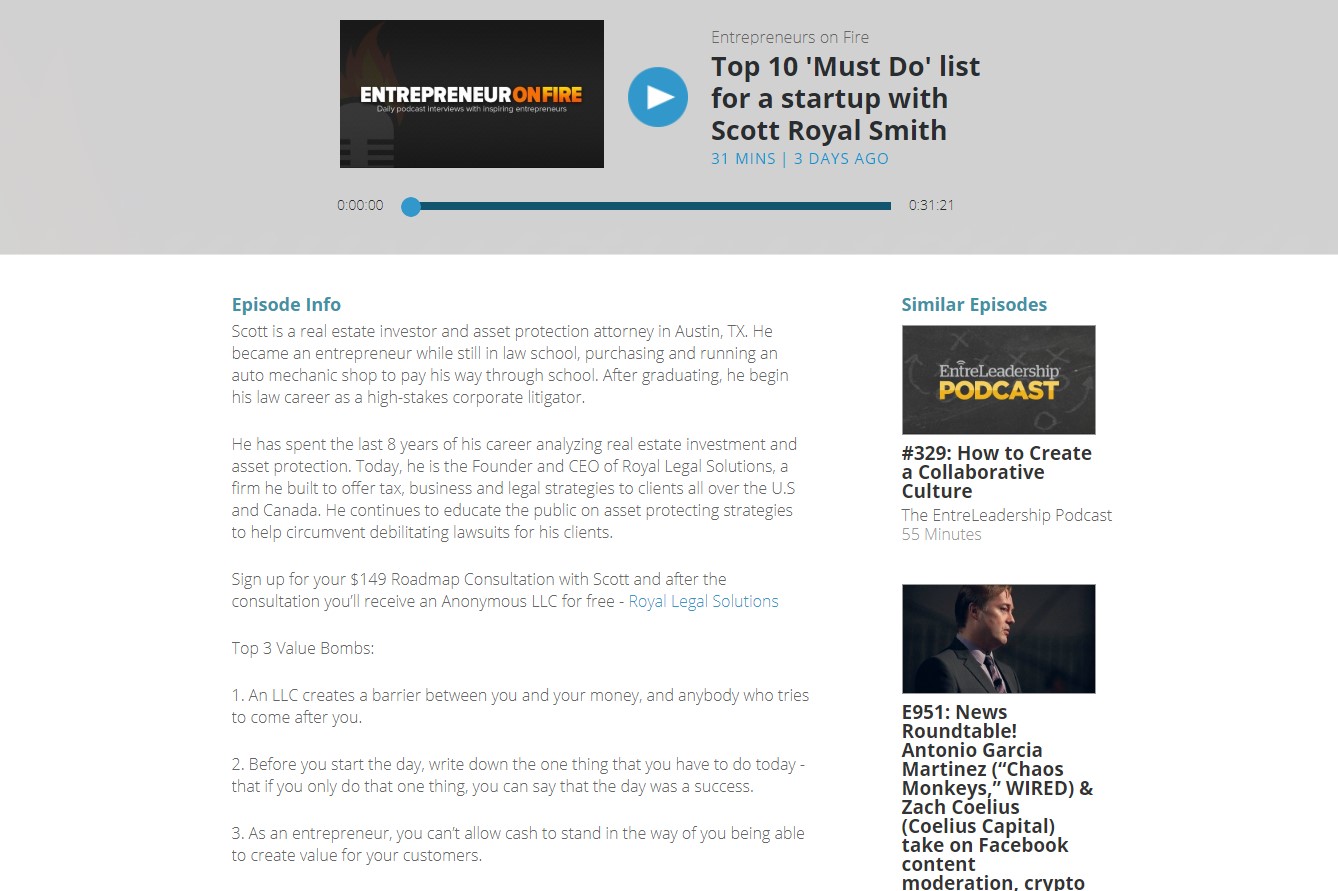 4. Make your audio content high-quality, useful and engaging
Let's face it, your listener numbers will only reflect how good your podcast content is. If your content is weak, then you won't get the listeners. On the other hand, if you publish high-quality, useful and engaging content week after week then, eventually, people will start to hear about you, and will subscribe to hear more.
Of course, I'm exploring the tips and tricks to help you grow your listeners, but what matters is that you're providing content that people will actually want to listen to.
This comes down to two things: the content of your podcast itself, and the quality of your audio.
Produce excellent and well-recorded podcasts by following the tips in this previous article, and you're already halfway there.
5. Invite well-known guests/influencers onto your show
A quick scroll on iTunes' most popular podcasts and you'll see that the majority of them include guest interviews.
In fact, it's the perfect tactic for growing your listeners. Not only are you raising your own profile by including an influential person on your show, but you're also potentially recruiting a portion of their listenership too. If they have a large social following, and they advertise their guest spot on your show, you could be in for a big spike in listener numbers.
However, this tactic isn't failsafe. You need to be sure that the influencer you're inviting on your show has an engaged and active listener base if you're going to see a boost in your own numbers.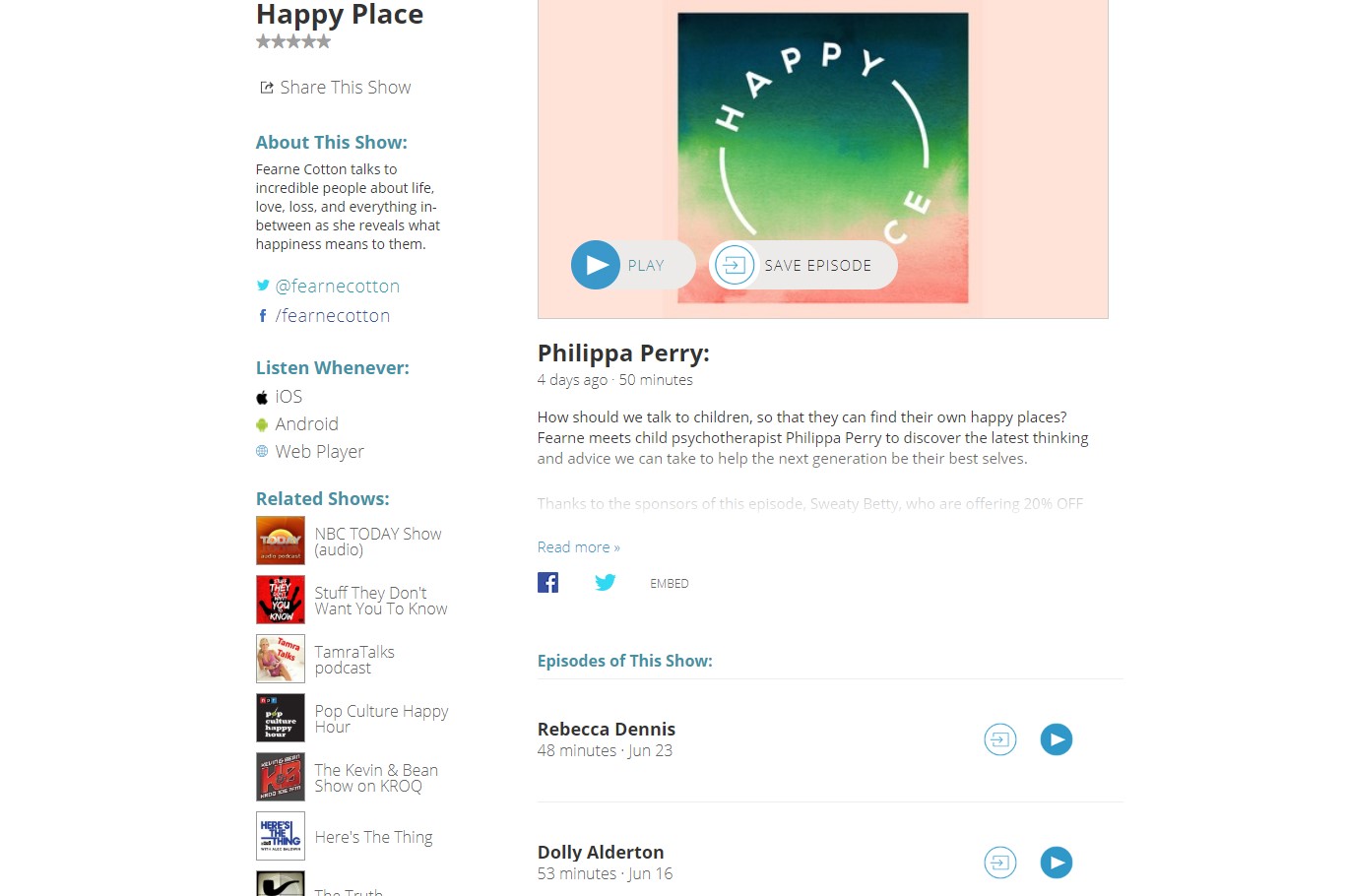 6. Optimise your artwork
To overlook the potential of your podcast's artwork is to miss out on an opportunity to catch your audience's eye.
Eye-catching, visually appealing and relevant imagery will help your podcast to stand out and will communicate something about your content to a new audience.
7. Ask for reviews
Positive reviews give signals to Google that you are an authoritative source. But, more importantly, they demonstrate to potential listeners that you're worth subscribing to and will also give you a better chance of appearing on the front page of your chosen podcast platform.
You can ask for reviews in your podcast itself (many people do it at the beginning or at the end of an episode), or in the copy on your podcast page. There's no need to feel awkward about asking for reviews. As long as you're not paying to incentivise reviews then there's no harm in asking.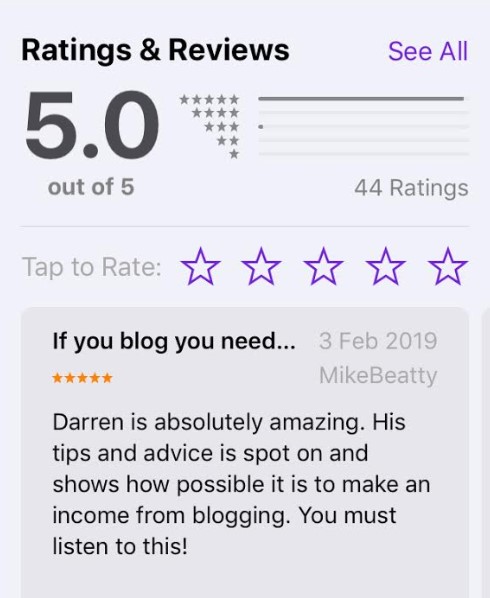 8. Submit your podcast to multiple platforms
Once you've created your podcast, you have a choice of several platforms on which to publish it. iTunes is the most common podcast app, but there are several others out there – Stitcher, Spotify, Google Podcasts, Spreaker, Overcast and Podbean – which are also Android-friendly.
To maximise your podcast's exposure, publish on as many of them as you can. They only take around 10 minutes each, and it'll be well worth the extra effort.
9. Create a supporting video on YouTube
While you're publishing your podcast, you might consider creating a YouTube video to further expand its exposure. As the website with the second biggest audience after Google, YouTube is where you will find a huge number of potential listeners.
If you have a special guest on your podcast, then you can film it so that you have a supporting video.
That said, if you haven't filmed your podcast, then there are tools available to help you. Headliner will help you to create a video out of your audio and cover art. It's not quite as engaging as a video, but it's better than no exposure on YouTube at all.
10. Share on your social media
Social media is still a powerful way of spreading the word about your podcast. Link to your podcast regularly, and every time a new episode goes live, make sure you link to it on your live stories on Instagram, Facebook or Snapchat, as well as your social feeds.
You might even consider snipping up your audio to give people a chance to sample your content over social media. That way, they can decide for themselves if they want to subscribe to hear more. Hopefully, your excellent podcast content will speak for itself!
Don't forget to use appropriate hashtags to make sure you get found for the right keywords.
11. Get to know where your audience is online
This is a longer term strategy, but still worth doing. Without knowing your potential audience's online behaviours, activities and concerns, it'll be hard to create consistently relevant content for them.
Look to forums and social communities using relevant hashtags and get involved in the conversation. 
Summary
I've looked at some of the tactics you can use to start growing your podcast listener numbers organically. If you get into the habit of doing these things, then soon enough it'll be second nature to do them every time you publish a new episode.
That said, none of these tactics is a quick fix. Growing your audience takes time. So be patient. As long as you're producing great content and doing all the right things to promote it to the right audience then, in time, the listeners will come.