Smaller online retailers are often competing in the same areas as much larger rivals, with more resources and bigger marketing budgets. In this situation, a good content marketing strategy and some creative use of content can help sites to find an audience in a more cost effective way.
By creating content which appeals to your target audience, you can raise awareness of your website and products, while improving search rankings and driving traffic to your site.
Content can take many forms. A blog might be the most obvious way to start your content marketing, but there's also video, content on social media, email newsletters and more. Good content marketing isn't necessarily about selling directly, it's about using content to appeal to your target audience, perhaps helping them with issues related to your products, answering key questions, or even just entertaining them. It can take various forms, but if it helps bring potential customers to your site and raises awareness of your brand, it's doing its job.
It's always useful to see examples of great content marketing, produced on a budget. So, for inspiration, I've been looking at some small businesses and charities doing good things with content. There are a range of content strategies here. Some have focused on search, creating content to target keywords and search terms around products, looking to improve rankings and attract the target audience from the search engines. Others are creating content for the site, but using social media to amplify the content and reach a larger audience on various platforms. What's interesting here is how brands can find the social platforms that best match the content they are creating. For example, fashion brands or those with great visuals and attractive products are an excellent fit for image-driven social platforms like Instagram and Pinterest. Then there's a mixture of content types. Some brands are looking to have fun and entertain their audience, while others seek to educate them on their products and how to use them, or provide useful tips.
For me, the best examples use content to achieve the key goals of building brand awareness and driving potential buyers to their products, while finding an angle and format for the content which suits the brand. The best content doesn't need to use the hard sell, and should be interesting or helpful to users on its own terms.
1. Wyevale Garden Centres
Lots of great content here from Wyevale, which focuses on providing valuable tips and advice for gardeners. There's a comprehensive advice section containing lots of useful tips for its target audience of keen gardeners, such as seasonal jobs, guides to caring for different plants, and suggested projects for gardeners.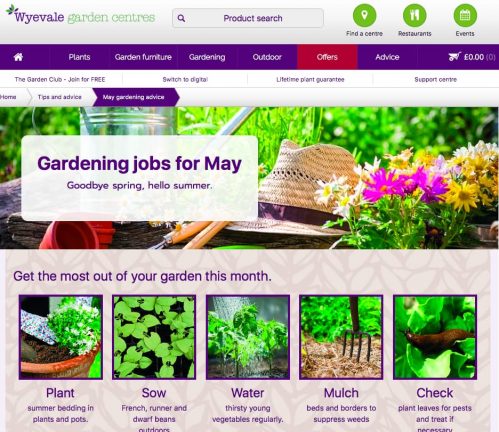 By creating content that addresses customers' questions, it helps the site to rank well for related search terms, and attract traffic to its site from interested gardeners. For example, this guide on when to seed and sow vegetables is top on Google for related search terms, and should attract a steady flow of traffic to the site.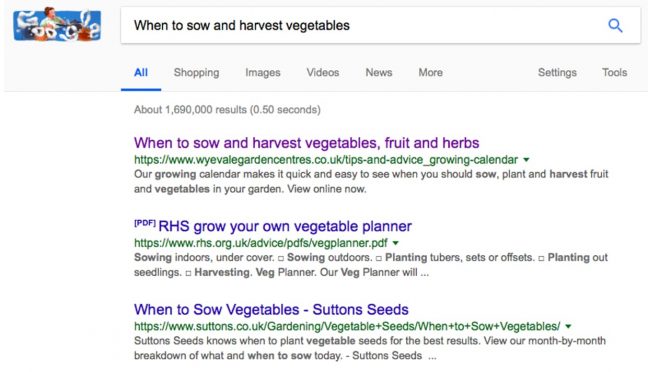 Wyevale also uses tools well, in this case a seed calculator which shows how much seed is required according to lawn size.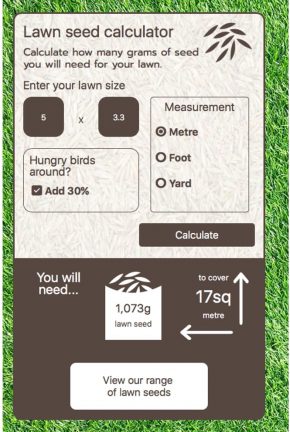 It's a handy tool for shoppers, and also provides a chance for Wyevale to send visitors to its range of related products.
2. Devonshire Tea
Selling custom blended tea and competing against some major companies, Devonshire Tea's content helps to convey the brand's values.
The content themes are well-suited to the brand and its target audience, with posts containing home furnishing tips, food events, some product content and plenty of useful recipes, many of which use its teabags.
The blog has a clear, clean design, and the company posts regularly. It's social channels are small but growing, and are used well to amplify the blog content. For example, a Twitter account with a healthy 5,100 followers is clearly monitored and updated on a regular basis.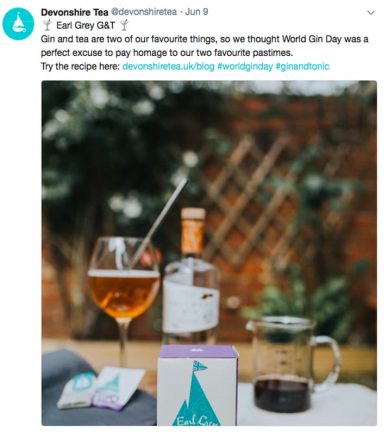 3. Pic's Peanut Butter
Pic's Peanut Butter started out with a stall at local market in New Zealand and now sells online around the world, making more than 2m jars per year. It produces peanut butter without the high sugar content of the more established brands, and so its content reinforces the health benefit of its product.
Content marketing has played a part in the brand's rise, and Pic's also makes the most of social media content to build its brand.
First of all, it has an excellent blog, with some excellent content. Recipes are an obvious line to take for the brand, but you still have to do it well. The recipes are interesting and varied and the content is well presented with great photography.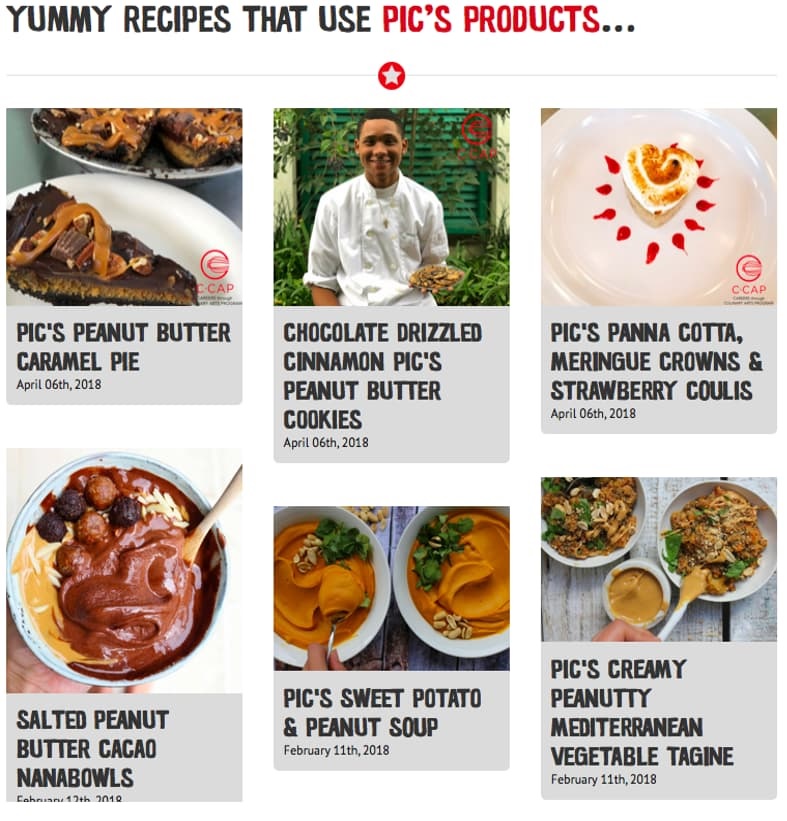 Also crucial is that the content is updated regularly. If you want your content strategy to be successful, you need to release content on a regular, not piecemeal, basis. This doesn't mean you need to create huge volumes of content, but you should be consistent.
It also uses this content beyond its website, on an Instagram feed which has built up more than 30,000 followers. It's a great example of finding the medium that fits the brand and its content.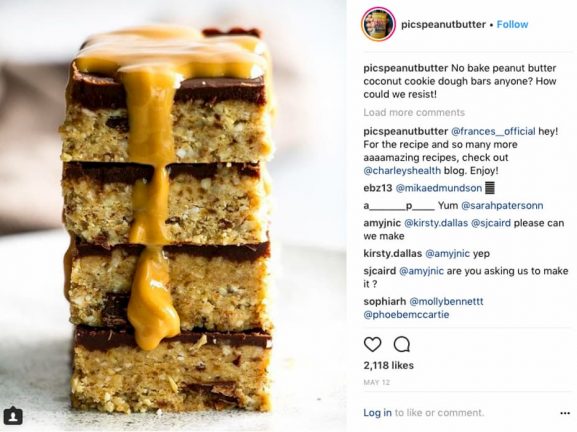 4. BirchBox
BirchBox is a subscription business, sending boxes of beauty products to its customers each month.
It uses a good mixture of content, such as a blog containing video and blog posts with make up tips, interviews and lifestyle advice. In other words, content that is likely to appeal to the brand's target audience.
This content is amplified via social media, with some great imagery on Pinterest, and some useful YouTube video tutorials, and unboxing videos, which is always a popular format.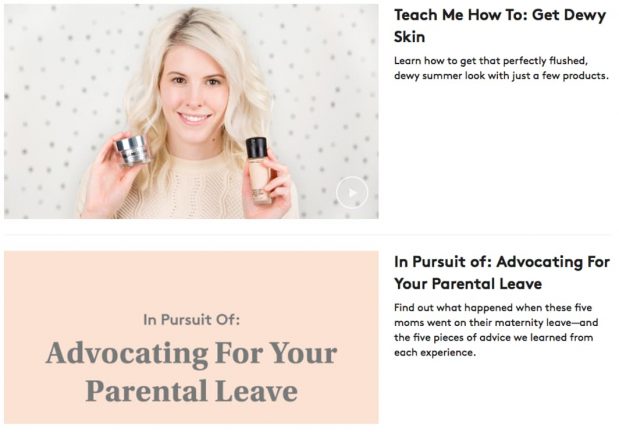 5. BarkBox
BarkBox is an online subscription product, selling a monthly box of dog goodies (toys, treats etc) – a kind of Graze for pets.
It has a great subject to work with of course, but BarkBox has done an excellent job of using content to build its brand and grow the business.
The BarkPost blog is excellent with regular updates and a good mix of fun content and more serious advice on looking after your dog.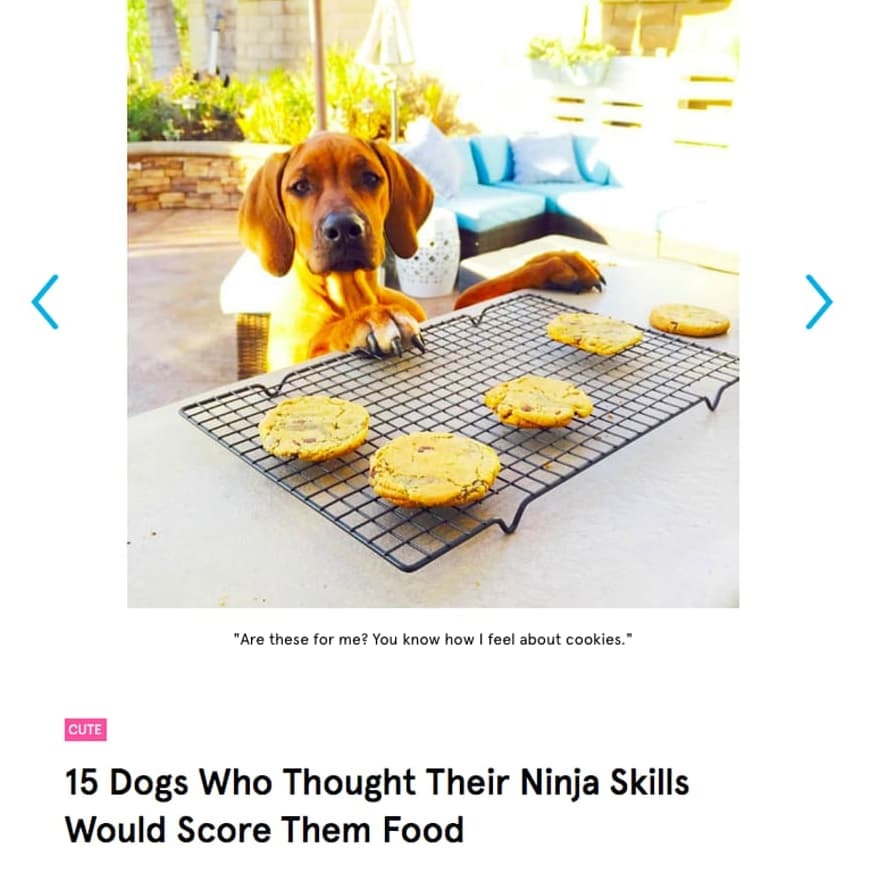 The content is amplified through a range of social media accounts, including Facebook, Twitter and Instagram. What's impressive here is that BarkBox tailors content to each chanel, so you'll see something different on Twitter compared to Instagram.
Many brands tend to be lazier here, and just post the same content everywhere without thinking about what works best for each channel.
6. Oak Tree Animals Charity
This Cumbrian animal sanctuary and charity sells gifts and takes donations online.
There's some great content explaining the charity's history, values and aims around the site, and it extends this with regular vlogs (video blogs) showing the animals at the sanctuary.
These videos and images are also used well on social media, with its Facebook page being the most popular social profile.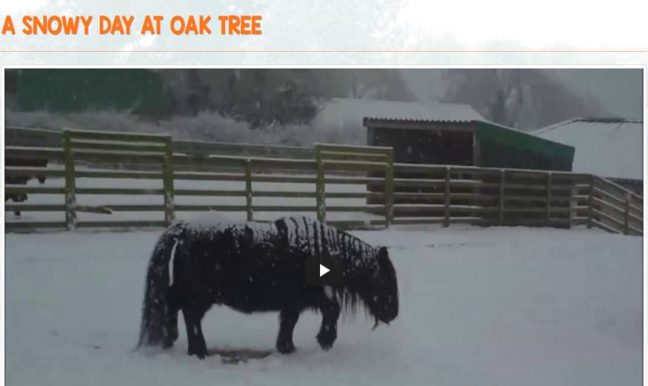 7. Mini mioche
This children's clothing retailer started when founder Alyssa Kerbel couldn't find the clothes she wanted for her first child. She decided to make and sell them herself, while sourcing materials ethically.
Its content strategy focuses mainly on visual content, and the brand uses social media effectively, with a mix of high quality imagery produced by the brand and user submitted content. It has built an Instagram following of more than 38,000 and credits social media for much of its customer acquisition.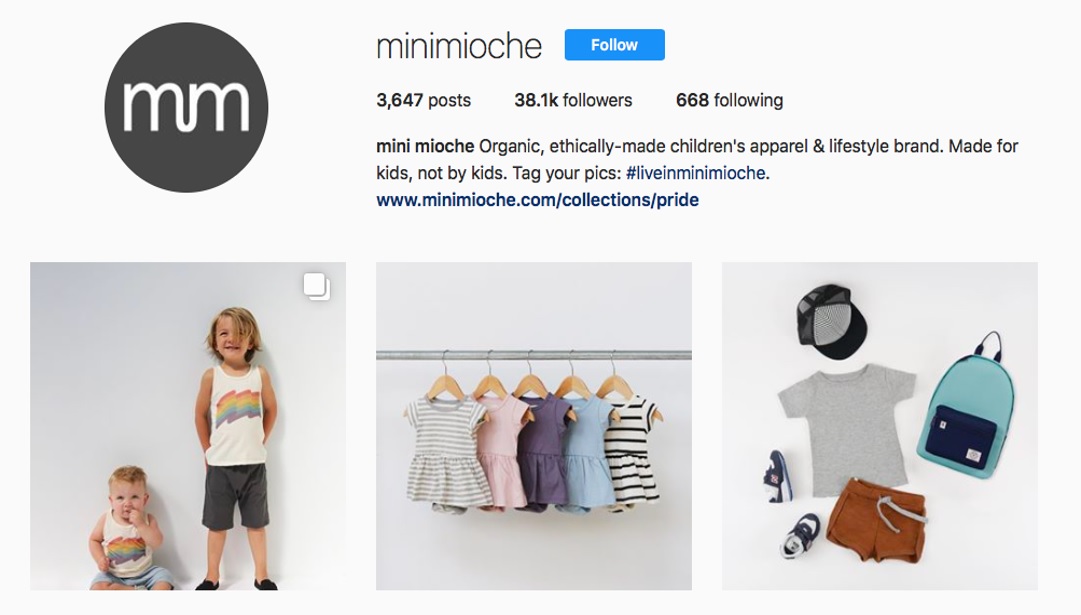 8. Yale Appliance
Yale Appliance has an excellent SEO focused content strategy which answers customer questions about its products and their uses.
There's a blog which looks to help customers with product selection, product usages and maintenance, as well as advice on areas like warranty.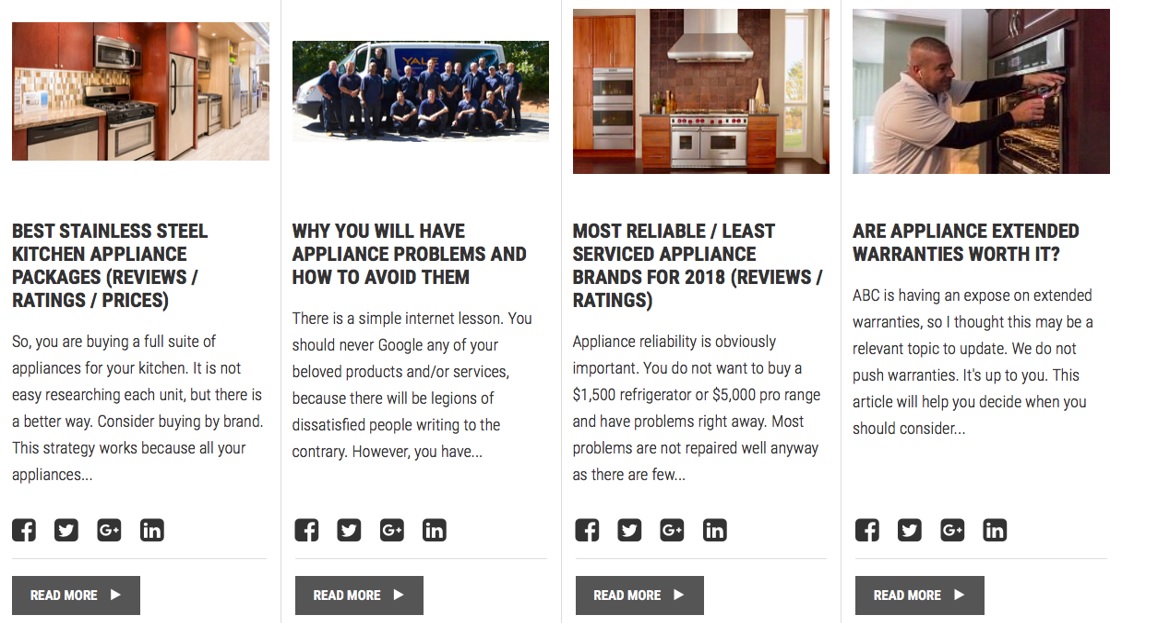 It's perhaps not the most exciting range of topics, but it covers areas that are important for its customers, and can help them at various stages of the buying journey.
Yale clearly has an eye on long tail search keywords, and its put a lot of work in to create and maintain its content, covering lots of products and the issues which come up alongside them.
For example, there's a section with lots of very detailed buying guides to all kinds of appliances and product categories.
These turn up in long tail searches, attracting their target customers, and helping them at early stages of the research process. This content is also linked from its product pages so that customers close to buying can find the information they need on site.
Also noteworthy is the Yale newsletter, which focuses on tips and news around appliances, rather than promotional content. Content marketing isn't about the hard sell, but being useful and providing value to existing and potential customers.
9. Lion Brand
Lion Brand is a family wool business, which has sold online for the past decade. To compete with bigger rivals, it's focused on content and social media.
It has a regularly updated blog on its website, and uses this and other content to build its social media footprint.
Again, it tailors content to each social platform, so we have lots of great visual content on Pinterest, more light hearted content on Twitter and Facebook, while the YouTube channel is particularly impressive.
It uses video from a mixture of product content which showcases new products, but also some great educational videos with advice on knitting.
These video guides are a great way to help customers to make the most of your products and keep them happy, but also helps to attract the brand's target audience.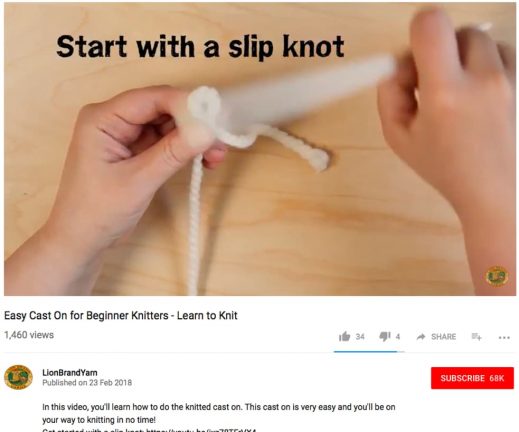 10. Rokit
Vintage clothing retailer Rokit creates some great content around its products, and also the interests of its audience. So we have movie reviews, guides to art exhibitions, lots of music content, as well as fashion.
The content matches the brand well, this guide to dressing like Grace Jones being a prime example:
Rokit also uses this content on social media, it's Tumblr page with vintage fashion looks being a particular highlight.
11. Plow & Hearth
Plow & Hearth sells a mix of garden products (furniture, outdoor lighting etc) and homeware, and has run its Neighborhood blog for several years.
The blog does look a little outdated now, but the content is excellent, and a perfect fit for the brand. It contains a wide variety of tips for home and garden. For example, articles on dealing with insect pests, ideas for outdoor dining, and practical guides on topics like creating decking or patios.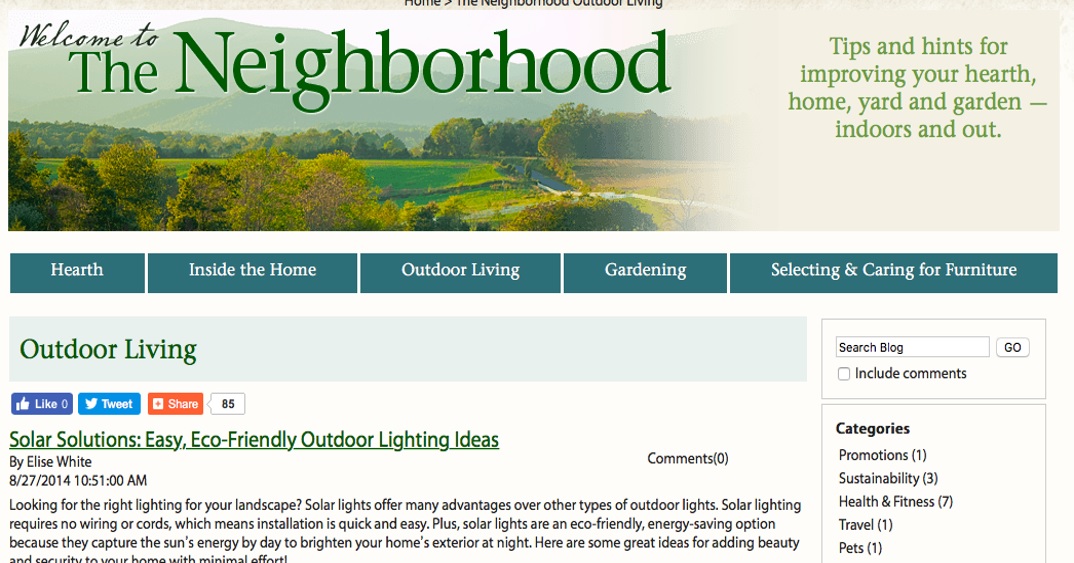 As with all good content marketing, its relevant and useful to its target audience, and helps to attract visitors to the site.
12. Tropic Skincare 
Created by a former Apprentice winner, Tropic Skincare uses a good mix of content on its blog and across its social channels.
A regularly updated blog mixes fashion and beauty advice with recipes and interviews, and the brand continues this mix over on YouTube.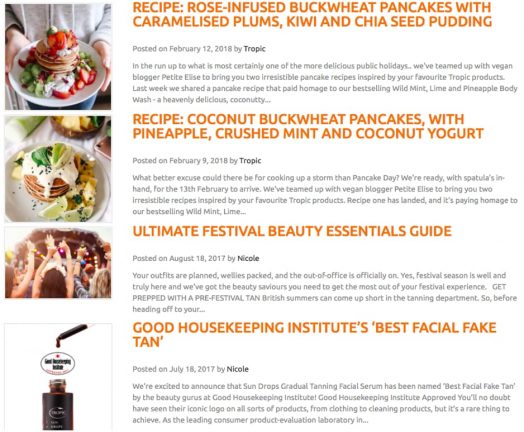 13. Flowers with Passion
Selling flowers for various occasions, online and offline, Flowers with Passion has a simple approach to content, but one which works well.
Blogging doesn't have to mean lots of volume – well executed posts at regular intervals can work well, and this site updates roughly once a month with a selected flower or plant of the month. These posts describe the plant or flower with details on origins and tips for care.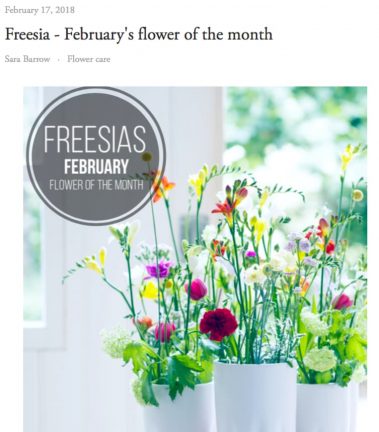 Having a repeatable format like this is a great idea as it avoids time spent thinking of content ideas, and is easy to keep up for busy business owners.