Making improvements to your checkout process is perhaps the most effective way to increase conversions on your website.
It's an area where, though visitors are close to completing a purchase, much can go wrong if the checkout hasn't been designed with the user in mind.
Once a customer has selected items from your site and is ready to pay, it should be all about making the purchase as smooth as possible for them.
If you make the checkout tricky to complete then more users will abandon the purchase and head elsewhere. And there are lots of ways to frustrate customers during checkout – form fields that won't accept an input, unnecessarily long forms, and slow pages to name just three.
Good checkout design is basically about making things as easy as possible for your users. If they've entered checkout, it means they're highly likely to go on and complete a purchase as long as they can do it without any major headaches.
These tips are mainly about removing any friction and making your checkout easy to understand and negotiate for your users.
1. Add a guest checkout option
One common barrier to checkout completion is making shoppers register before they proceed to checkout.
People don't like having to register first – a SaleCycle survey found that 23% of customers have abandoned purchases because they had to create an account first.
Guest checkout options avoid this problem, and give customers the option to enter an email address and head straight to checkout.
This doesn't mean registration should be discounted as it has advantages for customers and retailers. For example, repeat purchases are easier once customers have registered with payment and address details.
The option to register can always be shown after customers have completed a purchase. Creating an account only requires customers to enter an email address and set a password in most cases. As the email is often taken during the first checkout step, it requires very little extra effort from customers to register later on.
Here's an example from John Lewis. Customers can either sign in with their existing account details or start as a guest and create an account later if they want to.
It's a good way to avoid making registration a barrier and getting customers straight into the business of completing the purchase.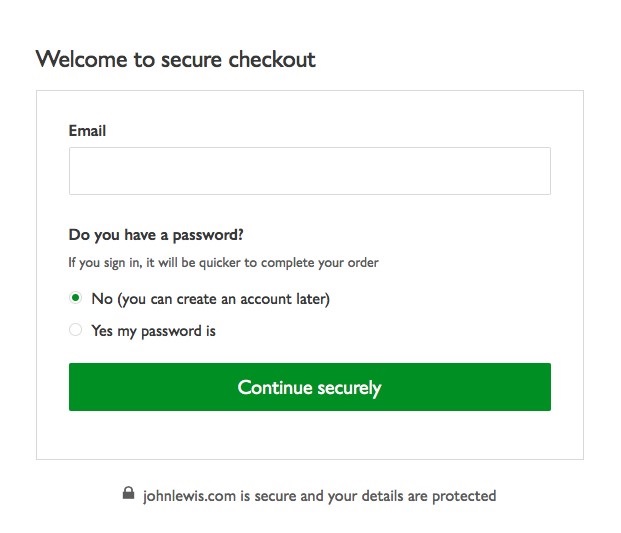 2. Remove unnecessary distractions from checkout forms
Many sites remove the navigational options from checkout forms to reduce the amount of distractions for customers as they complete checkout.
This is often referred to as 'enclosing' the checkout, and the idea is to focus customers' minds on the details of forms, making it more likely that they'll finish a purchase. It also minimises the risk that they'll accidentally click a link that takes them away from the checkout.
Here, John Lewis has removed the site navigation, making the page relatively sparse. There are some links to information customers might need during checkout, such as security policies and contact details, but otherwise it's designed to focus the mind.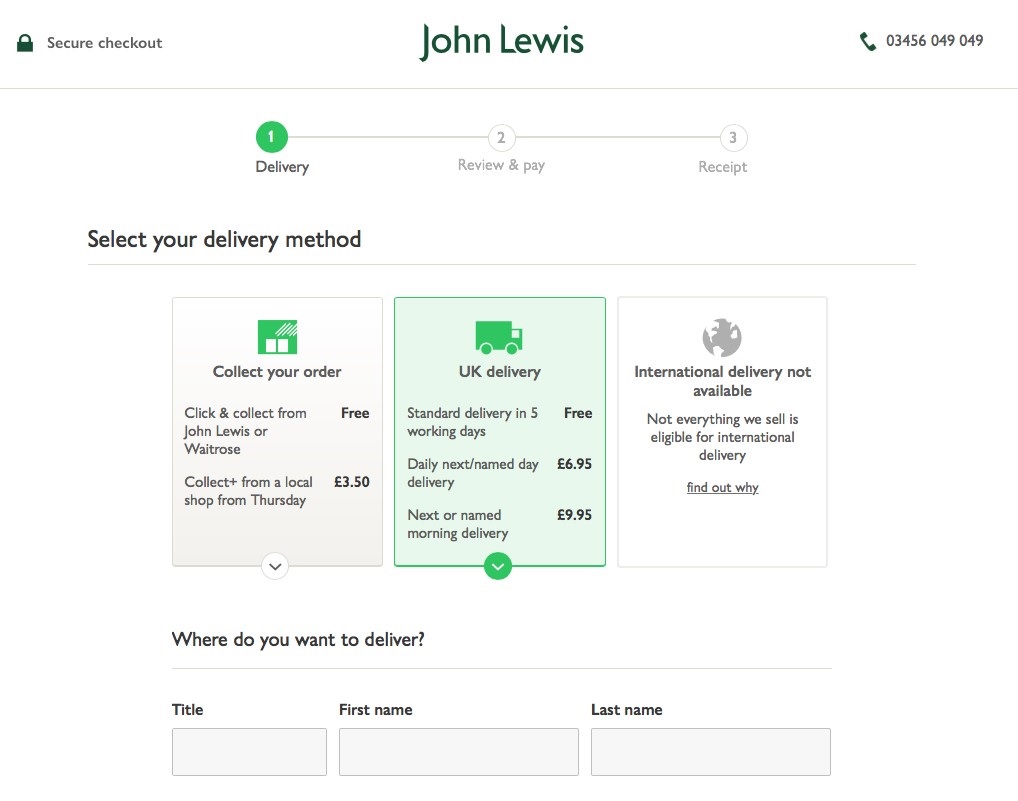 3. Test and analyse your checkout
There are ways to test your checkout and identify problem areas without spending too much. There are some cost-effective remote testing tools, while simply asking friends and family to try out your site and tell you about any problems can be valuable.
You can also use Google Analytics and other tools to identify problem areas within checkout. For example, if you see that users are dropping out more than usual at a certain point you can investigate and find the problem.
It's all about identifying problems which might prevent people from buying. Fixing these issues can be some of the easiest and most effective ways to improve conversions.
4. Ask for and listen to customer feedback
Testing and analytics have their place, but your customers and users can also be a valuable source of information.
You can add surveys and comment options to the site (taking care not to annoy them) or follow up via email to get some feedback from customers about your site. Customer service interactions can also be a valuable source of information.
They may tell you about the features they like, but may also describe problems they've had during checkout. Unlike testing and analytics, customers can pinpoint any problems and exactly where they occur. This precise feedback can allow you to address any problems more easily.
5. Improve your forms
I've written about this in more detail, but problems with forms can contribute to checkout abandonment so it's important to make them as easy to complete as possible.
6. Speed and site performance
Site speed matters in general, but slow loading pages can seriously affect customer confidence when checking out.
Slow pages could cause customers to abandon the checkout as it becomes slower to use, while pages that timeout during payment will have customers worrying about security.
7. Make checkouts easy to use on mobile
More traffic than ever is going to retailers through mobile phones, but checkouts can be a major barrier to conversions on mobile.
Conversion rates on mobile average 1.55%, much lower than the desktop average of 4.14%. There are several reasons for this, but the fact that it's often harder to pay on mobile is a factor.
Alternative payment methods like PayPal could be used to make checkouts easier on mobile, so customers only need to enter their login details.
Also, even basic testing of your checkout on mobile can yield some valuable insights. Simply watching people use your site on mobile, or using remote testing tools, can help you to find ways to improve your checkout for mobile users.
8. Make use of mobile shortcuts
It's all about making the checkout less of a chore for mobile users in any way you can. Making forms easier to use helps, as do any shortcuts you can build in for mobile shoppers.
Showing the correct keyboard for each form field makes the process easier for mobile users. For example, defaulting to the numeric keyboard for card number entry saves shoppers a little time and effort.
9. Address security concerns
The checkout is a place where some customers may begin to worry about security so it can help to offer a little reassurance.
Customers will gain confidence if your site is generally easy to use and loads quickly, but there are other things sites can do to offer reassurance.
Clear contact details can be shown during checkout and in general – this tells customers they can get in touch if they have any issues.
In addition, security trust marks such as Norton and Verisign can help to improve customer confidence, especially if they haven't heard of your brand before.
10. Show a persistent reminder of order details
Showing the contents of a customer's order and the total costs (including delivery) provides a useful reminder for customers.
People sometimes like to check the details, and this summary helps them to see that their order is correct before they finish the checkout, and means they won't need to leave the checkout to check anything.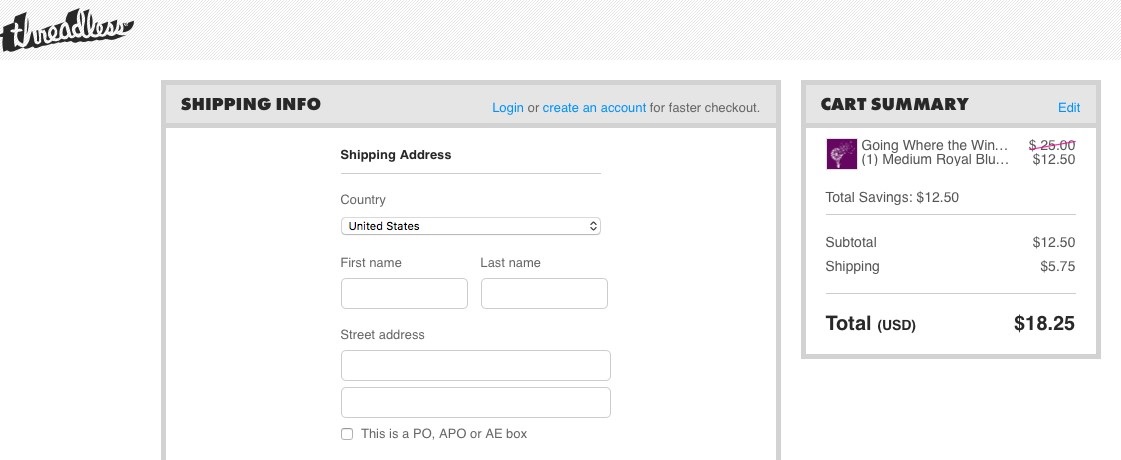 11. Use a progress indicator
Progress indicators tell customers which stage they are at in the checkout process, and how far they have left to go.
It's a useful visual reminder for customers, and can help to reassure them that the process won't take long, or perhaps that they'll have a chance to review the order before confirmation.
12. Provide multiple payment options
While the majority of online shoppers prefer to pay by credit or debit card, there are still a significant proportion who would like to use PayPal or other alternative methods.
Indeed, a study by postnord found that 40% of UK online shoppers would use PayPal for online purchases.
Offering PayPal or similar methods helps to appeal to a greater range of potential customers, while some find it more convenient to check out by logging into PayPal rather than entering address and payment details directly.
13. Think about that discount code box
Boxes for customers to enter discount codes are now commonplace within checkouts, but it's important to think about the pros and cons.
Promotional codes can be great for attracting new customers, or to reward loyal customers with special offers, but they can have a negative effect.
Seeing a box in the checkout tells the buyer that there might be a way to get the item they're about to buy for less. It tells them there's likely to be a code somewhere which may work for them.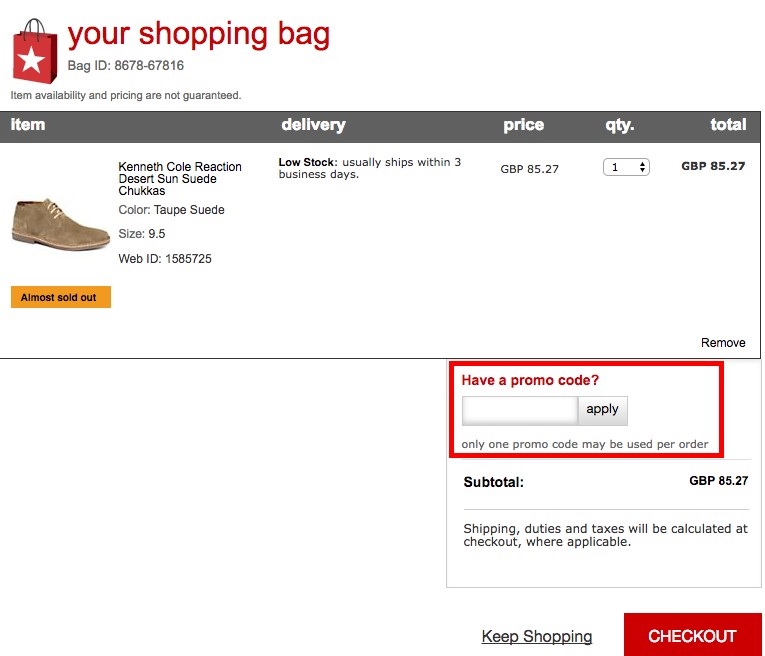 Many customers may turn to Google in this situation and search for a coupon code, and once they've left the checkout they may not return to complete the purchase.
There are solutions to this if you want to continue using codes. You could offer customers a standard discount code, perhaps promoting it next to the code box. Or you could move the box to a less prominent place where those customers that have a code will find it but others may not.
14. Use a postcode lookup tool
It's something most sites use, but is an easy way to make a checkout a little bit easier for people if you don't already use it.
It saves people the time and effort they would otherwise spend entering full address details, while it also helps to ensure that addresses are entered correctly.
15. Use microcopy to make form fields clear
Improving forms isn't all about design, little changes to copy can make a big difference.
For example, text can be added to explain form fields more clearly to shoppers and help them to complete the process more easily.
Fields like passwords and postcode entry can be confusing, as sites have different rules over entry formats and requirements.
I've often entered a password only to be told that my selection didn't match the criteria. A simple explanation tells people what's required and avoids the risk of annoying your users.