There's a lot of competition online for small businesses, often with bigger budgets and more established brands. It can seem intimidating, but by focusing on the right areas, small businesses can play to their strengths and market themselves effectively, even on a more modest budget.
The following suggestions are things that most small businesses could easily implement. Many cost nothing at all, others are relatively cost effective.
1. Consider selling on Amazon and Ebay
Even if you already sell on your own website, listing your items on Amazon or Ebay (or both) can drive useful additional revenue.
It's essentially a shortcut to a large audience, and issues of brand trust and usability are bypassed as online shoppers are comfortable buying through Amazon.
It is important to consider the potential downsides, such as seller fees which will reduce margins, and the work involved in managing extra channels.
However, both marketplaces provide instant access to an audience of millions. It can be a useful stepping stone to building a customer base.
2. Think about user experience
Don't try to reinvent the wheel when creating your e-commerce site. Customers expect sites to work in more or less the same way, so it makes sense to follow convention in terms of site layout, placement of calls to action, and checkout design.
3. Make sure your site works on mobile
Mobile shopping has seen tremendous growth over the past few years, to the point where it's now essential that people can access and use your site effectively through mobile devices.
Mobile has also been a focus for Google in its recent mobile-friendly algorithm updates. In a nutshell, sites with poor mobile usability may find it harder to rank in Google.
4. Use paid search to drive traffic
Paid search, or PPC, offers a shortcut to greater visibility in the search rankings. Organic SEO will be the most cost-effective strategy in the longer term, but it can take time to build rankings.
PPC allows you to drive traffic to your products immediately, and you can start with a small budget. The beauty of PPC is that you only pay for the traffic that clicks through, and you can clearly measure the ROI from this channel.
5. Don't bother with SEO agencies
The product or service you are selling online will partly drive your SEO strategy. In many markets, the bigger retailers dominate search rankings for the high volume terms, but there's still much that smaller businesses can do.
There are some great SEO agencies, but they make more sense for larger businesses in general, and there are some sharks out there offering guaranteed page one rankings who could do more harm than good.
There's much you can do with a basic knowledge of SEO to improve your visibility, and plenty of useful online sources to learn more. Do what you can yourself and only call in the experts when you really need to.
6. Create unique product copy
Copy on your product pages is there primarily to describe the products and sell the benefits to potential customers. It's there to drive sales.
It pays to think about copy and try different styles and lengths to see what performs best. Copy could be descriptive, describing product features, or it could be more creative and sell the pleasure which can be derived from the product.
From an SEO perspective, unique product copy can help you to rank above competitors using either the standard manufacturer descriptions, or using relatively short, thin copy.
7. Create a Google Business listing
This is an essential, and is especially useful for retailers with a high street presence as well as a website.
Using this feature you can list your business, describe it, add useful information such as contact numbers, opening hours, and a link to your website.
This information is then shown in Google Maps searches, and Google's mobile and desktop search results pages.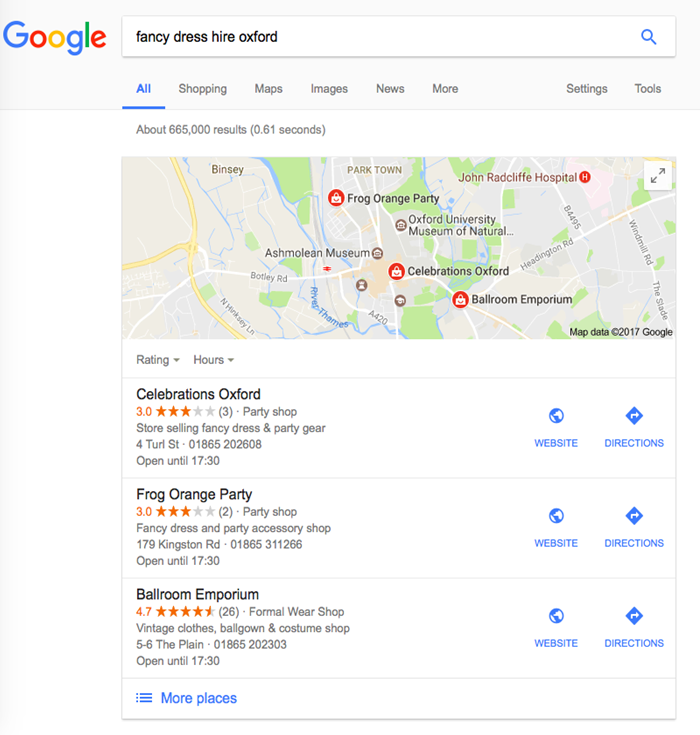 These business results are given prominence over organic search results, which gives a massive advantage to businesses which make the top three or four results.
These listings can be optimised by adding imagery and customer reviews. Positive review scores help to improve the visibility of results, and also make them more attractive for potential customers.
It's free to create these listings and improve local search visibility. It's a no-brainer.
8. Use internal linking
Internal linking refers to the links between pages on your site, and used well, it helps to link the pages and themes in your site in a way that makes it more understandable for users and search engines. It can also help you to ensure that certain pages have a better chance of ranking well.
For example, if you sell lawn mowers, and create various pages of content on this topic then Google will not know which page you want to rank when people type 'lawn mowers' into the search engine.
If you want a product page to rank for example, then linking mentions of the term to that page will help to boost its visibility.
9. Do some keyword research
By identifying the terms people use when looking for the products you sell, you can build a list of terms to target in the search engines.
Targeting the same keywords as bigger competitors won't see you make much ground as they are more established and have more coverage online.
Use keyword research tools such as Google's Keyword Planner to spot gaps in the market, they may even convert at a better rate.
10. Use site search data
The terms that visitors type into your on-site search box can give you an insight into the products customers are looking for, and also help you to identify keywords to target.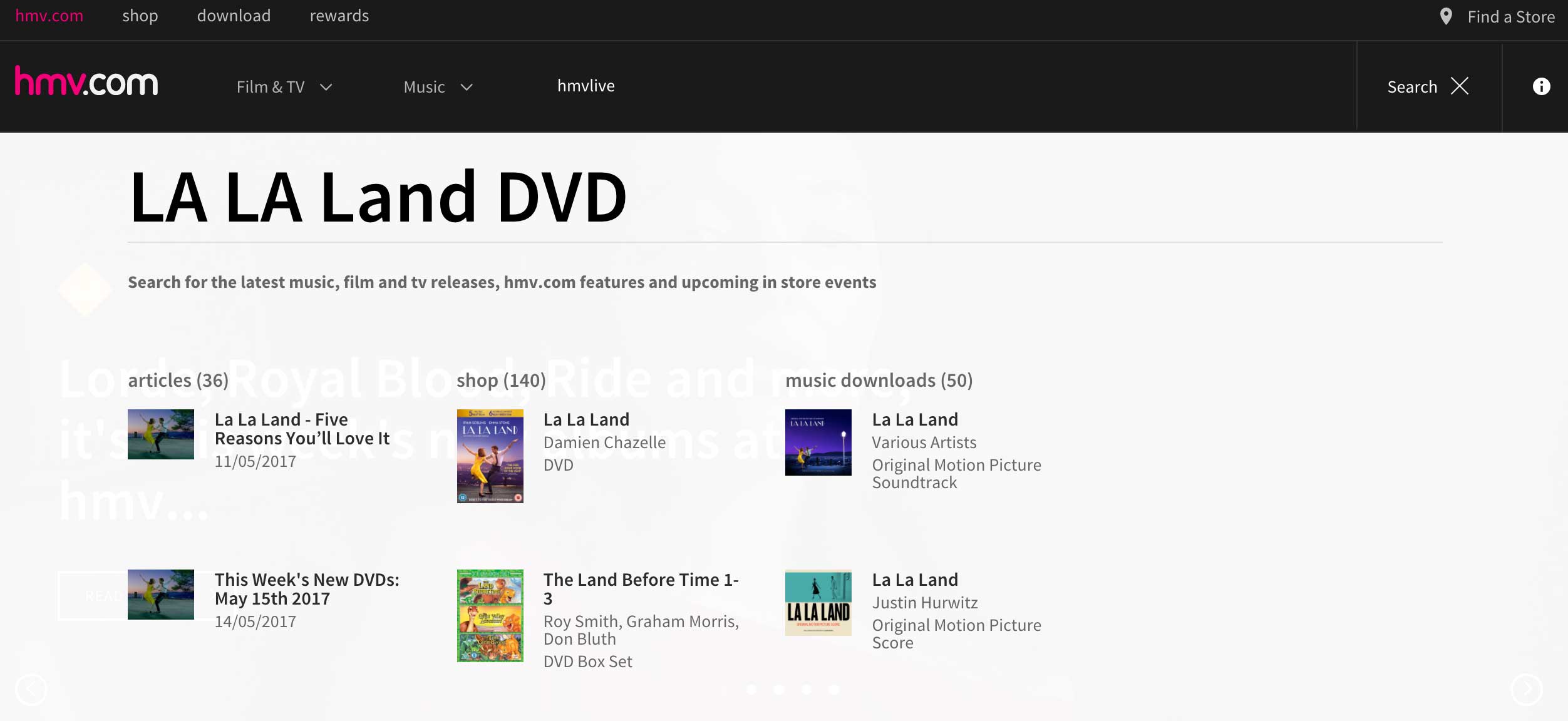 HMV place site search in a prominent location in their navigation.
11. Think about your blogging strategy
By creating content relevant to your product and target customer can help to draw in extra traffic, and to increase your search visibility.
It's harder to compete on content than it used to be, but it's still a valuable tactic. However, it's important that there's a focus on quality content, and a commitment to regular updates.
12. Use imagery well
Images help to sell products, so make sure yours are working hard. They need to show the product in its best light, but also to educate people about product features.
High quality, high-resolution images are great, but if you aren't a professional photographer (or can't afford one) there are other options.
Showing products in context, showing different views, or even using user-submitted photos can all help.
13. Use reviews
People trust reviews more than just about any other source of information when buying online. Make sure you ask customers to leave reviews of products and build up a body of reviews to help convert future visitors.
14. Work on earning shoppers' trust
If you are a new online retailer, visitors may have some reservations about shopping with you. Brand awareness will come over time, but you do need to earn the trust of your potential customers.
There are a number of ways to do this:
A professional site design and good site performance.
Clear contact details and customer service links.
Social proof – testimonials and reviews from customers.
Security logos and trust seals.
15. Grab your social accounts
Using social media is a great way to enhance your online presence, and to communicate with customers.
As a small business, maintaining a presence across several accounts isn't always possible, so it makes sense to choose the platforms where your potential customers are likely to be, or those that suit your product.
This is most often Facebook or Twitter, but Instagram, Pinterest, YouTube and others all have potential.
16. Use Google Analytics
Google Analytics is free to use and provides valuable insights into the performance of your site and the behaviour of your visitors.
For instance, you can understand where your customers are coming from, the devices they use, and which channels help to drive sales and traffic to your site. It can also help you to identify problems, such as areas of the site where customers are dropping out.
17. Market your business through great customer service
One advantage that smaller businesses have over larger rivals is the ability to use the personal touch and deliver great customer service.
Not only does good customer service lead to happier customers, and therefore more repeat purchases, but it's also a great form of marketing.
The word of mouth and positive reviews that can result from great results can be helpful to attract other customers, and help to build your reputation online.
18. Get delivery and returns right
Delivery options is a key part of the customer journey, and one which retailers need to get right. You may have a great website with the exact product the customer wanted, at a good price, but delivery problems can undermine all of this.
First of all, the delivery proposition needs to be right. For example, customers will expect reasonably speedy delivery – within 2 to 3 days maximum, and next day if possible.
Next, you need to ensure that the delivery option you choose is reliable, and that the courier you choose is reliable.
Likewise, returns policies should be designed to be as hassle free as possible for the customer. They need to know they can return items easily, as they will be more likely to make a purchase in the first place.
19. Provide a choice of payment options
A choice of payment options will cater to the widest possible range of shoppers. A mixture of credit/debit card and PayPal is now provided by many online retailers.
For users unfamiliar with your brand, methods like PayPal also offer some reassurance, while the fact that shoppers only need to enter an email address and password can speed up the payment process.
20. Checkout process
Checkout is so important for online retailers. It's the last step of the customer journey, but there's still a lot that can deter potential buyers at this stage.
Concentrate on making checkout as smooth as possible. Forms should be easy to understand and complete without frustrating shoppers, and any obvious barriers should be removed.
For example, providing a guest checkout option will remove a common barrier to purchase, and ensure that more people complete the process. Likewise, shortcuts like postcode lookup tools reduce the effort required from customers and therefore the number of potential abandonments.