Christmas is coming soon, and while it's too late in the day to make any substantial changes to websites and overall seasonal strategy, there's still time to make a few tweaks and changes which can help to increase your sales.
According to the National Retail Foundation, the Christmas season accounts for up to 30% of many retailers' total annual sales.
For retailers of all sizes, it's vitally important to get things right at this time of year and to be in a position to make the most of the extra traffic and interest from shoppers.
Here are 20 simple tips and changes which can be implemented in time for Christmas.
1. Load test your site
Your site may receive many times the normal volume of traffic in a short period, and it's vital that it can stand up to it.
If it slows and performs poorly, this can deter would-be customers from making a purchase, while if it crashes altogether, then you have a bigger problem. It happens even to the biggest websites – both Curry's and Argos suffered website crashes thanks to Black Friday traffic last year.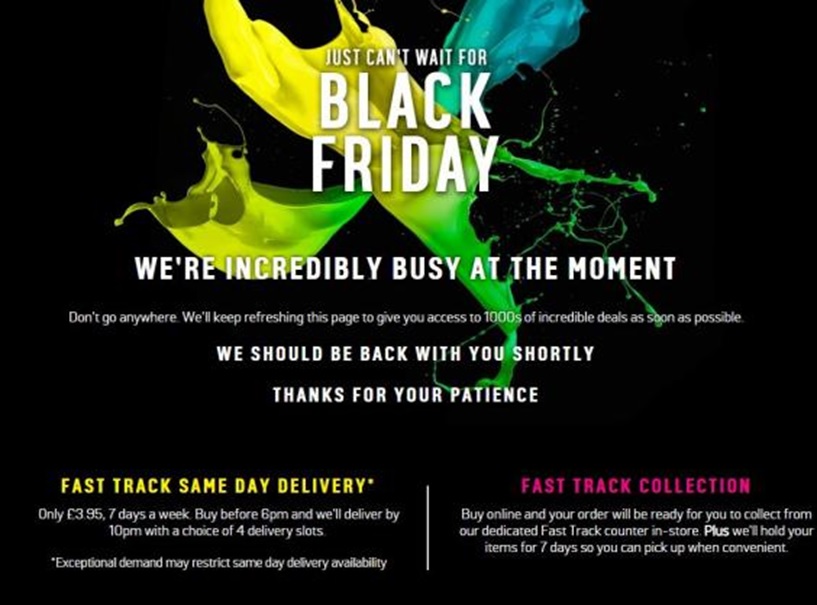 Rather than waiting until your site collapses under sudden traffic surges, it's best to test and find the limits now, while you have a chance to do something about it.
Perform a load test to make sure that the website can withstand surges in traffic. There are plenty of free tools which can simulate visitor traffic, allowing you to see how your site responds.
If you find problems, then there's still time to make adjustments and improve performance. It might cost you now, but it's better than losing sales at peak shopping times.
2. Test your site for speed
As well as ensuring that the site can take extra traffic, it's also worth making it as fast as possible.
Slow sites can harm your conversions so it's worth checking your site for speed on different devices – Google's page speed tool can help here – and taking steps to speed your pages up.
At the very least, check that all images across your site are optimised for the web. This is one of the simplest and quickest ways to speed up your site.
3. Freeze your website code
Many retailers will have a moratorium on any website changes over the holiday season. It's great to keep improving the website and fixing issues, but December isn't the time to do this.
There's more to lose if any changes have unintended consequences – if any bugs affect your customer's ability to use your site and complete purchases, it can result in lost revenue.
4. Update your 'About Us' page
'About Us' pages can be some of the most visited on a website. If your brand isn't well-known, some visitors will seek these pages out to find out more about your business.
Showcasing your brand's history (however short), including pictures of staff, real world addresses, images of premises, and clear contact details can help to attract potential buyers.
It reassures visitors that you are a legitimate business, and one they can trust with their credit card details.
5. Sign up to competitors' email lists
This is a good idea at any time of year, as it allows you to keep tabs of how other retailers use email marketing and give you some useful ideas to 'borrow'. At Christmas, when email volumes are generally higher, you can learn a lot.
6. Incentivise repeat purchases
In the build up to Christmas, you can offer promotions which can bring people back to the site later in the shopping season.
For example, you could give gift cards for purchases made in November to be redeemed closer to Christmas. This has the effect of both incentivising sales earlier in the season, and gives people a reason to return to your site.
7. Give people a reason to keep coming back to your site
Some retailers use promotions in an advent calendar format to keep customers interested.
Daily deals, or whichever format suits your business can be very effective in generating repeat visits.
8. Look for last minute checkout fixes
There's still time to make your checkout as easy to use as possible, or to identify easy fixes.
Use analytics and user testing to identify any areas of your checkout which may deter customers from purchasing. Fixes may be as simple as adding some explanatory text to make a form field easier to complete.
With higher volumes of traffic and potential buyers coming to your site, little fixes can make a difference to sales.
9. Use PPC to react to seasonal trends
PPC can be adjusted quickly and used to react to trends. If you're lucky enough to stock one of the season's must-have gifts, you can use paid ads to pull more customers in.
Or perhaps it can be used around terms like 'free delivery' which tend to peak in popularity around busy shopping times.
10. Sell as late as you can
There are always plenty of people who leave gift shopping to the last minute, so it pays to be able to sell as close up to Christmas Day as possible.
This allows you to appeal to visitors when competing sites may have stopped selling and grab some extra sales.
Work out when you can deliver up to, without running the risk of disappointing people, and use this as a selling point closer to Christmas.
Likewise, if you have stores as well as a website, you can use these stores to fulfill orders and sell that little bit later.
11. Be ready for bad weather
We've had relatively mild Decembers for the past few years in the UK, but bad weather is a factor which can potentially disrupt Christmas delivery dates.
If this is the case, be ready to use contingency messaging so that customers know whether or not they can order with confidence.
12. Be clear about delivery timescales
The closer we get to Christmas, the more customers are likely to have concerns about whether gifts ordered will arrive on time.
If you fail to deliver items in time for Christmas, customers are unlikely to be forgiving, so it's important to be upfront and not to promise what you can't (literally) deliver.
If you can't deliver an item in time for Christmas, you must make sure customers know before they place an order.
This becomes more important the closer we get to Christmas, so make sure messaging is clear. Some websites will place notices on homepages closer to December 25th, as this is one way to make sure the message gets to visitors.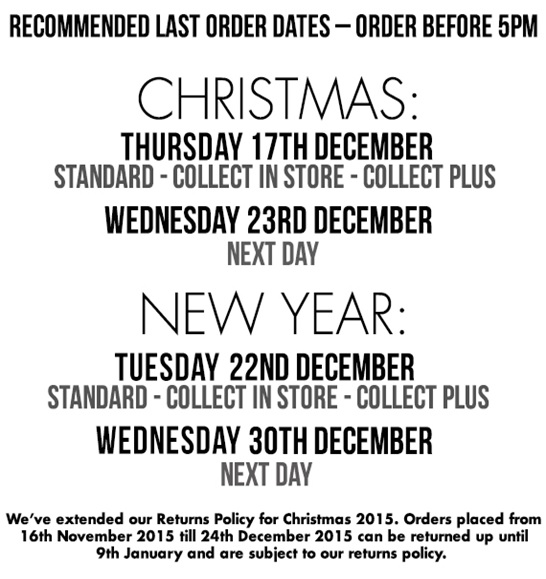 You can use messaging like this, or even countdown timers, to add a sense of urgency which can persuade more people to buy from you.
13. Offer free delivery
Free delivery can be a driver of sales, as people look to keep costs down. In a competitive pre-Christmas market, this can give you the edge over competitors.
By showing free delivery offers on the homepage and around the site, it immediately answers customer's questions about delivery.
You don't necessarily have to provide free delivery across the board, it can be used alongside more expensive options like next day delivery, or used with a threshold (free delivery for orders over £50) to encourage customers to add more items to their orders.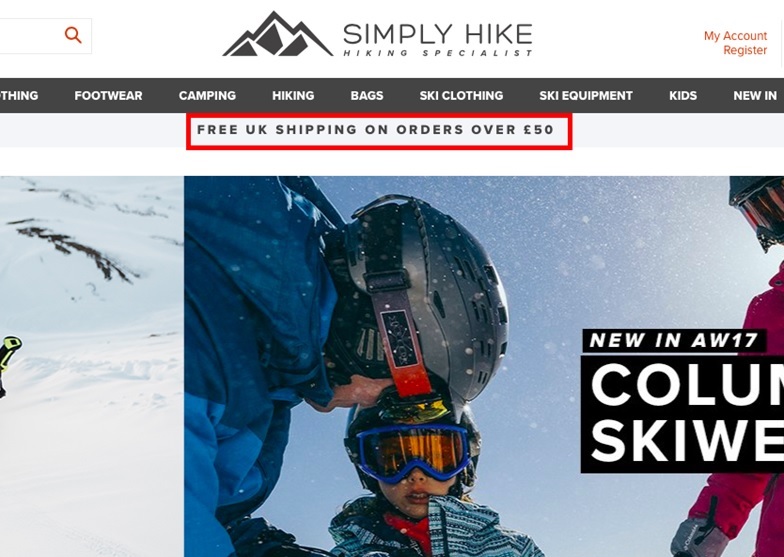 14. Extend returns dates
If customers are buying gifts for people, and buying early, the statutory cooling off period for returns may not be adequate.
Many retailers therefore extend their returns period for items bought in November and December. For example, M&S is allowing returns up to January 13th.
An extended returns policy makes it more likely that customers will order with confidence.
15. Show returns information clearly
Like delivery information, returns policies affect a customer's decision whether or not to make a purchase.
If they are buying gifts for people and they're unsure if they'll like them, or if clothing items will fit, they're naturally going to be more concerned about returns.
In the same vein, customers are more likely to buy if they know they can return items without any hassle.
It's a potential driver of sales, so make returns information easy to find for customers, and if you offer easy and extended returns, shout about it.
16. Provide clear contact details
Making it easy for customers to contact you can act as a reassurance, but can also help stressed shoppers around Christmas time.
If they can contact you easily for help, you can resolve any issues and keep customers from abandoning potential purchases.
17. Consider offering gift wrapping
If you don't already offer wrapping, it's worth considering if it is feasible. Many people, like me, aren't great at wrapping presents and would be happy to have someone do it properly for them.
It's another incentive to purchase, and can be used at the checkout stage to increase order values.
18. Consider gift vouchers
Gift vouchers can provide a useful alternative for shoppers who just cannot decide which present to buy.
They're also a great option for last minute gift buyers when physical items can't be delivered, as they can be sent by email or SMS. They also have the added advantage of bringing people back to your site or store after Christmas.
19. Don't forget Christmas Day
There's a growing trend for people to purchase online on Christmas Day. Maybe they've got a shiny new laptop to use, or money and gift vouchers to spend and don't want to wait for Boxing Day.
20. Put a follow up marketing plan in place
If someone buys over Christmas then target them again in the post-Christmas sales.
You will hopefully have lots of new customer email addresses, and if you've impressed them the first time, you can target them for repeat purchases.