We're just a month away from one of the busiest times of the year for online retail. If recent trends are an indication, then this year's Christmas shopping season will be the biggest ever online.
In the UK, the e-commerce market was worth £137.38bn, according to ONS data, having grown from £118.82bn in 2016.
Indeed, the National Retail Foundation estimates that the Christmas season accounts for up to 30% of many retailers' total annual sales.
This means that, for online retailers large and small, it's a great opportunity to capitalise on all the extra traffic from shoppers, acquire and convert new customers, and make a profit over the year.
In a competitive market, it's important to plan campaigns to help your site stand out. Even with relatively small budgets, smart planning and tactics used online can enable you to compete effectively.
In this article, I'll look at how online retailers can plan seasonal campaigns in different channels, as well as some ideas you could apply to adopt in your own marketing efforts.
When to start planning seasonal campaigns
The answer to this question very much depends on the time of campaign and the time it will take to implement.
If you're in September and looking to plan for Christmas, then it's probably too late (and too risky) to make substantial changes to your website for example, but there's still a lot you can do.
It pays to plan early of course, but if you're only planning campaigns a month or two before the Christmas shopping season, then you're not alone. Indeed, a Litmus survey found that just 20% of marketers are planning for peak season campaigns more than three months out.
SEO, content and seasonal strategy 
The top three traffic sources driving sales for e-commerce sites (last click) are Organic (22%), Email (20%) and CPC (19%). Organic search is also said to drive 43% of traffic to e-commerce sites.
With search volumes peaking during seasons like Christmas, it can pay to focus on SEO, to capitalise on seasonal searches.
Data can help your strategy here. Perhaps you have data from previous seasonal campaigns which tell you when the likely peaks and opportunities are. Also, freely available tools like Google Trends can help you to see when people are likely to search.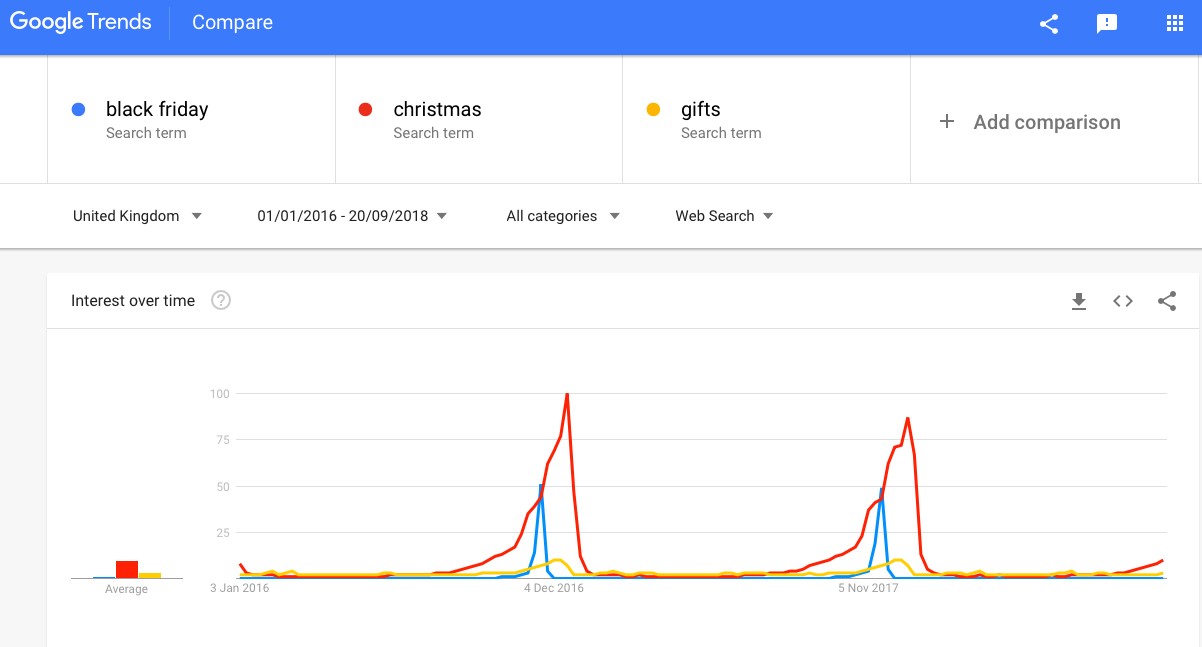 This example shows Black Friday and Christmas, and gives an idea of when search interest begins to ramp up, and when it peaks. In the case of Christmas, searches begin to increase in early August, peaking in late December.
You could also use this data to find out when searches for target keywords – your products for example – are likely to peak, so you can plan your strategy around this.
If you're planning to rank at a key time, the best approach is to plan early and give your pages time to rank before the key event. It can take time to attract traffic to the page and build links, but once established, these bags can become valuable assets.
For example, several retailers are ranking for 'Christmas Decorations', and in many cases these pages have been planned in advance, notonthehighstreet is one example.
This means these brands are in pole position to capitalise on seasonal peaks in search traffic.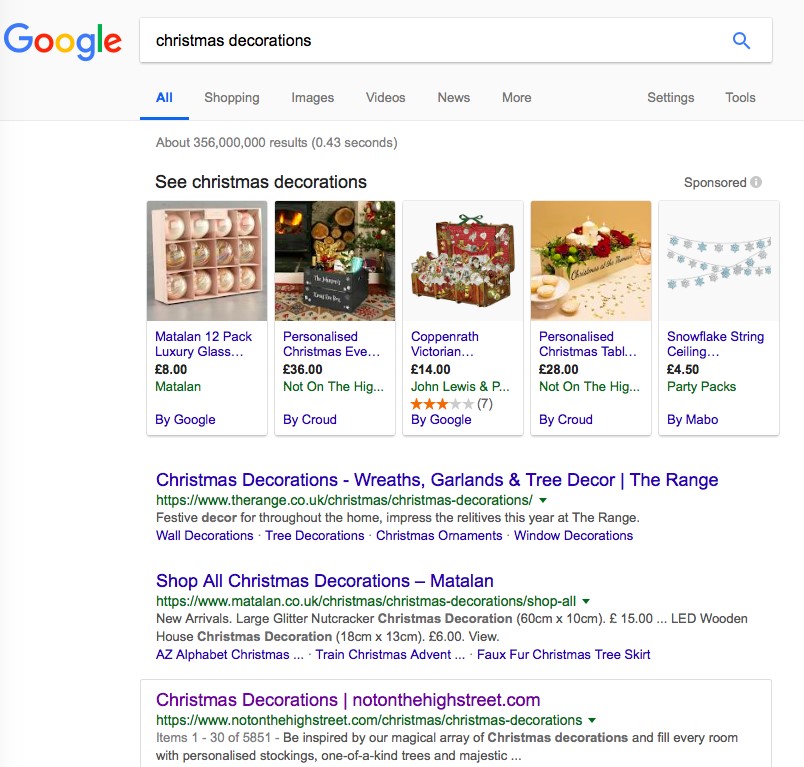 High volume search terms like this can be hard to rank for, especially at short notice but you can instead focus on long tail keywords that match your products, enabling you to attract smaller volumes of traffic from a range of keywords.
Also, you can adapt pages that already perform well in the search engines and make the most of them. Perhaps they just need some extra content to perform more effectively, or can be used to link to other pages to improve their performance.
Even if you're a little late to rank for the next seasonal event, it pays to start early, and create pages and content that will deliver traffic in the future.
There's always the option of using paid search during seasonal peaks. Paid search, or PPC, provides a shortcut to a more prominent spot in the search engines, and can put you in front of your target customers at a time when they have a higher propensity to purchase.
Email marketing ideas
According to the stats quoted earlier, email is the second biggest channel for driving sales, so it pays to use email to attract your subscribers back to your site.
1. Increase email volumes
Many marketers will ramp up email volume around peak seasons like Christmas. Unless you increase volume to the point where you start to annoy your recipients, this is a strategy which makes sense. Indeed, many shoppers will expect to see more emails at this time of year.
They're likely to be more engaged with emails from retailers, as they're in more of a purchase mode than other times of the year. Even if people don't open every email, they're still seeing your brand and subject line, and this can deliver a useful message.
2. Segment email campaigns
With some smart segmentation, email campaigns can be more effective. Here are some ways you can segment for different groups.
Seasonal shoppers. Customers who made a purchase last Christmas, and perhaps need a nudge to remind them.
Loyal customers. Those that purchase frequently can be rewarded with perks like early access to sales events, discounts or free delivery offers.
Product categories. Segment emails according to the kinds of products that people purchase most often.
Less engaged email subscribers. This segment might require an extra incentive to click through, perhaps a free delivery offer or discount code.
3. Personalise emails
This is not just about using the customer's name in emails, but rather going further by personalising content and products according to the customer's behaviour.
Some brands are using marketing automation software to personalise emails at scale. For example, Asda sends daily alert emails which are tailored to the individual recipient recommending them products which they have previously shown an interest in.
Even on smaller budgets, data can be used to target customers more effectively, sending emails based on previously purchased items, or adjusting timing to previous customer behaviour.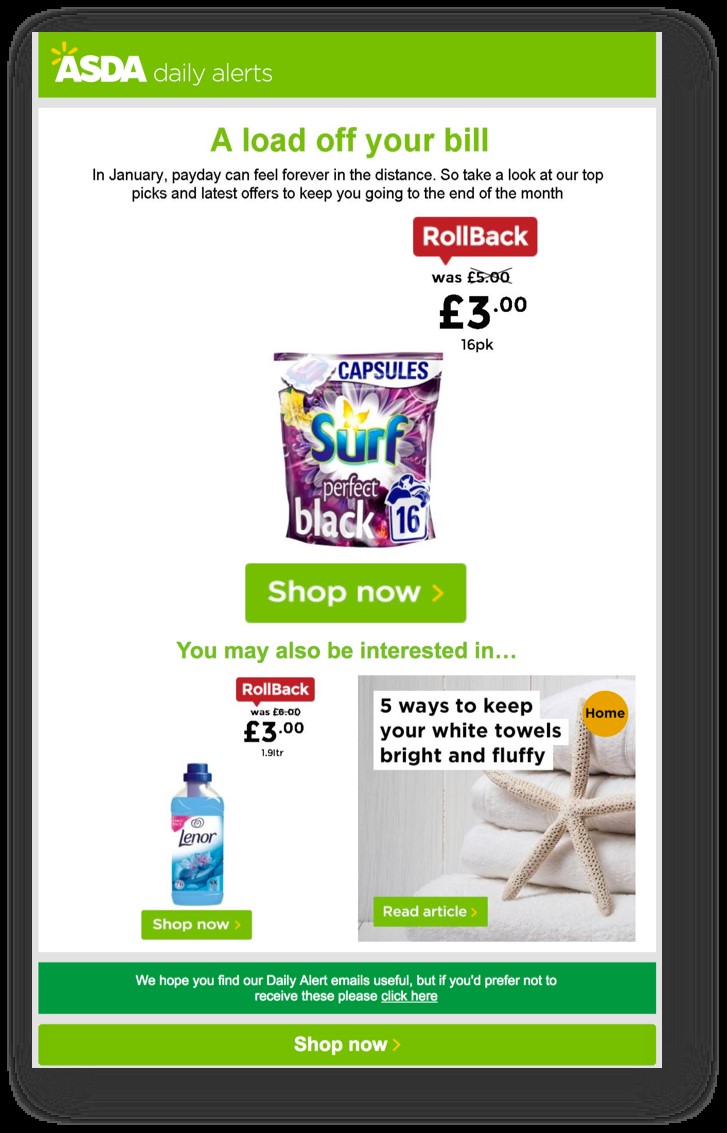 4. Use urgency in emails
Adding a little urgency to email marketing can provide that extra incentive to click through and make a purchase.
Examples include countdowns to the end of sales, or deadlines for delivery in time for Christmas or other seasonal events.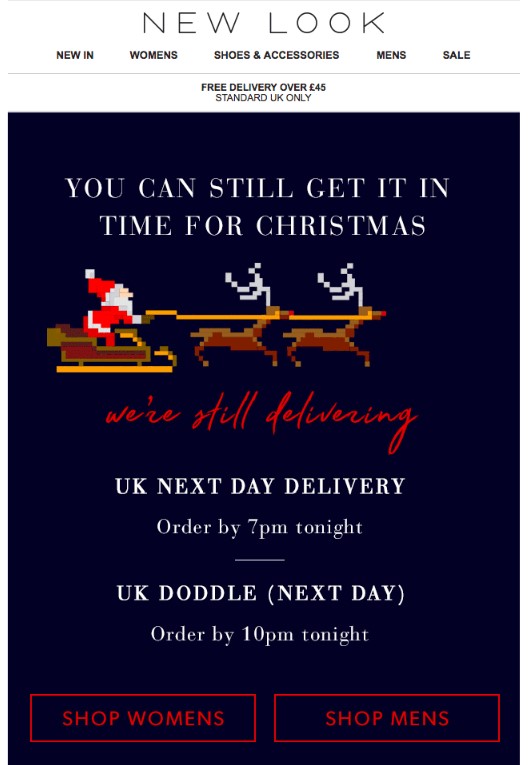 Social media
It can be harder to drive direct sales through social media than through search and emails, but social campaigns can be a cost-effective way to raise brand awareness.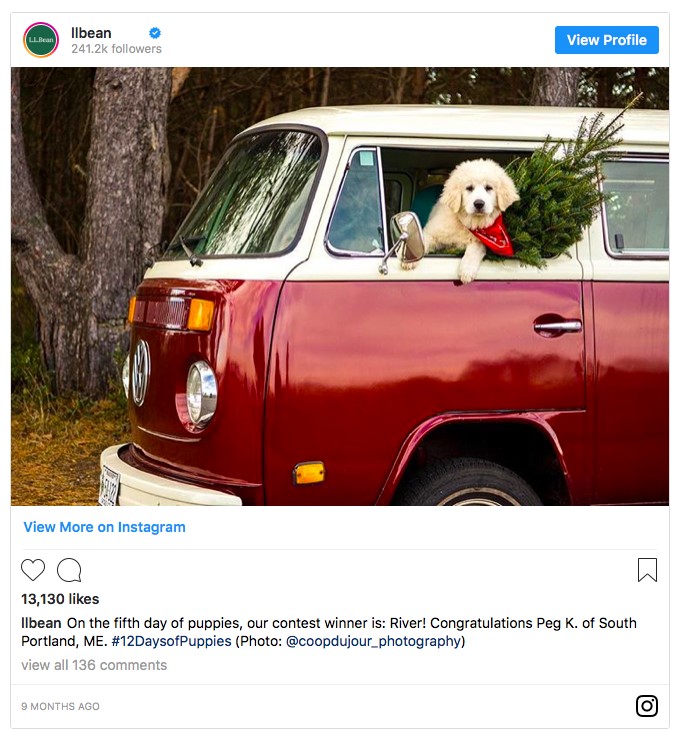 Use the channels that suit your brand and products, and those where you have established an audience to push your seasonal promotions and campaigns.
Social platforms can be used to amplify existing offers – sales, gift cards, time-limited promotions etc – and campaigns on other channels, such as promotional videos.
It's also an opportunity to be creative, perhaps to hold contests or create polls. This could include photo competitions, or customers sharing their favourite product with a branded #hashtag. This helps to create some conversation about your brand and products.
Ideas can be very simple. For example, LL Bean has a #12daysofpuppies photo competition every year, encouraging followers to post their photos using the hashtag. It sort of fits with the outdoor brand, and is great for driving involvement.
Discounting strategies
The Christmas shopping season, which now includes Black Friday and Cyber Monday for many UK retailers, is heavily associated with discounting.
Sales used to be reserved mainly for post-Christmas marketing activity for retailers, with Boxing Day and New Year sales. This has changed though, and many retailers are now discounting earlier in the Christmas season, around Black Friday.
This squeezes margins for retailers – 53% of retailers surveyed by Klarna said that the 'always on' nature of sales was having a negative impact on their profits.
This means that retailers need to be careful about using discounting as a marketing strategy as it's a tactic that can easily be overused. Too much discounting can make the normal price of products seem high, and make people less likely to buy at full price.
For example, I'd never order from certain nationwide pizza chains at full price, as there's always a discount code to be found.
To preserve margins, retailers can use discounting sparingly, or try alternative strategies. These include:
Using gift cards. In the run-up to Christmas 2017, Apple offered a gift card for people making a purchase. This meant that the original purchase is made at full price, and the gift card encourages people to return again later.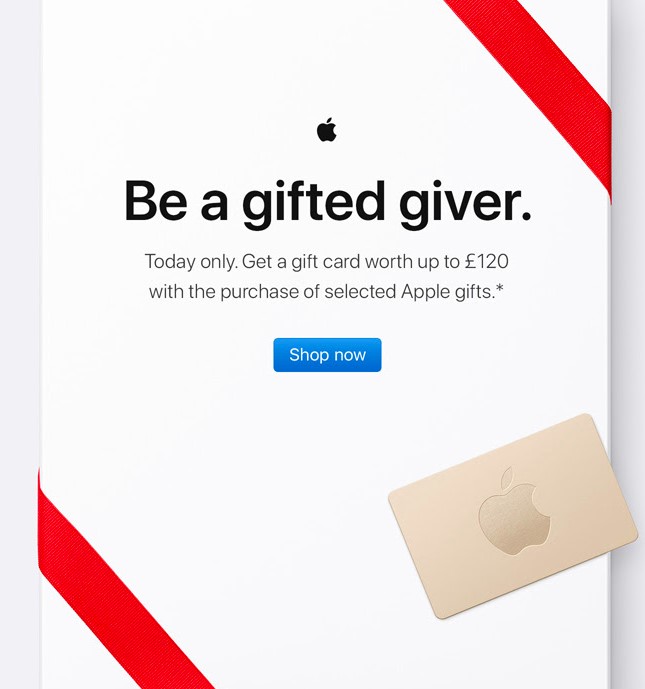 Time-limited sales periods. By restricting discounting to limited periods of the year, sales events remain 'special' and customers are more likely to take note.
Don't discount too heavily. Unless you're keen to offload old stock, or you've calculated that the benefits of new customer acquisition outweighs reduced or zero margins, then only discount in an affordable way.
Offer bundles. Discounting can be used in a smarter way to tempt people to spend more. For example, by bundling related products together and offering a discount for buying them all at once.

Thresholds for free delivery. By offering free delivery for orders over a certain amount, you can tempt customers to spend more without discounting too heavily.
On-site strategies and merchandising
Offer gift wrapping and customisation. Providing extras like gift wrapping and customisation options (Jo Malone offers personalised perfume bottles for example) gives customers an extra incentive to purchase, and spend a little more.
Showcase seasonal products and best sellers. Use homepages, category pages and key landing pages to promote seasonal products and best sellers. This should be driven by data, and sites should be able to react and change quickly, in response to customer buying trends.
Messaging about returns. Returns are key concerns for online shoppers anyway, but they become more important in seasonal periods as people buy gifts which may not fit, or may be unwanted by the recipient. Offering easy returns and extending the returns period into January for Christmas gifts can offer the reassurance that customers are looking for.
Offer clear and up to date delivery information. Like returns, delivery options and timescales can make or break the sale. Be clear on delivery times and last delivery dates before Christmas, and be prepared to adjust messaging in the event of bad weather.
Gift finders and guides. These can be used to help people decide which gifts they want to buy, helping to narrow their selection. They also attract lots of seasonal search traffic.
Plan follow up marketing campaigns. If your seasonal campaigns have worked well, then you can target newly acquired customers in the post-Christmas sales.