With new tools and technologies emerging on a regular basis, fresh thinkers putting new spins on old tactics and the bar for quality continuing to rise, the marketing industry is constantly evolving.
Of all the changes that have taken place in recent years however, one thing remains certain – content marketing is here to stay. It is in fact estimated that the global content marketing industry will be worth an incredible $412 (£318) billion by 2021.
This doesn't come as a huge surprise however. After all, content is at the centre of the connection between your brand and your customer – it's either going to open their minds and heart to pay attention and care that your brand exists, or it won't.
If you're looking to stand out in the competitive world of content marketing, below are the four trends you can't ignore in 2019 and how you can incorporate them into your content marketing strategy.
1. Posting original and relevant content
Chances are you've clicked on an article with a title along the lines of 'man tries to hug a wild lion. You won't believe what happens next!'
We've all been fooled by clickbait articles and although their content rarely lives up to the hype that the title suggests, it's everywhere.
Clickbait is usually easy to identify because it will have a dramatic headline, a small amount of content and out of context imagery. It's unlikely to contain interesting, accurate or valuable content because it's written specifically to attract as many clicks possible.
While clickbait might have some positives such as increasing page views and brand awareness, there is a much darker side to it as well. Poor quality content brings in the wrong type of traffic (nobody clicking on these links is going to buy your product or use your services) and it damages your reputation which could kill your conversions and eventually, your clicks. 
How to write original and relevant content
Consumers are getting smart when it comes to avoiding clickbait and they're looking for genuine content that's going to offer real value.
The main reason we click on something is because it has piqued our interest in some way. Most of the time, we're looking for someone to solve our problems quickly and easily. Whether it's running a faster 5k or increasing social media engagement, we want Google to solve our problems for us.
When it comes to generating content that your audience will be interested in reading, think about your customers' main concerns. What are you asked about most often? What are your popular products or services? Can your content offer some kind of after-service? For example, if you install shutters your blogs could focus on how to preserve the life of shutters and keep them looking great for longer.
Unfortunately, there are no shortcuts with this one. You need to use your own ideas to generate unique content that your audience will look forward to reading. If you need some inspiration, have a read of 'how to write content that both Google and your audience will love.' Alternatively, if you're short on ideas or don't have the time to put them down on paper, you can outsource to a copywriter.
2. Using micro-influencers
If you follow a celebrity or anyone with a large following on any social media channel, chances are that you've been exposed to influencer marketing. The concept involves a company paying someone in return for advertising their product or service on their social media pages.
The post below is a fantastic example of how brands can use influencers to move into new areas and attract a huge following. Alpro has used lifestyle blogger Kate La Vie to move its way into the beauty, fashion and health scene. As well as being exposed to nearly a quarter of a million followers, this post received more than 4,500 likes.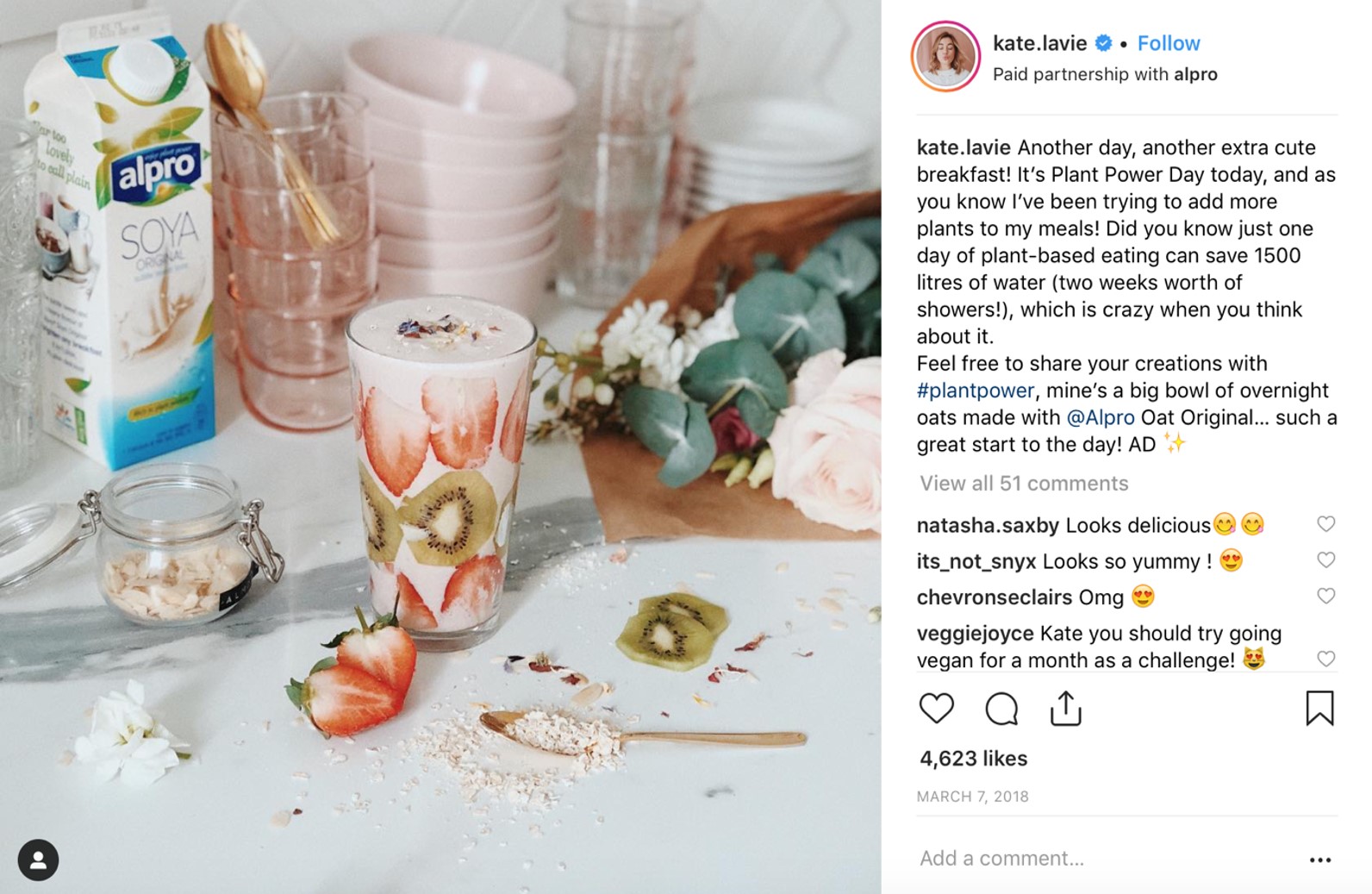 There's no doubt that influencer marketing comes with huge benefits. It can drive engagement, increase brand awareness, direct traffic to your website and social media pages and ultimately, generate sales.
Influencer marketing has in fact become so commonplace that the Advertising Standards Agency has released official guidelines which must be adhered to when posting sponsored content. As you can see from Kate's post, she clearly has to state that she has been paid by Alpro to post this content.
Influencer marketing is becoming so popular that the industry is expected to grow to $10 billion globally within the next five years. 37% of marketers attributed part of their marketing budget to it in 2018 and 67% are looking to increase their stand-alone influencer budgets over the next 12 months. It's abundantly clear that influencer marketing is something we're going to see a lot of.
How to use influencer marketing  
As an SME, it's unlikely that you can afford to pay the likes of Kim Kardashian (who received nearly three million likes for a sponsored post for a diet shake) to promote your content. The good news is, you don't have to.
We're seeing brands move away from celebrity endorsements and using micro-influencers instead, (someone with between 1,000 and 100,000 followers) and there's a very good reason for this. Micro-influencers not only have higher engagement rates, they also have stronger referral strengths and a deeper, more personal connection with the audiences they influence. 
Think about local and national leaders in your industry and niche. Even look inside your own company – your employees and customers can be your best brand advocates. It's very important to use someone who stands for and has the same beliefs as your company. Think about how you can build a relationship that allows both you and the influencer to benefit while also serving your audience value at the same time. This allows you to post co-created content which you can then leverage across all your social media pages.
In order to find your chosen influencer, start by thinking about what your consumer profile is and the locations they're likely to visit or the events they're likely to attend. You can type the location, event or certain hashtags into the Instagram search bar and it will bring up all the posts with those tags. You can go through them and look at the accounts to find those who fit your customer profile. 
Aim to find micro-influencers with at least 2,000 followers and an engagement rate of at least 10%. There are online tools that enable you to check an influencer's engagement rate for free such as Phlanx.
Compile a list of appropriate influencers and reach out to them once you've established how much you can pay them or which free products or services you can gift them in exchange for posts.
When it comes to posting, ensure that the influencer is in the photo, along with your product and that the image is high quality. Make sure that both you and your influencer are posting that you're working together to strengthen the collaboration. Learn more about influencer marketing here.
3. Personalised content
From emails and blogs to YouTube videos and social media, there's more content out there than we could ever possibly digest.
If you're not already aware of the benefits of tailoring your content to your audience, the following statistics reiterate the importance of incorporating it into your marketing strategy:
78% of consumers say that personally-relevant content is a determining factor in their purchasing decision
Increasing personalisation can increase consumer spending by an incredible 500%
A lack of relevance can decrease engagement rates by 83%
As personalisation continues to evolve, a growing trend in this area is to create content that allows – and in some cases, requires – your audience to interact with your brand. Not only does this help you to stand out from your competitors, it also improves the quality of engagement between you and your customers and fosters an increased sense of trust and credibility among your readers.
How to use personalised content
The simplest way to deliver this type of content is to reach out to your customers and encourage them to engage in conversation with you regarding their experiences with your brand.
Below is a fantastic example of how you can use personalised content to engage your readers and even encourage them to make a repeat purchase.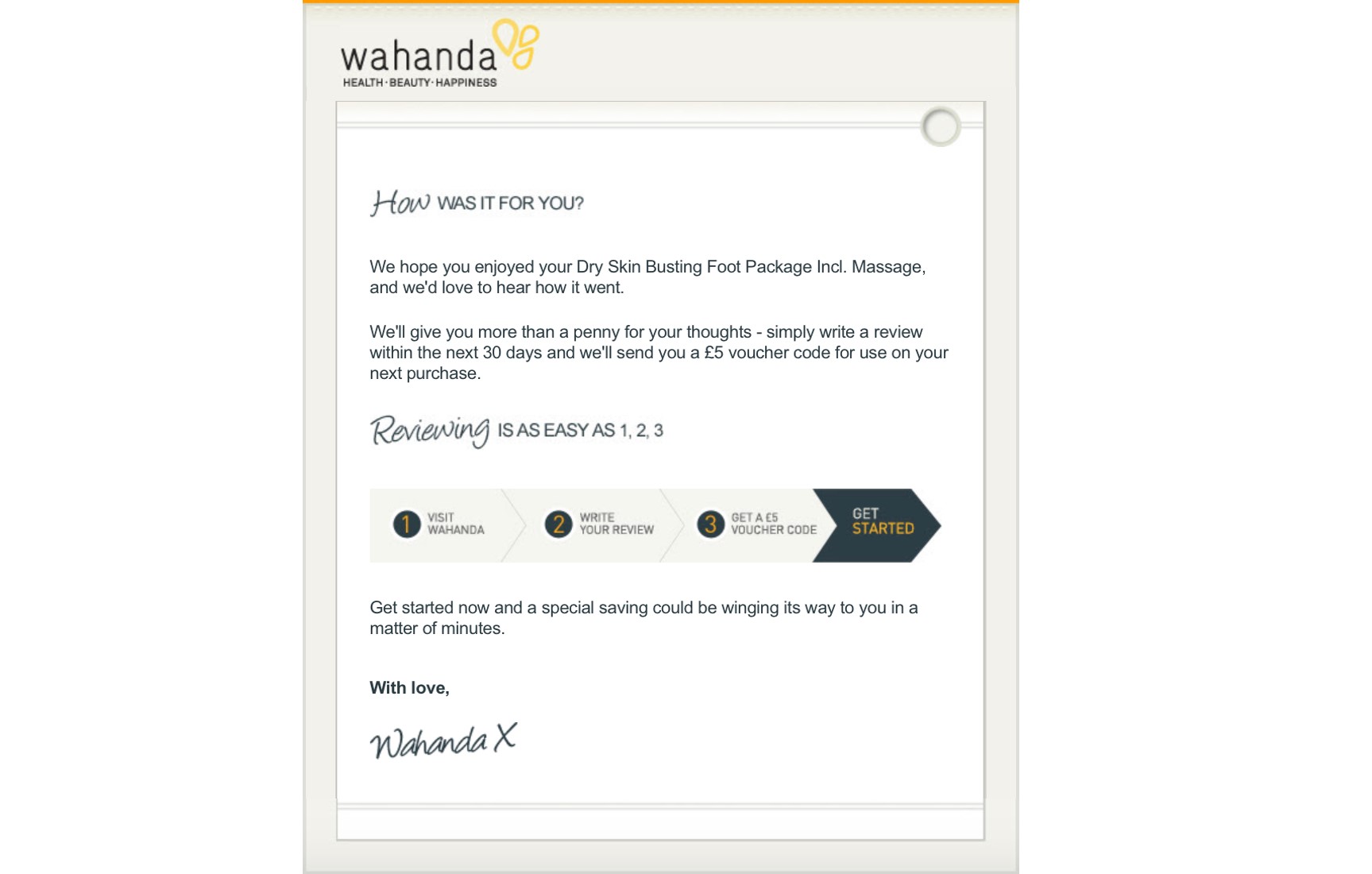 Wahanda has tailored the recipients' email depending on the treatment they had and in exchange for leaving a review, they're offering a discount on your next purchase. This is a great incentive for people to act and it also helps your business to generate reviews which is a very important aspect of attracting new customers.
To find out more about personalised content and how SMEs can make sure they're getting it right, head over to our blog 'personalisation is no longer 'special' – should your business offer this?' (Yes you should!)
4. Video content
Our social media feeds are full of them, Google's search results often feature them and most websites have at least one these days. It's official – video marketing is huge and it's only going to get bigger.
If you're yet to jump on the bandwagon, this is why you need to be doing video marketing:
We watch an average of an hour and a half of online video content every day
72% of people say they would choose to watch a video to learn about a product or service when video and text are available on the same page
97% of companies say that video has helped to increase sales and 76% say it has grown their website traffic
85% of consumers say they want to see more video content from brands
A brand video has convinced 81% of people to buy a product or service
How to produce video content
Video content can take form in many different ways. Typically however, your videos should aim to do one of three things:
Raise awareness – these videos usually have high entertainment value and broad appeal so they attract as many people as possible
Increase engagement – these usually play to the viewer's emotions to spark a reaction so they like, comment or share your post
Educate – if you're targeting potential customers, you might want to produce a customer case study so people can see what you can do for them. If you're trying to appeal to existing customers, how-to videos are great
Video content ideas
Below are some great ideas for video content for the three categories mentioned above.
Awareness
Round-up videos
Lists are great at attracting people's attention and can be anything from 'the top 5 things to do in London' to 'the 5 best yoga mats.' When producing these videos:
Aim to keep them short (four minutes or less to keep your audience engaged)
Don't just speak to the camera – mix in clips or stills of the people, products or places you're describing
This YouTube video from Time Out is a great example of a round-up video. It's less than three minutes long and features plenty of clips of the different places in London.
Meet the team
This is a great way to give customers a sense of your values, mission, and team members. It also helps people to understand why your company is different and strengthens brand loyalty.
Take this opportunity to introduce the people who work for you, introduce your CEO or show some behind-the-scenes action if you're working on a project.
Engagement
Funny videos
Producing a humorous video can be difficult but if you get it right, it's a fantastic way to make your viewers feel good, ensure they remember you and it will also make your brand seem relatable. 
Video emails
We get so many emails every day but sending a video email over a standard text one is a really great way to get yourself noticed. When making these videos:
Try to keep them around the one-minute mark
Introduce yourself and explain why you're reaching out
Include a call to action such as directing them to your website or encouraging your viewers to give you a call
Educate
How-to videos
How-to videos are a great way to answer the questions that your customers frequently ask. Start by coming up with a list of questions your buyers often have and pick one that's relatively straightforward until you get more experienced at producing video content.
Question and answer videos can also be very informative. You can either post this as a video you've produced or if you have enough followers, you can run a live session on your social media channels where people can ask questions.
How-to videos are excellent at building brand credibility, encouraging trust and offering something of value to your audience.
Reviews
What better way to show your product or service in action than with a first-hand review from one of your customers? No company is ever going to say anything bad about their offering so asking an existing customer to provide an honest review can go a long way.
If you're struggling to find someone willing to go on camera, try sending samples, trials or freebies to influencers who are used to filming themselves already.
This review of Kerastase Resistance Therapiste shampoo and conditioner is the type of content you should be aiming for. The reviewer describes the product and how to use it and gives completely honest feedback of the product.
For more advice on creating video content, head over to our blogs:
Businesses are now using content marketing to do more than simply create brand awareness. It's also being used to drive revenue, become more cost-efficient and personalise the customer experience. It might seem daunting or even overwhelming at first but you can really have fun with these trends and before long, getting in front of the camera will become second nature.