Long gone are the days when restaurants relied exclusively on passing trade for their business. With many of us now researching restaurants online before we head out for a meal, having a great website is more important than ever for restaurant owners.
That's particularly true for owners of independent restaurants, who don't have the advantage of a big brand name that the ubiquitous restaurant chains enjoy. In today's post, we look at four fantastic independent restaurant websites, giving you some inspiration for how you could get online and help your restaurant business stand out from the crowd.
1. Bubbledogs
Specialising in just two things, but doing them exceptionally well, London's Bubbledogs serves up the unlikely combination of Champagne and hot dogs. Their website is simple and stylish, the homepage putting the emphasis on Champagne with beautifully illustrated bottles taking centre stage and the navigation bar sitting unintrusively underneath them.
'Contact and reservations' is highlighted, encouraging the key user action, while a bubble on the top left draws attention to the online shop.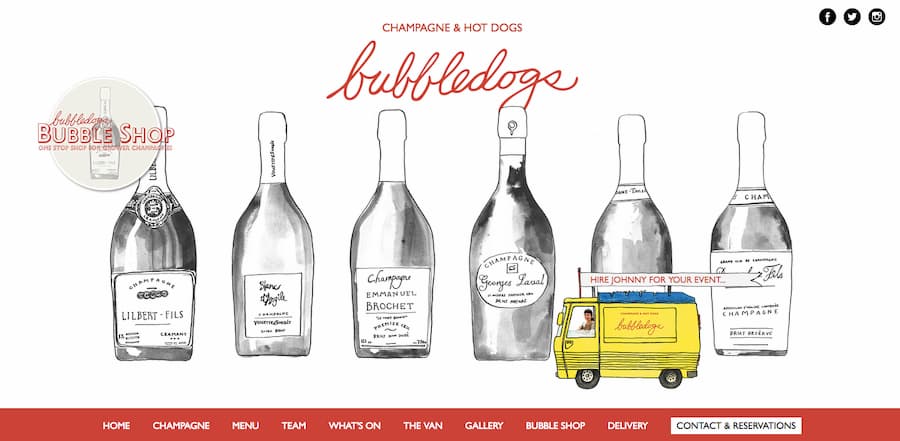 The most delightful aspect of the homepage is, however, the hotdog van that crosses the screen from right to left. With its bright yellow colour and banner advertising the restaurant's hot dog van services, it's a wonderful way of drawing attention to this service. Needless to say, clicking the van takes the user to the page offering more information.
The ultra-simple "Champagne and hot dogs" strapline above the logo immediately leaves newcomers in no doubt about what the restaurant does
Deeper into the site, the navigation bar moves to its traditional place at the top, and there's plenty of great content to delight visitors. Here's a lovely example: a page allowing you to find your perfect Champagne based on your choice of answers from the drop-down menus.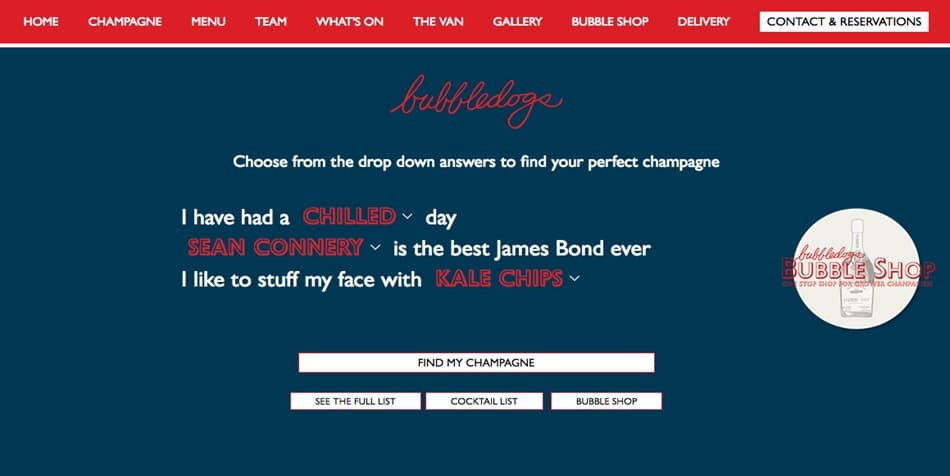 2. The Fat Duck
You'd expect a restaurant with the reputation of Heston Blumenthal's The Fat Duck to have a great website, and it certainly doesn't disappoint. Just as Heston's famous tasting menu takes diners on a journey, so too does the website. The minimalist homepage features an island map with a magnifying glass that visitors can use to explore its Alice in Wonderland-like world in more detail.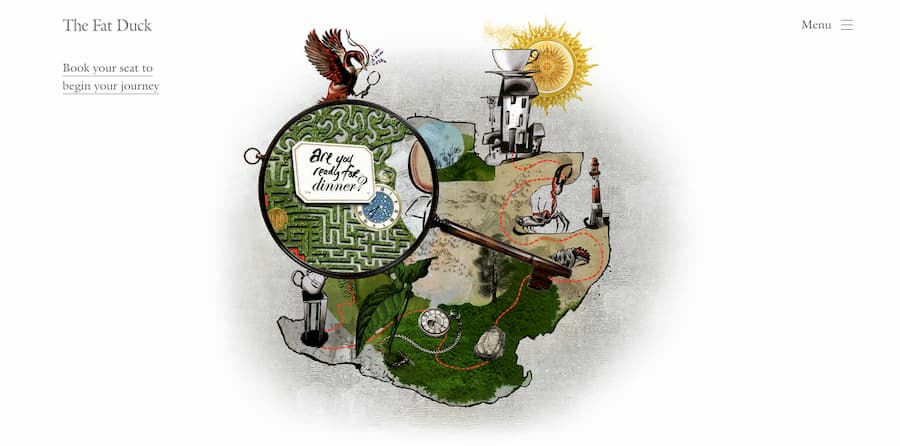 The map beautifully fits the tasting menu's current theme of going on a childhood holiday. Clicking deeper into the site, the 'Itinerary' page teases what diners might expect to find on their culinary journey, with pocket watches suggesting that each stage of the meal will move them further through a day of nostalgic childhood memories.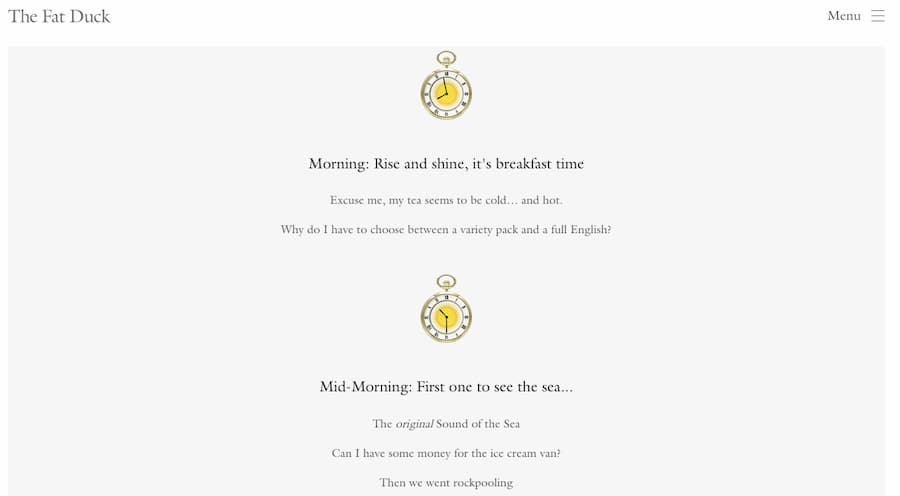 It's a simple design concept, but it works really well at rousing the reader's curiosity, ultimately fulfilling the website's purpose of making them want to book.
3. The Duck and Waffle Local
Sticking with a duck theme, London's Duck and Waffle Local has a sleek website that delights with its numerous duck references. We particularly love the duck footprints and 'waddle this way' call to action encouraging visitors to scroll down the homepage.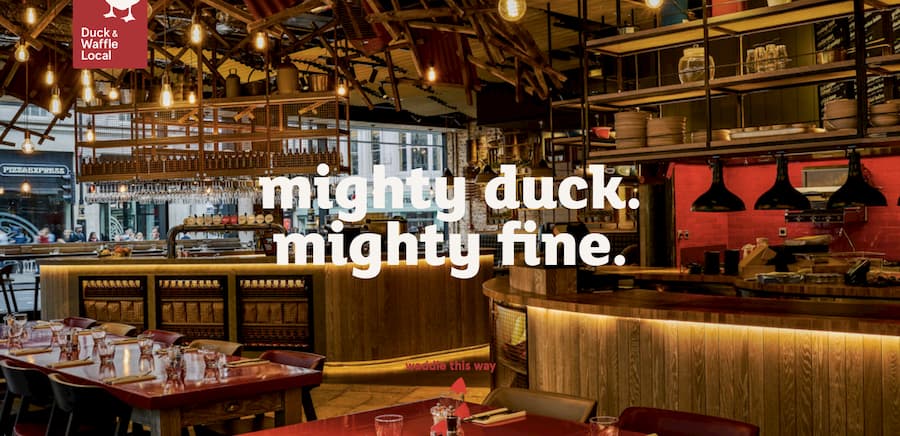 Those duck footprints continue to draw readers down the page, passing striking food photography and duck-themed copy along the way.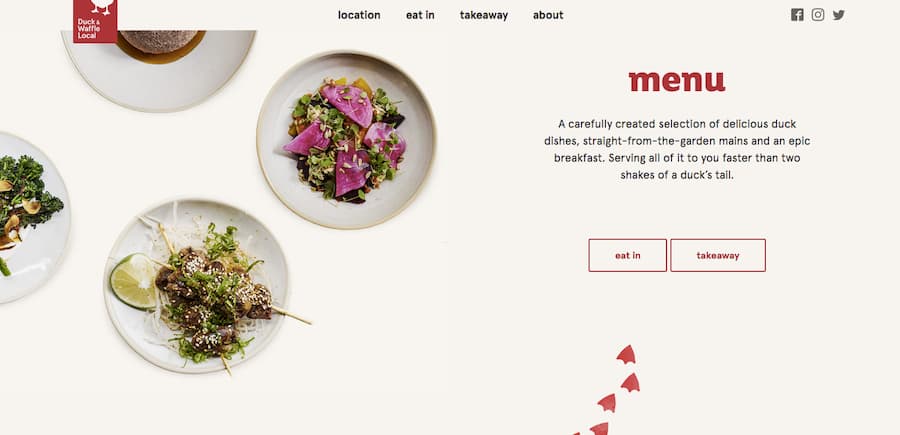 Further down, we're encouraged to waddle over and follow the restaurant on Instagram, with plenty of enticing shots giving us good reason both to follow and dine.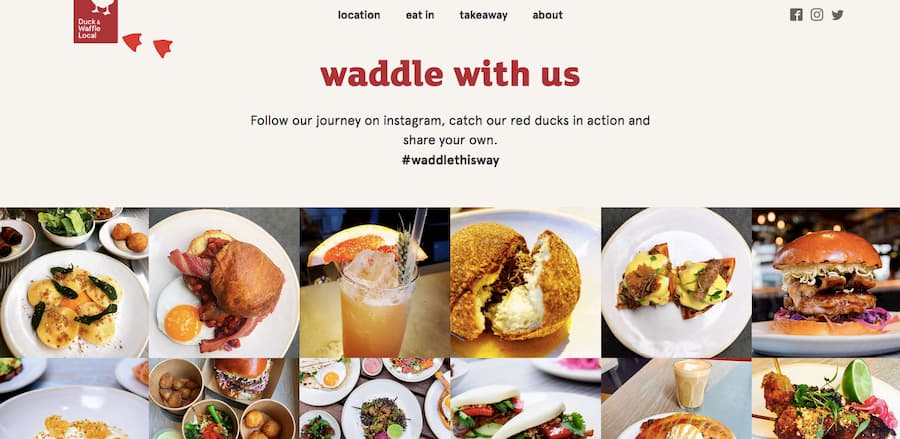 Even the menu page is nicely presented, with simple photos of each dish and a number for the price.

4. Ole and Steen
Danish bakery and coffee shop Ole and Steen has branches around London, and its website does a great job of promoting them. 
This beautifully designed site exudes Scandinavian vibes, with prominent use of superb photography and simple calls-to-action to show visitors what the bakery does best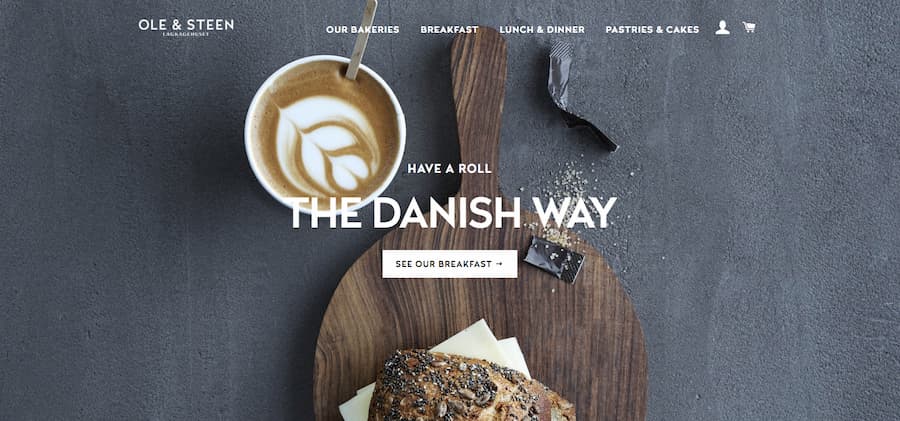 More great food photography comes into play on the menu pages, where you'll see enticing images of what's on offer. As you can see, there are shopping cart logos on each one. That's because you can order and pay online, either for collection or for local delivery – an ingenious way for Ole and Steen to use their website to support their bricks-and-mortar business.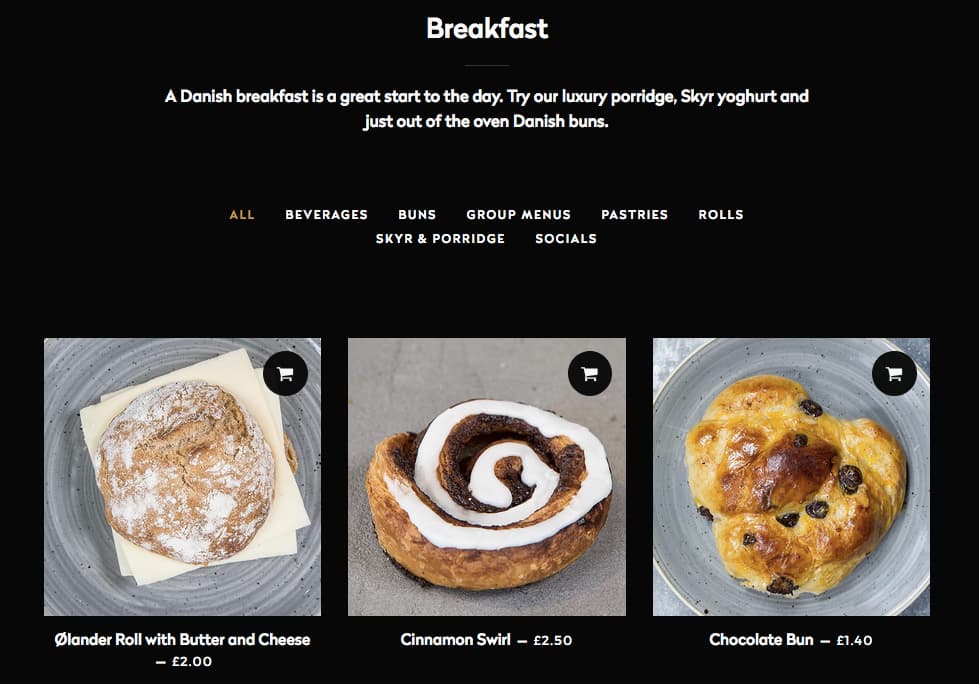 Inspired by these beautiful website designs? Then it's time to start thinking about building one for your own restaurant business. Get started with lots of useful tips in our get online section. 
Find a domain