You spend hours perfecting your latest email marketing campaign and you have an impressive number of subscribers to send your creation to. Despite this, you're constantly baffled about why you can't seem to get people to open your emails or click through to your website.   
If this sounds like a familiar scenario, don't worry – you're certainly not alone. Even the most experienced marketers don't get it right every time and more often than not, it's a simple email marketing faux pas that's been overlooked.
You're sending unsolicited emails
We all know that we can't just send out marketing emails to anyone and everyone (it is in fact illegal to do so). Are you absolutely sure that you have your recipients' consent to reach out to them?
If you send commercial messages to prospects or even existing customers who didn't subscribe to receive them, you're sending spam. On the whole, spamming is a complete waste of time. After all, if people haven't expressed an interest in your company, why would they open your email?
You may think there's no harm in chancing it, but unsolicited emails typically have an incredibly low ROI. What's more, they have a negative impact on your reputation and brand and if users complain, it will affect the deliverability of future messages.
Whether you're planning on sending out a monthly newsletter or the occasional marketing email, you must obtain permission from your recipients in a direct and verifiable way. This may be via a sign-up form on your website or an opt-in box when people register with you.
You're sending without testing
Whether you have a deadline to meet or you're simply keen to get your message out to your customers as soon as possible, we've all been guilty of sending without testing. No matter how many times you've checked your email, always send a test to yourself and at least one other person because there are so many things that can go wrong:
Links might not work
Emails may look different depending which browser or email provider someone is using
Your email might not be optimised for mobile
Images might not load correctly
When you've been looking at something all day, it's very easy to misspell words and make grammar mistakes
A good email marketing platform allows you to see what your campaign will look like across different browsers and email providers. If it doesn't, you can use a service like Mail Up. If neither platform is an option for you, agree a list of people who are happy to proof your content before it goes out to customers.
You're not spending time on your subject line
The key to the success of an email campaign largely comes down to two elements which are often overlooked – the subject and the sender. Both are absolutely critical in the recipients' decision about whether to read your email or put it straight into the trash folder.  
Start by deciding on your sender name and stick to it for all your campaigns because otherwise people won't recognise you from the dozens of junk emails which filter into their inbox every day.
Next is your subject line – this needs to stand out and make people want to open your email. A study carried out by invespCRO found that an incredible 69% of email recipients report email as spam based solely on the subject line. What's more, 47% of us will only open an email if we like the subject line.
To stop people disregarding your emails, you need to get creative with your subject lines. If you're a recruiter for example and you send out your monthly newsletter with the subject, 'February Newsletter,' this is unlikely to generate much interest. If you focus on a topic you have discussed in your newsletter and make your subject intriguing, people are more likely to click to find out what you're talking about. You could for example use the subject, 'The number one reason people leave their job.'
Always make sure that your subject is consistent with the body of the message. If you use tricks to get people to open your emails, they may fall for it once but in future they will know to ignore your communications. Overhyped subject lines may get people to open your emails initially but in the long-run it will destroy trust and the integrity of your brand.
If you're stuck on subject lines, Digital Marketer has published a great guide on this topic along with an impressive list of 101 different ideas you can try.
Your content doesn't offer value
The end goal of any marketing activity is of course to get people to share your content and spend money. If you want to achieve this through email marketing, your campaigns should serve the customer, not the product. This means that your content needs to be so valuable to potential customers that when they read it, they get genuinely excited about what you have to offer.
One of the biggest mistakes companies make is sending out cold emails. Not only is this spammy, it's also highly unlikely that anyone is going to buy from you after just one communication. Instead, you should focus on building a relationship with your subscribers over a period of time. Once they're familiar with you and trust you, then you can start promoting your product or service. 
A great way to achieve this is by offering something within every email. For example, a recruiter may give advice on what questions to ask candidates in a job interview or an accountant may provide tips for reducing your tax bill.
This email below is a great example of the type of content you should be sending to your customers.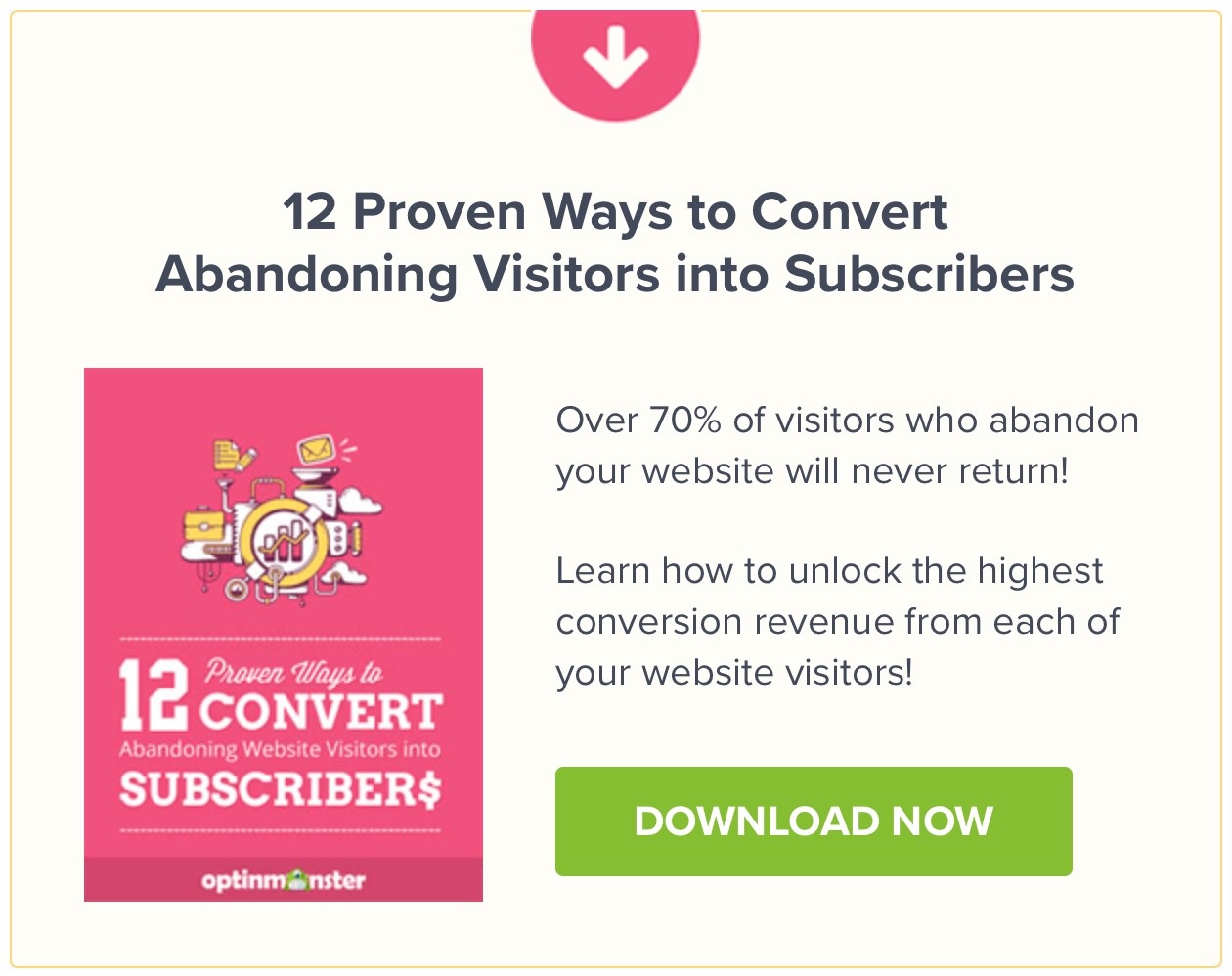 Why is this such a great email?
It's visually appealing
It's valuable because it offers helpful advice
It identifies a problem the reader may have and offers a solution
It includes a call to action
You're not using data
The platform you use to send out your emails should provide you with information such as opens, clicks, and unsubscribes. Each piece of information carries an important message and can really help you to create email marketing campaigns which are going to deliver you successful outcomes time and time again.
Additionally, your data can provide you with useful intelligence which can really help you when creating future campaigns. For example:
If you've had low open rates, this suggests that your subject line isn't appealing to recipients
Lots of unsubscribes could indicate that you either didn't get people's permission to contact them, you're sending out emails too often or your content is poor
Low click rates are a great indicator of the quality of the content, the effectiveness of your call to action, and the relevance of the message to your recipients
Monitoring statistics over time will enable you to anticipate potential issues, profile recipients, discover the best time and frequency for your mailings and track the percentage of active versus inactive customers.
By following these five simple steps, you will be creating great email campaigns in no time. If you're keen to learn more about how email marketing can help you, find out how your communications can be used to generate more business. From cold leads and win-backs to getting more out of your existing clients, we discuss how different types of emails can help you to win over customers.