Whether they're caring for sick children or supporting the most vulnerable people in our communities, charities rely on donations to keep doing their important work. A good website is one of the most powerful ways of reaching out to new audiences of potential donors, but the design and copy are critical to convincing visitors to support a worthy cause. Today, we're looking at some examples of smaller charities who are using their websites effectively to bring in vital funds.
1. Helen & Douglas House
Helen & Douglas House is an Oxford-based hospice for terminally ill children and young adults. They've recently launched a brand new website that does a great job of promoting the charity and its work, making it easy for families to seek help as well as encouraging donations from members of the public.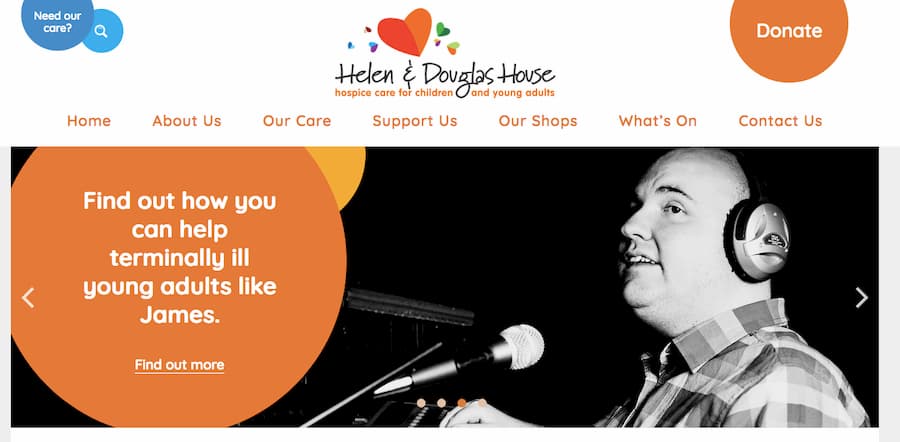 What we liked
Calls-to-action are prominent right from the homepage, with a large "donate" button on the top right, and a slider highlighting the human stories of some of the people whom the charity supports. Including the photographs and names of individuals makes it easy for visitors to relate to their stories, engaging them on an emotional level.
The 'Donate' and 'Need our care?' buttons stay in place as you scroll down the page, so they're always visible to the visitor. A snappy summary of the charity's values helps visitors immediately understand what the hospice does, and beneath it, icons accompanied by short sentences give further easily digestible information about Helen & Douglas House.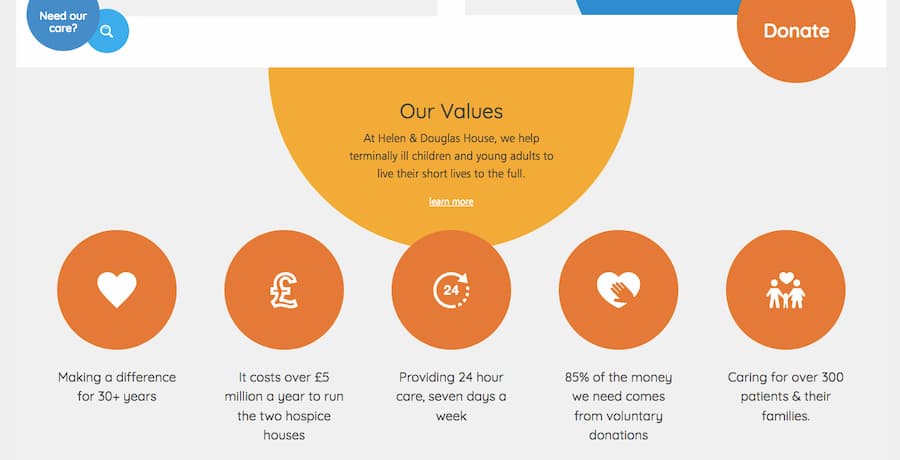 This simple way of presenting information is used elsewhere on the site, too; here's an example from the About page, where you'll find simple call-to-action buttons alongside snippets of text explaining why members of the public should get involved. The emphasis in the copy is on the fact that even making small donations, or helping in other ways, makes a big difference – so visitors aren't put off donating by thinking they haven't got much to give.

Helen & Douglas House is a great example of how good web design and copy can be used to compel readers to take action. Despite dealing with a difficult subject matter, the site has an overall message of positivity, inspiring visitors to help make a difference.
Potential limitations 
The copy is key for a site like this; the subject matter needs to be handled sensitively while still encouraging donations. It's worth considering hiring a professional copywriter to help you get the tone of voice just right. Here are some tips if you do decide to
2. Create
Create is a charity that uses the creative arts to improve the lives of those who might not normally have access to such opportunities, such as vulnerable adults, young people from deprived areas, young carers, and the disabled.
What we liked
The first thing a visitor sees when landing on the homepage is an uplifting animated video introducing the charity and one of its areas of work.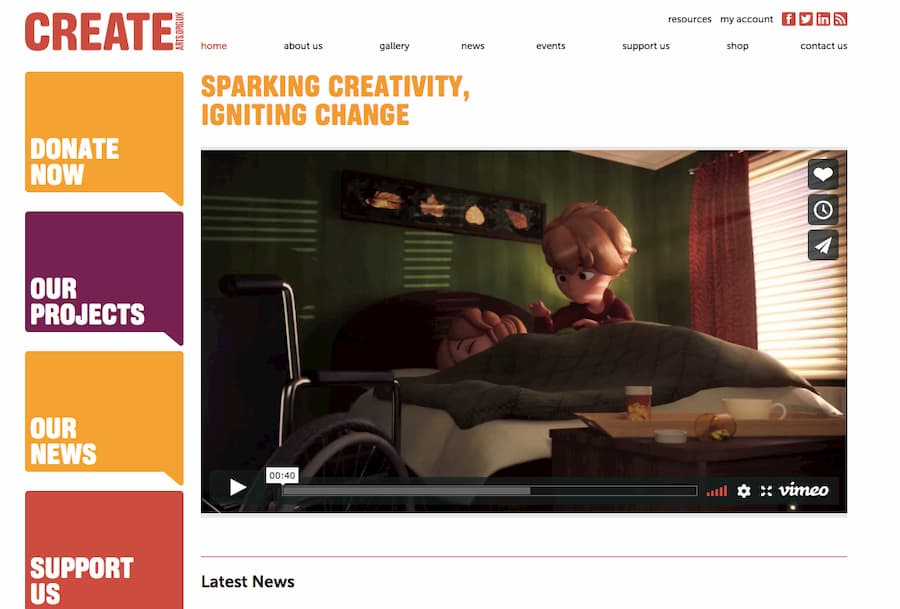 Beneath this are the charity's latest news stories and tweets, as well as the all-important donation box. This one is clever because it links different donation amounts with concrete ways in which the donation could help, as you can see below. This helps potential donors understand exactly how their money could make a difference to making arts projects possible – their donation could buy a set of paints, a canvas or microphone, for example – giving them a compelling reason to donate.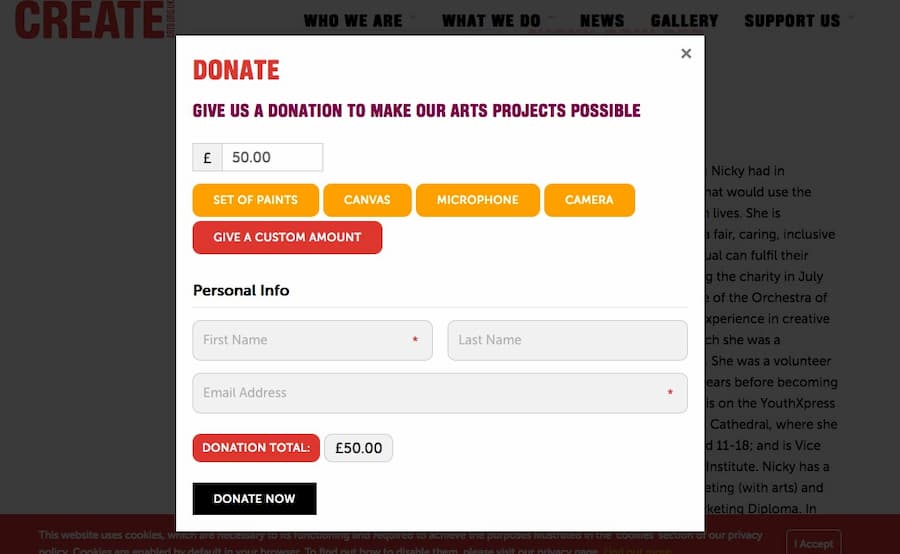 Potential limitations
It's great to make use of video to tell your story, but bear in mind that not everyone will watch it. If you choose to make an introductory video the first thing a visitor sees on your homepage, as Create have done, make sure it's still immediately obvious what work you do without having to watch the video. "Sparking creativity, igniting change" may be an inspiring tagline, but it doesn't tell us in simple terms what the charity actually does.
3. Children's Air Ambulance
The Children's Air Ambulance uses helicopters to fly critically ill children to hospital, four times faster than would be possible by road, getting them to specialist care when they urgently need it. The helicopter and its crew are also equipped to provide intensive care en route, giving the child the best possible chance of survival.
What we liked
This life-saving role is reflected in the clever slogan that dominates the screen when the visitor first lands on the homepage – "Their life above all" – which is accompanied by a simple "Donate" button.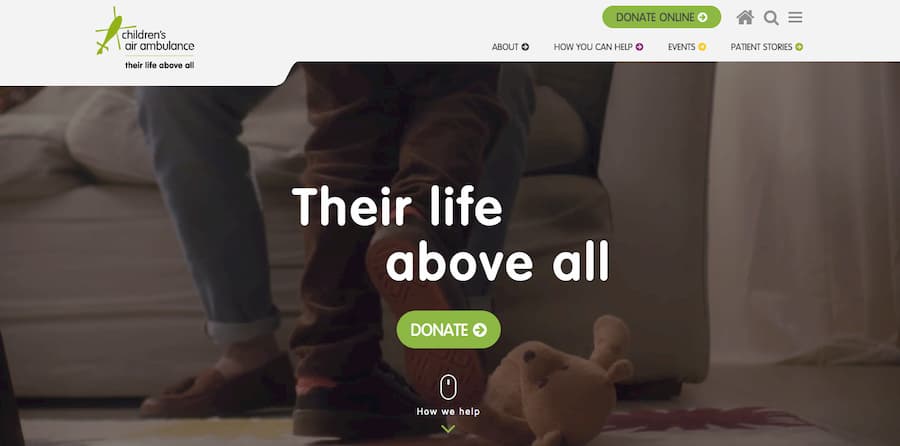 The image behind the text is actually a series of video clips showing a boy and his mother, designed to help audiences emotionally engage with the charity and its work. Further down the page, the story of one child brings the charity's work to life, with emotive images designed to tug on the heart strings.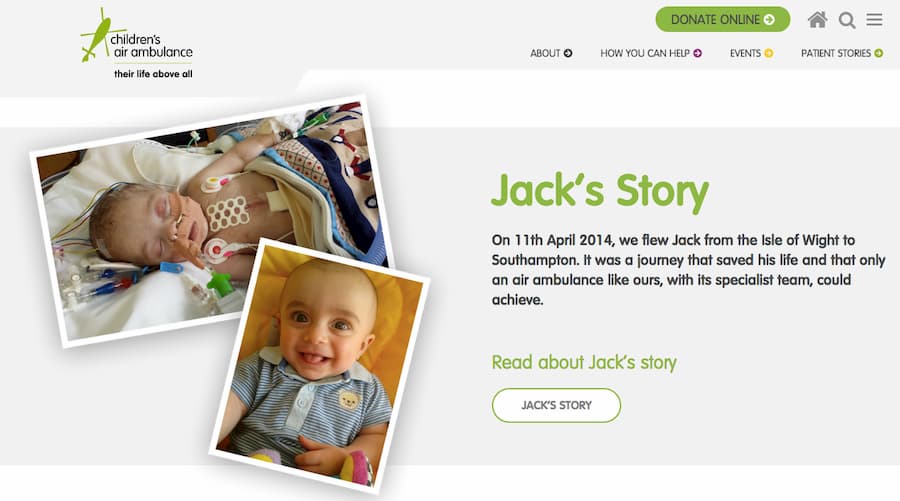 Further down, different ways to donate are presented in simple boxes, supported by text that includes how a donation could be spent: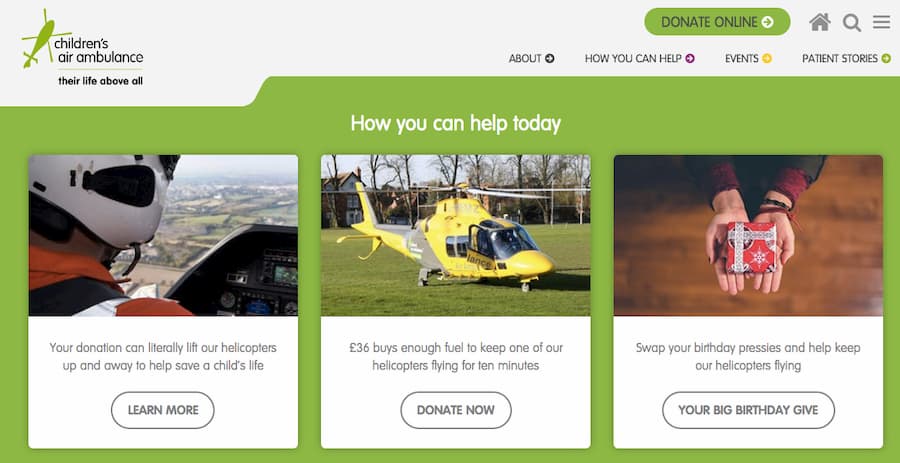 Potential limitations
If you're replacing some of your images with video clips to help tell your story, bear in mind that they can slow down your page load speeds, which in turn can affect how well your website performs in search engines. You'll find more advice on website speed here.
4. Breast Cancer Care
Breast Cancer Care is a charity specialising in providing information for women who've been diagnosed with breast cancer.
What we liked
The charity's website is simple and easy to navigate, with a phone number displayed prominently at the top of every page so that whatever page you land on first, you can immediately contact expert breast cancer nurses to talk to. Not only that, but the homepage copy is empathic from the start, offering simple words of support to women who've just been diagnosed: "We're here".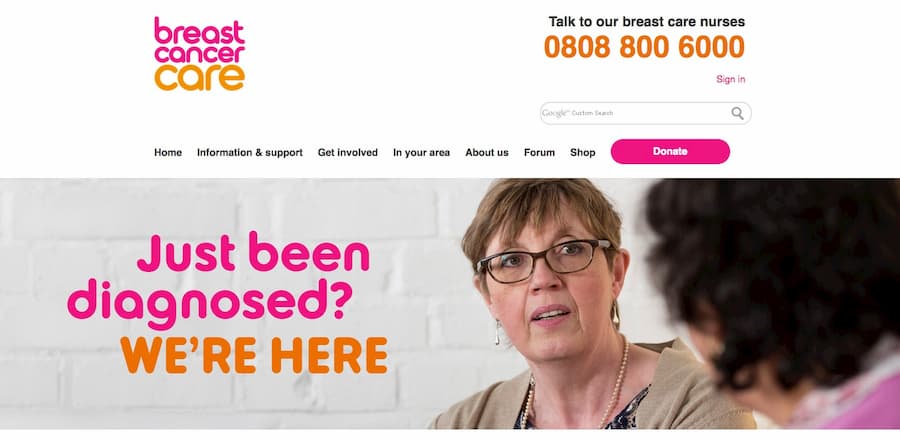 Below this, key information is signposted along with images: the free helpline number again, a link to the app and a link to information about breast cancer symptoms. This means it's easy for visitors to get straight to the information they need.
Further down the homepage, the charity pulls in recent blog posts to encourage visitors to check out the latest advice on offer there, while further down, a simple donation box makes it easy for visitors to donate and support the charity's work. To encourage donations, the regular donation box is pre-ticked (rather than the single donation box), and there's an explanation of how each donation amount could help; for the £3 donation option, for example, you can help keep their invaluable helpline free of charge for women going through breast cancer diagnosis and treatment. As we've seen in some of the other examples in this article, pairing a donation request with an explanation of how it will help is a great way to help show potential donors how they could make a concrete difference.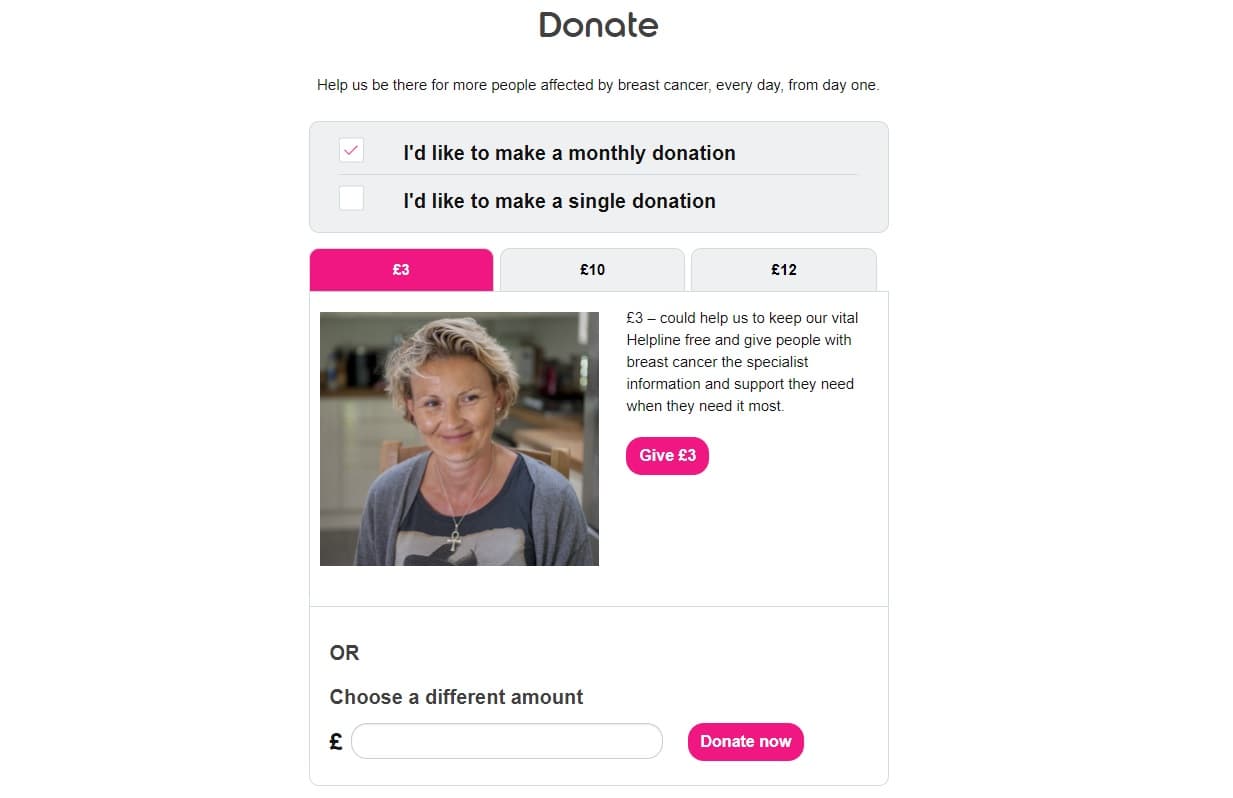 The simple top navigation bar, which includes a 'Donate' button highlighted in pink, makes it easy to find information relevant to you. Clicking on the main 'Information & support' tab, for example, you get a pop-up with clearly labelled subsections designed to take you straight to what you're looking for.
Further into the site, there's a wealth of information categorised into landing pages – such as Going through breast cancer treatment – and in-depth articles, such as hormone therapy, which have a table of contents at the top that allows you to jump straight to the section you're interested in. There's also a forum where women can chat with others who are going through the same thing or ask questions of the charity's nurses, and a store helping to raise vital funds to support the charity's work.
Potential limitations
Sites dedicated to offering information need to be kept well-organised to ensure that content can be found easily. Think carefully about your information architecture if you're planning this kind of site; your site structure should be logically organised into simple categories, and you'll need clear navigation to help readers find what they're looking for. A site search feature will help with this.
Forums are a great way to enable people to connect with others who know what they're going through, but bear in mind that they require moderation to ensure they're being used properly and respectfully. If you decide to add one to your website, you'll need to assign this responsibility to someone.
5. Redwings Horse Sanctuary
Redwings is the largest horse sanctuary in the UK, taking in horses, ponies, donkeys and mules that have been abandoned, mistreated or neglected.
What we liked
As soon as you land on the Redwings homepage, you know exactly what it is, as the copy tells you: "The UK's largest horse sanctuary". Polaroid-style images show some of the sanctuary's residents, one each of a horse, pony and donkey.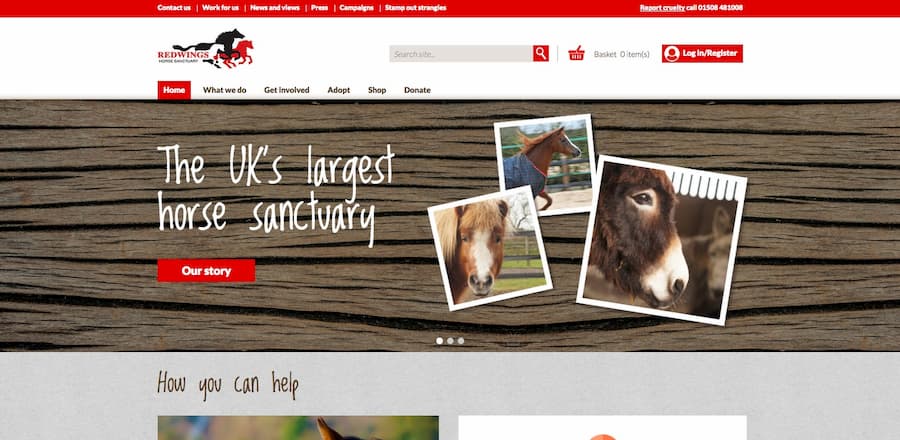 Scrolling down to the 'How you can help' section, the content is organised into different calls-to-action: 'Make a donation', 'Visit us', 'Shop now' and 'Find out more' (about adoption). These buttons, along with simple supporting copy explaining each, help encourage visitors to take one of these key actions to help support the charity's work. The language used is caring; phrases that evoke nurture, such as "place of safety" and "help us care for our resident horses", appeal to the reader's emotions.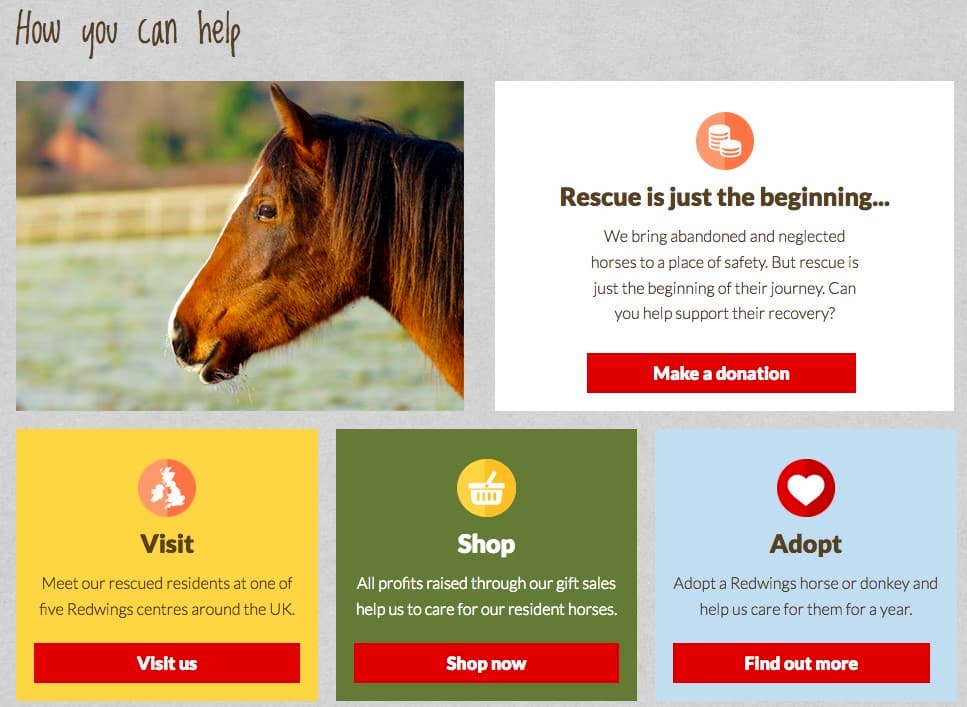 Beneath this is a chart explaining how the charity spends its donations, alongside a clever donations widget giving visitors the option to donate different amounts. A slider allows them to change the donation amount, and for each amount, simple copy explains how the money would be spent – in this instance, £25 will care for three horses for one day.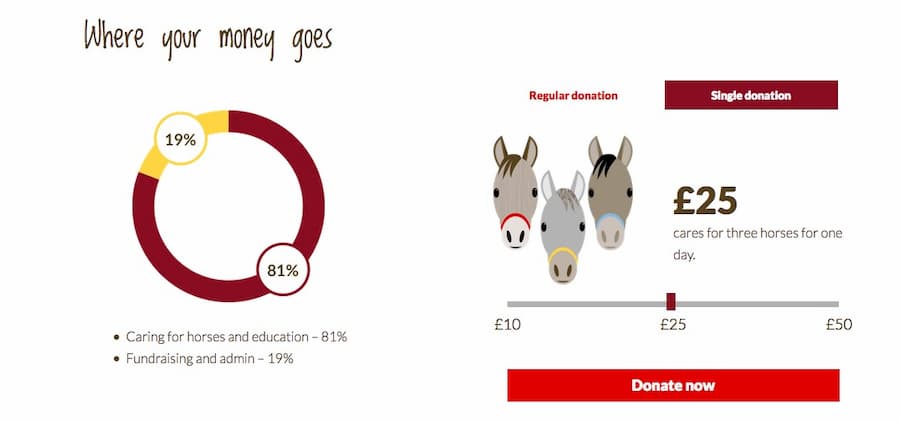 Further into the site, different sections explain more about adoption, the various ways you can get involved, and of course there's a page devoted to the different kinds of donation you can make. There's also a shop selling gifts in support of the charity's work. 
Potential limitations
There are lots of call-to-action buttons on this site, and this can be inevitable when there are lots of potential ways for people to get involved with your charity. However, this can give too much choice, so it's worth thinking about what your primary call-to-action should be – perhaps 'donate' – and giving this one more prominence to avoid it becoming lost amongst numerous possible options.
Get the look
If you're a small charity, you don't have to have a big budget to learn a lot from these superb websites, and you can create something similar yourself by using low-cost WordPress themes. Here are a few possible templates to get you started:
Key takeaways
Whichever design you end up going for, remember that the aim is to ensure your website is working as hard as possible towards your important mission. Here are some of the top things any charity can do to create an effective website and boost donations.
Explain your work in clear language, appealing to readers' emotions
Use real-life stories to bring your work to life
Make calls-to-action compelling and prominent
Use a striking header banner on your homepage, but make sure the copy and imagery tell people immediately what you do
Explain in concrete terms how different donation amounts could be used
Make it as easy as possible for visitors to donate
If you're a small charity, you don't have to have a big budget to learn a lot from these superb websites. Explaining your work in clear language, using real-life stories to bring your work to life, and making calls-to-action compelling and prominent are all things any charity can do to boost website donations. You'll find lots more advice on effective web design here.
Find a domain