Emails are increasingly becoming the preferred method for marketers to reach out to and connect with customers. Considering we're never more than an arm's reach from our mobile device, this sounds like a good, common sense approach to modern marketing.
Smartphones have in fact taken over laptops as the most popular device for getting online and we're now spending more than two hours on our phones accessing the Internet every single day. What's more, one in six adults in the UK now only use a smartphone or tablet to go online – a 10% increase from last year. 
Whether it's checking our emails, logging into social media, reading the news, watching videos or doing some retail therapy, our desire to do everything via our mobile phones no doubt comes down to the fact that technology continues to advance. Not only can our smartphones do more than ever before, superfast 4G also means we can access the Internet pretty much wherever we are. Perhaps this is why 79% of mobile users now use their device to check and read their emails.
While it's a pretty safe bet to assume that your recipients will see your email sitting in their inbox, the million-dollar question is, how do you get them to open an email, read your content, and then get so excited by what they see that they give you a call or purchase something from you?
Below are five great ways you can increase your customer engagement and brand revenue through your email campaigns.
1. Use subject lines that are too good to resist
The only way you're going to get people to open your email is to make your subject line so good they can't resist taking a look.
If I log in to my Hotmail account right now, out of the 16 emails you can see, I have highlighted the only four that I would consider opening. Lancôme and Carluccio's because they're two of my favourite brands and it sounds like they have something new to tell me. The one from MyFitnessPal because I'm interested in healthy eating and the one from Skinny Bakery because they've done something a bit different by talking about break-ups on Valentine's Day.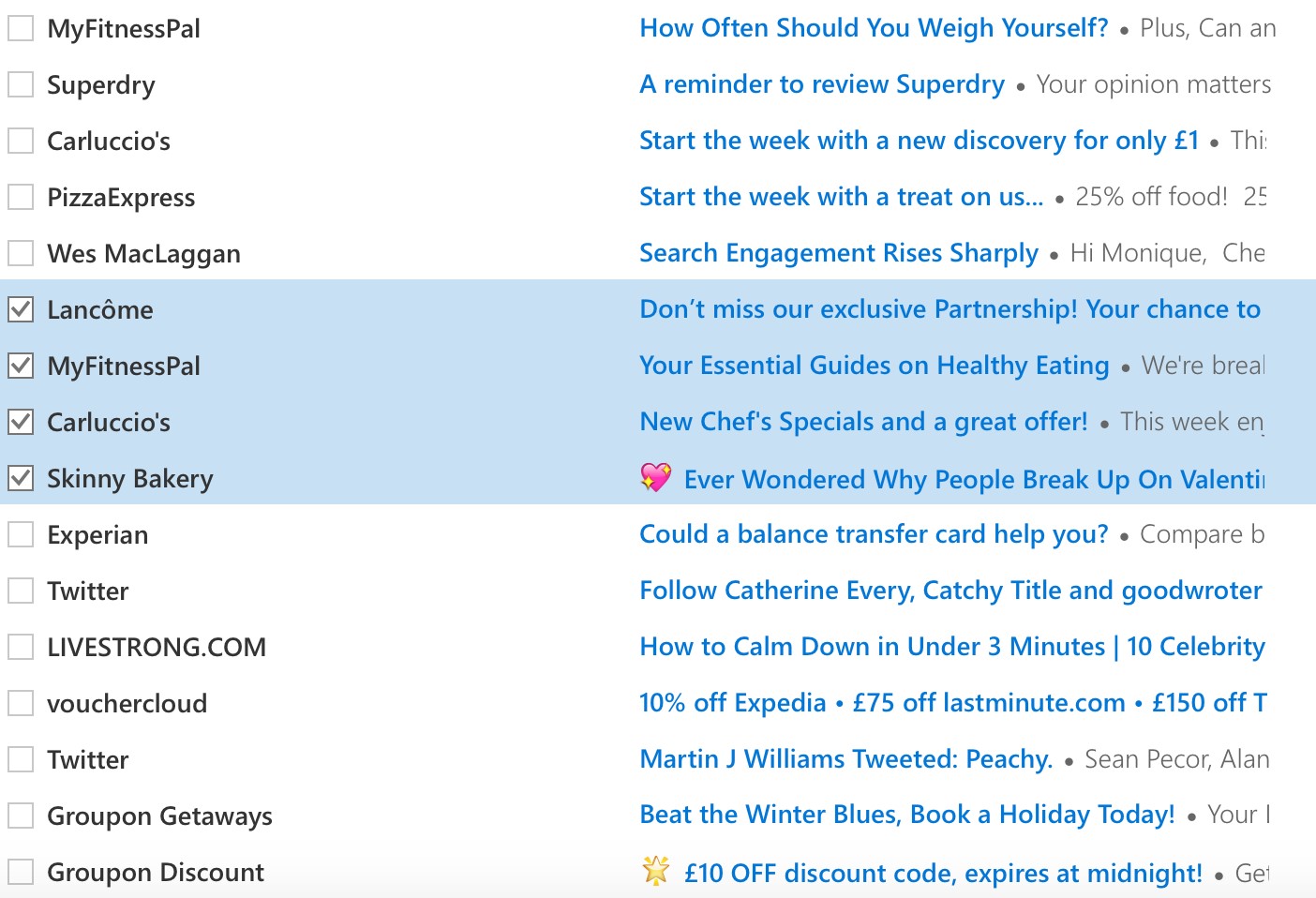 As we all do, I have judged how relevant and interesting I think an email will be based on its subject line. With so many communications filling up people's inboxes, how do you make sure yours is the one that stands out? 
Keep it brief – it's estimated that subject lines with 50 characters or less generate 12% more open rates and 75% higher click-through rates
Avoid over-used words and clichés (open now, hurry, just for you). Present your audience with a hook that captures their attention and gives them a reason to learn more (such as Lancôme's new partnership)
Your subject line absolutely has to convince the recipient that the email contains something that will enhance or improve their life
Ensure that the information within your email is relevant to your subject line. If you promise something that isn't there, people will remember you use this technique and won't open future communications from you regardless of how great your subject line is
2. Personalise your emails
Personalisation is without a doubt one of the best ways to ensure that subscribers continue to open and engage with your emails. Something as simple as using someone's name in the subject line can really help to capture their attention.
Another thing you really should be doing is tailoring your content to different subscribers according to their preferences. A great example of how you can do this is by sending product recommendations based on previous purchases.
Segmenting your email list is another fantastic way to maximise the relevance of your content. By creating different mailing lists for your campaigns, you can really target customers based on their interests and how they interact with your brand.
A recent survey carried out by the email marketing platform, MailChimp found segmentation so beneficial it:
Increased open rates by 14.31%
Increased clicks by a very impressive 100.95%
Decreased unsubscribe rates by 9.37%
Decreased bounce rates by 4.65%
There are a number of ways you can segment your subscribers including:
Demographics (gender, where they live, job title)
Behaviours (what they buy, when they buy, how often they buy and when they last clicked on an email)
Sign-up date (you can send new customers special welcome offers and long-term customers exclusive loyalty promotions)
3. Find out what your customers actually want to read
Why guess what your customers want to hear about when a bit of research will be able to provide you with a more valuable insight? If your content is relevant and appealing to your audience, not only will they open your emails, they will actually look forward to receiving them.
How exactly do you find out what your customers want to hear about?
Talk to your frontline employees – these are the people who have the most contact with your customers so who better to understand them?
Use your social media channels for inspiration – what type of content goes down really well on your social pages and what doesn't work so well? This will provide you with a really decent idea of what your customers like to hear from you. You can also use social media to find what's trending within your industry – if everyone is talking about something, jump on the bandwagon
Conduct a survey – eliminate the guesswork and ask your customers what they want to read or what kind of offers they would be interested in receiving
4. Create calls to action that convert
The calls to action in your email campaigns are essentially the entrance to your sales funnel. If you want results, ask yourself:
Are my CTAs easy to find?
Do they draw in customers and prospects?
Do they motivate people to click on them?
If your CTAs generally don't tend to generate much of a response, here are some best practices for creating calls to action that convert.
Keep them brief (a maximum of four words if possible), use actionable copy and start with a verb. For example, register today, click here, start your free trial. By doing this, you're making it crystal clear what you want your readers to do
Create a sense of urgency. By using words such as 'now' and 'today,' you're making your readers think they have to act quickly or they'll miss out. Combine this with a limited-time offer (register and get 20% off today only) and you're far more likely to get people to act immediately. If people think they have a week or two to do something, they will put it off and you will more than likely lose them. Be careful not to send out these types of emails too often however otherwise you could annoy your readers and they will end up unsubscribing. Always ensure promotional emails are timely – for example, perhaps you're having a Black Friday sale, you're offering special deals in the New Year or you're running an end-of-season sale.
Include your call to action in your subject line – this will help to increase open rates
Use colour – your CTA is the most important part of your email so it needs to stand out. Ensure your CTA button is bold enough to get noticed but not so big that it overwhelms the email and detracts from the message
Create a landing page on your website for your CTA. How many times have you directed subscribers to the home page of your website and left them to navigate their own way to your offer? This is frustrating for users and will probably result in them leaving your site. To help drive conversions, create a dedicated landing page for your promotion so people can find the information they need instantly
Below is an email from the American department store, Macy's which is an example of a campaign which isn't so great. There is so much going on in the email that it's really difficult to focus on just one thing. This is a great example of how too many calls to action can actually confuse the reader.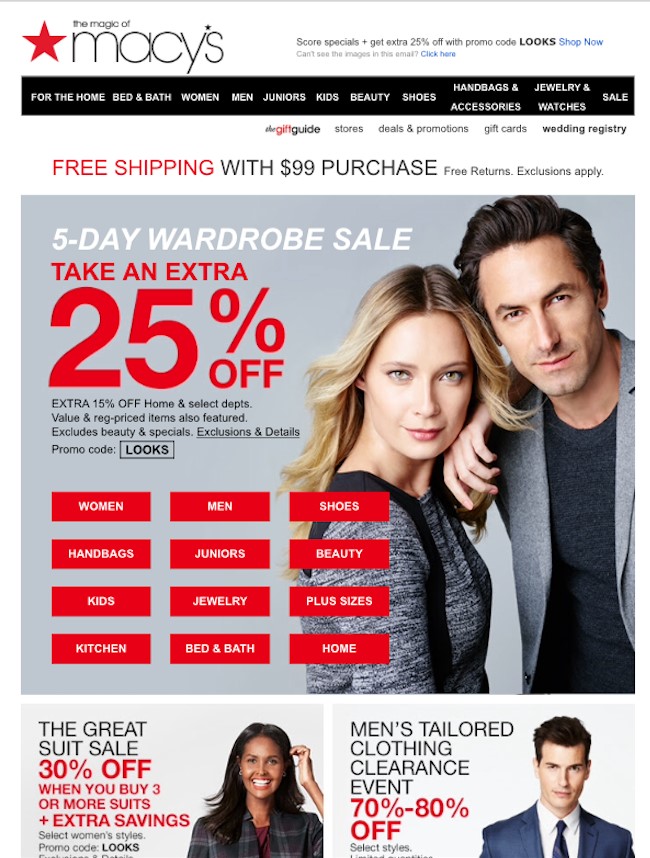 This example from online shopping site, Rue La La is a different story however. There is one clean and simple image – enough to get your attention without being overpowering and the email only focuses on one topic so there's not too much going on. They have also put a time limit on the promotion which encourages readers to click through immediately and the phrase '50 oh-wow steals' makes you feel like you really need to check out these items.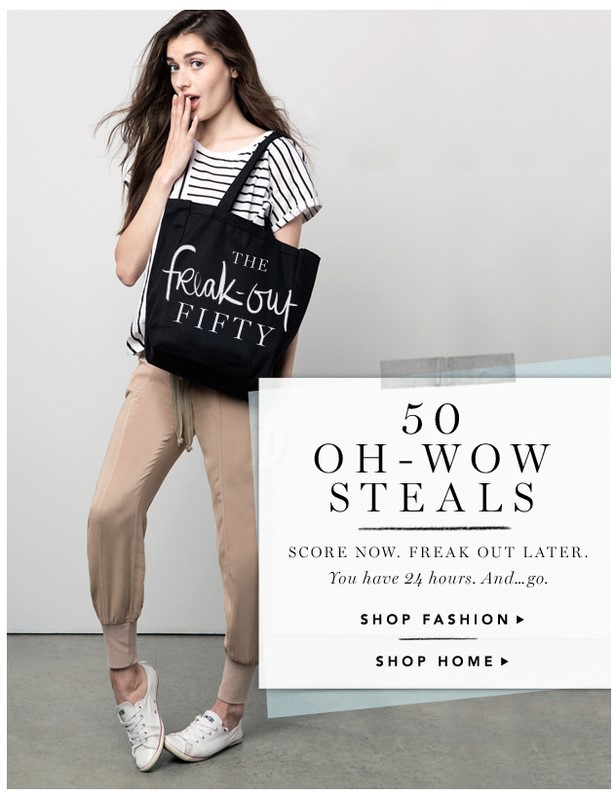 5. Optimise your emails for mobile
Have a quick look at your website analytics to determine how many of your subscribers read your emails on a mobile device. There's a very distinct possibility more people are using a phone or tablet than a desktop so it's absolutely crucial to ensure your communications are optimised for mobile.
Use a responsive design that will automatically re-format according to the device and even browser people are using. 56% of all emails are now opened on a mobile phone or tablet so it's crucial to cater for this audience.
Ensure your subject lines and headlines are short and engaging. We tend to skim through things much quicker when we're on our mobile so you have a very short timeframe to capture people's attention
Ensure your content is scannable and to-the-point. A five sentence paragraph might not look that long on a desktop but it will on a mobile phone. You're better off using headlines and bullet points to sell your story and then directing people to your site if they want to read more information.
Remember that larger images take longer to download on a mobile device. If someone has to wait too long, they might lose patience and click away from your email
Test your emails across all the different devices and browsers before you hit send
If you're directing subscribers to a landing page on your website, ensure that this has also been optimised for mobile and includes a relevant call to action
Email marketing can take time to get right but with a ROI of £38 for every £1 spent, it's well worth doing.  For more information on this topic, have a read of 'How to win customers with email marketing.' Covering everything from the different audience types you can reach out to, best practice techniques and some recommended user-friendly platforms, you'll discover everything you need to know about creating great campaigns.