One of the most exciting things about getting online is choosing a design for your website. However, with a seemingly endless range of possibilities, deciding what design concept to go for can be tricky.
In the first of a new series highlighting some of the fantastic websites hosted on UK domains, we're looking at some brilliant websites from the world of photography. If you're in need of some inspiration, keep reading…
1. Colin Prior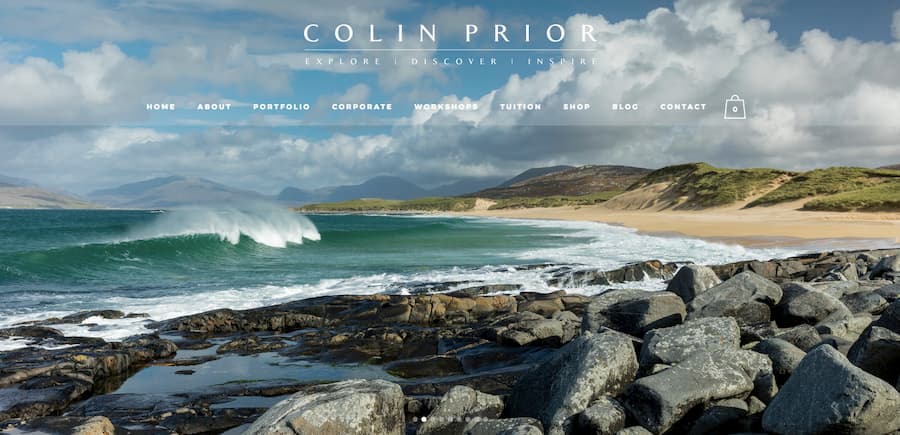 What we liked
Colin Prior is known for his stunning landscape photography, and his beautiful website, colinprior.co.uk, is a wonderful showcase of his inspiring work.
His passionate interest in photographing wildernesses – in particular the mountains – is immediately apparent in the dramatic images he's chosen for his site. The photographs themselves take centre stage, with the homepage using a slider to cycle between a number of full page-width shots that demonstrate his talent, featuring landscapes from mountains to coastlines, sunsets to wildlife.
Scrolling down, you can view photos Colin's taken in different parts of the world, and there's also a link to his Instagram account. Simple call-to-action buttons like "Follow" or "View" guide you through the site, keeping it user-friendly. Straightforward navigation along the top makes this an easy site to find your way around, clearly signposting other services such as workshops, tuition, and even an online shop where you can purchase Colin's work for your own walls.
Potential limitations
Image-heavy sites can sometimes take a while to load, and page load speeds affect user experience – which in turn means it can also impact search engine rankings. You can avoid this by resizing large images to the optimum pixel width for your site, rather than uploading the image files in their original size. Have a read of our guide to page load speeds, why they matter and how to improve them.
For any site, but particularly for sites dominated by images like all the examples in this post, it's also worth thinking about how the site will look on mobile devices; will the image sliders look as good and work as well on a smaller screen? Is it still straightforward for visitors to access information, or are the images occupying too much of the screen?
2. Shaw and Shaw Photography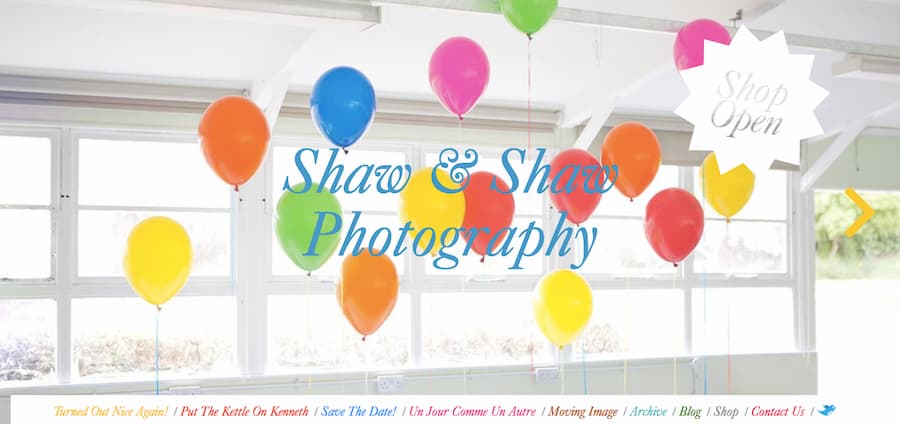 What we liked
The photographers at shawandshaw.co.uk have chosen a novel way of showing off their talent, taking you on an immersive journey in which their beautiful photos do all the talking.
The photos occupy the full page, with left and right arrows used to guide the visitor on a story told through photographs. You enter a colourful world of seaside holiday resorts and vintage tea cups, French streets and circuses, and you're left in no doubt as to the photographers' style. While there are titles for each section, the final page on the journey features the only real text: the photographers' contact details. If you get lost at any point, scrolling over the bottom of the screen brings up the navigation menu that lets you jump to another section, or to the blog and online shop.
Potential limitations
Because this style of creative website is so different from what readers are expecting, it could be a little difficult for visitors to find the basics – information about who the photographers are, how to work with them and so on. It's difficult to tell from this website whether the photographers work with clients, and if so, what kind of clients they work with. What's more, with very little copy throughout the site, it may be harder to achieve solid Google rankings for competitive search terms – at least without compensating for this by building lots of strong links from other sites (see our introductory guide to link building).
3. Stella Photography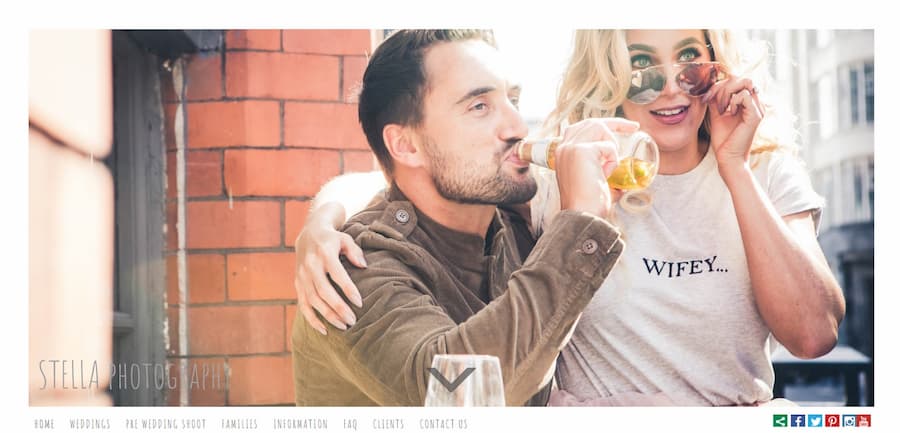 What we liked
With minimal copy on the homepage, wedding and family-focused Stella Photography's website, stellaphotography.co.uk, is kept simple by images that match the laid-back copy, which explains that they value photography that's "a bit different, creative and fun". The full-width image that occupies all the space 'above the fold' (the part of the page you see before scrolling down) reflects this fun and natural approach to photography, immediately giving you a sense of what to expect from these photographers.
The navigation bar is subtly placed at the bottom of the screen, so as not to detract from the impact of the images themselves. The bar is fixed so that it's always there as you scroll down the page, and on the right hand side it also features the company's numerous social media accounts to encourage visitors to connect and keep in touch in whichever way they choose. Further down, an embedded video gives an edgy introduction to the team, again alleviating the need for too much copy.
Potential limitations
Mixing up the standard website layout is a great way to be original – in this case, putting the primary navigation bar at the bottom of the page. It's just worth being aware that non-standard layouts have the potential to confuse visitors, so if you decide to go down this route, perhaps ask a few friends to use your website and see if they have any comments.
4. Rankin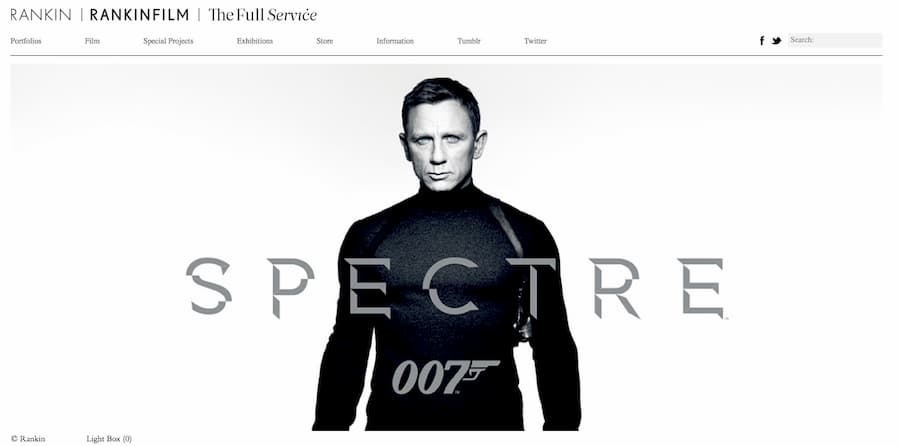 What we liked
Photographer John Rankin Waddell – better known under his working name, Rankin – is noted for his compelling portraits and commercial work, and his website does a great job of showcasing the breadth of his talent.
The rankin.co.uk homepage features a slider with a few of his famous images, such as the publicity stills for the James Bond film Spectre. Lots more photographs can be found in the top navigation, where the 'Portfolios' section is helpfully broken down into categories such as Advertising, Film Posters, Sport and many more.
Within each section, the visitor can choose between an image carousel and a thumbnail view, which shows small versions of every image with the option to click for a larger version. This cleanly designed site also features easily accessible information on Rankin's exhibitions, special projects and film work.
Potential limitations
Because this site design places such emphasis on the images, there's very little copy on the site – and if you tried to emulate such a design yourself, you might find it challenging to get it ranking well in search engines. What's more, the use of horizontal scrolling – as on the Special Projects page – could mean some visitors miss out on some content because they don't realise they have to scroll across rather than down.
5. James Davies Photography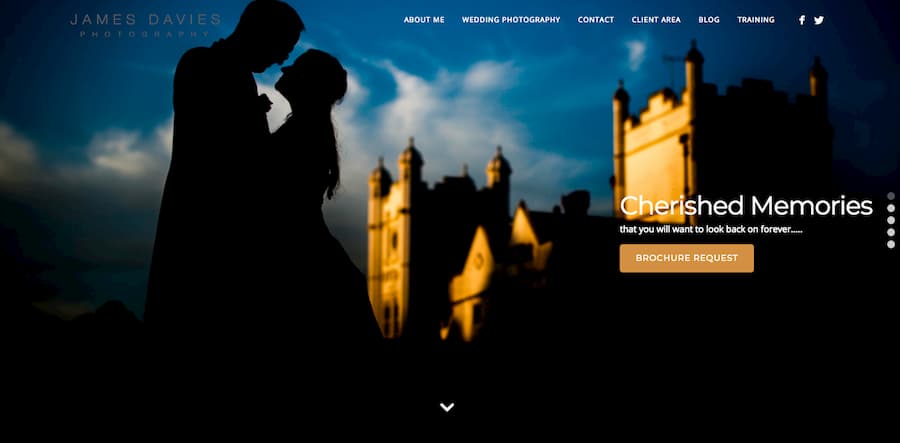 What we liked
Photographer James Davies uses his website, jdaviesphotography.co.uk, to show off his wedding photography to great effect. On first entering the site, visitors see a strikingly-lit image with simple copy and a "brochure request" call-to-action button. At the top of the page, a simple and unobtrusive navigation bar makes it easy to find important pages and social media profiles without detracting from the main image.
A simple down arrow encourages visitors to scroll down, an action that moves them automatically to more beautiful images, each one accompanied by a different snippet of text and call-to-action button. These appear in different parts of the screen to avoid being repetitive and ensure that they're noticed each time.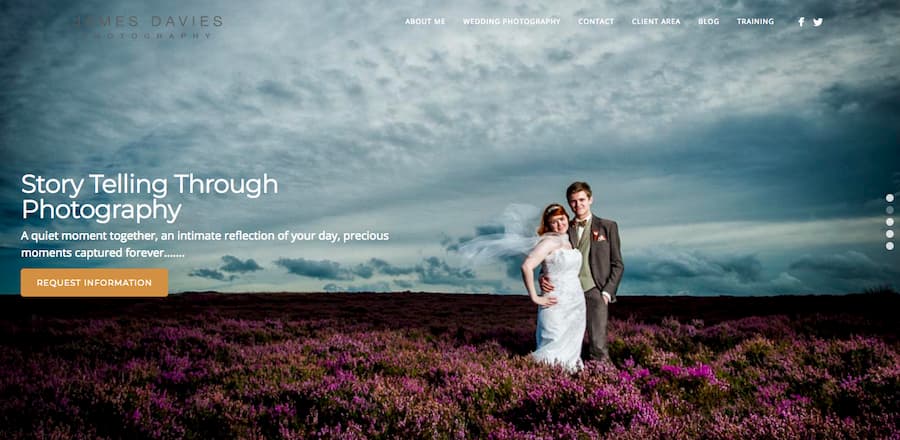 The top navigation bar remains in situ as you scroll down, so you can access other pages without having to scroll down. Among others, there's a blog showcasing the photographer's latest work, as well as a wedding photography page targeting important keywords, a client area where clients can access their images, and a nice training page aimed at other photographers.
Potential limitations
Sweeping images like these have more impact on a bigger screen, so think about how the site will look on smartphones. Take a look at our post on responsive sites.
6. Holly Rose Weddings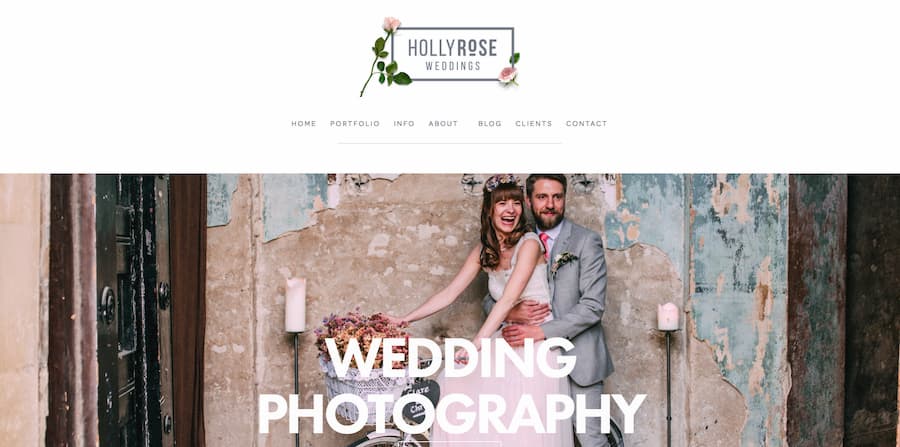 What we liked
There's a strong sense of brand identity on this lovely site from wedding photographer Holly Rose Weddings. Holly's site, hollyrose.co.uk, has a simple homepage with a main image that stays in place while the rest of the short page scrolls up in front of it. The pretty rose-themed logo is a nod to her name, and on the Info page the names of the photography packages she offers ('The Rose Package', 'The Lily Package) continue this theme.
The testimonials page, nicely labelled as 'Kind Words', is particularly well-designed, displaying quotes from happy clients along with their photographs.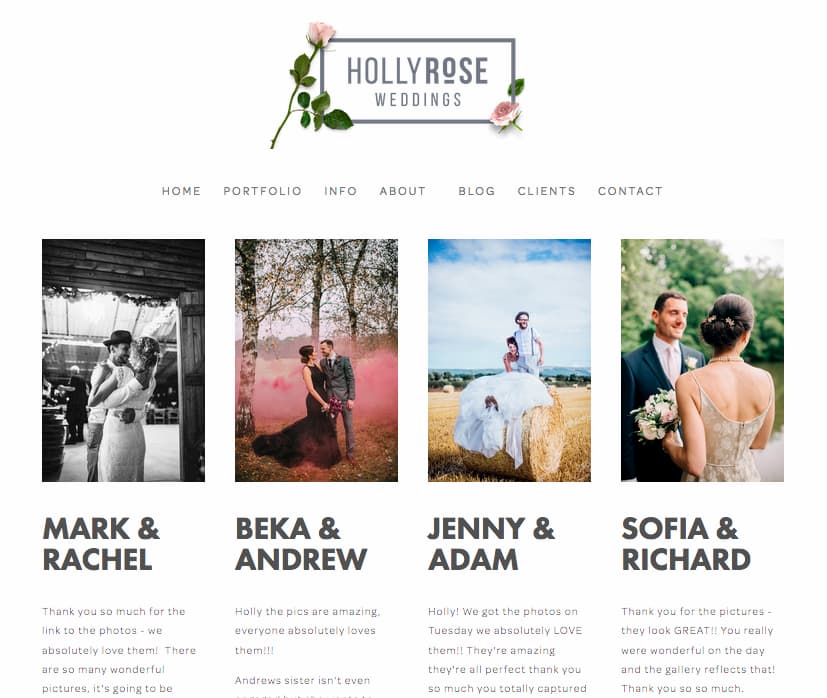 We also love her About page, which features some of her quirky photos along with some embedded YouTube videos from her own photography channel. Finally, the Contact page has an excellent form for couples to fill in, asking them for information such as their wedding date and what they envisage for their photographs.
Potential limitations
This site works so well not just because of its simple yet beautiful design, but because of a strong sense of Holly Rose's personal brand. To achieve something similar yourself, put some thought into your own personal brand – remember, it's about you, so copying someone else's won't work. Have a read of our guide on how to create your personal brand to get started.
Get the look
WordPress themes make it easy to construct beautiful-looking websites with very little technical knowledge. As a photographer, you'll be looking for themes that will show off your work to best effect, and Googling 'portfolio themes WordPress' or similar will bring up lots of suitable themes that you could use to create something similar to the sites we've seen in this post. Minimalist themes that puts the photographs centre stage will help you achieve a similar idea on your own website, so look out for features such as image sliders and dramatic image-only homepages. It's also important to choose a responsive design that will look just as good on mobile devices as it does on desktops.
Take a look at these themes for starters:
If these beautiful sites have inspired you to get your own website up and running, take a look at our handy guides to planning your website to take the next step towards getting online.