Global warming is such a monumental and complex issue, it's easy to see how it might be identified as only being relevant to huge corporations. However, the idea of global warming only being the responsibility of corporate giants is dangerously flawed. The problem of global warming is everyone's responsibility, and as such, everyone can contribute to tackling this rising concern even through small actions. Small actions and changes are not insignificant.
Small business owners might be concerned that their environmental efforts don't matter, when in fact they matter immensely. Small changes to become greener can be very impactful; it not only feels good to make a difference, but striking results show when a commitment to being eco-friendly is made and put into continuous practice. Making your business greener is simultaneously good for the environment, your business reputation, and potentially your sales. The environmental impact of business activity is a growing concern for customers, who are becoming increasingly aware and expectant of good environmental practice. However, if you choose to make your business more environmentally friendly, your efforts must be genuine as your customers will notice if your claims are false.
Here is a list of some of the ways you can make your business greener:
1. Conserve water
This is one way that can save money and help the environment. Fixing leaky faucets can literally stop your business wasting gallons of water, so make sure to check if this is happening. If you're not sure about how to make changes in your business specifically relating to water, ask a plumbing expert their advice on how to reduce your water footprint. You could additionally investigate options such as eco-friendly water systems to stop unnecessary wastage.
2. Use green cleaning products
The chemicals in most cleaning products can have harmful implications for the environment and your health, so where possible, switch these for non-toxic products. This will protect your skin from harmful ingredients, and stop you from breathing these in.
3. Ride a bike to work or start a carpool
Riding a bicycle to work has a myriad of benefits, including improved cognitive function, better sleep, improved vascular health, and more. This will cause a reduction in pollution, as well as your travel expenses. If your commute is far, try creating a carpool with people going to the same place or the same way. If you haven't already got a physical location for your business, access via cycling or walking might be a consideration for when you create your business space. If you already have a place established, you could create 'Leave the Car at Home' days every week to encourage staff to pursue healthier and more environmentally friendly forms of transport.
4. Plant shrubs and trees
Trees and shrubs are a vital part of the ecosystem, and help to act as filters for pollution. They can also make your business appear nicer visually, and the upkeep of these won't be too much effort other than occasional watering in dry weather and pruning. They produce oxygen, improving the air quality that is essential for you and your employees. Shade from trees may also help to cool down your office from powerful sunlight, creating a cooler office space.
5. Recycle
Creating some bins for recycling is another super simple way to make your company greener. Once clear bins for paper, cardboard, and plastic are created, people will easily get into the habit of using them. Since many households now have to separate rubbish, people will most likely already be used to this concept. Lead by example and your staff will be recycling in no time.
6. Use alternative energy sources for power
Alternative sources of energy such as solar power, wind power, and water power can create electricity in a way that avoids releasing toxins into the air. These not only help the environment but can reduce your company's energy bill.
7. Replace old appliances with energy efficient ones
In accordance with cost-cutting and a growing concern about the environment, most new electronic items have energy star ratings on them to show their efficiency. The next time your appliances need replacing, do an energy check on your next items to see which ones are most beneficial in terms of low energy usage. See how each product compares to its competitors in terms of energy efficiency, and you can make a balanced choice about what you need from the item and what the environmental benefits are.
8. Source goods and services from sustainable suppliers
Green procurement is another easy way to transform your carbon footprint as a business. This not only makes your company greener, but depending on where you source from can help to foster collaboration with local suppliers. This effectively means sourcing goods and services that are produced in a sustainable way. This could include goods that are non-toxic, recyclable, or that are made from renewable materials. Consider creating your own procurement policy that commits to some of your company's ideals which might include reducing waste, lowering greenhouse gas emissions, conserving energy and water, and using renewable energy sources. See if you can create a business community based on these goals and ideals with potential suppliers.
9. Recycle electronics
A lot of electronic items end up in landfills. If you replace electronic items, do some research into how these can be recycled. These might be used by schools, charities, or recycled by a manufacturer via their own programme. Electronic retailers also may have recycling programmes that you can utilise, especially if your items are not more than five years old. Be sure to remove all data from your devices before recycling them.
The Carbon Trust Green Business Fund offers energy assessments and funding to small and medium-sized businesses.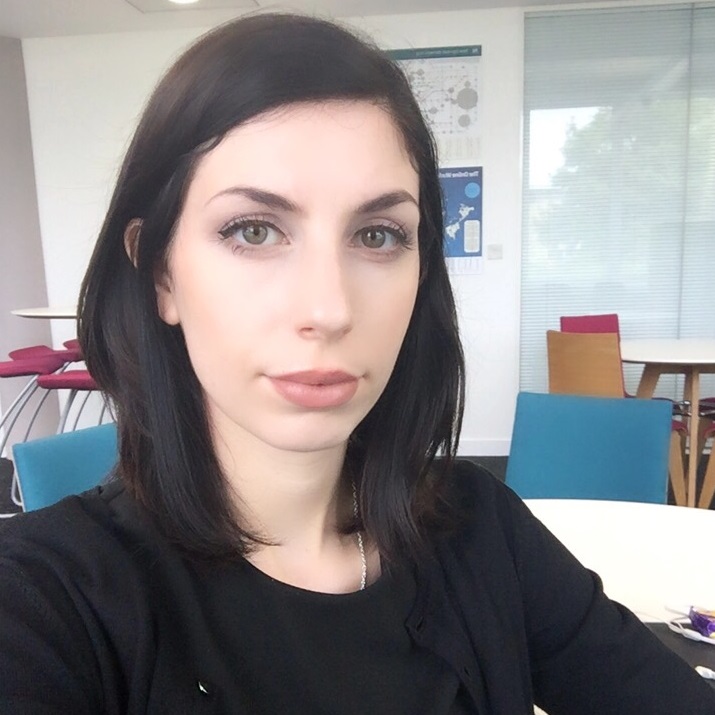 Rosie is a qualified Journalist, NCTJ certified, and is currently an MSt student in Literature and Arts at Oxford University. Having worked in editing, communications, and brand strategy in agencies in Seoul and London, she is passionate about producing intelligent writing with practical and creative value. Previously a Content Editor and Writer at the UK Domain.
Read full profile