It's easy to dismiss Twitter as just another social network you somehow have to find time for. But if you're serious about growing your business, Twitter can be a powerful way of connecting with your target audience, helping you reach both established customers and potential new ones.
Do it right, and it's a platform with the potential to allow your business to compete with much bigger brands. And, with 79% of users recommending brands they follow on Twitter, it's a platform you can't afford to ignore.
In this guide, we're going to look at some of the ways you can use Twitter within your social media strategy to help your small business grow. 
Are you effectively using Twitter to do all of these?
Building relationships
Using hashtags to reach a bigger audience
Using lists to follow segmented audiences
Making friends with influencers
Driving traffic to your website
Keeping an eye out for mentions
Tweeting what people want to share
Offering followers discounts and competitions
Taking the conversation offline
1. Build a relationship with your followers
Too many businesses use social media in 'broadcast mode', sending out tweets but never responding to them or using it for what it's for – to be social.
Indeed, recent research found that just 1% of brands actually engage with influences and advocates on social media. If you take the time to engage with your followers – liking, retweeting and replying to their tweets – you'll find that you can use Twitter to promote positive feelings about your brand, raise customer satisfaction and encourage future purchases.
According to a Twitter survey, 85% of consumers say they feel more connected with a brand after following them on social media. A friendly reply to followers, whether they're happy or not, goes a long way to helping foster this human connection. Here's an example from Marks & Spencer.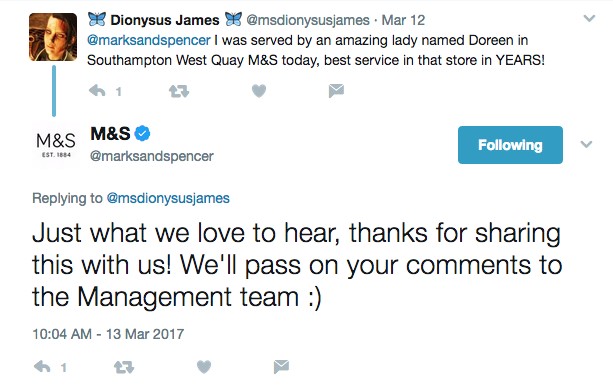 2. Use hashtags to reach a bigger audience
Putting a hashtag in front of a word on Twitter turns it into a hyperlink that takes you to a list of all the other tweets on the same topic.
For example, a trending topic (the list of popular topics down the left side on Twitter) such as #rain would show you all the tweets in which people are talking about rain at the moment – not just people you follow, but everyone on Twitter.
Using the right hashtags can put your brand in front of a bigger audience, growing your number of followers and raising brand awareness.
A good example of how to do this is to tweet during a popular TV show related to your niche. Known in popular parlance as a 'tweetathon', this involves sitting in front of the television and tweeting your thoughts on what's happening during the show using the official hashtag for the show.
For example, if you were a kitchen shop, you might want to do a 'Great British Bake-Off' tweetathon using the hashtag #GBBO, as in this example from Lakeland.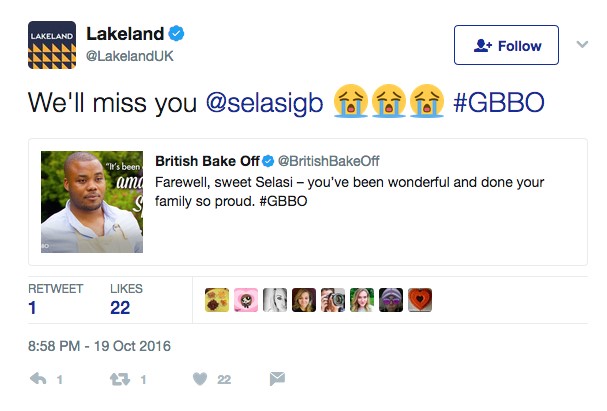 It's not just television shows, of course; you could use hashtags to take part in conversations on everything from sporting events to news stories. The important thing is to treat Twitter as you would a real-life conversation, interacting with people rather than talking at them.
3. Use lists to follow different segments of your audience
You can use Twitter to find out what your target audience is interested in and tweeting about, and to build relationships with influencers in your niche.
If you're following lots of people, however, it can be hard to keep up with the sheer volume of tweets, and to figure out which demographics are saying what. You can use lists to sort people you follow so that you can make sense of what different groups of people are saying.
As a restaurant, for example, one list could be for people in your local area; another could be for food bloggers and critics; another could be top chefs.
You'll also find this helps you pick out good tweets that you could retweet or reply to, thereby growing your relationships with those whose attention you want to attract.
4. Make friends with influencers
Twitter is a great way of building relationships with bloggers, celebrities and other influencers, who can put your brand in front of their (often large) readership.
Often, brands will send influencers a free product in return for a review or mention, and you can do this too. Rather than approaching them cold about collaborating with you, take the time to get to know them on Twitter so that they become familiar with you.
Like, retweet or reply to their tweets, showing an interest in what they're talking about. They're more likely to feel a rapport with you, so you're in with a better chance of them wanting to promote your brand.
5. Use Twitter to drive traffic to your website
While you should focus your energy on conversations, Twitter is also a great way of driving traffic to your website – traffic that could convert into paying customers.
If you've just launched an exciting new product, tell your followers about it, including a link to the product page.
Written a blog post? Tweet the link and give people a reason to click on it. Twitter now embeds a preview of your link, so make sure your introductory snippet of text is enticing enough to pique followers' interest.
Humour never goes amiss, as in this example from Skyscanner.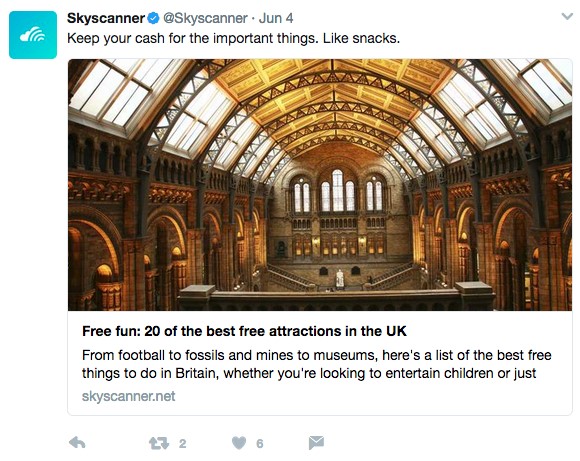 You'll find lots more advice on using social media to drive traffic to your website here.
6. Keep an eye on mentions of your brand
You can use Twitter's search function to find what people are saying about your business and whether they mention your Twitter handle or not.
This gives you an opportunity to jump into conversations and thank people for saying nice things about you, or address any complaints you might discover (take a look at our post on how to respond to a bad review for advice on handling this situation).
You could even 'go the extra mile' and send happy customers some freebies; it's good publicity on Twitter, and you can potentially convert happy customers into die-hard brand advocates. We talked about how to monitor brand mentions here.
Bonus tip: you can also use Twitter's search function to find tweets about your competitors, or more generically about the kind of products or services you offer, so that you can contribute to the conversation. If you discover someone complaining about a competitor, for example, it's a great opportunity for a cheeky tweet with words to the effect that it wouldn't have happened if they'd shopped with you.
7. Tweet things people want to share
If your aim from Twitter is to pick up followers and raise brand awareness, then you'll want to tweet things that people want to share so that you can maximise your exposure.
Each time someone retweets one of your posts, it gets seen by all their followers, so you can increase your reach exponentially. Beautiful images and funny or inspiring posts work well, so find things relevant to your niche and use relevant hashtags, where possible, to widen your reach even further.
For example, Crabtree & Evelyn have used the #chelseaflowershow hashtag in this topical tweet: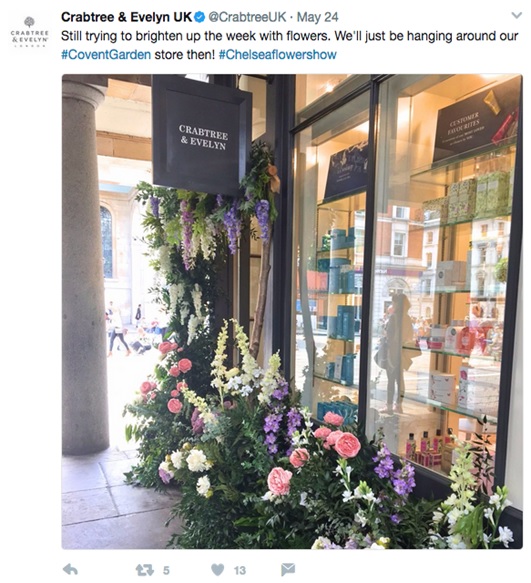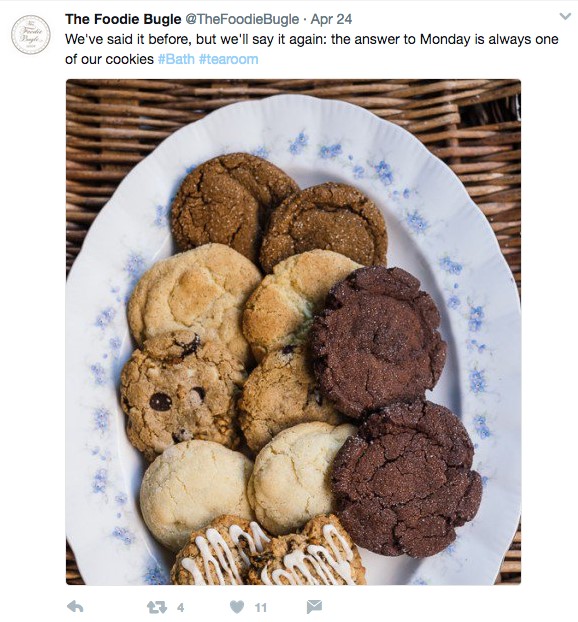 8. Offer your followers exclusive discounts and competitions
Although you should avoid using Twitter as a sales tool, you can use it to offer exclusive promotions to your followers so that they feel they're getting something extra from following you.
One way of doing this is to offer a special Twitter discount code, which they could quote if they visit you in store or apply at the checkout when ordering online.
Competitions also work well, with many brands giving away a product in return for retweeting the competition tweet and following the brand's Twitter account; this gains them more followers for the long term as well as immediate publicity from the competition.
Popular organic produce brand Daylesford Farm, for example, ran a daily 'advent calendar' competition in the run-up to Christmas: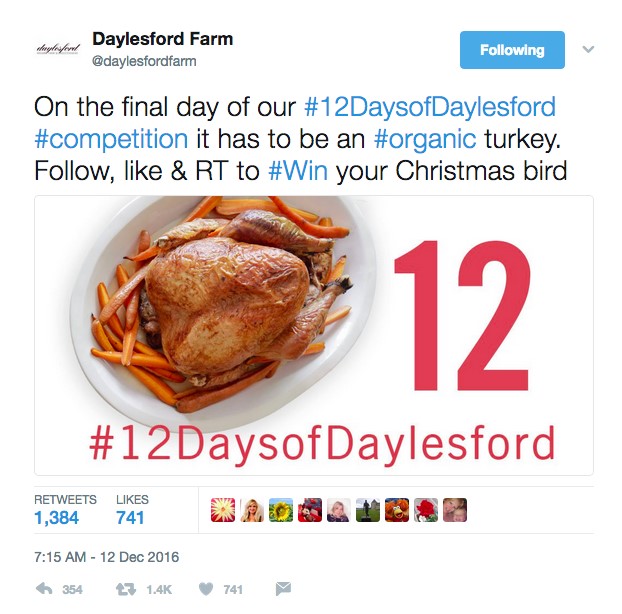 Meanwhile, Crabtree & Evelyn's 'Happy Friday' competitions always prove popular: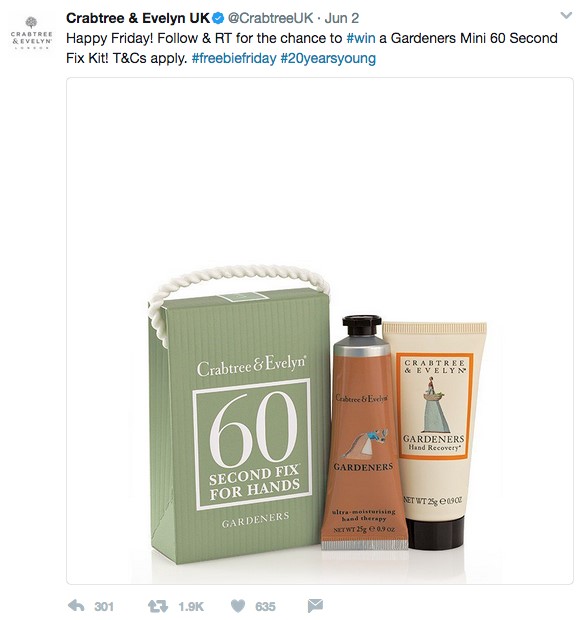 9. Take the conversation offline
A good way of connecting with your local followers – and perhaps even turning them into customers and brand advocates – is to organise special offline events.
Known as 'tweetups', these could take the form of networking events such as coffee mornings, or they could be a product launch, masterclass, photography walk – you name it. You could have a special hashtag for the event, encouraging attendees to tweet their photos.
The idea is to get local people talking about your brand, thereby raising brand awareness at the same time as strengthening the relationship with your followers and customers.
If you've made it to the end of this post, you should by now be brimming with ideas for how you can use Twitter to help raise the profile of your brand.
It may be a cliche, but the more you put into Twitter, the more you'll get out of it – so try scheduling in some Twitter time, perhaps at the start and end of each day, and start jumping into a few conversations. You never know what opportunities could come your way on a social network where 6,000 tweets are sent every second.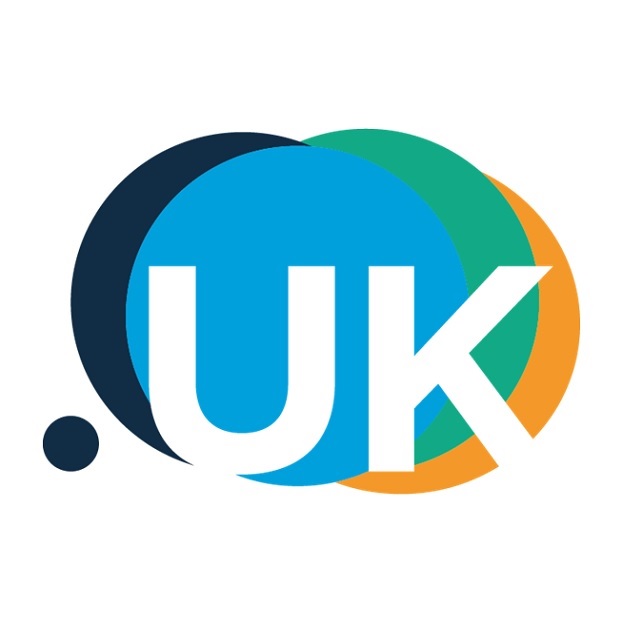 A collection of articles written collaboratively by members of the UK Domain Team.
Read full profile