Google may be synonymous with online search for the vast majority of web users, and it's likely to remain the major player for some time to come. However, this doesn't mean all marketing efforts should be focused on Google, or that other search engines should be ignored. It may have more than 90% of the market share in the UK, but there is still potential to attract traffic from other sources.
Bing is an obvious one, but there are some up and coming search engines which are worth looking out for. DuckDuckGo is one example, and in this article I'll look at some of the key features of this relatively new search engine, how it differs to Google and other rivals, and the potential for small businesses to advertise and optimise their sites for this platform.
Market share and growth
Looking at search engine market share stats for the UK, DuckDuckGo has a long way to go to catch up with its rivals.
Google has a 92.1% share of the UK search market, followed by Bing with 4.7%, and Yahoo with 1.85%. DuckDuckGo currently has just 0.54% of search usage.
This is a search engine which is enjoying plenty of growth though. Back in 2016, 4 billion searches were carried out on DuckDuckGo. Last year, it passed 9 billion searches.
In short, while DuckDuckGo's market share may still be small, its growth is rapid, at a pace which may give it a more significant share of the market over the next few years.
User demographic data for DuckDuckGo is harder to find, though some sources suggest that DuckDuckGo's user base is relatively tech-savvy and wealthy when compared with the major search engines.
A SimilarWeb study from 2016 found that the sites DuckDuckGo users had the greatest affinity for were tech and tech news sites such as:
Whitehatsec.com
Github.com
NYtimes.com
4chan.org
YCombinator.com
The same study also found that DuckDuckGo users also like to engage with their search engine of choice for longer periods of time, averaging 9.38 minutes spent on DuckDuckGo when compared to 7.29 minutes on Bing.
What makes DuckDuckGo different?
The search engine's value proposition, 'the search engine that doesn't track you' is what sets it apart from more established competitors. With privacy issues and high profile data leaks receiving more press attention than ever recently, this can be very persuasive for some web users.
DuckDuckGo sells itself around the issue of user privacy. For instance, it doesn't store users' personal information, follow them around with ads, or track them. Contrast this with Google, which collects masses of data from its users, who are increasingly logged in 24/7 across a range of its services, from search to email.
This focus on privacy makes it the obvious alternative for users of other search engines who are becoming more concerned about privacy.
Indeed, Google itself is clearly aware of users' growing concerns in this area, and recently announced it would allow users to automatically delete search and location history after three or 18 months, though this falls way short of DuckDuckGo's policies.
Key features of DuckDuckGo
One key argument for using Google over the alternatives has been the sheer quality and accuracy of Google's search results. The world's biggest search engine outstripped its rivals like Yahoo and MSN over the past 15 to 20 years by being better than them in terms of delivering relevant and accurate results quickly to searchers.
DuckDuckGo cannot match Google's search experience or budget, but many prefer the fact that, unlike Google, it doesn't use search data to tailor subsequent search results, thus avoiding the filter bubble that can result from personalised search.
Whether the results are better or not is a very hard thing to determine, and much depends on the things you typically search for. Having used it myself for a week or so, I can't find too many obvious faults with it. What I tended to miss is some of the shortcuts that come with Google using your previous search data, which can save time spent refining searches.
There are some useful features though. One is !bangs, which allows you to search the content of a specific website direct from the search box.
By typing an exclamation mark and a keyword – usually the website name – followed by your search term, you can search directly within a site from DuckDuckGo. A useful time saver.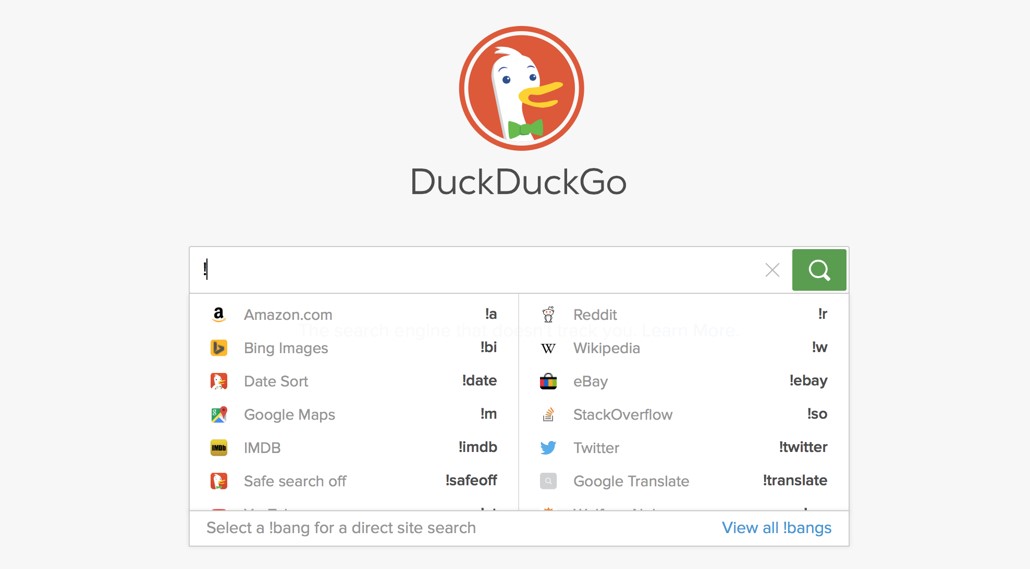 There are some useful features which Google has taken away, such as the ability to search within specific countries. So, if you try a search for something like recipes and want to see results with UK measurements, you can select UK only.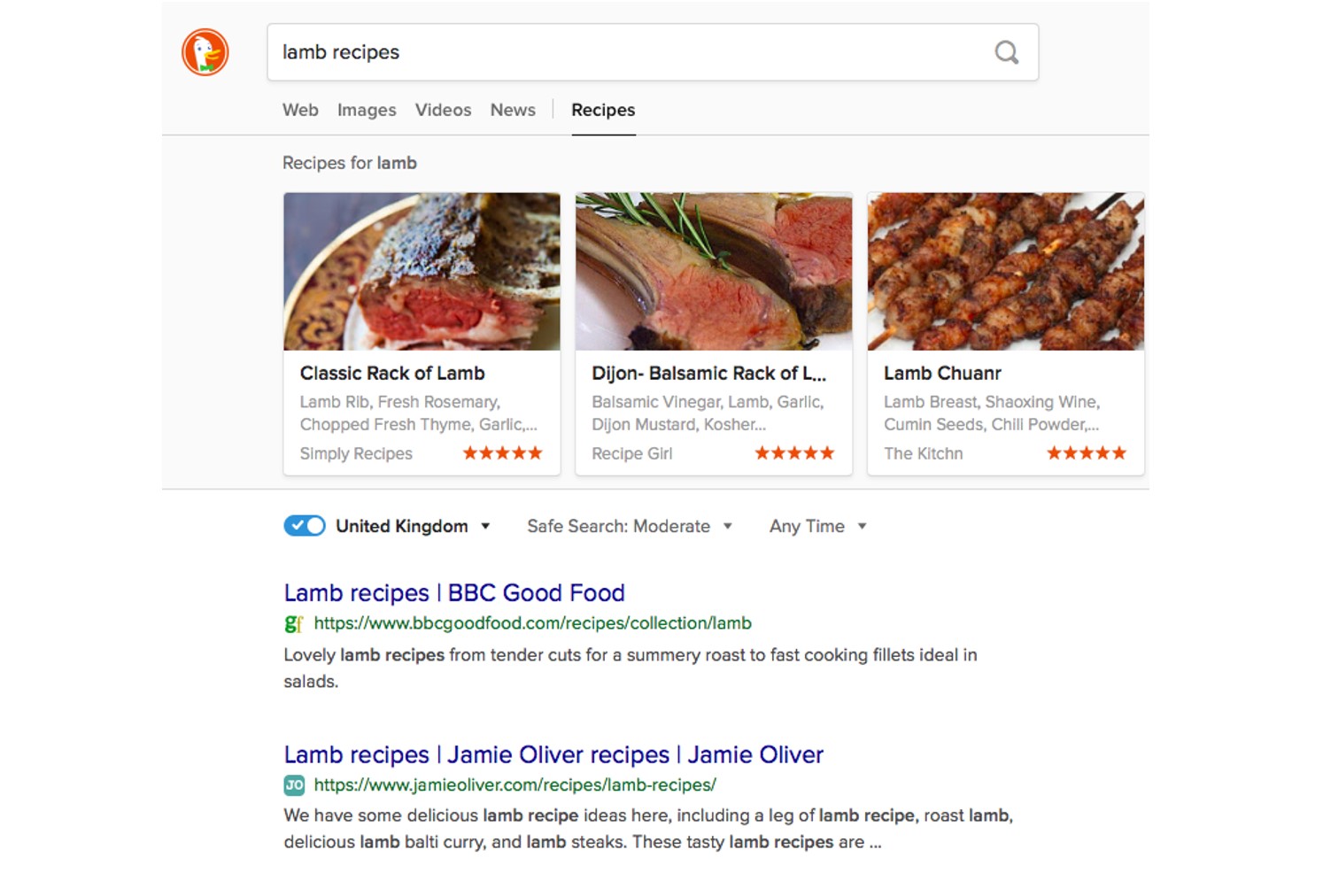 Advertising on DuckDuckGo
DuckDuckGo makes money in two ways; from affiliate revenue, and from search advertising.
For the affiliate revenue, DuckDuckGo has deals with both eBay and Amazon, and receives a commission for each purchase on those sites that originates on the search engine.
The other way it makes money is through pay per click ads. The ads are based on the search term entered, and DuckDuckGo syndicates these ads through Yahoo!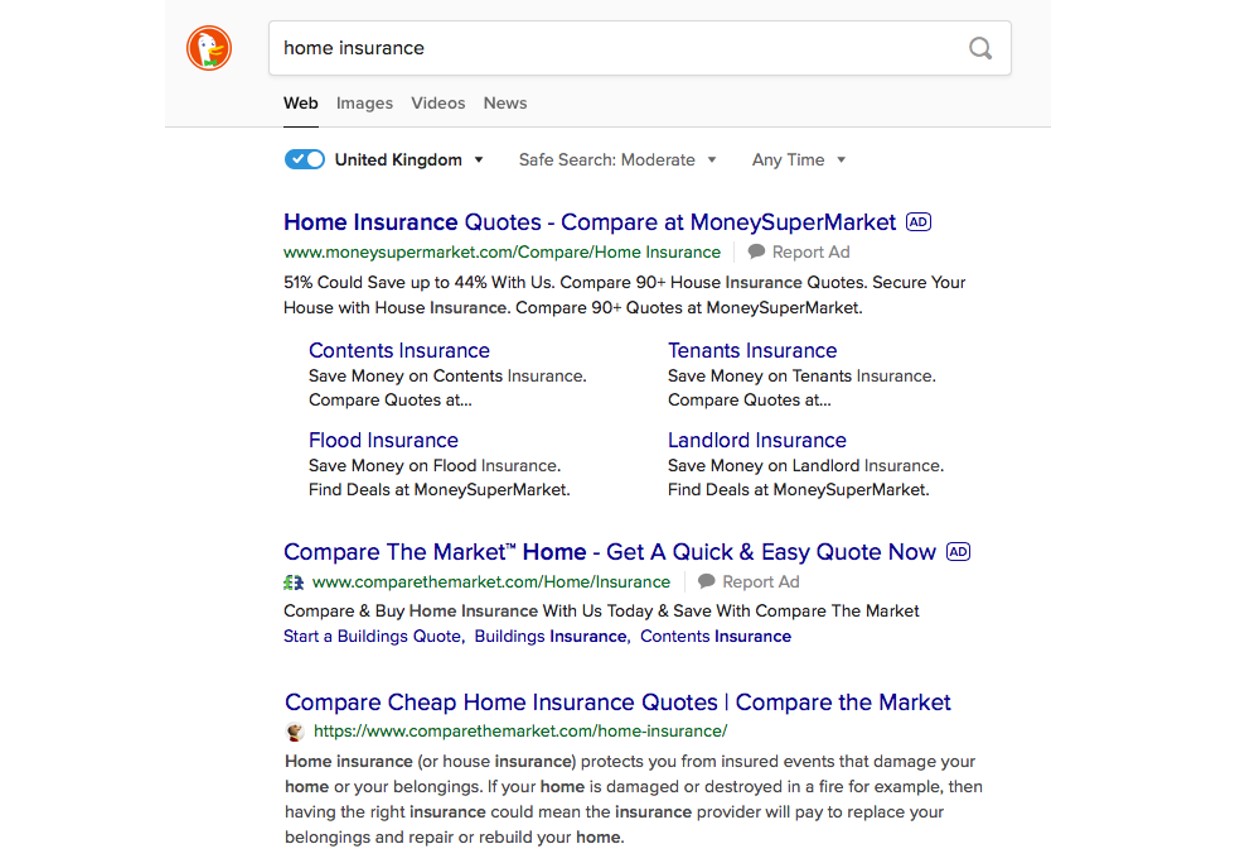 To advertise on DuckDuckGo it's necessary to run ads through a Bing Ads account. This means that your ads will run on Yahoo!, Bing and partners, one of which is DuckDuckGo.
To double-check that your ad is set up to run on DuckDuckGo through Bing Ads, take the following steps:
Click Campaigns when signed in to Bing Ads.
Click on your campaign's name.
Click on your ad group's name.
Click the Settings tab.
Click Ad distribution.
Then, click Save at the bottom to finalise.
You'll then see the following options, which allow you to check that you've selected all search networks (including partners like DuckDuckGo).

One possible problem is that you're likely to be advertising on other search engines in order to target DuckDuckGo. This may be a good thing, as it broadens the reach of your ads, but it does stop you targeting specific ads just for DDG users.
It is possible to change this and restrict ads to DuckDuckGo only, though there is some effort involved. To Advertise On DuckDuckGo check out this post for a walkthrough showing how to do this.
The drawbacks for advertisers is that click volume is likely to be relatively low, though of course some products and niches may appeal to DDG users more than others. Also, it doesn't have the range of targeting options that Google and others have, while there's no equivalent of Google Keyword Planner.
It may be worthwhile advertising on DuckDuckGo, but at the moment, it lacks some of the more advanced tools and options that are often used by search marketers. Small businesses need to ask whether the extra time and effort is currently worth it.
Search optimisation for DuckDuckGo
Optimising for DuckDuckGo requires much of the same approach as you would use for Google or any other search engine.
Attract quality links. Good content will attract links, but it can also pay to build new links through PR approaches.
Carry out keyword research. One approach is to apply what you know from Google onto DuckDuckGo. It pays to understand how your target customers search and adapt accordingly.
Optimise for Bing and Yahoo. If your ads are displaying on Bing and Yahoo as well as DuckDuckGo, then it pays to optimise for these search engines too to make the most of your budget.
Use extra keywords for local search. DuckDuckGo users aren't tracked, so there's no way to target users by location as on Google. Therefore, it pays to add targeted local keywords in ads and content by adding locations to your target terms.
One word of caution here. If you rely on Google for the vast majority of your search traffic, it may be unwise to do anything different for DuckDuckGo which may adversely affect Google rankings.
Summary: should small businesses target DuckDuckGo users?
At the moment, it's hard to make a case for small businesses to make huge efforts to target users of DuckDuckGo, simply because the traffic sent by this search engine is likely to be dwarfed by Google.
Your analytics data may tell a different story, so it's worth checking to see how much traffic arrives at your site via DuckDuckGo, growth in referrals, and any differences in conversions and on-site behaviour. For example, if traffic from DuckDuckGo is more likely to convert, or spend more, then you may have a case to increase investment here.
Also, with less competition for paid search, it may be possible to achieve greater visibility on DuckDuckGo with smaller PPC budgets. It may be better to have your ad at the top of a smaller search engine than on page two or three of Google where it is less likely to be seen.
In most cases though, it's a good idea for small businesses to keep an eye on DuckDuckGo, though with limited budget and resources, it makes more sense in most cases to place greater focus on Google.
The key factor here is growing awareness of privacy issues online, and greater scepticism around tech giants like Facebook and Google. The growth of DuckDuckGo suggests that there is a market for a search engine built around protection of user privacy.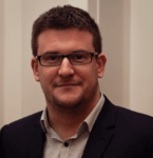 Graham Charlton is Editor in Chief at behavioural marketing company SaleCycle. He has previously worked for Econsultancy and Search Engine Watch, and has written several best practice guides on e-commerce and digital marketing. Follow him on Twitter
Read full profile