Whether you've got a fairly new business or you've been an established company for a while, one thing all businesses have in common is the need to promote their brand online. One way of doing this is by a marketing tactic known as 'guest blogging'.
As the name suggests, a 'guest blog post' is a post written by an outsider – someone who's not normally part of a blog's writing team.
What can your business achieve with guest blogging?
A valuable part of your marketing strategy, guest blogging has several great benefits for small businesses. These include:
It gets your name out there – by writing useful content for blogs related to your line of work, you get your business in front of people who are interested in your niche and who may even turn into customers. You're also presenting yourself as an expert, and this kind of exposure helps to build your brand credibility as well as your customer base.
You'll get backlinks – the number and quality of links from other sites to yours are an important ranking factor for search engines. Guest posting gives you the perfect opportunity to link back to your own website from another site, helping to boost your search engine optimisation (SEO) efforts. Take a look at this guide to link building for more about how this works.
It drives traffic to your site – because you'll have a link back to your own site, guest blogging helps drive more traffic to your business, some of which may translate into sales.
Convinced? Then keep reading to find out how to get started with guest blogging.
How to find guest blogging opportunities
You'll want to write for sites that have a natural fit with yours, starting with your own niche subject matter. As a restaurant, for example, you might initially look for guest posting opportunities with restaurant-themed blogs, or more general foodie sites.
The benefit of this is that search engines can tell that your site is being linked to from content closely related to what you're doing, which makes the link seem natural rather than one you've 'built' for SEO purposes.
When you've exhausted those opportunities, you can widen the net. To continue with the restaurant example, you could look at lifestyle blogs that might be interested in a post about how to create the perfect Sunday roast. Don't forget that if you're a B2B business, you should aim to publish guest posts on blogs that have an audience of business readers.
So, how do you find sites that might accept a guest post? Here are some good places to start.
Think about the sites you enjoy reading yourself – do any of them have a fit with your business? For example, if you own a clothes shop, what fashion bloggers do you read to find out about the latest trends?
Search Google – a great way to find guest post opportunities is to search Google for writing opportunities. Search for phrases like "submit a guest post" or "write for us" along with your chosen subject; '"write for us" fashion', for example. You can also search phrases such as "guest post by", which will bring up blogs that have previously accepted guest posts even if the site doesn't have a dedicated 'write for us' page.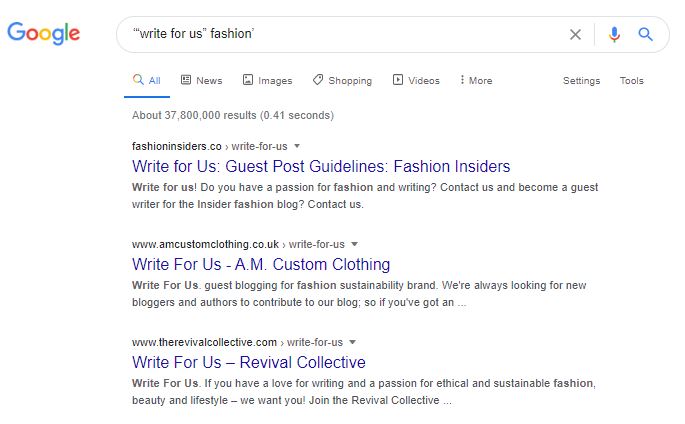 Search Twitter – some sites advertise guest blogging opportunities on Twitter, so try searching on there for phrases like "guest post opportunity" and see what comes up. Just searching "guest post" will reveal sites who've recently published guest content.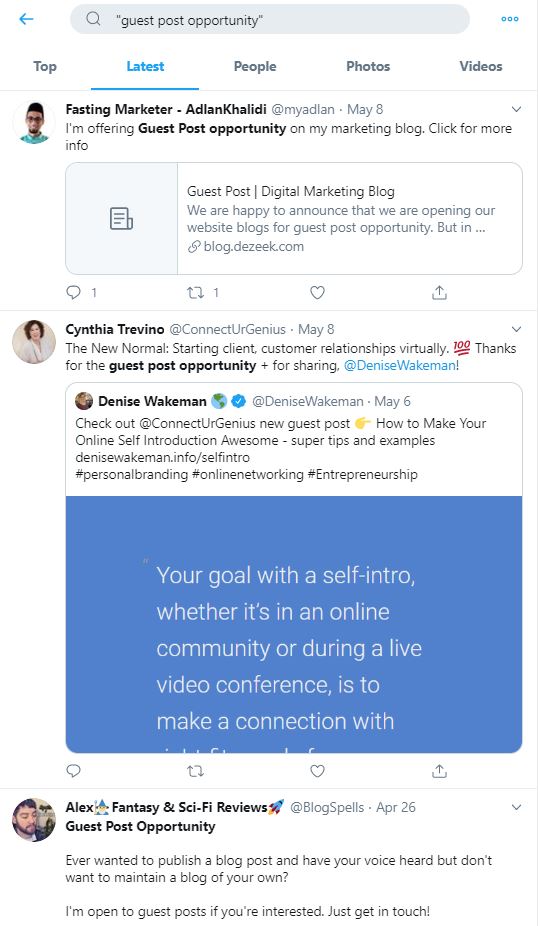 Look at where others are posting – where have your competitors or key figures in your industry been writing? Use a backlink explorer such as Cognitive SEO's Site Explorer tool to bring up a list of sites with links to your competitors; you may find blogs where they've written guest posts.
Find out which blogs have already mentioned you – keeping an eye on your own brand mentions and backlinks will alert you to sites that have already mentioned you. This gives you a great ice-breaker, as you can approach the site, thank them for mentioning you and offer to pitch an idea for a guest post.
You'll want to evaluate whether a site is of a high enough quality to be worth posting on; there's no point wasting your time penning a brilliant guest blog post if the site is on a brand new domain, completely unknown and with few if any readers.
Take a look at the posts already on the site; do they get much engagement, such as comments or shares? How far back do the posts go, and are there new posts being added on a regular basis? While you're looking at the site, also have a look at its social media accounts (and those of its owners), as this will tell you whether they're active about promoting new content on their site.
How to pitch a guest post
Having identified some sites you'd like to pitch a guest post idea to, it's time to contact them. Here are some things to think about at this stage in the process.
Do they accept guest posts?
Not all sites are willing to accept guest posts. It's worth having a look around the site to check whether they say anything about this before contacting them, otherwise you could waste your time and that of the site owner.
Many sites that accept guest posts will have a page called "Write For Us" or similar (here's an example at wowfashionlife.com). If there's no obvious page about it, try looking in the footer, and on the contact page, to see whether there's anything there about guest posting.
What kind of posts do they normally publish?
You'll want to pitch something that's in keeping with the kind of thing the site usually publishes. Look carefully at who it's aimed at – age group, demographic, interests, and so on. This will help you pitch a guest post that the site's readers will be interested in.
Tailor your email
A site owner will immediately see if you've sent the same email to lots of other sites, so spend some time crafting a tailored email to each site. Show you've done your research, addressing the site owner by name and perhaps picking up on a point you found interesting in a recent post.
Don't forget to introduce yourself, too, explaining why the site's readers might be interested in what you have to say and if possible linking to one or two examples of your writing elsewhere.
Send a follow-up email if you don't hear back after submitting your post, but don't hound the site owner with too many communications.
Be flexible
In your pitch, offer two or three post ideas so that the site owner can choose. A guest post could take a number of different forms, and pitching a straightforward blog post written by you may turn out to be just a starting point for discussion. Some site owners may want to be more involved, for example by requesting an interview format for which they send you questions to answer instead of giving you a completely free rein.
How to write an effective guest post
Your pitch has been accepted – that's great! Here are some Dos and Don'ts to keep in mind when you're crafting your guest post.
DO bear in mind who you're writing for – take a look at other posts on the site you're writing for, so that you can get a sense of the style and content they expect. If the site typically publishes list-style posts, for instance, you'll probably want to make sure yours is in the same format. This will help you write a post that appeals to the site's readership.
DO stay on brand – while it's important to write a post that's in keeping with the site you're writing for, don't forget that your name and business name will be attached to it, so it should be recognisable as your own brand.
DO read the guest post guidelines – be sure to re-read these before you begin writing. They could cover anything from the format for submitting a post to things you shouldn't mention, so make sure you adhere to them.
DON'T be overly promotional – a guest post should provide interesting and useful content, rather than a long advert for your products or services. While the occasional mention is fine, the focus of the post shouldn't be on selling.
DO include a link back to your own website – an author bio is a great place to do this, so have some blurb ready to include about your business.
Accepting guest posts on your own site
If you're struggling to find the time to keep your own blog up to date, accepting guest posts is a great way to keep it going. Not only that, but when a guest author contributes to your site, they'll promote their post to their own audience, helping to spread the word about your brand and increase web traffic in the process. Here are some things to consider if you're thinking of accepting guest posts on your site.
Where are the gaps? Where could a guest contribution add value to your site? Is there something your readers would be interested in that you don't have the subject matter expertise to write about yourself?
You'll need to vet contributions carefully – any content you publish will be a reflection on your own brand, even if you didn't write it yourself. Make sure that any contributions you want to publish are in keeping with your own brand values and guidelines. That means not only vetting the guest post itself, but also doing your research into the person or company who's written it. The last thing you need is a PR problem caused by publishing content from someone who's previously expressed objectionable views online, or who's landed themselves in hot water with some other controversy.
Promoting guest contributions – once you've hit publish, be sure to use your social channels to promote the guest post and tag in the author. That way, they can share or retweet your post, helping to amplify your own social channels as well as encouraging their own readers to check out the post itself.
Don't forget that if you're publishing content written by someone else, it should be clearly marked as such, both to maintain transparency with your readers and to give the contributor full credit for what they've written.
And finally…
Whether you're writing a guest post for someone else or someone's writing one for you, the normal blogging best practices still apply.
Don't just forget about the post once you hit 'publish'; look out for and respond to shares and mentions on social media, keep an eye on traffic to the post in Google Analytics and be sure to respond to any comments. That way, both writer and website get maximum value from any engagement generated from the post.
Finally, download this post as a PDF checklist by clicking the link below and refer to it easily and as often as you like: