It's easy to forget that the vast majority of people who land on your website are not ready to buy. In fact, around 96% of your website visitors are doing so for reasons other than to make a conversion.
So how do you make sure that you keep them engaged after they've clicked off your site and moved on with their day?
The answer: Retargeting.
Retargeting is the tactic marketers use to advertise to people who have visited their site and left a "cookie". The cookie can track where your website visitors are browsing and then follow them with targeted ads.
Facebook retargeting is when you place a retargeting ad in your web visitor's Facebook feed to remind them of your business and your products or service. In this article, we're going to explain how to set up a retargeting campaign in Facebook Ads step-by-step. Let's get started!
Step 1: Install your Facebook Pixel
By installing the Facebook Pixel, you'll be able to track who's visiting your website.
On the Facebook Pixels page, click Go to Ads Manager, and choose Pixels in the drop-down menu.

Now click Create a Pixel: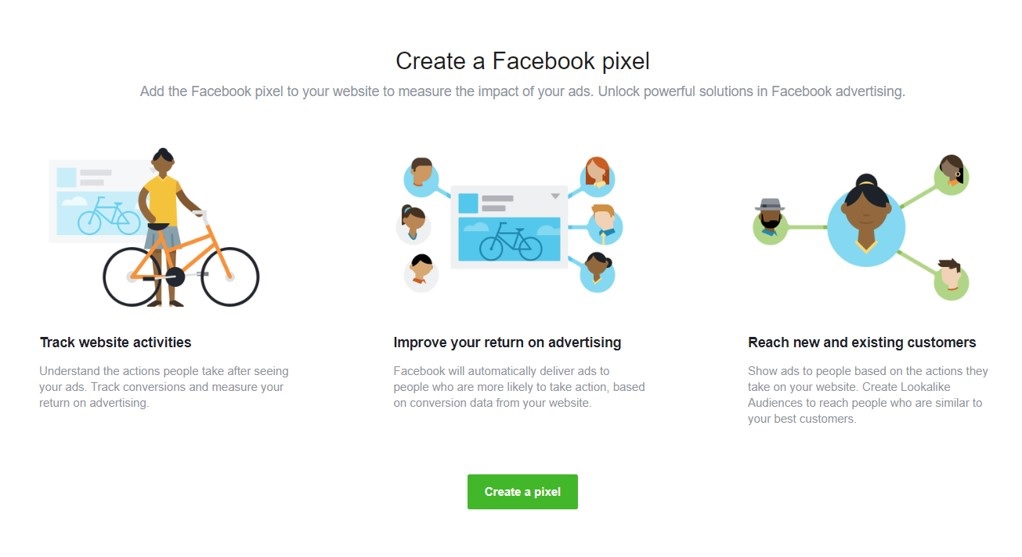 Now, give it a name, provide your website URL, and click Create:
You now need to add a piece of code to your website. Facebook will help you with this if you're using WordPress or Google Tag Manager.
Or it'll give you the code to manually input in between your website's <Head> code:
However, if you're really stuck then just hit the Email Instructions and send them to your developer.
For more advanced retargeting, you can choose to track events such as people adding a product to their shopping cart, completing a purchase, subscribing to a newsletter, or a whole host of other actions on your website.
To do this, click on Set Up New Events in your dashboard:
You're then given a list of events to choose from:
In the drop-down menu, you can choose from several types of website and will be given more options to choose from. For example, if your business sells audiobooks or podcast streaming, then choose Entertainment and media and you're offered the option to, for example, track when people begin their free trial. 
You're asked to add value to your event, and then you're given an extra bit of code to add to your </head> tag or, once again, email instructions to your developer:
Top tip: You can download and Install the Facebook Pixel Helper to your Chrome browser. It will be working away in the background and will let you know if a website is using pixels. The Pixel Helper icon in the top right-hand corner of your browser will turn blue. If you click on it, then it will give you more detail about the pixels installed on that website. 
Step 2: Create your audience
Now that you've installed your Facebook Pixel you can start building your audience.
To do this, head to the menu within your Facebook Ads manager and click Audiences, then Create Audience – Custom Audience.    
Now choose an audience based on website traffic:
You're then able to define your audience depending on how they use your website. For example, you can choose to monitor your whole website's traffic or just specific pages. The audience you define will depend entirely on your campaign goals.
So, say you're trying to track abandoned carts – people who've started buying a product, in this case, your hand cream – but haven't completed their purchase.
In your custom audience builder, input the information that tells you that the customer has looked at your hand cream product page and the checkout. Note that the product name must appear in the product page URL:
But now we want to ensure we capture only the customers who've been to the checkout but who haven't completed their purchase. The way we know this is that they will not have gone on to the thank you page.
In this case, we then choose to Not contain "Thank you".
You can now name your Audience, in this case, "hand cream cart abandoned". 
You can also change the time frame. The default setting is 30 days, which usually works well, but be careful to choose an appropriate time frame for your campaign type. For an abandoned cart, 30 days is quite a long time after you've chosen not to complete a purchase to still be receiving targeted ads, so it might be better to half this time to 15 days.
When you hit the Create Audience button, you might be met with an alert to tell you your audience might be too small. Don't worry about this. Your audience number will increase as people start to visit your site.
Step 3: Begin building your retargeting ad
The best ads to create are those based on specific products. Choose a handful of your top products or those you particularly want to push. You can also choose to create ads based on product categories and direct customers to a category landing page. To start your ad, go to Create Ad in your dashboard.
Step 4: Set your objective
It's most likely that you'll want to track Traffic (to encourage more people to go to your website), or Conversions (to get more people through your checkout).
If you decide to target conversions then it's worth noting that you'll need to do some extra work on your site to track specific events (we covered this in Step 1). It's a slightly more complicated process than targeting traffic:
To set up your conversion ad, click on Conversion as your objective, and then click Set up ad account.
Then enter your currency and time zone.
You then need to name your campaign, choose your goal (in this case, purchases) and verify your pixel.
Step 5: Decide on Facebook's Dynamic Creative
You're then asked if you want to get Facebook's Dynamic creative, which automatically provides optimised creative combinations and ad components (e.g. CTAs, titles, images, descriptions etc.) that are best suited for your ad type. Choosing this option will save you time, but takes away a certain amount of creative control over your ad.
If you don't choose this option then you're also asked if you'd like to create an offer, which people can save and receive reminders about. Offers are a good way of adding urgency to your ad, thus encouraging more traffic.
Step 6: Choose your audience.
Because we've already set up a custom audience in Step 2, just type this in and select it:
For advanced targeting, you can choose to drill down into more detailed targeting based on demographics, interests, and behaviours (e.g. educational level, hobbies, or whether or not they access the internet via a mobile device). 
By being specific about your targeting, you can avoid wasting budget on an audience that won't be interested in your ad.
Step 7: Set your ad placement
Your ad placement is simply where your ad appears to your audience. Your best bet is to pick Automatic placements.
For advanced options, you can choose to target your ad depending on device, social platform, position on platform (right-hand column, market place etc.), or Android or iOS users.
Step 8: Set your budget
It's tricky to gauge how much budget to allocate to your retargeting campaign because it's hard to tell how big your audience is going to be. So, as a general rule, it's best to start small and gradually increase your budget when you can see that your campaign is becoming profitable.
You should also run your ad set continuously because there's no reason to start and stop campaigns. It's a good idea to keep an eye on the frequency and relevancy of your ads however, to make sure they don't become stale and start to receive negative feedback.  
When you're done, click Continue.
Step 9: Create your ad
Now you're into your ad builder you can start to get creative.
First, you're asked to select a format, from a carousel, single image/video, or collection of images. You can also choose to add an Instant Experience which creates a mobile landing page that opens when someone interacts with your ad.
You then need to upload your visuals. Remember to make these as engaging as possible. And be authentic. Avoid stock photography wherever possible, although they do provide a link to free stock images.
Make sure that your visuals include your brand name and logo if possible.
Next is an important step: adding your links. These are the URLs you're directing your ad traffic to. You're also asked to add a heading and some descriptive text so that people know what your ad is about. Don't be cryptic; clearly spell it out to avoid any confusion. You can also add some UTM tracking to your link in the 'URL parameters' section, so you can see how many people have visited your product pages from the retargeting ads in Google Analytics. You can learn more about UTM tracking in one of our other blogs here. 
You'll be shown a preview of your ad on the right-hand side:
In summary
Retargeting on Facebook is an effective, low cost, profitable tactic for driving traffic to your site, and encouraging conversions when they're there.
They can help you to re-engage customers who've become distracted, keep contact with customers who aren't ready to buy, and recover abandoned carts.
The process for setting up retargeting isn't particularly difficult, especially when you follow a process. This guide should help you set up your own retargeting campaign.
The rest is straightforward too. Make sure you continue to monitor and measure and keep tweaking headlines, images, format, CTAs, as well as your budget until you're getting a decent ROI.