Facebook is arguably the most influential social tool for any organisation seeking to increase awareness, elicit support and drive revenue.
Its user-base is vast, second only to Google, with a staggering 2.23 billion monthly users as of December 2018. It's also one of the most engaged audiences on the web, with 150 million people using Facebook Stories everyday, and its posts reaching an average engagement rate of 3.75%.
For a long time businesses of all sizes and focuses have used Facebook pages as part of their sales and marketing efforts. But since Facebook launched their dedicated pages for non-profits in 2015, charities have been able to create campaigns that are specifically tailored to fundraising and awareness-raising. Since then, they've introduced various functions that fit charity's needs more closely.
Let's take a look at Charities on Facebook, and the steps you need to take to get started.
Draw up a plan
Before you get started on Facebook, you first need to plan out why you'll be using it, what you hope to achieve, and how you'll measure your success.

Define your goals
Defining your goals is central to any marketing campaign. Think about what exactly you want your Facebook page to achieve, since your goal will directly impact on how you set up your page, the content you create and share on it, and how you measure the success of your campaigns.
For example, do you want your Facebook Page to focus on:
Fundraising
Raising awareness
Growing your following
Define your audience
Some persona workshopping at this point will help you to determine what your audience looks like so that you can tailor your Facebook page to fit with their online behaviours, needs, and attitudes.
By defining your target audience, you can come to some conclusions about what kind of content you'll share on your Facebook page and what call-to-action to put in your cover photo.
Set aside time and resources
Be realistic about how much time you can afford to spend on your Facebook page each week or month. Ideally, you'll want to be posting regular content – at least three times per week – to make it worthwhile.
Also decide who will take charge of your Facebook page. It's better to give one person the responsibility rather than giving several people access to post content on an ad-hoc basis.
I find that creating a content calendar helps to ensure coherence in your online campaigns. Use it to plan out all your content pipeline, assigning tasks to specific people along with deadlines and publishing dates.
Integrate on and offline campaigns
Your content calendar provides a good place to ensure you align all your fundraising and outreach efforts.  You need to make sure that your Facebook page doesn't operate in isolation but mirrors what you're doing in the real world and across all your media.
Supercharge your Charity's Facebook page
Set up your Charity Facebook Page
Setting up your page is easy. Simply head to Pages in the left-hand menu on your Facebook feed and choose Create Page. For a charity page, make sure you choose Community or public figure: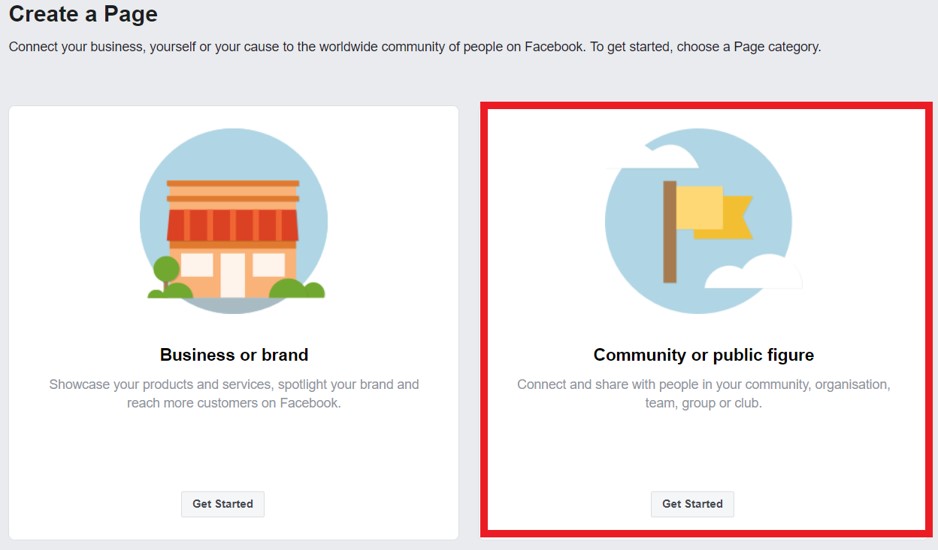 You'll then be asked to name your page, and choose a category. If you're setting up a charity page then type in Charity Organisation. Then enter your business address (you have the option to keep this hidden), and click Continue.
You're then asked to upload a profile picture and cover image, although you can skip these steps and return to them at a later date. 
And that's it: your page is set up!
Include a CTA in your cover photo
Your cover photo is going to be the first thing people will see when they arrive on your Facebook page, so it needs to be a good-quality, well-designed and appropriate image. You might also consider changing it regularly to showcase your latest campaigns or messages.
But what Facebook charity pages do let you do is to add a call-to-action within your cover image, making it more than a simple design feature.
You might want people to donate, to sign up to an event, learn more or to get in touch.
Whatever CTA you choose, make sure it aligns with your original goals for your Facebook Page.
You might even consider changing your cover photo and your CTA to align with your latest campaign.
Look at how CAFOD changed both to push their campaign for emergency relief for victims of Cyclone Idai in Southern Africa:

Optimise your "About" section
Your About section appears in the About tab on the left-hand side of your Facebook Page. It's what people will click on to find out more about your charity.
It's this section that gives you the opportunity to clearly and succinctly showcase what you do, why you matter, and why they should be engaging with you.
Think of it like a short, snappy mission statement, explaining your organisation's goal. Don't forget to include a clear link to your website so that people can easily find out more about you.
Get your profile picture right
Your profile picture is different from your cover image. It's what appears in your audience's News Feed if they're following your page. Therefore, it needs to clearly reflect your charity as a thumbnail.
Most charities use their logo for their profile picture: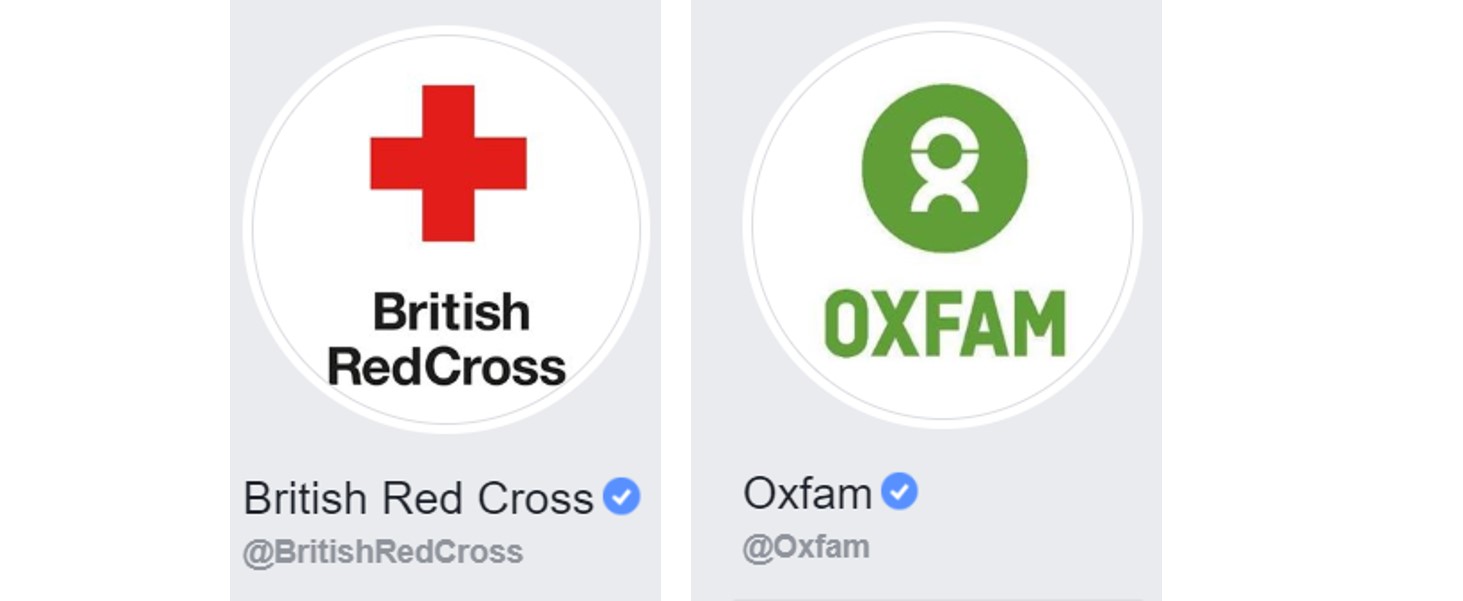 Make the most of the various tabs
Don't overlook your options for making your Facebook page work for you.
First, there's your @username which you can edit to reflect your charity name. This will let Facebook users reference you in comments. 
As mentioned above, your "About" section is also a good way of displaying your story and mission, as well as all the ways people can get in touch with you or find out more.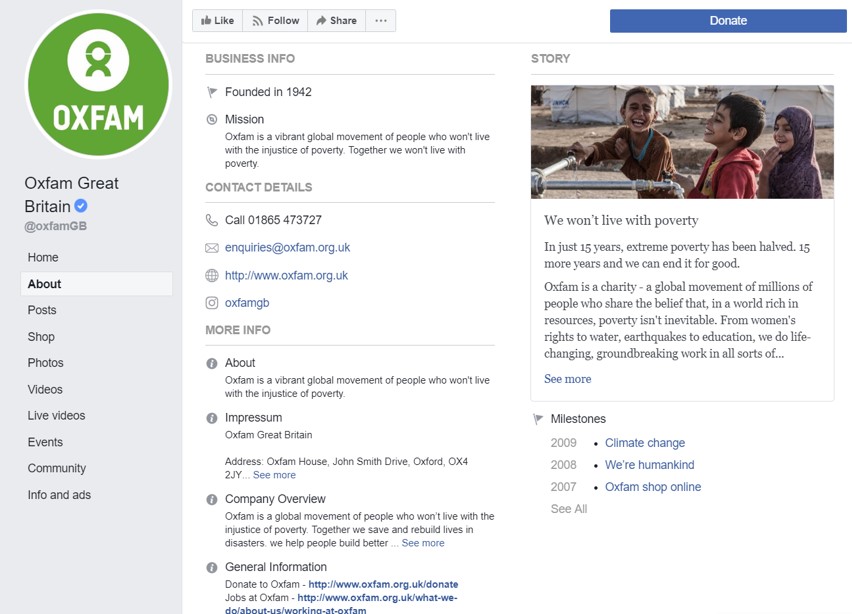 Create amazing content
Develop a content strategy
It can be very tempting to miss this step and post to Facebook on an ad-hoc basis. This runs the risk of sending out confusing messages.
Developing a content strategy is a good way of ensuring that you post the right kind of content, at the right time, with the right goal in mind.
The best way to draw up a strategy is to look at your current content (or specifically, Facebook) activity, and look at which posts are achieving the most engagement.
You also need to go back to your goals and your audience. What kind of content will help to achieve your objectives and speak to your audience? You then need to determine how much time you can budget for your Facebook posting so that you can allocate set times each day or week specifically for this task.
Schedule posts
Scheduling posts in advance is a great way to getting your Facebook posts taken care of in one go. Not only does it let you think carefully about frequency and timing of posts so that you can achieve the best possible engagement, but it means that you can take care of your Facebook activity without having to be there in real time to manually post the update.
While there are plenty of social scheduling tools out there, like Buffer and Hootsuite, Facebook scheduling is best done within the Facebook platform itself.
When you come to write your post, there's an option to schedule your posts next to the Publish button.
Include images with each post
There are two rules to adhere to when posting to your profile. Firstly, make your post visual. According to Buzzsumo research, Facebook posts with images receive 2.3 times more engagement than those without.
Secondly, keep the text relatively short. People tend not to spend much time reading posts on Facebook, so the shorter and snappier, the better. Make sure your text contextualises your image, but don't go overboard. Your visual should be doing most of the talking.
Interact with your audience
The mistake made by many organisations  – both businesses and charities alike – is that they use social media to broadcast. In fact, social media users are much more receptive when they feel included in the conversation.
The 5:3:2 ratio states that for every ten social posts, five should be sharing other people's content, three should be your own content, and two should be relaxed, informal, humanising content.
So, for example, you might want to focus first on sharing other organisations or influencer's content, and sprinkle in some of your own thought leadership. Then occasionally post an update about something light that might be happening at head office.
Jump on Facebook's #GivingTuesday campaign
Relevant hashtags are a good way of getting found on Facebook, and thereby increasing your awareness and fundraising potential.
The #GivingTuesdayUK campaign which happens every year on the week after Thanksgiving is just one example.
On Giving Tuesday, which this year falls on December 3rd 2019, people choose to fundraise, donate, or do something positive for a charitable cause of their choice.
For example, Facebook and the Bill and Melinda Gates Foundation promised to match up to $2 million in funds raised on Facebook and waive all feeds on funds donated on previous Giving Tuesdays.

Include compelling CTAs
When you post to your Facebook page it shouldn't be for the sake of it. Particularly for charities, what you post and how you post it will affect your audience engagement.
Try to use your Facebook content to encourage some kind of action. This doesn't need to be asking for donations each time – indeed, this might have a detrimental effect – but could be a link for people to read more, to get in touch, or respond to a survey.
Your CTAs should support the overall aim to drum up conversation and engagement with your audience.
Add tracking to links
Tracking the links you post on Facebook is a good way of identifying your audience's behaviour on your Facebook page. You can then use this information to determine what kind of posts work well, and which don't. Your link tracking might, for example, show you which posts encourage the most donations, so that you can focus more on these in the future.
Setting up link tracking can be a little fiddly, but there are plenty of articles online to guide you through it like this one. 
Consider ads and promoted posts
Facebook ads and promoted posts are a more direct and targeted way of achieving engagement with your charity. But they do take up budget.
Promoted posts are a good starting point. Essentially, these are posts which you pay Facebook to show to more people matching certain interests or geographic targeting. Not all your posts will be seen by all your followers, whereas your promoted posts will be 'boosted to more people'. To learn more about Facebook advertising and social media take a look at these articles and guides.  
In summary
Facebook pages are a great way to achieve more engagement, raise brand awareness, activate support and raise funds for your charity.
With Facebook being the largest social networking tool globally, charities who don't use it as a part of their outreach and fundraising are missing a trick.
However, having a Facebook page in itself isn't enough. A healthy and useful charity Facebook page will be optimised well, encourage a conversation and action from its followers, and provide useful, regular and engaging updates.
With these tips and tricks, hopefully you can get going with your charity's Facebook page right away.