Affiliate marketing was first introduced to the UK in 1996 thanks to the Amazon Associates affiliate programme. It has continued to grow ever since and its success is sure to make any small business owner take notice.
Data from the IAB shows that affiliate marketing generated £8.9 million in sales and enjoyed a year-on-year growth of 9% in 2017. What's more, with a return on investment of £16 for every £1 spent, it's an incredibly profitable channel for advertisers.
Exactly what is affiliate marketing however? How does it work and how can small businesses use it to promote their products? In this piece, I'll answer all these questions as well as cover how to use Instagram for affiliate marketing.
What is affiliate marketing?
Affiliate marketing is a type of performance-based marketing where companies reward an individual or a company for sending customers their way. It's a common tactic used to drive sales and generate online revenue and when executed correctly, can be extremely beneficial to both brands and their affiliates.
Before going into too much detail, let's take a look at the definitions for some affiliate marketing key terms:
Merchant: the person or company that has a product or service to sell. In this case, it's likely to be you.
Affiliate: the individual or website you're working with to promote your product.
Publisher: a website or business that earns commission for referring sales, leads and traffic to an advertiser (the merchant). This is typically done by placing affiliate marketing ads such as links and banners on their website.
Network: a group of companies that offer compatible or complimentary products and therefore pass leads to each other. A website design agency may for example refer clients to a copywriter to produce the content for their website.
Commission: the money an affiliate earns for promoting a merchant's products or services. Commission is usually only paid once a sale has gone through.
ROI: the ratio between net profit and cost of investment. The higher the ROI, the better because it means the investment's gains compare favourably to its cost.
Conversions: the number of successful sales an affiliate makes.
The diagram below explains how affiliate marketing works very simply: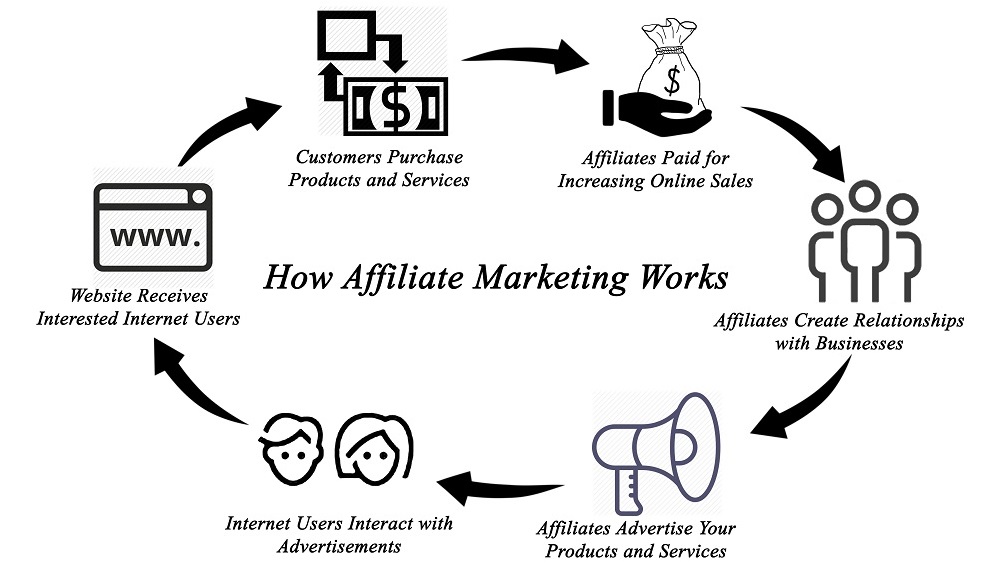 A popular example of affiliate marketing is Vouchercloud. Before buying a new pair of trainers, you may decide to search the site for a discount code. You see a coupon for JD Sports so head to the site (Vouchercloud automatically directs you there when you click on the code).
You're given a code to use at checkout which will give you your discount. This also lets JD Sports know that it was Vouchercloud who sent you there and Vouchercloud will therefore receive a commission from JD Sports.
Other examples of affiliate marketing include:
Online selling platforms such as eBay and Amazon
Price comparison websites
Coupon and cashback sites including TopCashback, Quidco, VoucherCodes, Groupon, Vouchercloud and MyVoucherCodes
Loyalty and reward sites such as Nectar
Social media (where companies use influencers to promote their products)
Blogging (you may choose a blogger to be your affiliate who will place a link, button or banner to your site within one of their posts)
Should I use affiliate marketing?
There are many benefits of affiliate marketing for small businesses.
Affiliates are only paid a commission if a desired action has taken place (such as someone buying your product). This means you don't have to pay for a marketing campaign that generates no leads
By partnering with another company or individual, this helps to broaden your audience and boost your reputation. Affiliate marketing on Instagram for example can increase your exposure dramatically if you use someone with a large following
Most programmes offer real-time tracking with metrics on impressions, clicks, sales and conversions so you can clearly understand the impact of your marketing efforts
When should I use affiliate marketing?
Affiliate marketing in the UK has become very popular in recent years. It's fantastic if you're trying to promote a particular product and you want exposure quickly. It's also great for product launches because your affiliates can help to generate a real buzz around your new offering which will help to drive sales and revenue.
If you feel like your reputation could do with a boost, once again, affiliate marketing can really help. Using an affiliate is a highly effective way to gain social proof which is very important in a world where we're conducting more and more business online. You build social proof through reviews, recommendations and testimonials which is essentially, what affiliate marketing is.
If you search for a new car insurance provider on comparethemarket.com for example, you would probably happily sign up to a company you've never heard of because you trust the affiliate. If a random insurer popped up in a Google search however, chances are you wouldn't even click on the link or you would at least be a lot more hesitant to trust them. When teamed up with the right company or individual, this type of marketing can be a very effective way to make extra revenue.
How can my small business get started with affiliate marketing?
As with any marketing campaign, it's important to come up with a strategy for your affiliate marketing otherwise you're likely to end up with low conversions and an even lower ROI.
Think about what your ideal affiliate looks like, who you're targeting, what your competition is doing, what you can offer your affiliates and most importantly, where your potential customers spend their time online.
Like most business decisions, the first step is to determine your budget.
1. How much can you afford to pay affiliates?
The great thing about affiliate marketing is that you don't pay websites or individuals anything until the money from any sales they send your way hits your bank account. This makes it a very low risk and cost-effective way to sell products and drive revenue.
If you go down the route of using people to sell your products for you however, you need to make your company an attractive proposition. A generous commission rate not only makes your business more appealing, it also gives your affiliate a greater incentive to try and sell on your behalf.
It can be tricky knowing how much commission you should be paying, especially if you're new to this. CoSpot has put together a great guide on affiliate commission rates which can help. 
2. Identify affiliates
Thanks to its increasing popularity, there are now plenty of affiliate marketing websites and programmes available to businesses including:
Shopify
Amazon Associates
eBay Partners
Clickbank
Rakuten
Awin
The benefits of using these sites is that they will guide you through the setup and provide all the tools and resources you need. They also have an established reputation which means people trust them. What's more, anyone looking to become an affiliate will list themselves on these platforms which means you have a network of affiliates ready and available. The downside is that these sites will of course charge a fee.
There are also a number of directories such as Paid on Results which list affiliate sites and detail which industry they specialise in.
If you want to manage your affiliate marketing yourself, you can of course identify and approach individuals to promote your product. In order to stand out from your competitors, it's important to offer excellent products, great customer service and a generous commission to anyone you want to work with. Head over to Omni Star to find out more about finding affiliates and making your programme appealing to them.
3. Monitor the performance of your affiliate programmes
It's important to monitor the performance of your affiliate programmes so you know what's working and what isn't. It also ensures that you're paying your affiliates the correct amount.
Some key metrics to track include:
Clicks
Sales
Conversion rate
Return on ad spend: Total affiliate revenue versus the cost of running the programme. This will show you how much you're really earning from affiliate marketing
Cost per click per sale
Top affiliates and their share of total sales
Reversal rate: This is the percentage of transactions which are cancelled after the order is put through. This ideally shouldn't be more than 10% and it gives you a good idea about the quality of sales your affiliates are directing to your site. A high reversal rate suggests they're incorrectly advertising your products or they're promoting them to the wrong audience
Incremental sales/revenue: This is the increase in sales/revenue from new customers which have been directed to you through your affiliate marketing.
Active affiliate rate: The percentage of affiliates you consider active (those sending traffic to your site and making conversions). This is a good way to determine how engaged your affiliates are
Average order value: average revenue coming in from each successful transaction
Head over to GetResponse to discover more metrics and learn how to calculate the ones you plan to measure.
4. Affiliate marketing on Instagram
Instagram has the highest engagement rate of all the social media platforms. Naturally, this makes it a very attractive prospect to businesses. It's also full of individuals with an impressive number of followers. Whether they're make-up experts, fashionistas, fitness gurus, food bloggers or sports professionals, they have a huge influence over their fans.
With the possibility of enjoying high engagement rates and targeting profiles with a large and loyal following, adding affiliates into your Instagram marketing could be a great way for your small business to promote your products.
How to use Instagram for affiliate marketing
First, you need to establish a partnership with the person or people you want to act as affiliates for your brand. Like any affiliate on any platform you use, this person should be:
Well trusted and respected in their field
Relevant to your business. The partnership should be natural. It's easy to see why a fitness professional would promote gym gear for example whereas if that same person was trying to sell pet food, it's likely to just confuse their audience
Fit in with your culture. If your brand personality is serious and professional, using an affiliate that's quite risqué wouldn't be appropriate
Share the same brand values as you. If you sell vegan cosmetics, you need to partner with an affiliate who is also a vegan and cares about animal rights. If you have someone who's always posting photos of their favourite steak dinner, you're going to alienate any potential new customers
Directing traffic to your website
One of the most frustrating aspects of Instagram for any marketer is the inability to add clickable links to your posts. Fortunately, there are a number of ways to get around this.
Ask your affiliate to put a link to the specific product they're promoting in their bio (this is the only place you can add a clickable link to your Instagram profile). Many people use linktr.ee because this directs followers to a page with links to a number of different websites.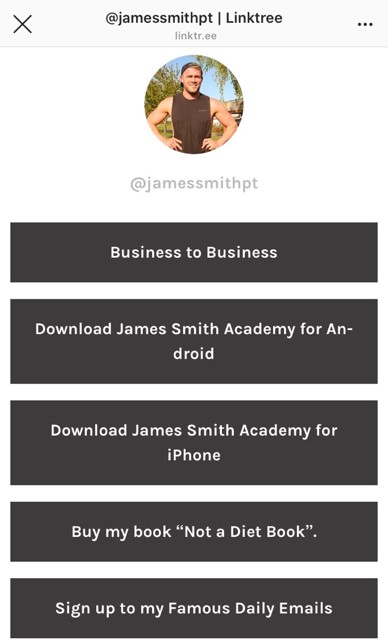 Swipe up in stories. If you choose an affiliate with at least 10,000 followers, they will have access to the swipe up feature on Instagram. This takes followers straight to a specific website which is great for affiliate marketing.
Let's look at an example. The American cosmetics brand, Tarte, teamed up with fitness professional, Hannah Bower to promote their new sweat-proof mascara – perfect for anyone who wants to wear make-up while exercising. This is a great collaboration because, with more than 800,000 followers, Hannah has a huge audience and chances are that the vast majority of her followers are into fitness and are therefore likely to be interested in the product. She regularly posts stories of herself wearing the mascara with a swipe up link taking people straight to the product on Tarte's website.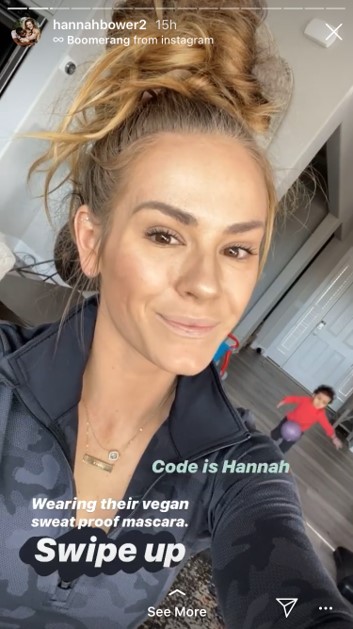 Top tips for affiliate marketing on Instagram
To ensure you get the most out of your partnership, here are some top tips:
Give your affiliate a special discount code. Along with promoting their mascara, Hannah also has a code which gives her followers 15% off products on the website. The unique code enables Tarte to track how many sales she is sending their way and it also gives her followers that extra push to try the product
Encourage your affiliate to show their followers how they're using your products. This fashion blogger posts photos of herself wearing certain brands and lets her followers know what they are. Seeing someone using your product is far more effective than simply posting a photo of a handbag on its own for example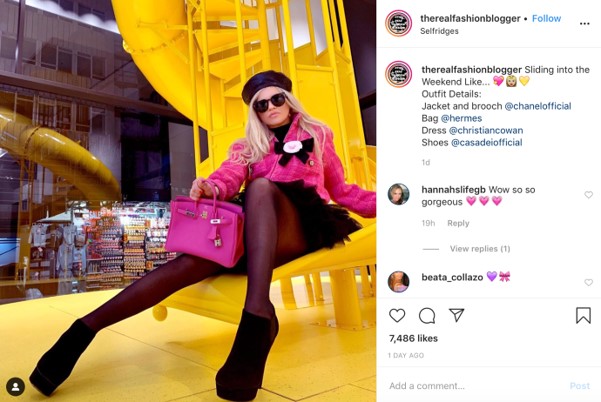 Whenever your affiliate does a post about you, ensure they include your Instagram handle and also tag you in the photo. This ensures that their followers can find you quickly and easily
Remember that if anyone is posting something for financial gain on social media, they must disclose this relationship with their audience. Your affiliate should use the hashtag #ad and this should be easy for their followers to notice
Influencer and affiliate marketing on Instagram are very similar but there are some differences.
The main one is that influencers usually get paid a substantial, flat fee to promote a brand. Affiliates are paid a share of the sale they helped to generate. This makes it less risky and far more cost-effective for brands.
Brands also typically choose to work with just one influencer (probably because of the cost). With affiliates being paid on a performance basis however, brands are free to work with as many affiliates as they like without having to worry about how they'll fund the campaign.
What makes an affiliate marketing programme successful?
Here are some top tips which will help you to enjoy great success with your affiliate marketing programme, whichever online platform you're using.
Find out what the going rate is for paying affiliates. You don't want to overpay but you don't want to underpay either because this doesn't give people much of an incentive
Keep an eye on your metrics. If something is working well, you know to focus your efforts there. If another tactic hasn't been generating revenue for some time now, there's no point continuing with it
Research your audience beforehand. There's no point trying to target people with websites they don't use and individuals they don't care for. If you're promoting a fitness product for example, an affiliate who works in the industry is a great fit for your brand. Using someone who never posts about fitness means it's unlikely they'll be passionate about it or have many followers who are interested in your product either
Don't go in for the hard sell. Your affiliate ads should be helpful, useful and informative. If you're using an individual for example, ask them to explain how your product has helped them and why they love it so much
Be transparent. Don't try to disguise your affiliates as normal customers. People will figure it out and when they do, it will break down any trust and have a negative impact on your reputation
If you're new to affiliate marketing, you may need to try a number of different methods before you find out what works best. Some products may do better than others for example. Or perhaps using a website works particularly well for one product whereas others do better when using an individual
Stay up to date with all the latest offerings. Affiliate marketing is a growing industry which means that new ad units, advertisers and tools are constantly being added to improve usability and performance 
Hopefully this blog has given you a great insight into affiliate marketing and how it can work for your business. If you would like further information on this topic, below are some additional resources which may help: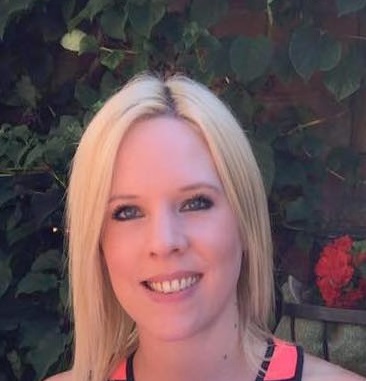 After completing her degree in Journalism, Monique began her career at a digital marketing agency. It was here she discovered a passion for online marketing with a particular focus on content creation for the web. Six years ago Monique set up her own copywriting business, Copyworks Group, which specialises in creating content for websites, blogs, newsletters and social media pages.
Read full profile