Competitor research is a time consuming and rather monotonous task, but getting it right can produce overwhelming results. And, if you're a bit of marketing geek like me, uncovering your rival's tricks, traits and tactics can actually be exciting and very rewarding.
Let me fill you in on:
Why competitor research is so important
How to find your competitors
How to analyse your competitors
And, how to make the findings work to your advantage

Why is competitor research so important?
In 2016 it was estimated that around eighty new businesses were established every hour in the UK, taking the total number of private sector businesses to over 5.5 million. That's a lot of competition! For those considering moving their business online (you really should) – or if you're already online – then the competition is even higher.
Let's consider this for a moment.
At the time of writing there are over 1.1 billion websites recorded on the web and hundreds of billions of webpages within the Google Search Index. Granted, your businesses will not be competing with all of these, but there is still a large proportion of webpages that have the potential to be seen or rank above yours in a Google search.
The challenge is in understanding the competition and differentiating your offering to make your business stand out, be more competitive and make more money.
Your overall aim with competitor research is to find out what they are doing and do it better.
Where to start
Step 1. Find your competitors
If you're an established business you should already have a good idea of who your main competitors are, but this doesn't mean you can skip this step.
Use the methods below to help you gain a better insight into your industry and watch for new businesses entering the market that could become potential rivals.
Revisiting competitors when you are about to launch a new product or service is also important – you may discover that they have recently launched a new/similar product and so you can change your tactics accordingly.
For new businesses, identifying your competitors can be a little overwhelming – especially if you uncover hundreds of results online. But don't panic – not everyone will be in direct competition with you.
For new businesses
The first thing you need to establish is what your core offering is and what your unique selling points (USP) are. (Don't worry if you're unsure about your USPs – you can develop these after conducting your research.)
Make a list of what you offer or promise as a company. For example, a company offering hair and makeup for weddings might have a list like this:
Makeup artist for weddings
Mother-of-the-bride, bridesmaids and bridal makeup (discounted package)
Serve the local areas within Leicestershire – FREE travel
Serve surrounding counties – may incur expenses & travel costs
Vintage hair and makeup
Contemporary hair and makeup
From this list, we know that we should look for similar companies that:
Specialise in vintage and contemporary hair and makeup
Serve nearby counties including Leicestershire, Northamptonshire, Nottinghamshire, Loughborough, Derbyshire, Birmingham and Lincolnshire
Offer discounts on bridal party hair and makeup
So how do we find them?
Google Search
One of the easiest ways to find companies is to run a Google search for each of the phrases from the list above, such as 'vintage hair and makeup for weddings'.
Pay particular attention to the results listed on the first two results pages. (Pages beyond this point probably aren't ranking well for the search term you've entered, which indicates that they are less relevant to that specific search term.)
Refine by location
While it can be useful to look at similar businesses that are seeing success in other cities, for the purpose of this exercise we will remove any competitors that are located in areas that you're not interested in servicing.
For our makeup artists, areas like London, Manchester and Wales would be too far to travel, but it could be worth looking at the websites of companies operating in these areas to get ideas to help your business.
Refine by size
Make sure that the companies you are selecting are like-for-like.
If you're not a multi-national corporation with a thousand employees turning over millions of pounds a year, don't include companies that are – these aren't your direct competition.
Look for the companies that are of a similar size and turn-over to your own. This information can be found on Companies House.
Make a visual assessment
Take a quick look at the websites you have remaining on your list. Examine the visual style and tone of voice, and have a good look through their portfolio.
For our example business, we would be asking:
How does their offer compare? Are the makeup and hairstyles the same as what I can offer? Or different? If they are completely different, remove them from the list of competitors, as they are obviously serving a very niche market.
Is their website professional and visually engaging? If a competitor's website resonates with you for whatever reason, include them on your list. If you don't like the look of a website but they have elements and offers that you like and grab your attention, keep them in too. Bin websites that haven't been updated for a while or have poor quality images, or poor reviews.
Repeat this process for each of your search terms that have been created from your list. You should aim to have at least 4-5 competitors for each search query.
If you already have an established website, you can use the 'Related' search in Google. Simply type 'related:' followed by your URL (no spaces) to reveal the sites that Google thinks are most like yours.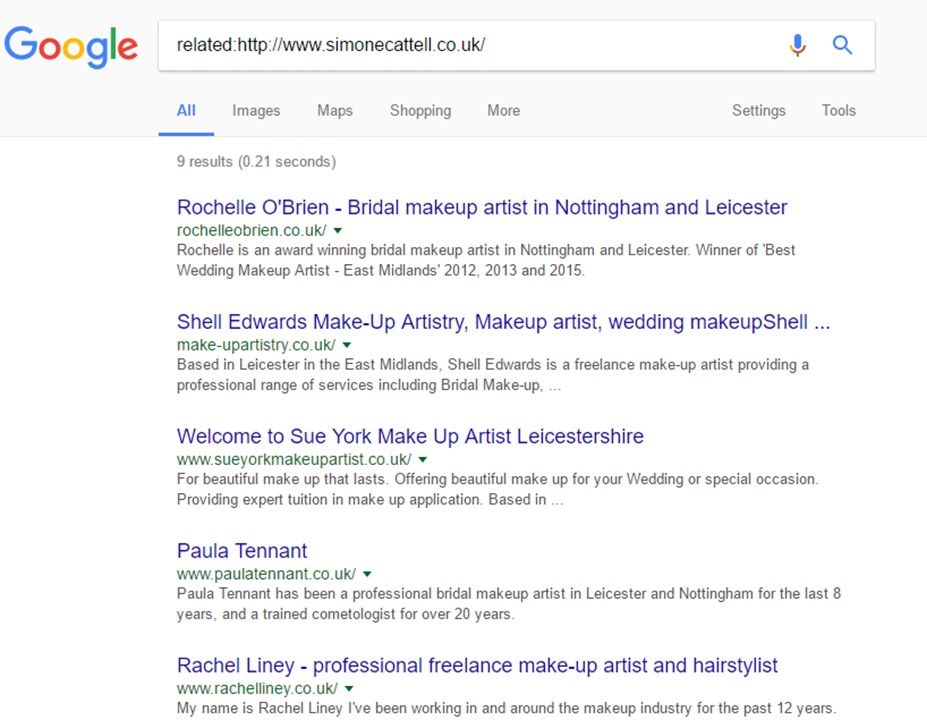 Although a Google search is a good place to start, you shouldn't rely on it as an absolute method of finding competitors. It's a good idea to immerse yourself in your industry by examining:
Blogs: Who are the main influencers within your niche? Who do these people talk about and recommend?
Attend relevant industry events: For example, wedding fairs and similar trade events would be ideal for my makeup artist. Who are the regular attendees? Who are the sponsors? Who is engaging customers successfully at these events?
Directory Lists: Every niche will have a relevant directory listing. Scan these to see which of your competitors are already listed.
Ask your customers: When customers make an enquiry, don't be afraid to ask if they have received quotes or made enquiries with other companies. If they have, find out who and how much they were quoted.
Step 2. Analyse your competitors
Now you know who your competitors are, you can start compiling information about them. Use all the methods above to assess the following main areas:
1. Website: What does your competitor's website look like and what are your overall impressions of it? Are there stylistic elements you'd want to incorporate onto your site?
Pay careful attention to the Call To Actions (CTAs), the overall user experience and other elements that the site has, such as videos, online support, a Ring back Service, a Q&A section or a blog.
Consider how realistic it would be to incorporate some of these features into your own site and turn these differences into your own future business objectives.
2. Offering: Look carefully through all the services and products that your competitors offer. If there is something unique in their offering that you haven't thought about, make a note of this as a potential opportunity for your business.
Using our makeup artist's scenario, some competitors may offer a bottle of Champagne to enjoy on the morning of the wedding. We could think about doing the same, or going one better.
Also, look out for things that your competitors don't offer. Maybe they don't cover the same locations that you can, or you have a better range of products.
3. Price: Price is always going to be the hardest thing to ascertain, but there are ways to find out. If pricing isn't included on their website, ask around on forums and speak to clients to see if they have had a quote.
Price is important because it gives you the opportunity to price your products and services more competitively. If you price your products too low, you risk giving the impression that they are too cheap and therefore not worthy. Price too highly and you'll lose custom to your competitors.
If you get a rough idea of the average prices being charged, you can pitch yourself somewhere in the middle, but slightly lower than your main competitors. Never underestimate the impact a few £'s has on the consumer decision making process.
4. Online Activity: For businesses without a physical store, solely operated online, this is going to be the most critical aspect of your research. To raise the profile of your brand and for Search Engine Optimisation you need to develop a strong online presence by being active online.
Investigate how your competitors are achieving this by examining their social media accounts and press releases, and see how active they are across niche, related forums. Perhaps they have a great Instagram account but they're not great at responding to clients on Facebook. Here is your opportunity.
This process can seem a little overwhelming, but knowing how your competitors are performing across the internet can inform your own approach. Be inspired by what they are doing well and identify opportunities in what they are not doing so well.
Backlinks are also very important to understanding how active and referred your competitor's site is. You should aim to develop a backlink strategy of your own.
TOOLS:
Use a tool like Google Alerts to monitor mentions of your competitors and assess how you could achieve a similar mention.
Social Mention is another great tool for tracking mentions of your brand and your competition across social media.
Backlink Monitor is a great tool for analysing your competitors' backlinks by providing a full list of backlinks along with the backlink quality.
5. Keywords: One of the best ways to help customers find you online is through the keywords you use on your site.
If you found your competitors via a search online, they are already doing a pretty good job of optimising their site for these keywords.
You want to rank for the same keywords, and you can discover what these are using Google's keyword tool. Go to Keyword Planner and select 'search for new keywords using a phrase, website or category'. Enter the URL of your competitor for an instant list of the keywords they are using.
Although research should be used to inform your own keyword list, it is still a good idea to make a note of the types of keywords being targeted by your competitors as they may have missed vital phrases that your site can include. It also gives you a better idea of their approach.
6. Strengths: When examining the strengths of your competitors you should consider attributes that add value to their business and offering. Ask:
Are they winning awards?
Are all their staff fully certified?
What make them distinctive?
What gives them a competitive edge over your business?
Are they open on days when you are closed?
Once you have assessed these key points, think about how you can match or beat their strengths. Knowing what your competitors are good at will help you to develop a strategy of your own.
7. Weaknesses: Assessing your competitors' weaknesses is just as important as looking at the strengths. This can be tricky, but if you compare how you run your business and how you build your brand online to how they are doing these things, you will identify what you can deliver that they can't.
As you work through this process it is helpful to structure your research and analysis in a table. I always plot my results in a table like this:

Step 3. Discovering opportunities
Now you have an idea of who your competitors are, how they conduct business online and what they offer, you will have developed a good understanding of how you differ to your competitors.
Even though it may not feel like it, there will be several ways in which you are different. These differences may be small, like location or the type of the product, but you can still use them to your advantage by emphasising them.
For example, my hypothetical makeup artist has discovered that none of the competitors use organic, paraben free makeup. This is a Unique Selling Point (USP) that can be emphasised widely across marketing materials and the website, especially if this was a search term that was often searched for.
'Unlike other makeup artists, we make a conscious effort to use only the highest quality, organically produced products. We guarantee that none of products contain parabens, the number one cause of dry skin.'
Similarly, if you're confident that other makeup artists don't cover such a wide location as you, mention it!
'We are the only team of makeup artists to service the whole of the East Midlands.'
Perhaps other makeup artists charge travel expenses. Can your company afford to waive this expense? It might help to clinch a few more deals.
The potential opportunities for your business should also include the things that your competitors are already doing – or doing well – that you would like to implement into your own business. Use these to inform your strategy for business growth.
Finishing up
Competitor research is necessary to assess the market in which you operate.
With more and more businesses being established each day, the need to differentiate your business from the competition has never been greater – and you will only be able to if you understand what the others are doing!
Conducting an in-depth competitor analysis can feel like a long-hard slog – especially when you're busy running a business – but spending time investigating your competitors will not only enable you to gain a competitive edge, it will also help you to formulate long-term strategies, gain crucial inspiration and ensure you are responsive to potential threats.
Be critical, and remember that there will always be differences – no matter how small – between you and your competitors. If you are imaginative with how you differentiate yourself and consistent with your USPs, you'll certainly reap the rewards for your hard work.