Back in the mid to late 90s, I performed my first proper search on the internet. The 'search engine' of choice was Ask Jeeves and I can still recall the disappointment I felt when I couldn't find the information I wanted on Pearl Jam or Pulp Fiction.
Fast forward two decades and things have progressed a lot. For a start, Ask Jeeves is all but dead and buried and Google is making great strides in its ability to deliver accurate search results based entirely on misspelt queries. Impressive!
You may also have noticed that search results on Google today often look completely different to how they may have appeared a few years ago. Again, it is Google making headway with how it retrieves and presents information to its users.
Thanks to continued improvements to its algorithm, Google is evolving into a sophisticated programme that recognises what users are searching for and presents linked data from across the web to show a range of highly accurate and related search results. This is known as the semantic web.
As website owners and marketers, it is important to understand the developments being made by search engines like Google, as they can have a direct impact on the way in which we optimise sites and ultimately, get found.
What is the semantic web?
The semantic web in action
How to use the semantic web to your advantage

What is the semantic web?
In short, the semantic web is often defined as being a web of data collating information from across sources, locations, applications and formats. By linking data using semantic mark-up, search engines can begin to understand the meaning and context of words.
Another way of putting it is to think about the differences between humans and computers. When the word 'Garfield' is mentioned, a human brain may instantly think of Garfield the cat, a ginger cat, cat being a type of animal, which can be further categorised into mammals. However, computers and programmes can only read 'Garfield' as 'Garfield', and are unable to associate any other meaning with it – unless we provide extra context.
The semantic search
Search engines have been making efforts to utilise semantic technologies to provide users with an enhanced user experience. The aim for search engines is therefore to provide search results that are highly accurate, precise and relevant enough to answer a user's query. Back in 2013, Google unveiled its renovated algorithm – known as Hummingbird – which was able to do just that.
This is known as the semantic search, which is defined by Google as:
'Semantic search seeks to improve search accuracy by understanding searcher intent and the contextual meaning of terms as they appear in the searchable dataspace, whether on the Web or within a closed system, to generate more relevant results.'
As you can see, relevance is the key factor here; but how do we incorporate this into our SEO? Before we answer that, let's take a look at semantic search in action.

The semantic web in action
I took this opportunity to revisit my youth and searched for Pulp Fiction using Google. Here are my results:
1. Google Knowledge Graph
The Knowledge Graph, or knowledge panel, is probably the best example of the semantic web in action.
Information is pulled in from a variety of sources and collated depending on the search query.
As you can see from this example, the Knowledge Graph can instantly:
Give the year of release
Provide a synopsis of the film
Tell me where I can stream it
Give critical reviews
Link to related social media profiles
Display cast members.
The advantages to the user are obvious. Just by searching for the film title, Google has successfully presented a range of information, collated from a variety of different sources, alleviating the need to visit different pages.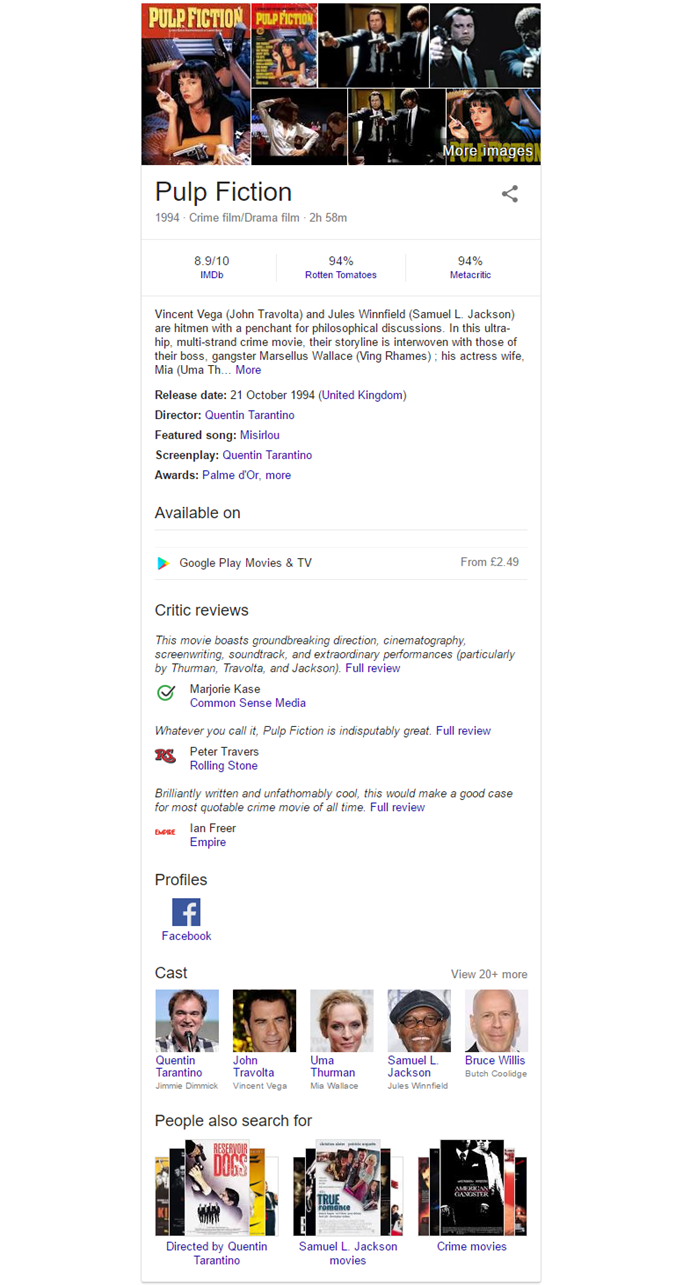 2. Featured Snippet (Quick Answer Boxes)
Featured snippets appear in position zero, meaning they appear above all other organic search results.
Although featured snippets are more commonly used to answer direct questions, such as 'how to boil an egg', they are beginning to make an appearance for more general queries like mine.

3. Rich Snippets
Rich snippets can be identified by the embellishments added to an organic search result. The example below shows the film's star rating and the number of votes made by users from imdb.com.

This is another great example of the semantic web. Each of these profiles, despite belonging to individual web pages, has been linked because the relationship has been defined. In this instance, Google knows that these actors all starred in the same film.
How does it work?
The semantic web relies on human users (site owners) to decode the HTML that exists on all websites. Because machines are unable to read HTML and decipher the meaning of words, schema mark-up – a universal language – is used to decode the HTML for them.
This allows search engines to identify important and relevant pieces of information. Although this is limited to certain information – such as event listings, star ratings, reviews, telephone numbers and recipes – we'll be showing you how to implement this on your own site.

How to use the semantic web to your advantage
1. Create relevant content for the user
There is a lot of debate surrounding the semantic search and whether it is relevant, working and important. However, the one thing that most experts agree on is the way in which content should be created for the web and optimised since Google's Hummingbird update.
At the time of its release, Google (characteristically) remained somewhat vague about its renovated search platform, meaning that as usual it would be down to trial and error for digital marketers to figure out its impact.
Since then, we now know that Hummingbird places an emphasis on quality content that can directly answer people's queries. This means that more attention is given to all the words used within the context of the article, blog or webpage, instead of just the keywords used in the H1 title and repeated a handful of times. Although keywords should still be used in this way, it's the approach to finding keywords that should ideally be changed, and here's why.
Until now, keywords have driven the content that marketers create, but by thinking about the user more and more, content now needs to be designed and created with the user in mind. The best way to approach this is by thinking carefully about your target audience. Re-examine the following:
Who is my audience?
What are they looking for?
What questions do they have about my industry, products and services?
A great tool for generating questions around specific keywords is answerthepublic. Simply type in your keyword and the programme will generate a range of questions with different prepositions.
This is a great way of finding out what questions are being asked by your target audience relating to your niche. Once you have a list of questions that you feel comfortable answering, research the volume and competiton of these keywords as you would normally to ascertain which ones to target.
You should also look at common questions asked by your clients or customers, as these will undoubtedly receive a lot of traffic.
2. Getting onto Google's Knowledge Graphs
Because Knowledge Graphs favour Google's own products, such as Google My Business and YouTube, as well as large reliable resource sites such as Wikipedia and Facebook, it can be hard to influence what appears in the Knowledge Graph.
However, you can increase your chances by having a presence on these sites with high domain authority, posting regularly and ensuring that information is consistent.
More and more businesses are being included in Knowledge Graphs, but it again depends on building a consistent brand across numerous high performing, well trusted websites.
3. Use schema mark-up
As previously mentioned, schema mark-up is a type of microdata code that essentially allows machines to decipher the HTML on your site. It works by enabling site owners to tag key elements contained on a site so that search engine bots can understand the meaning of words and process information more efficiently.
When Google has a better idea of the elements within your site, it will be more likely to display information from your site in a rich format (like any of the examples above).
Schema mark-up can be used to help distinguish all sorts of content, including:
Articles
Reviews
Products
Films
Personnel
Local businesses
A study from Search Metrics found that sites using schema mark-up ranked four positions higher than those without schema, so it's in your interests to start implementing this.
Schema mark-up for businesses
Businesses can also take advantage of the semantic web by using corporate data mark-up. This allows you to highlight elements such as:
Logos
Contact numbers
Preferred site name
Social profile links
You'll be relieved to know that adding schema mark-up to your website requires no coding. Phew! All you need to do is register and verify your site with Google's Search Console to access the data highlighter tool. This allows you to highlight certain structured data on your site so that it can be featured in rich search results.
4. Featured snippets
Featured snippets not only allow you to jump to the top of SERPs, but they can generate a great amount of exposure, as well as put your company in a position of authority on a particular subject matter.
Although Google generates featured snippets automatically, there are ways in which you can influence your inclusion in these snippets:
Include a dedicated Q&A section on your site in which you answer direct questions in a concise manner – no more than two sentences.
Q&As can also be incorporated into standard blogs, but just make sure that the question keywords are included in your URL and the question appears at the top of your page in the H1 tag.
If you're incorporating answers for featured snippets into blog posts, make sure that you expand on the answer given. Blogs should ideally be over 700 words long if you want them to rank highly in SERPs. However, make sure that somewhere in your article you clearly answer the question.
There's no doubt that featured snippets are great for exposure, but they do remain a topic of controversy amongst SEOs, who argue that they discourage site visits. Site owners whose pages don't already rank highly in SERPs will also struggle to be included in featured snippets.
Final thoughts
Love it or hate it, the semantic web is likely to be our future, and we therefore need to embrace everything that it has to offer.
Although its full potential has not yet been reached, and the application of semantic technologies is in its infancy, there has already been a dramatic shift in the way in which we attract our audience and optimise our sites.
The semantic web is ultimately about enhancing the user experience, for which Google is a keen ambassador. Google is constantly encouraging us to generate user-centric content, and with the help of the semantic web, more of us will have to adopt this approach.