Keywords are the words or phrases we type into search engines to find the product, service or content we're looking for. If you search 'accountants in Berkshire' for example, you will be presented with pages of options for accountants in Berkshire.
It's not just consumers who rely on keywords however – they're very important for any business with a website. If you're an accountant in Berkshire yourself, you want to ensure that when someone is typing in those keywords, that it's your company that comes up on the first page of Google.
With the ability to drive targeted traffic to your website for free, there's absolutely no doubt that using the right keywords can skyrocket your business to online sales success.
Are keywords still relevant?
Ten years ago, it was common practice to stuff a website full of keywords and wait to start ranking for them. Back then, this technique actually worked but keywords are now one of the oldest SEO tricks around and with Google becoming increasingly intuitive, it's left many wondering if they still matter.  
There are a couple of issues with keywords these days:
Best practice SEO techniques are constantly changing. Google does, in fact, make up to 600 changes a year so it's difficult to keep up. What we do know with certainty however is that keyword stuffing is now a forbidden technique and your website will be penalised if you do it
Google is learning how to understand human language and how to interpret it so we can (and certainly should) be more natural when producing online content
The way Google views keywords actually started to change way back in 2011 with its Panda update. Noticing that it was very easy for terrible and irrelevant content to rank highly with some strategically placed keywords, Google started to place greater importance on the quality of the content being produced by websites. The Panda update helped to increase valuable search results by limiting the visibility of pages containing thin, short or duplicate content (e.g., the same keywords being repeated again and again).
In 2012, another update, Google Penguin focused on rewarding websites which were publishing high-quality content. It also punished web pages that engaged in manipulative link schemes and keyword stuffing.
Perhaps one of Google's most impressive updates has been the introduction of RankBrain. As one of the most powerful ranking signals in the search algorithm, it uses machine-learning artificial intelligence to process and sort search results. As well as understanding keywords, it measures user satisfaction by looking at users' interaction with the results. If a website's bounce rate is high for a particular keyword for example, Google will know that the content offers little value.
Thanks to artificial intelligence, it's getting harder and harder to deceive Google with simple optimising tricks. With keyword stuffing also becoming increasingly frowned upon, this is perhaps why keywords have gained a bit of a negative reputation in recent years.
While there's no doubt that focusing purely on keywords is an outdated practice, it doesn't mean that they should be ignored completely, however. Keywords remain relevant to SEO because online users are still using keyword phrases to find specific content on the Internet.
Should I still be using keywords?
If you're confused about whether or not you should be investing time and effort into finding and implementing the right keywords, below I've put together the pros and cons of using this technique as part of your SEO.
Pros
You can increase conversion rates 
The starting ground for producing great content is understanding which keywords are driving traffic to your website. If you run Google Ads, you will be able to check this in your Analytics account. By finding out what your audience is interested in, you will then be able to write engaging content around these topics.
Not only will relevant content attract visitors, it will do so in larger volumes. What's more, if your copy is meaningful to those who read it, there's a very high possibility it will lead to higher conversions.
They provide you with valuable insights into current trends
When we're deciding which keywords to use, most of us tend to stick to a keyword research tool. While this is a great way to work out which are the best phrases to use, Google Trends can help you utilise your keywords further and take your content to the next level.
Analysing keywords will offer you insights into current marketing trends and consumer behaviour. By keeping up to date with what's popular and important to your audience, you can use this to ensure that your content and keywords remain competitive.
Keywords are great for SEO
Although the way we use keywords has changed, it doesn't mean that their purpose has. Keywords remain incredibly important to SEO for a number of reasons:
They help Google to identify what your website is about
They ensure that your content is displayed to the right people at the right time
They're a great way of driving traffic to your website
They can be used on other channels such as your social media pages. The hashtags you use on your Instagram posts for example should be the same keywords you want your website to rank for
Cons
Google can penalise you for keyword stuffing
It's easy to get carried away and incorporate your keywords into your content more than you should. Unfortunately, search engines are wise to keyword stuffing and will now penalise websites that do this by pushing them further down the rankings.
It's not just Google that won't look upon your content too favourably either if you're predominately aiming for high keyword density, it's unlikely that your content is going to read well and engage your audience. When writing blogs and website content, user experience should be a bigger priority because it relates directly to conversion and retention rates.
You end up focussing on the wrong results
Another issue with becoming so heavily involved in keywords is that you can end up focussing on the wrong results. The sole aim of keywords is to improve rankings. It doesn't, however, take into account the quality of the traffic coming to your site, how long people spent reading your content and most importantly, whether or not they converted.
You're better off getting 10 good quality visitors to your website who will eventually convert into paying customers than you are getting 500 hits but nothing comes of it.
Keyword best practices
Whether you're new to keywords or could do with a refresher on how to use them, below are some keyword best practices to ensure you're getting the most out of them.
Use a keyword research tool
Google's Keyword Planner is one of the most popular options available, it's simple to use, gives you an insight into trends and best of all, it's free.
Simply type in a word or phrase such as 'vegan cookbooks' and it will provide you with all the information you need to decide whether or not it's a good term to use. Generally, you can expect the more searches a keyword gets, the higher the competition for it will be. This means that you will be competing against a lot of other websites to rank for the term.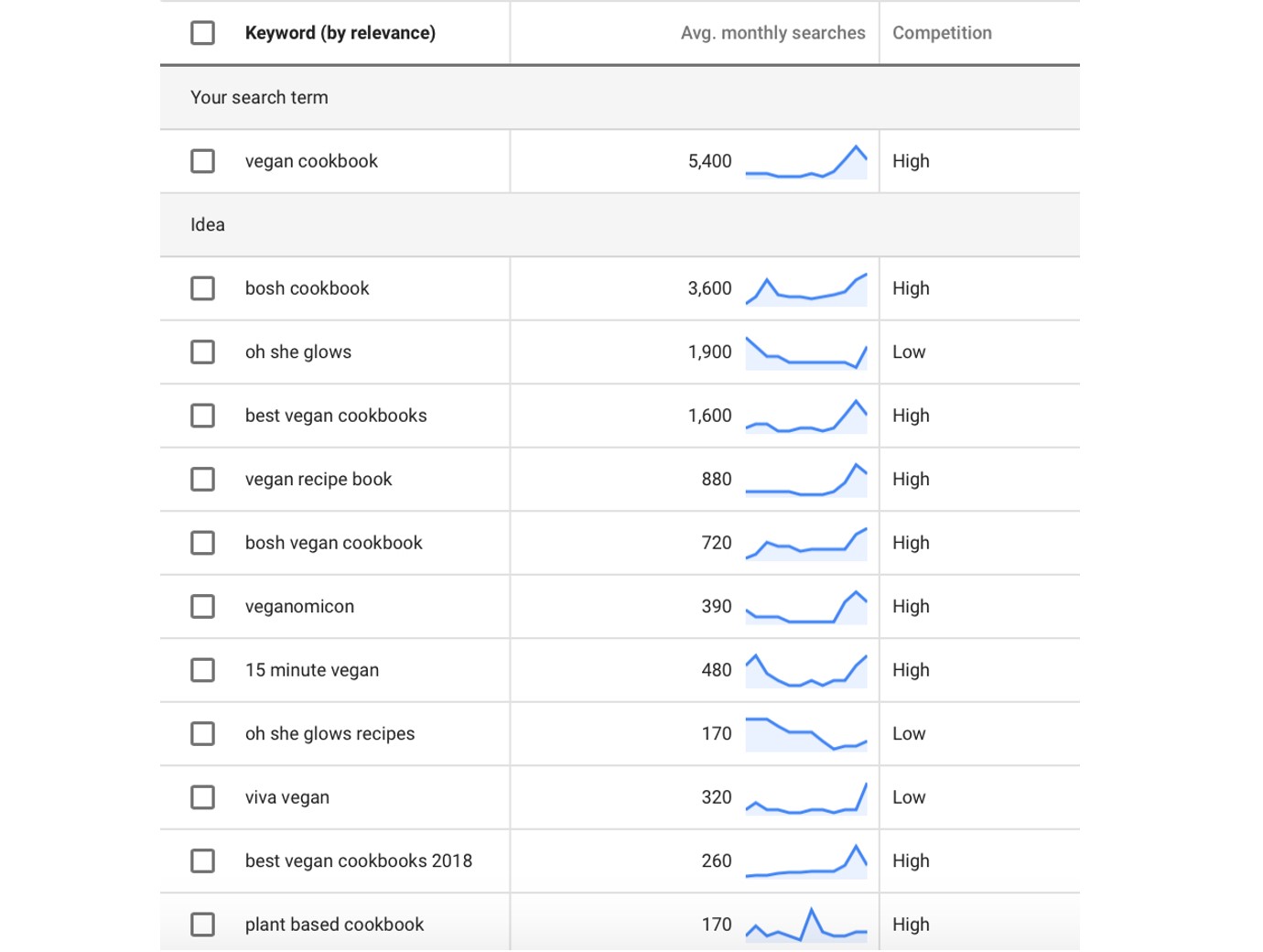 As well as incorporating popular keywords into your content, it's also worth looking at lesser used terms. '15 minute vegan recipes' only gets 70 searches per month but the competition is low which means that you're actually more likely to get traffic from it.
Make sure you use the search volume trends function as well because this is a really useful way to ensure you're talking about current and relevant topics in your industry. As you can see below, search volume trends for 'vegan cookbooks' has more than doubled from 20,240 in February 2018 to 41,110 in January 2019. This very much suggests that veganism is a good topic to be talking about (providing it's relevant to your industry).

Use long tail keywords
Long tail keywords are slightly longer than your average search term and are much more specific. Using the example above, more people may type 'vegan cookbooks' into Google but '15 minute vegan recipes' is going to attract much better quality traffic. If someone is searching for something specific and you provide them with this exact information, it's natural that they're going to stay on your site for longer which is also great for SEO.
The other benefit of focusing on long tail keywords is that when someone is looking for something so specific, it usually means that they're ready to buy. If you're going to a fancy dress party for example and you're trying to come up with ideas, you'd probably search for something along the lines of 'fancy dress ideas.' If you're searching 'pirate fancy dress costumes' however, chances are you've made up your mind and you're looking to buy a suitable outfit.
Aside from being far more likely to convert into sales, competition for long tail keywords is lower which means they're much easier to rank for.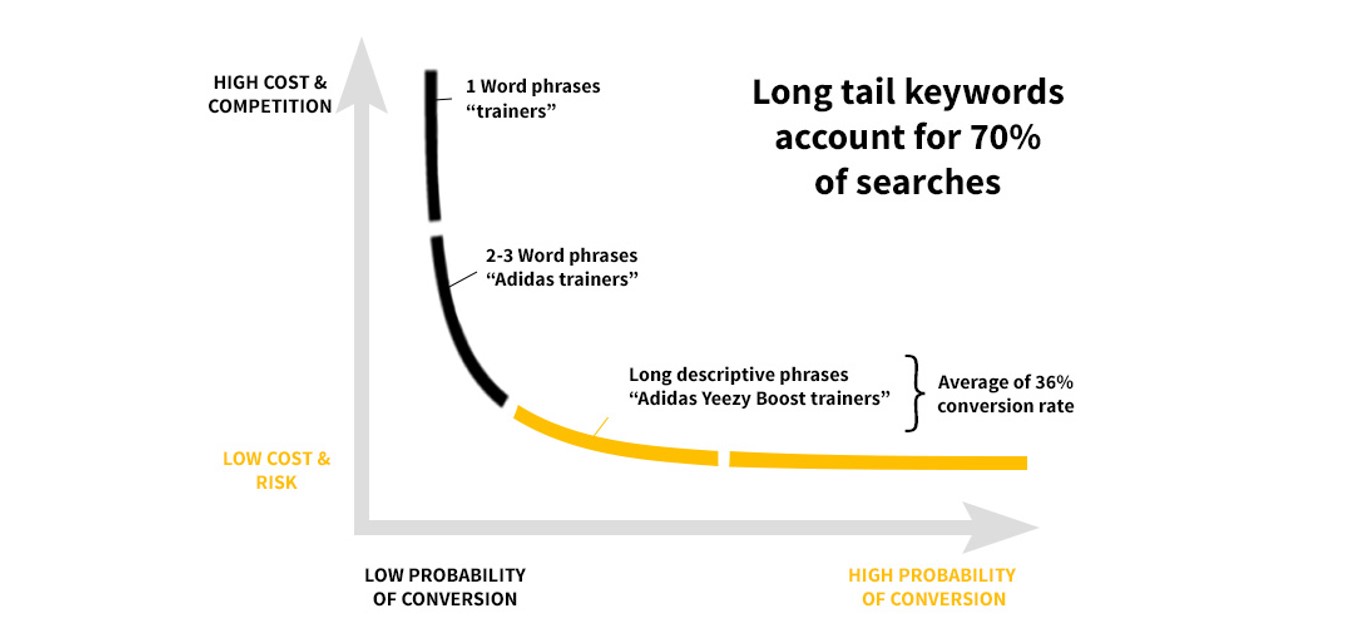 When you're doing your keyword research, simply try out different variations of key phrases. As well as looking at search terms, think about what a potential customers' journey might look like.
Say you're an accountant based in Maidenhead for example. The keyword 'accountant' gets 27,100 searches a month and if you type this into Google, these are the top three search results you're presented with.

This isn't very helpful to either you or potential customers because you're not based in London and it's unlikely that anyone was looking for a Wikipedia description of what an accountant is.
'Accountant in Maidenhead' may only get 170 searches a month but as you can see, the results are a lot more relevant which means anyone clicking on your website as a result of this search, is far more likely to contact you.

Use Google Trends
By researching keyword trends, you can work out the behaviours of online users. With Google Trends for example, you can identify spikes and fluctuations in certain keyword searches.
When you search a particular word or phrase in Google Trends, you will be presented with a graph which will show you the interest in that term over a certain time period (which you can specify).
If you search the word 'Christmas' you get the kind of result you would expect. 'Christmas' starts to generate interest from October until it reaches its peak in the days leading up to the 25th of December and then it tails off again.

By identifying the rising and falling popularity of various subjects related to your industry, this can help to identify new keywords, plan your long-term content goals and determine when the best time to publish new content is.
Another great way to use Google Trends is to look at related queries. As well as giving you keyword and content ideas, you can filter the results by rising popularity so you know which topics are generating interest. This is a great way to start ranking for keywords before they become very competitive and it's also a fantastic way to ensure you're blogging and talking about topics on social media that you know people want to read about.
If you're a personal trainer for example, you could type 'fat loss' into Google Trends. In the related queries section, you can see the growing keywords related to this topic all of which can prove invaluable when it comes to putting together your content marketing strategy.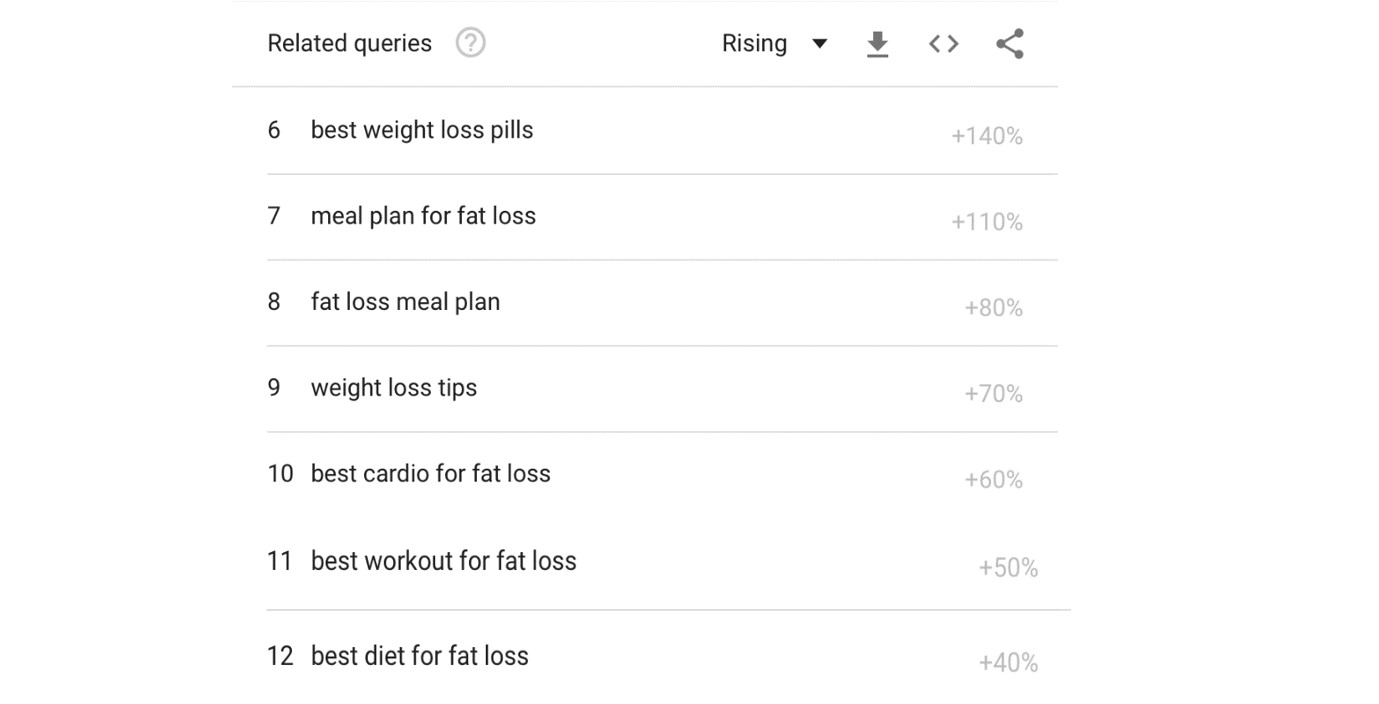 While keyword density may not be the hot commodity it once was, incorporating them into content which is high quality, relevant and engaging, can still pay dividends. For more advice on this topic, have a read of this blog: 'How to write content that both Google and your audience will love."