In this series of articles, I've been looking at how SMEs can adapt their online retail campaigns around the seasons, or work around specific events to market to their customers.
In this article I'm looking at Autumn, and how retailers can use the events and themes of this season as opportunities for marketing.
Autumn runs from September to the end of November, so it takes in the end of the summer (and often some good weather), and brings us into the Christmas shopping season.
There's plenty going on in Autumn for retailers to take inspiration from, so here I'll cover the key events, some marketing ideas and examples from this season.
Key themes for Autumn marketing campaigns
The fact that Christmas is on the horizon means that, while there are some unique events and themes for marketing around Autumn, e-commerce sites will have one eye on Christmas throughout this season.
It's potentially the biggest event of the year for many e-commerce sites, so Christmas related marketing will be running parallel with other seasonal campaigns.
Indeed, Autumn can be the biggest season for Christmas shopping. According to Statista, 53% of people begin their gift buying in October and November, compared to 24% in December.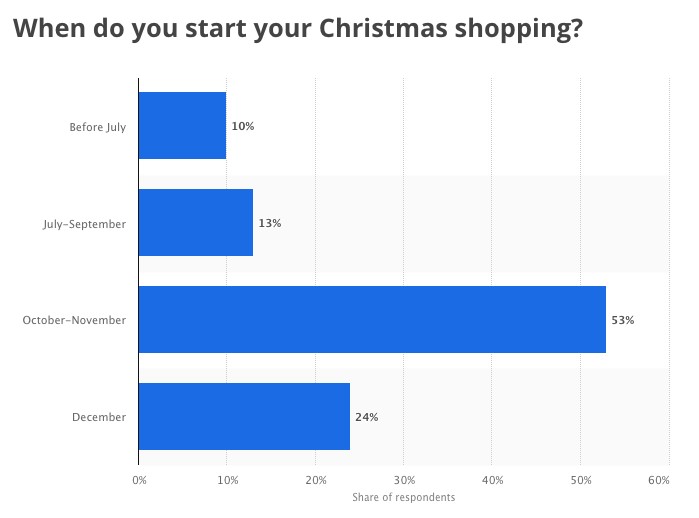 The other massive retail event in this season, taking place towards the end of November, is Black Friday. It's connected to Christmas in the sense that many people either delay their gift buying until this point or aim to do at least some of their Christmas shopping on this day.     
It should be treated as a separate event for most though, as it isn't all about Christmas shopping, and offers an opportunity for retailers to attract new customers and drive extra sales at a key time of year.
The other big event for marketers is Halloween. With £419m spent online for Halloween 2018, it's an important event for marketers.
It's always popular in the UK and offers lots of opportunities for retailers to offer promotions to customers.
Some key events for the calendar:
Rugby World Cup (20 September – 2 November). With most major sporting events falling in the other seasons, the World Cup may attract more attention from marketers.
End of British summer time (27 October).
Halloween (31 October).
Guy Fawkes' Day (5 November). It seems to have been overtaken by Halloween over the past decade or so, but still offers some opportunities for marketers.
Black Friday (29 November). Cyber Monday is on December 2nd this year, but the reality is that Black Friday is a retail event that is spreading further, lasting at least the weekend, and the whole week before in many cases.
Autumn marketing campaign strategies, ideas and examples
Christmas is, of course, significant during Autumn, but here we'll focus on other events, as I've covered Christmas campaigns in detail already.
SEO strategy
Autumn is a busy time for e-commerce SEO. We're dealing with the busiest periods of traffic for many types of retailer, and quite a few different events to work around.
To take Black Friday as an example, SEO is competitive at this time of year. Black Friday drives lots of interest from shoppers heading online to search for deals, which makes it a huge opportunity for retailers to take advantage of these higher volumes of traffic from search.
As Google Trends shows, search behaviour around Black Friday has been growing year on year, with interest beginning to build up in mid-October and eventually peaking during the week leading to Black Friday.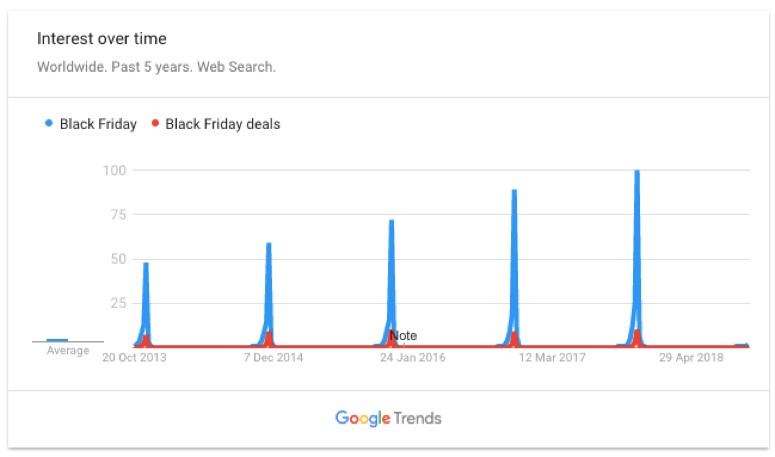 The problem for retailers is many of the prime search positions for the biggest Black Friday search terms, such as 'Black Friday deals' have been taken over by publishers and bigger retailers.
This makes it harder to rank for some of the bigger terms, but also offers some useful lessons for SEO. The pages that rank well either have lots of useful content (mainly those from publishers) or are long term pages that have been preserved. Or ideally both.
Take Argos as an example. This screenshot is taken in late January when Black Friday promotions have ended, but the page is still live, ready for 2019's promotions.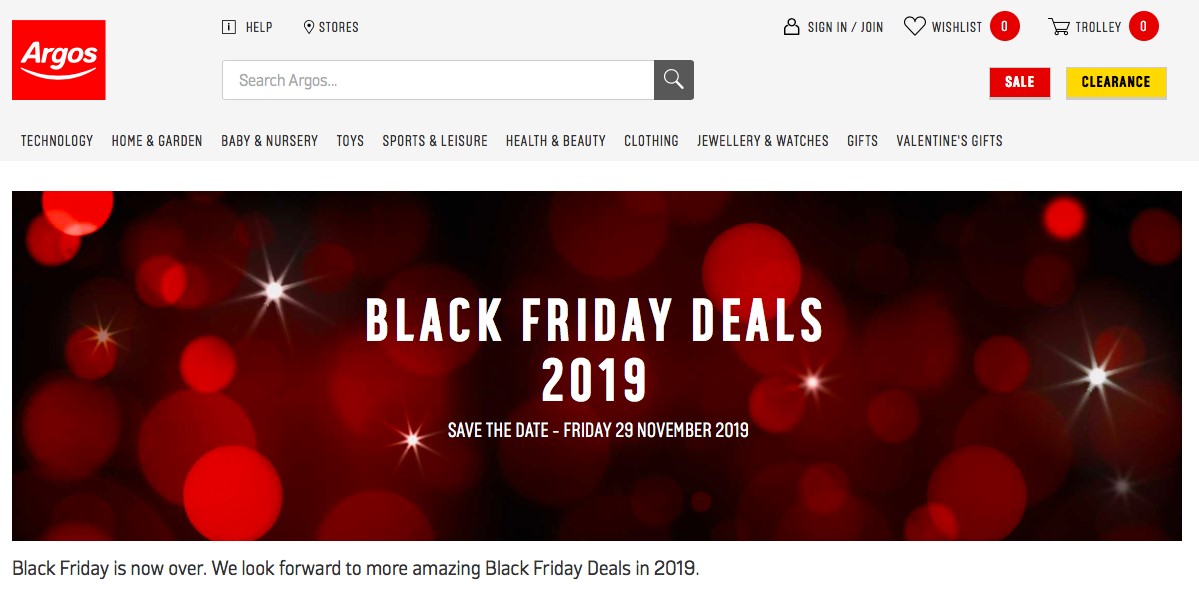 For smaller retailers, the answer is to find a niche where you can rank well around your target product terms, create useful content well in advance, and keep the page live and up to date.
Content strategy
Halloween is a great opportunity to use content which is both helpful and related to your products and services.
Here's a good example from Asda's site. It's a guide to pumpkin decoration, which contains useful ideas and tips, and also links back to Asda's site where you can buy the pumpkins, carving tools, and anything else you need.
It's a common search theme at this time of year, and this kind of content helps customers with ideas and improves SEO all at once.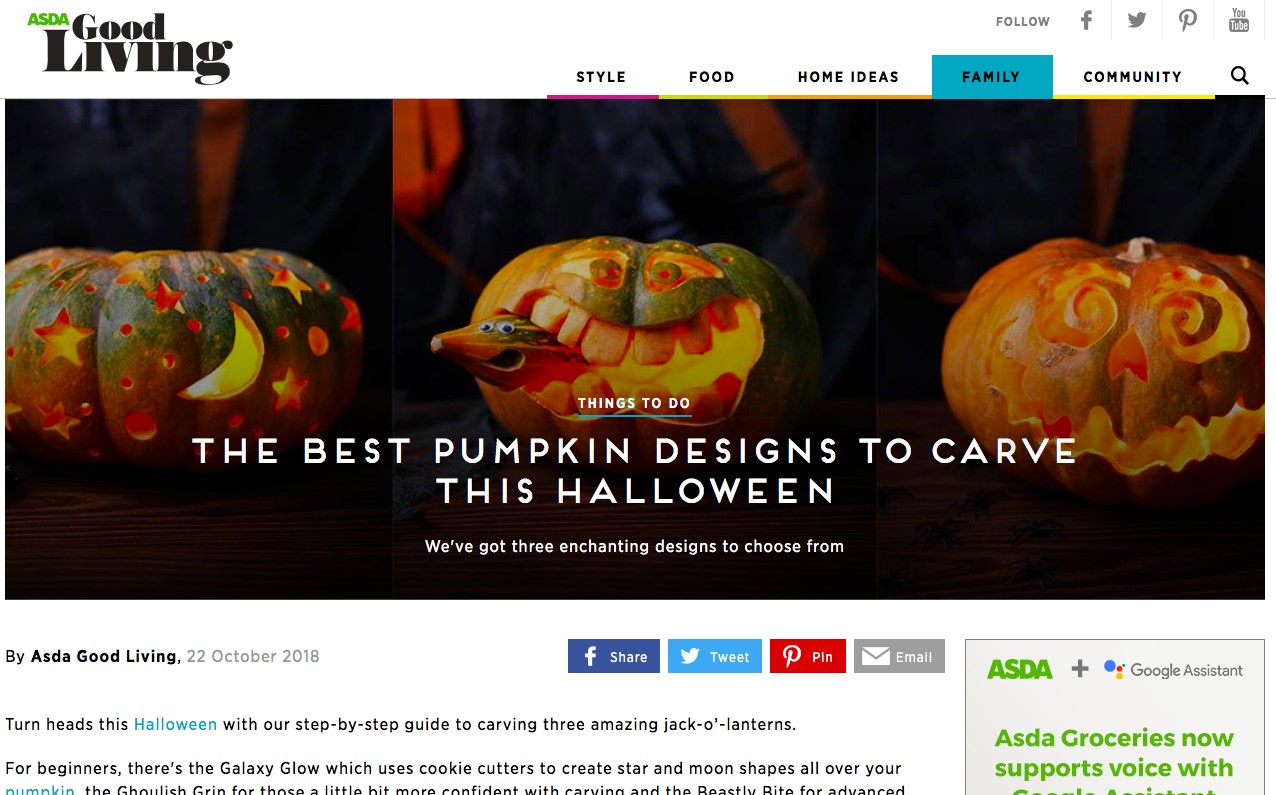 Social media 
Halloween is a time to have fun, and social media is a great place to do this. It can be as simple as spooky logos or images, or perhaps themed competitions.
For example, Bio Fires have been running a Halloween themed photo competition across their social media channels for the last three years: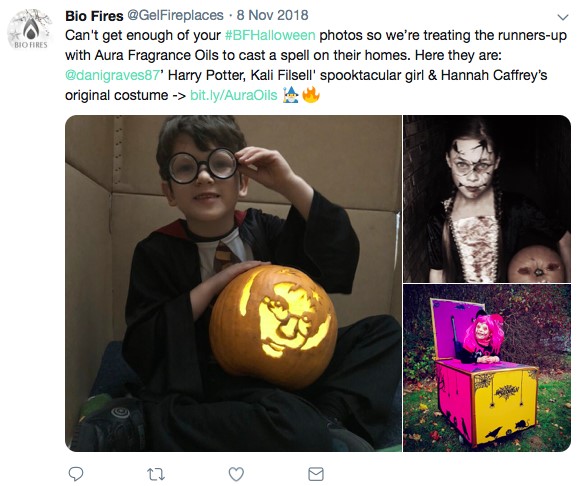 Email marketing 
Email marketing around Black Friday can be a challenge, as there are simply so many marketing emails being sent during this period, which makes it much harder to grab your customers' attention.
One effect is that it makes subject lines all the more important, as they need to grab the recipient's attention in busy inboxes.
A good Black Friday subject line should:
Be easy to read.
Able to be understood at a glance.
Fit the brand.
Provide a compelling reason for people to open the email.
As Omnisend stats show, retailers shouldn't necessarily wait until the day before sending Black Friday marketing emails.
Open rates and click rates peaked on the Wednesday before Black Friday 2018, and dipped on the Friday and following days. It can pay to get in early and grab your customers' attention.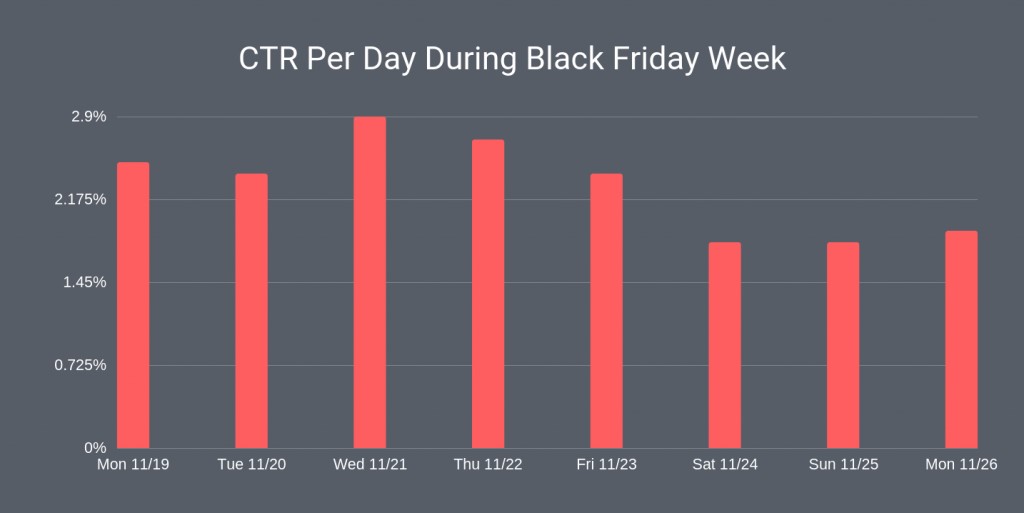 With Black Friday being a time-limited promotion, people can use this to make emails more persuasive.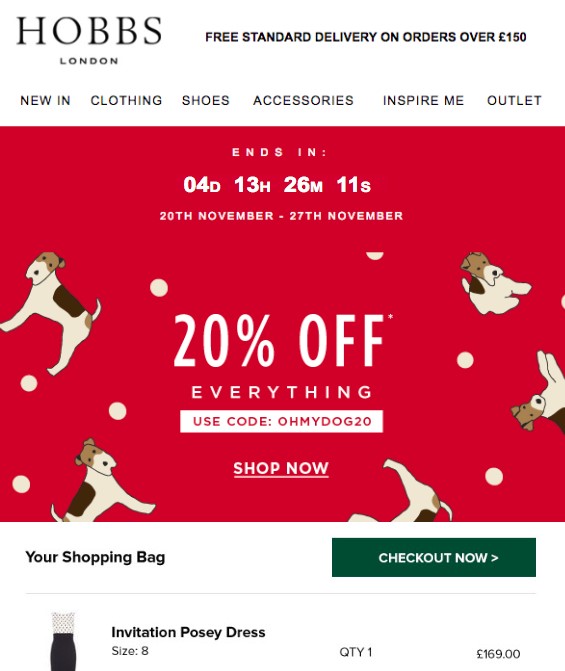 Here, Hobbs uses a countdown timer in its emails which show how long customers have left before the 20% off sale ends. When used appropriately, and sparingly, this kind of urgency messaging can be very effective.
Autumn opens up opportunities for online retailers to use the popular upcoming events and holidays, like Black Friday, Halloween, and Christmas, to reach more customers and increase sales. You can find out how to run other great marketing campaigns around Bank Holidays here and Winter here.