With 3.5 billion searches every single day, it's probably safe to assume that we're all pretty familiar with the layout of Google's search engine results pages. As well as organic results, we're presented with a selection of adverts as well. While advertising is usually pretty annoying, in this case, it can actually be very helpful.
If you take the query 'cat toys' for example, as well as your usual organic search results (Pets at Home), you're also presented with a number of other alternatives through advertising. This is genuinely helpful to the user because it allows them to browse products and compare prices quickly and easily as well as come across alternative sites they otherwise wouldn't have known about.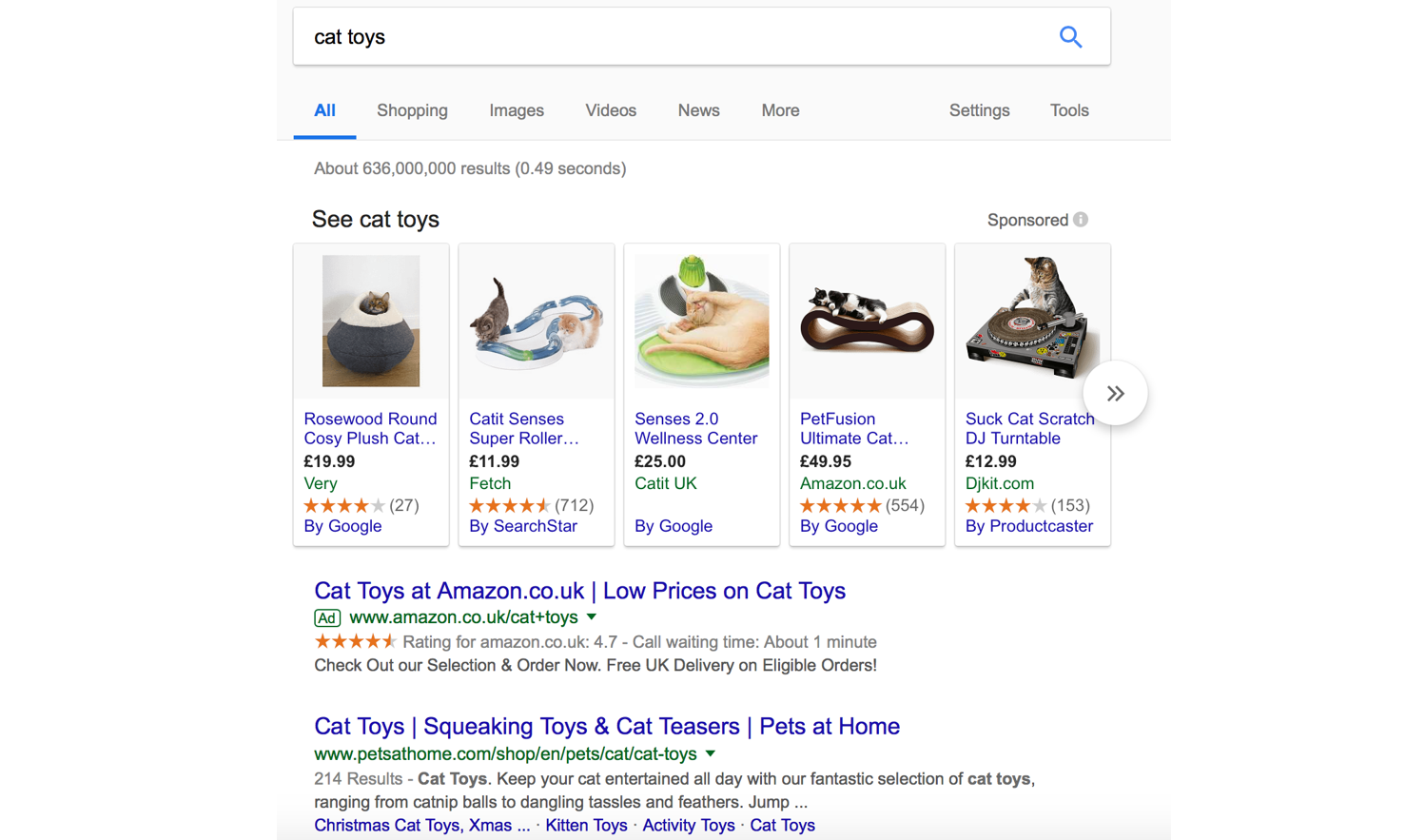 Google Ads don't just provide benefits to its users, however. If you're an SME owner, they can prove very advantageous to you as well but we will go into more detail about this later. The first step is learning how to write great ads that are going to capture people's attention, get high click-through rates and best of all, make you money.
How to write great Ads
If you're using Google Ads to advertise online, you're competing against thousands of others all bidding on the same keyword as you. So how do you get those clicks and send traffic to your landing pages?
Writing your ad
Text adverts on Google Ads allow you to create 3 headlines (shown in the blue text below) and 2 descriptions. Headline 1, which appears at the top of your advert, should be no longer than 30 characters and needs to attract the attention of your readers and be relevant to their search.
Headline 2 and 3 are separated from each other by a pipe symbol "|" and each can also contain up to 30 characters. It's important to note that headline 2 may wrap to the second line of your ad on mobile, and headline 3 may not always show. Include your most important ad copy in headline 1 and 2. As a rough guide, your headlines should tell people about the benefits of your product/service and what makes you unique.
Below the headlines you have the display URL, it's important to note here that this doesn't have to match the destination URL (where the user will go if they click) but try to include relevant keywords to help increase the relevancy of your ad. Below this you can add 2 description lines, which can be up to 90 characters each. Use this area to outline further benefits and give your readers an incentive to click.
Here's an example from Google showing the structure of the text ad as outlined above:

The ad below from Argos is a great example of how an ad should be written. The headline grabs your attention because TVs are expensive and being able to spread the cost will appeal to a lot of people. There are a lot of benefits mentioned (buy now, pay later, great deals, same day delivery, low prices and free click & collect) so it's giving people lots of good reasons to click on the ad.

Write different variations
The most effective way to get better at writing your ads is to practice. Try using trial and error by publishing different variations of your ad to see which gets the most clicks.
In your first ad, write it in a style that makes it very clear to the reader what's in it for them. Discuss the value of your product/service and the outcome of using it. Don't forget to include your keyword in the headline and add a call to action in the second description line.
In the second variation of your ad, focus more on the services your business provides. Your offering should be very clear and you should also emphasise the solution you're offering. Say you're an accountant, for example, this is a great time of year to promote the fact that you can help with tax returns. Your selling points are the fact that you take away the hassle for business owners, free up their time and because you're an expert in this field, you will no doubt be able to reduce their tax bill.
Use your final ad to get creative with clever headlines and interesting copy in the description lines. Remember to run several different variations of your ads for every single product or service you're offering. An accountant, for example, should run separate ads for VAT services, tax returns, payroll, audit, bookkeeping and any other services they offer.
Once your ads are live, you can start testing them to see which message reaches your target audience in the best way possible. 
What's your customers' end goal?
If you really want your ads to stand out and get clicks, always write them with your customers' end goal in mind. The end goal is what people ultimately want to accomplish with the help of your product or service.
Say for example you're a personal trainer based in Windsor, Berkshire. Your headline shouldn't ask prospects questions such as 'do you want to lose weight?' or 'do you want to get in shape?'. You already know the answer to this question because they're searching for a personal trainer. Instead, focus on offering them a solution to their end goal.
If you search for personal trainers in Windsor, UK you're presented with the following ads: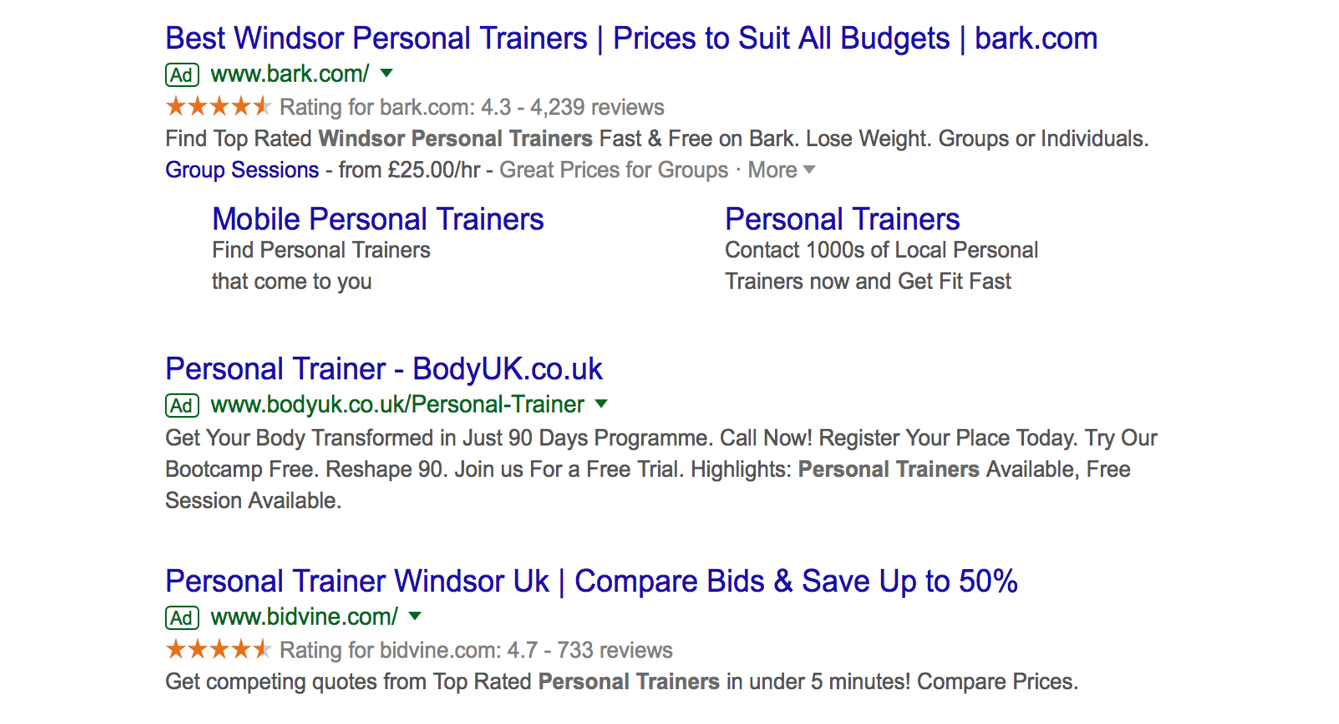 The second ad is the only one that really gives you an end goal – 'get your body transformed in just 90 days.' This is far more likely to appeal to readers because they can start to envisage looking great in just 90 days. 
Use countdown triggers
Did you know that we're more readily motivated by the idea of losing out than we are by the idea of gaining something? Commonly known as loss aversion, this is an incredibly powerful way of boosting your Ads click-through and conversion rates.
The great news is that this is a really simple tactic to implement in your ads as well. Simply run a promotion and state the end date or if you're running a promotion with products, say that it's only available until stocks last. Because people don't know how popular it is, they will panic and they're more likely to act quickly.
The example below from Feel Unique isn't an Ad but it gives you a good idea of the type of thing that really instills FOMO in people. It seems like a great deal and the terms and conditions state it's only available while stocks last so people are forced to act now.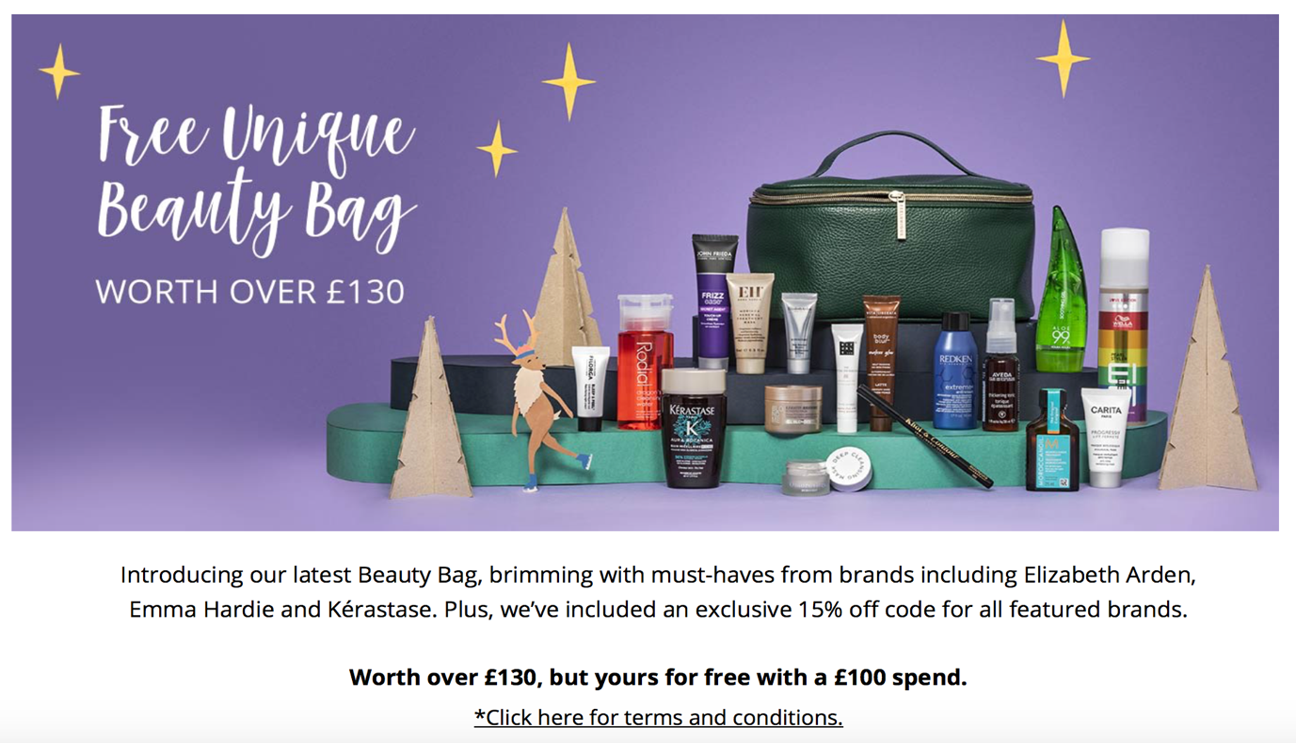 Google also has a countdown timer you can set within your text ads. You set the end date and your ad will include a countdown in real time. Anyone who then sees your ads will be motivated by the fear of loss which will give you a real edge over your competitors.
The benefits of writing effective ads
If you're not sure whether you should be running an Google Ads campaign, below are just a few of the benefits it can offer your business.
It works faster than SEO
If you're looking for a quick way to drive traffic to your website and improve rankings, Ads is the way to do it. An effective ad campaign allows you to focus on multiple keywords at the same time and you can appear at the top of Google's search engine results pages to get immediate visibility. Moving your way up SERPs organically can, however, take a very long time.
This doesn't mean that you should ignore organic sources, however – Google Ads should be used in conjunction with them.
Increases brand awareness
In addition to boosting traffic, clicks and conversions, Ads is also a great way to tell people about your brand. When it comes to SEO, a well-managed Google Ads campaign will raise awareness of your brand which can increase the number of branded searches you receive.
You can measure performance
Typically, it's quite challenging to measure the success of your marketing campaigns and you have no way of knowing the source of leads coming through unless customers choose to share this information with you. With Google Ads however, you know:
Who clicked on your ad
How many leads have been generated as a result of your campaign
How much traffic specific ads sent to your website
Which keywords generated the most traffic and leads
Cost per lead
This provides you with a valuable insight into what works and what doesn't so you can tweak your campaigns accordingly. You will also be able to work out your ROI quickly and easily.
Once you're up and running with your Ads, don't forget to measure the success of your campaigns on a regular basis. Here's some great advice on how to track the performance of your paid advertising. You can also find step-by-step help on setting up a Google Ads campaign in our ultimate online guide here.