Social media is a very valuable tool for small businesses. It's a place to share your content, grow brand awareness and, most importantly, engage with your customers. However, as a small business owner, your social media strategy may sometimes take a back seat as you focus on running your business. Fear not! This is where social media management tools come in handy. They help you manage and monitor all your social media channels from one place, letting you send and schedule tweets, set up alerts for when someone mentions your business, and get stats on how well social media is working for you. One of the most popular platforms is Hootsuite (which offers a lot for free), and while it is easy to use, as a beginner you might not know where to start. That's why we've made this beginner's guide to show you how to get started – read on and get your social media under control.
Get set up
If you're not signed up to Hootsuite, you can create a free account quickly and easily. Just head over to Hootsuite and select the 'Get Started – Free' button where you'll be prompted to fill in a few details and connect your social accounts. The main menu you'll use can be found down the right-hand side and includes the areas we're going to guide you through below.
If you then need to add additional social media networks in the future just click on your profile picture in the top left hand corner and select 'Add a Social Network'.

Schedule social media posts
If you can dedicate some time once a week, or even month, it could be useful to write most of your social media posts in advance, this way you can relax a little knowing that there will be a constant stream of content appearing on your channels. Saying this, don't be afraid to add some additional posts when you can, perhaps when something relevant comes up in the news or you've got some exciting company news to share. While scheduling in advance often saves time, don't become entirely reliant on pre-planned posts – social media should be spontaneous and things are changing all the time.
You should see a compose message bar right at the top of the page – this is where you can compose and either send or schedule your social media content. By clicking on this you'll be able to select what social media channel you wish to post from on the left-hand side and you can place your text into the box. From here you can also:
Add links using the 'Add a Link' box at the bottom of the text area.
Add a photo by clicking on the paperclip icon and uploading.
Mention other users by tagging them using the @ symbol; a list of suggested names will appear so you can choose the account you'd like to mention.
Add location on Twitter and Google + accounts by clicking the 'geotag icon'.
Save your message as a draft by clicking the save button.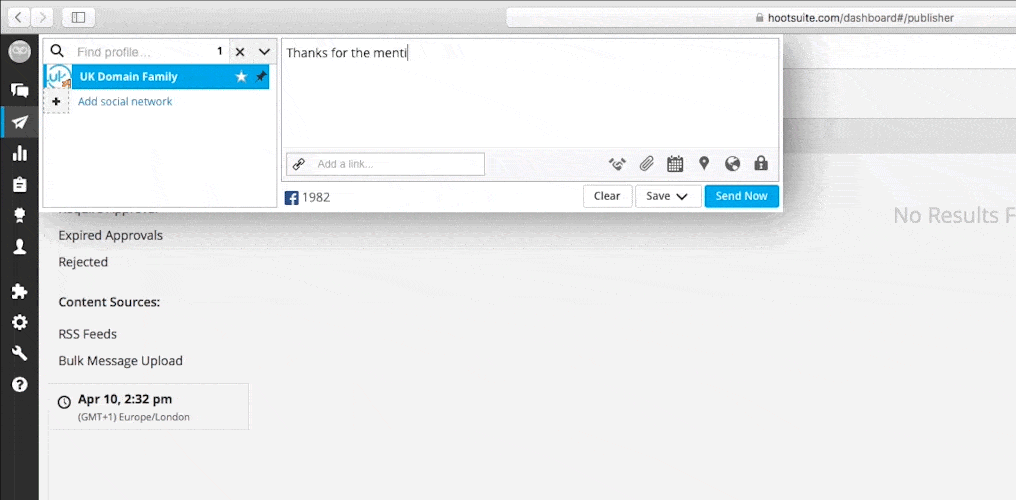 To schedule a post, enter your content then click on the calendar icon and select the date and time you wish to post. You can even receive email notifications when your content has been posted by ticking the box underneath the time. Once you're happy you can go ahead and click the schedule button.
What's AutoSchedule?  Instead of choosing when you'd like your post to appear, Hootsuite can choose an optimal time for the post to be sent. Hootsuite determines when this is based on your activity and your follower's activity so you'll need to give it some time to collect your history before you can utilise this tool.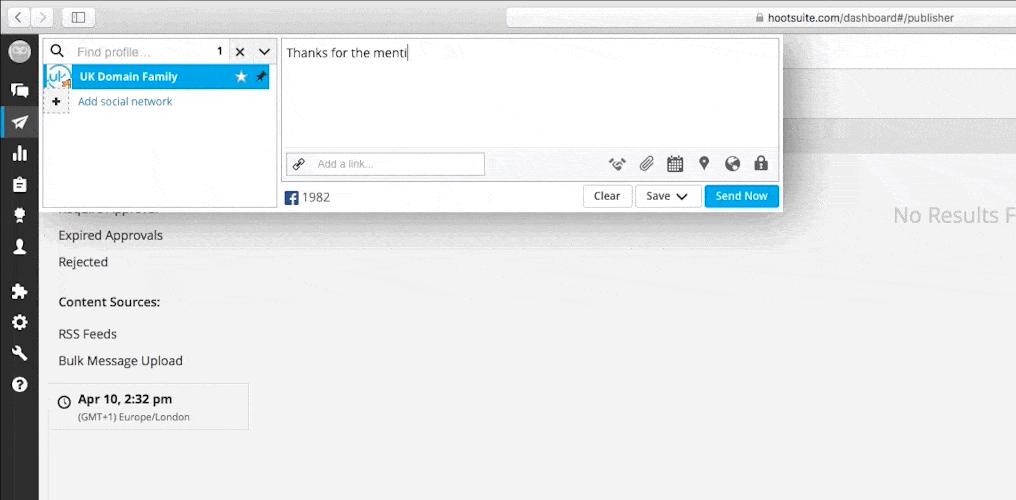 You'll find all your scheduled content under the publishing tab (arrow icon). And, don't worry, if you want to change your content once it's been scheduled you can do so by hovering your mouse over the message and clicking the pencil icon. And, if you want to delete a post that hasn't been posted yet you can hover your mouse over the message and click the cross icon.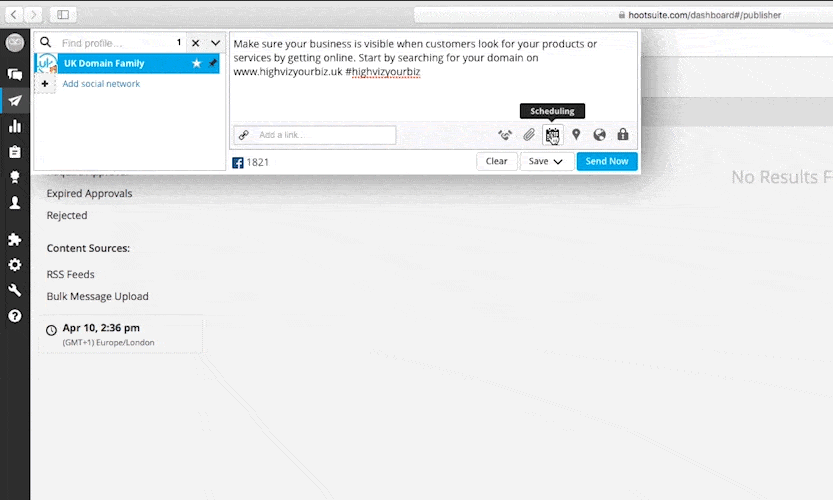 See your activity
Hootsuite's streams are where you can monitor all your social media activity in one place, including your posts, mentions, activity and messages. By refreshing these regularly you'll find it easier to see what people are saying about you and you can take advantage of being able to reply or share any posts quickly. To set up your streams, click on the 'speech bubble' icon on the left-hand side menu and select the 'engage with your audience' option. Hootsuite will now guide you through adding your social media accounts.
You can engage with posts via the platform too, in much the same way you would on the actual social platforms. For example, Facebook posts within streams will show the like, comment and share icons and allow you to write a comment.
You can also add another stream by clicking the small + icon underneath the top bar. Here you can choose the 'expand your audience' option where you can monitor any keywords, phrases or hashtags that your potential customers might use. For example, if you run a bakery business you might want to monitor 'birthday cake' and '#baking' for example. Just enter your suggestions into the text box and connect your Twitter or Instagram channel.

Create reports
Hootsuite can also generate some useful reports quickly and you can even create your own custom reports if you know what data you want to see. Seeing what posts and times received the best response can help you create more popular content in the future and better engage with your fans. It's a good idea to keep an eye on your essential statistics too such as followers, likes and engagement so you know if something dramatically changes.
You can find reports in Hootsuite by clicking on the graph icon in the left-hand side menu. Here you can access 'pre-made' reports for a brief overview of your Facebook, Twitter and LinkedIn profiles. If you wanted to build your own report click on the 'Build Custom Report' button – here, you can choose from templates or start from scratch by adding report modules. The best thing here is to go in and have a look at the different analytics you would find most useful for your business, some key ones to consider are:
Summary of Social Media Platform: To monitor followers, page likes etc. It's best to set this up for each of your accounts.
Retweets: See what tweets are receiving the best engagement.
Facebook Likes by Demographics: Who is liking your page (gender, age range etc.)
Facebook Per Post Metrics: See what posts are receiving the best engagement.
Google Analytics Site Visitors Overview: See your website visitors within the same report for a direct comparison with any social advertising etc.
Google Analytics Traffic Sources: See where your website traffic is coming from including social media.
Google Analytics Top Content: See what content is performing best of your website – are you sharing this on social?
You can select different date ranges, which is useful if you want to do monthly comparisons or see your social activity during a campaign. You'll also find options to save and print your reports in the top bar.

Use other features
As you begin to utilise Hootsuite and once you've become more confident you'll be able to take advantage of the other features the platform offers. You may even find that you'd like to invest in upgrading your platform to have access to the paid features. For example, if you have employees who you'd like to be able to respond to social activity you can set up organisations and assign messages or posts to team members. Or perhaps you can grow and engage your audience by utilising the campaign feature to run some social media contests.
As with any new software, the best first step is to get yourself set up with an account and have a go. Using this guide, why not get used to the functions by scheduling some test posts and responding to comments using Hootsuite rather than directly on the social media platform? Don't worry if you've still got some questions, Hootsuite have created a helpful dashboard.