When it comes to reaching your customers, your marketing may have centred around a nicely designed website, a social media strategy, a blogging calendar and some paid advertising.
This is all great stuff, but how much thought have you given to making your customers feel at home on your site?
Given that website users of today expect a personalised experience online (74% of customers feel frustrated when website content is not personalised), there are tangible reasons why your business should invest in some level of tailored user journey. If you don't, you run the risk of:
Increased bounce rate (customers landing on your site and leaving again quickly)
Lower conversion rate (customers getting so far on your site, but not taking any meaningful action)
Customers making a conversion, but with such a bad user experience that they never return
Given that just one negative experience on your website can be enough to alienate a customer forever, it's worth getting your user journey right.
Whether yours is an e-commerce site or a simple brochure website, whatever your budget or level of experience, there's a range of things you can do to personalise your user journey and make your customers feel at home.
In today's post we'll cover:
What we mean by personalising the user journey 
Brainstorming your customer personas 
Mining for data 
Testing the user journey
Streamlining the user journey
Tailoring content
Personalisation software 
Measurement 
What do we mean by personalising the user journey?
The user journey is simply the path your audience takes from the point at which they start researching online, through to finding you (via organic search, paid advertising, social media, email campaign and so on), navigating through your website, making a conversion (a purchase, a phone call, completing a sign-up form), to ultimately recommending you to others and becoming a loyal customer.
It includes all the bits in between, whether on desktop, mobile or tablet, from email notifications to social media updates to paid advertising.
Personalising this journey can mean as little as adding automatically personalised greetings into your email marketing ("Good morning Susan!"), through to creating landing pages tailored to specific customers throughout their entire purchasing cycle.
It might be worth thinking of it in three stages:
Stage 1: Content personalisation
Personalising your content is a good start to making your customers feel at home, and it's relatively simple to achieve.
You can begin by using persona profiling and basic data to determine your customers' online behaviours. This information can then be used to tailor your content across your marketing channels, from your website to your ad and email campaigns to your social media.
If you can, obtain basic data on your audience's browsing and purchasing behaviour and then adopt a strategy of real-time offers to help push them through the purchasing cycle.
For example, if your data shows that they are a regular browser but are yet to make a conversion (purchase/sign-up/download), then a real-time coupon or offer might tip them over the edge. For those who've already purchased from you, a loyalty voucher might encourage them to keep returning.
Stage 2: Offer personalisation
The next level of personalisation means using big data to gain a more detailed understanding of your individual audience behaviours. You then use this information to create targeted offers and incentives specifically for individual customers.
For example, you can use shopping and browsing histories to work out that a certain customer might be interested in widescreen TVs. You can then jump on this opportunity by creating real-time offers such as "free shipping on all widescreen TV orders", or "10% off widescreen TVs".
You may also be able to build up a picture of this shopper based on other behavioral and social listening software: they might be female, aged 18-35 and based in Oxford. You can then begin recommending items and offers geared towards that demographic.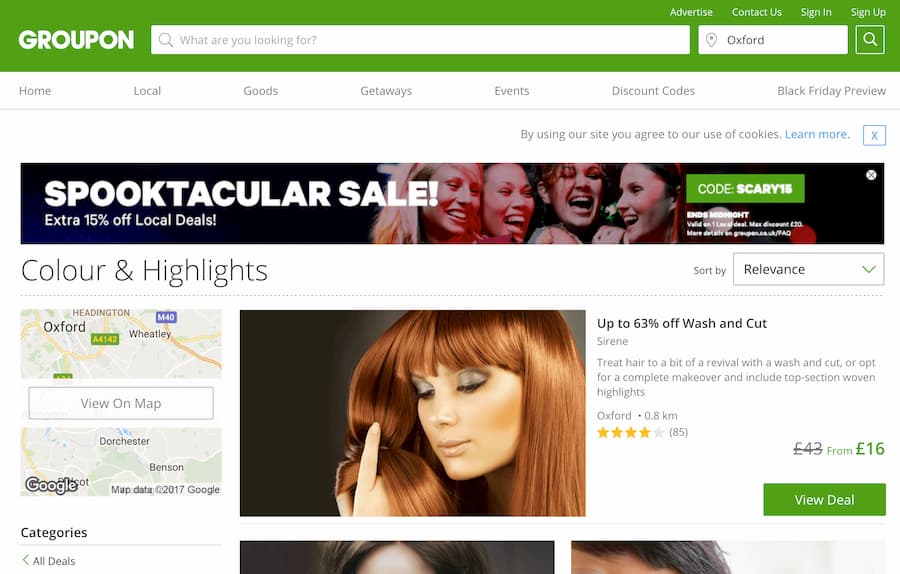 Stage 3: Navigational personalisation
The gold standard of personalisation comes when you bring together all your intelligence about your customers' browser behaviour and purchase history to tailor the whole user journey to speak directly to your individual customers.
You will have built up a detailed digital footprint for each customer based on their shopping histories, social activities, location, age and gender demographics, and general online behaviours. You will then be able to use recommendation software to make each page of their journey through your site unique to them, along with tailored email notifications and adverts.
Just look at Amazon – the don of navigational personalisation. Not only does it greet you personally each time you land on the Amazon site, but it recommends products for you, reminds you of items in your shopping cart, and alerts you to your latest purchases and items you've recently browsed.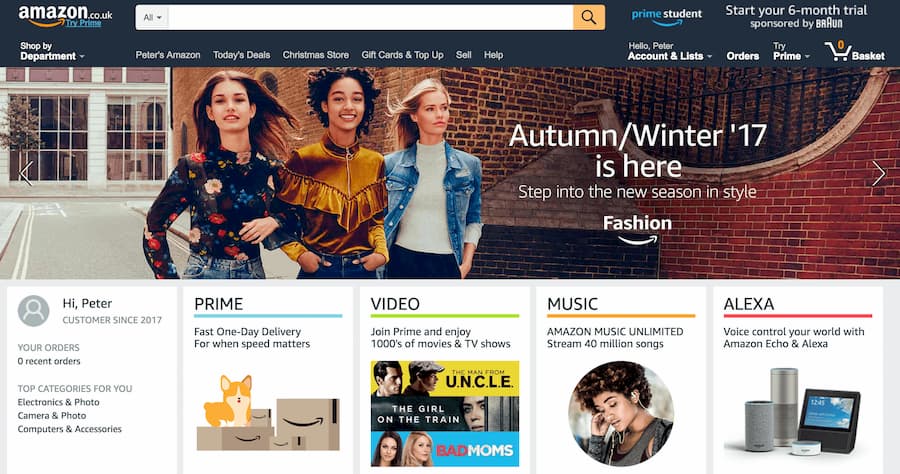 How to personalise your user journey (UX)
Now that we've looked at what personalised user journey (UX) means, and why it makes sense for businesses, it's worth knowing how to go about it. Here are some steps to follow, along with a toolkit to help you along your way. Don't forget, if you have a modest business and marketing strategy, then you can start with the basics and work your way up if and when you need to.
1. Brainstorm your customer personas
The first step to getting your UX right is always knowing your customer, and knowing them well. Start this by carving up your target audience into around five "buyer personas", and begin to develop each persona based on what you think they look like.
Make them as three-dimensional as possible by giving them a name and attaching an image. Then build up information about:
Their job: their company (industry, size, role in the company) and who they report to
Demographics: age, location, gender, salary, education, family
Hobbies: such as shopping, sport, reading, cinema, travelling
Online behaviours: blogs they read, social media preferences, forums, subscriptions and so on
Goals: what are they looking to achieve, personally and professionally?
Pain points: what are the main challenges they are facing?
Toolkit:
2. Start mining for data
Building on this, start to flesh out your personas using web and social analytics, as well as customer feedback. Look at keywords enquiries, device preferences, social media preferences and hobbies, and begin to build up a rounded understanding of your real customer demographics and online behaviours. You might want to take a look at:
Who they are:
New/returning visitors
Customers/browsers
Visitors' locations
What they're doing:
Visitors who did/didn't perform a site search
Visitors who did/did not look at product reviews
Toolkit:
Google Analytics/Google Tag Manager – set up goals to track conversions
Clicktale – works nicely alongside Analytics, letting you monitor data across the whole customer journey
Social Logins – if your site lends itself to membership logins, then set up Social Logins, which will allow you to access your visitors' social data
User ID tracking – to track your visitors' location
3. Test your user journey: become your customer
Now you know your audience, it's a good idea to take a trip through your website in their shoes. It's also worth bringing in other members of your team, as well as a couple of external testers to go through this process too.
Start by typing in your search enquiry into Google, and take the whole journey through to purchase completion, making a note of all the stumbling blocks along the way:
Search results – was the title tag what I was expecting, and did the meta description tempt me to click through?
What were my first impressions of the site's design and content?
How easy was it to find what I was looking for?
How straightforward was the checkout/sign-up/download process?
Was I given reassurance that my conversion had been successful via email/pop-up/thank you page?
What were the main stumbling blocks to making the process helpful?
Was there any unnecessary messaging or steps that didn't apply to me?
How friendly/personal/authentic was the journey?
Toolkit:
You and a team of internal and external testers
Use a spreadsheet to note down issues and stumbling blocks
4. Streamline the user journey
Now you've tested your user journey, you should have a list of areas where the journey could be improved. Perhaps you discovered areas where there were just too many clicks needed to get from one place to another, or perhaps your checkout process sent you round in circles.
Strip out those unnecessary navigational steps, and keep the journey as simple as possible. Particular areas to look at are:
Your navigation and menus – strip out any unnecessary menu items, and ensure that what should be in the nav is in the nav
Your checkout – make sure there are as few steps as possible, and that the customer knows where they are in the process
Messaging – strip out all the unnecessary calls-to-action and messages that overload or confuse your customer
5. Tailor your content
Once your user journey has been rationalised, it's time to focus on getting your content right, and personalising it where possible.
Appropriate and timely messaging can help both retain the almost-customer, and encourage them through the buyer funnel to complete an action.
For example, if your customer leaves the checkout process early, a carefully-crafted automated email might encourage them to go back and complete the transaction. In the same way, an indecisive browser might be tempted to take some action if a carefully placed call-to-action, or a pop-up customer service chat, urges them to click through.
Email personalisation is possibly the most simple and cost-effective way of personalising your user journey. Simply by personalising subject lines – which any email marketing software will help you with – increases opening rates by 26%.
Toolkit:
Mailchimp – or other email marketing software that you can integrate with e-commerce software, such as Shopify
Canva – and other similar design software to help you create your own calls-to-action
Pop-up chat plugins such as LiveChat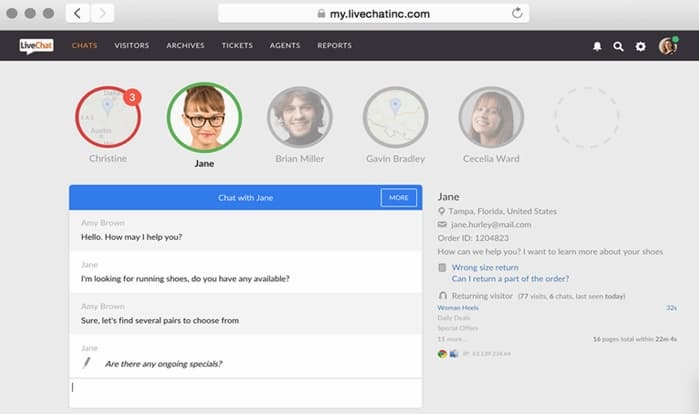 6. Set up personalisation software
Here's the tricky part: setting up the heavy-duty personalisation software. However, whereas in the past recommendation software was the domain of the big businesses, there are now many options out there for smaller business owners.
Recommendation software simply suggests products to your web visitors based on data gathered from their browsing histories.
Smart Insights identifies three areas of recommendation software and the tools you can use for each:
Personalisation integrated with web analytics
Personalisation Software as a Service (SaaS) for e-commerce
Personalisation as part of a CRM (commerce management) system
7. Measure and repeat
The key to getting your UX personalisation right is to know what's working and what's not. Before making any of the above changes, Google Analytics tracking should have been set up so that you can measure your successes and failures.
The great news is that with online marketing, nothing's ever set in stone. Marketing is a process of measuring, learning, refining and repeating.
Toolkit:
Google Analytics – measure goal conversions
Visual Website Optimizer (VWO) – a simple A/B testing tool to help you test what works and what doesn't work, and edit what doesn't – from headlines to design, from buttons to copy.
Kissmetrics – aims to help your customer retention, and lets you A/B test two separate page designs
Making your customers feel at home on your website is key to encouraging conversions and achieving consumer loyalty. Studies show that conversion rates increase dramatically when your marketing is personalised, whether this be a tailored email, an advert, or an all-out recommendation website.
Whatever your budget or expertise, you can start today by getting to know your audience. From there, you can begin to craft your website to speak directly to them and make them feel right at home.