Whether it's a doctor's appointment, a trip to the salon or that dreaded visit to the dentist, the vast majority of us will have received an appointment reminder notification at some point.
As well as being helpful to patients and customers, appointment reminders can also be hugely beneficial to businesses:
They reduce no-shows
It can be incredibly frustrating when a customer doesn't turn up for an appointment because aside from the inconvenience, it also means you've lost out on valuable opportunities.
The customer that didn't turn up should have been revenue, there's the customer that could have taken their place and there's the customer who could have been a returning client.
The most common reason for missed appointments is simply forgetting, which is easily done in today's day and age where we're all trying to juggle so much at once. A quick text or email reminder can dramatically reduce no-shows by as much as 90% which can make a huge difference to any organisation, especially an SME.
The email from Specsavers below is a great example of an appointment reminder notification that does everything it needs to do. It reminds the customer of the time and date of their appointment and where it is. It also gives you the option to add the appointment to your calendar so you can't forget about it as well as change or cancel your appointment if necessary.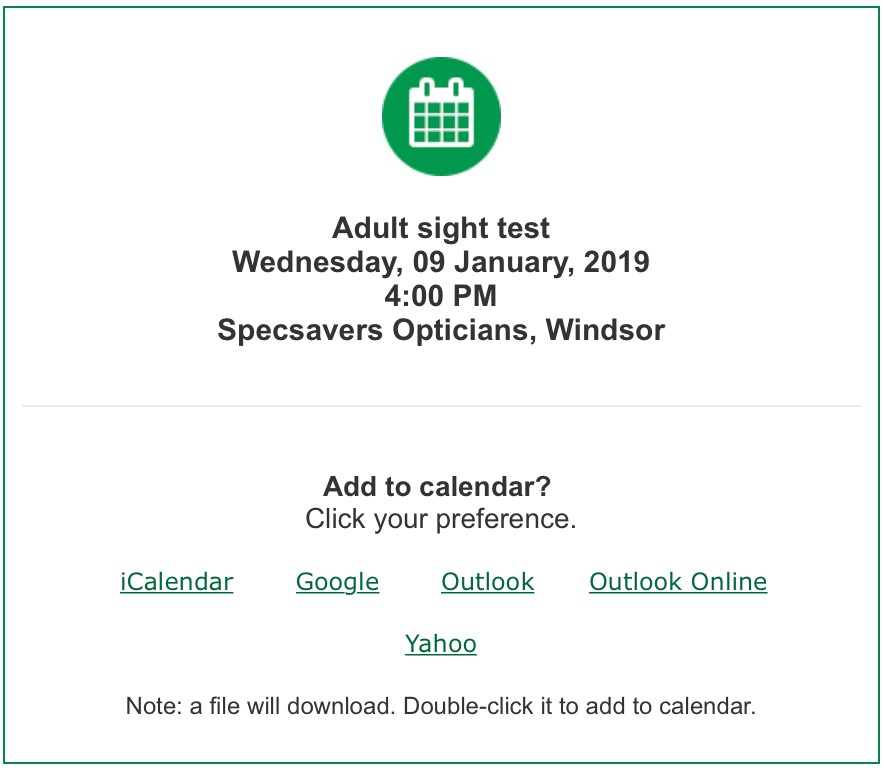 Clients appreciate them
When a customer genuinely forgets about an appointment, it can be frustrating for them as well. Most people appreciate the friendly reminder and it also gives them an opportunity to cancel or reschedule should they need to.
A study carried out by the American Congress of Rehabilitation Medicine analysed how effective text message appointment reminders were when being sent out to physical therapy outpatients. The no-show rate for the group which received an SMS two days before their appointment was 11% whereas 16% of those who didn't receive a reminder failed to turn up to their appointment. 
Saves time
Some companies prefer the old-fashioned approach of picking up the phone. While this can be a nice touch, it's also incredibly time consuming. Not only do you need to go through the arduous task of phoning every client with an upcoming appointment, chances are that they won't be able to answer during business hours anyway.
An automated text or email can be sent out to multiple recipients at the same time and people can read it at their earliest convenience.
What's the best appointment reminder software?
If customers failing to turn up for appointments is hurting your business, below are some of the best appointment reminder software options which are perfect for SMEs.
1. AppointmentPlus
AppointmentPlus is a cloud-based scheduling tool suitable for businesses of all sizes and industries. It offers configurable appointment setting tools, HIPAA-compliant appointment scheduling for patients and calendar management.
Customers who set up appointments using the software will receive email and text notifications to remind them of appointment times and dates. As a user, you will also receive notifications when customers create or modify appointments, make purchases or add themselves to a waiting list.
Pros
Automated text and email reminders reduce the number of no-shows.
Live support is provided through an online knowledge base.
Monthly and annual billing options are available depending on the needs of your business.
Fast implementation.
Both you and your customers can save time by using the online booking system.
You can even take payments online which can help to increase revenue.
Cons
It's one of the more expensive options so probably isn't suitable for those just starting out or if cash flow is a problem.
The software can take some time to get used to.
2. Shedul Software
Shedul is an all-round cloud-based appointment scheduling and business management software solution. It offers slot booking, calendar management, product management, service management and point of sale (POS) functionalities.
This software caters to the needs of hair and beauty salons, massage centers, spas and saunas, health clinics, gyms and personal trainers in particular.
Customers can book appointments online via the browser app or mobile app. It also allows users to send automated reminders or alerts to customers about appointments, events and offers. The activity dashboard allows users to keep track of the daily activities, such as booking dates, notifications and actions.
Pros
It's free which is fantastic for new or very small businesses who can't afford to pay for a booking or reminder system.
You can send automated reminders and custom messages to clients about appointments and notify them of any changes.
Customers can book, cancel and reschedule appointments online through your website, Facebook or online booking apps.
You can manage and improve client relationships with advanced software management features which include detailed client appointment history, booking preferences, future bookings and contact details.
The activity dashboard allows you to keep track of daily appointments, cancellations and client communications.
You can customise your reminders depending on the type of communication you want to send out, what you want to say and how far in advance you want to send it out.
Cons
The reviews about Schedul are largely very positive. The only downside is that it's tailored specifically to certain industries so may not be suitable for every business.
3. AppointmentCare
AppointmentCare caters to small and mid-size businesses across a wide range of industries including financial services, healthcare, legal services, salons, spas and many more. Its key features include automated scheduling, online booking, recurring appointments, room booking management and multi-location support.
This cloud-based software also helps users to customise their booking pages and add booking widgets directly onto their website.
Pros
Send appointment reminders to customers via text and/or email.
You can take advantage of the 30-day free trial before committing to anything.
Receive support via the phone, email or through the online FAQ section on their website.
Monthly subscription so you're not tied into a lengthy contract.
Helps you to reduce your costs by allowing customers to schedule, cancel, reschedule, or check their appointment time on their own 24/7/365.
You can gain a competitive advantage over your competitors by offering online appointment booking.
With regular customers, you can schedule a whole series of future appointments in a few easy clicks.
You can book multiple appointments in the same timeslot, at staggered start times or in any other way you need your appointments to overlap or double-book.
There's no software to install and getting started only takes a few minutes. Perfect for those who aren't great with technology.
All of your data is protected by industry-standard 128-bit SSL encryption and you can also benefit from reliable cloud-hosting with continuous back-ups to ensure the safety of your data.
Cons
Pay attention to the different subscription packages available – the most basic package doesn't include text or email reminders so if this is what you're after, you will have to go for the next level.
4. TimeTap
TimeTap is a cloud-based appointment scheduling solution that caters to SMEs across various industries such as consulting, counselling, health care, financial services and more.
As well as sending out helpful appointment reminders, TimeTap's client management module helps users to keep track of their clients' preferences, add notes to a specific client's profile and monitor the progress of individual appointments over time. Users can also send email summaries of appointment dates and times and create repeating appointments for specific clients.
Pros
Clear, timely emails allow you to confirm, remind, & follow-up on appointments.
You can offer customers the opportunity to join a waitlist when you're fully booked. This is a helpful feature to both customers and yourself because should someone cancel, you don't have to lose revenue as someone else can take their place.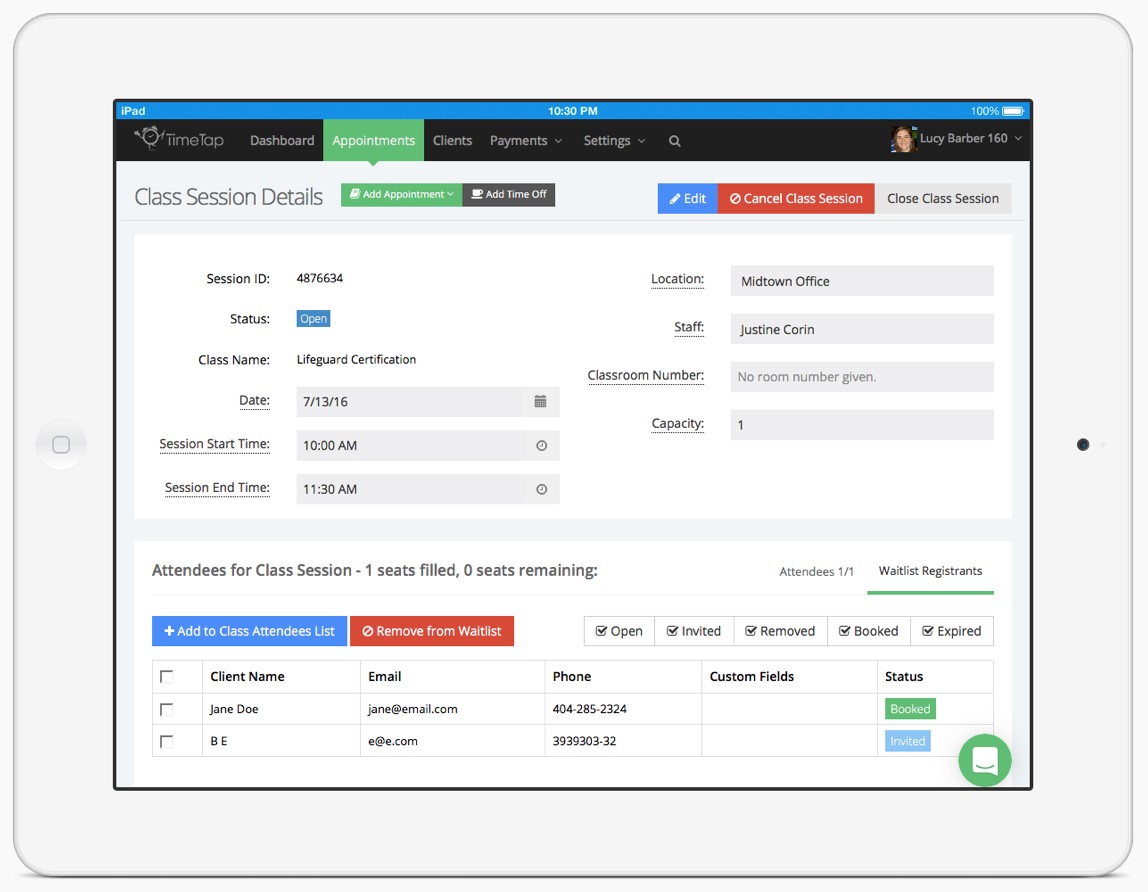 Waitlist members can receive automated communications updating them on appointment availability. Not only does this allow customers to take advantage of a newly opened slot, but it also saves you time because you don't have to call people trying to fill a cancelled appointment.
Healthcare and beauty industries often have to ensure customers have signed a waiver before they can carry out any treatments. If patients don't arrive with much time to spare, this can eat into their appointment time and affect your running time for the rest of the day. TimeTap allows you to send out these documents beforehand so all of this is completed before the appointment which means no more delays.
Each staff member you add to your account has a private booking page that they can customise and direct their individual clients to.
You can set recurring appointments for regular customers.
Room booking management prevents embarrassing mistakes as you never have to worry about double-booking a room again.
Cons
Some users say that TimeTap isn't the easiest software to set up and it can take a bit of time to navigate and learn how to use all the tools. Their support team is on hand to help over the phone or online, however, so any issues can be resolved quickly.
The time and cost needed to implement appointment reminder software may put many SMEs off doing it. Remember, however, sending appointment reminders is essential if you want to reduce the number of no-shows, get ahead of your competition, run your business more efficiently and save time and money in the long-run.
In today's hectic world, your customers are running busy lives and their time is scarce. Automatic reminders can, therefore, be the single most important thing you do to ensure you stay at the top of their to-do list.