As the end of another year draws to a close, this is often a time of reflection for small businesses.
If Zazzle Media's annual State of Content Marketing Survey is anything to go by, plenty of you had content marketing as a top priority in 2019 and according to the results, your efforts really paid off.
With almost half of all marketing budgets spent entirely on content, 66% of respondents said that they found this form of marketing to be extremely or very effective. Some of the benefits which were enjoyed included increased website traffic, improved SEO rankings, subscriber growth, a boost in brand recognition and more sales.
From videos and podcasts to content hubs, below I reveal the best content marketing examples from 2019 and, most importantly, what you can learn from them to shape your own content marketing strategy this 2020 and beyond.
1. Monzo – You Make Monzo, Monzo
It may have only been around since 2015 but Monzo has been making a splash in the banking world thanks to its fun and relatable content marketing campaigns.
Back in May, the online bank invested in its first major video campaign. As well as being shown on television, the video was also posted on YouTube and across its social media pages.
The impact on the brand was immediate with June being "by far," Monzo's biggest month for sign-ups. The campaign attracted 250,000 new customers to the company and increased brand awareness by 13 points. It's social media pages also received a massive boost thanks to the video being watched more than 12 million times across the brand's different channels.
Why was Monzo's video campaign so successful?
As far as content marketing examples go, this one really stands out. Monzo's video successfully promoted the brand while also highlighting features such as money management and tackling the perceived barriers to opening a digital bank account.
Throughout the video they present a number of relatable situations such as splitting the bill after a meal with friends. Something which can often be hassle and embarrassing to suggest, is easily solved with a Monzo account.
All this is done with a sense of humour which really helps to give the brand its own unique personality. Throughout 2019, Monzo has enjoyed growing success which no doubt has something to do with the way they portray themselves in their marketing campaigns. While banks are typically thought of as being boring, complicated, corporate and sometimes even untrustworthy, Monzo is pitching themselves as modern, fun, reliable and for the everyday customer.
What can your small business learn from Monzo's video campaign?
It's time to embrace video
Brands just like yours are reaping the benefits of video and the reason why they're doing so is because it's what customers want, and even expect, to see.
54% of consumers say they want to see more video content from the brands and businesses they support
Videos are consumers' favourite type of content to see from brands on social media
The average user spends 88% more time on websites with video
Where both video and text are available on the same page, 72% of people would rather use video to learn about a product or service
Viewers are 95% more likely to remember a call to action after watching a video, compared to just 10% when reading it in text
Tell people exactly what they can expect from you
One of the reasons this video went down so well with viewers is because it tells you exactly what you get with a Monzo account. Even better, it explains everything you need to know quickly and simply. From easy banking and quick sign-ups to customer support 24/7, no questions are left unanswered.
Don't be afraid to compete with bigger brands
Compared to the likes of Natwest, HSBC and Barclays, Monzo is a very new and small bank. As they proved however, you don't need the budget of a big international corporation to run successful content marketing campaigns.
2. Honda's Engine Room
One of the more unique content marketing examples comes from the car giant, Honda. The brand realised the importance of utilising paid, owned and earned media in 2019 and rather cleverly, decided to merge them all into one platform.
Now known as Honda Engine Room, current and potential customers can consume and share storytelling content. With pages full of helpful content and videos, readers can find anything from winter driving tips and understanding your car's warning lights to reviews and information about all of Honda's vehicles.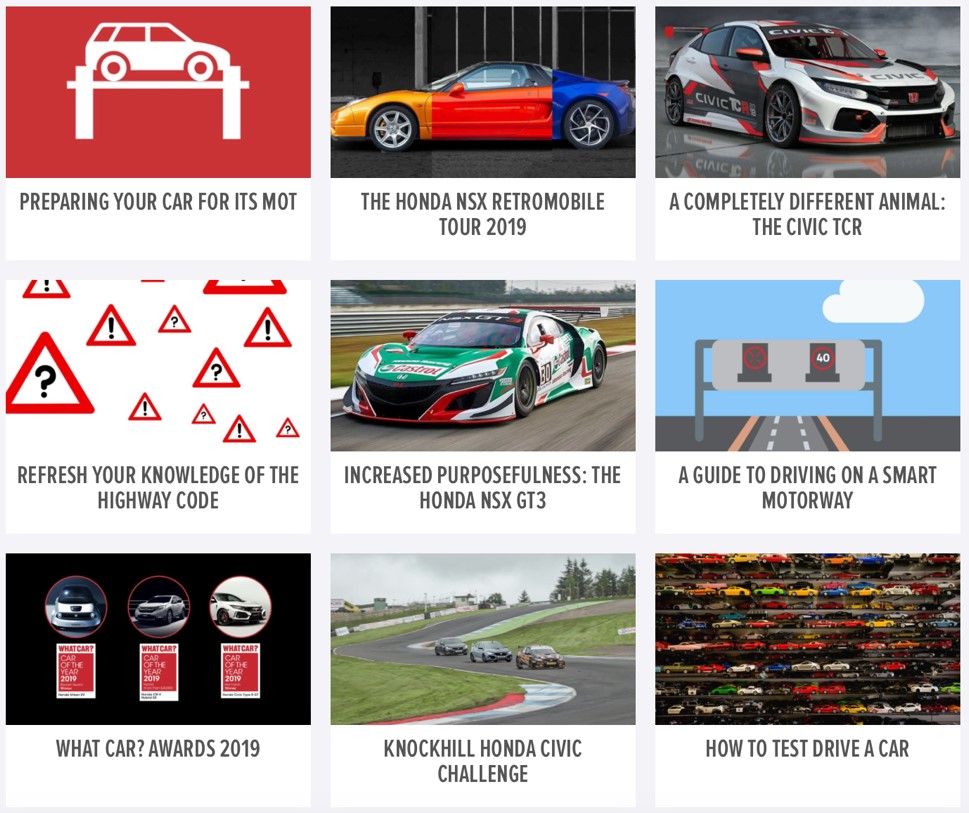 One of the best content marketing examples the brand has displayed is the approach they took with their campaign to market the Honda CR-V Hybrid. They turned consumers into brand advocates by creating a 'reader clinic' in partnership with What Car magazine.
Honda enthusiasts and drivers of SUVs were invited to test drive the CR-V Hybrid. 63% of those exposed to the campaign said they felt Honda was a leader in hybrid technology, while 53% took action afterwards, such as by making a booking with a dealer. All of the consumers who took part had a more positive opinion of Honda as a brand.
As well as this, it gave Honda great content to use across their website and social media platforms. Coming from real people with genuine experiences makes this type of content trustworthy and incredibly effective.

What's so great about Honda's Engine Room?
Honda has recognised that even in this perceived quick consumption world, long-form content still matters. By offering a mixture of videos, infographics and informative articles on their content hub, the brand has the opportunity to benefit in a number of ways:
They're offering something for everyone which means visitors are likely to stay on the site longer
They can increase the number and variety of keywords on their site which can help to boost search engine rankings
They're demonstrating that they're a leader in their field when it comes to providing quality information which is valuable and interesting. This boosts trust in the brand
Even though they're posting longer articles, they break them down into nice easy-to-read chunks
Photos, animated images, sections, bullet points, questions, headings and videos make the articles easy and engaging to consume
What can your small business learn from Honda?
If there's one thing Honda can teach us, it's that it's important to mix things up when it comes to your content marketing. Websites need variety, volume and value in order to rank for important search terms with most top-ranking websites incorporating blogs, videos, downloads and infographics.
Honda also proves that you shouldn't be afraid to use long-form content. After all, the longer someone's on your site, the more time you have for your brand message to get through.
Contrary to popular belief, well written and structured long-form content can actually give people the information they need quicker than a video can. When divided into concise paragraphs with clear headings and bullet points, readers can very quickly skim through and find exactly what they're looking for. In order to get to the part that's relevant to you in a video however, you have to watch the whole thing.
Last but not least, an important lesson we can learn from Honda is that you should be blending your video and written content together for better results. While search engines are incredibly clever, they still rely on written words to help them rank each piece of content. YouTube for example (which is owned by Google), likes at least 200 words explaining what each video is about. Without this, even the best videos can disappear into obscurity.
3. The Happy Place Podcast
Hosted by radio and television presenter, Fearne Cotton, the Happy Place podcast delves into the lives of the famous and non-famous to find out how they reach their happy place.
One of my favourite content marketing examples, Happy Place sees Fearne chatting to inspiring individuals who have either made a change in their own lives or who have helped others to find a different way of looking at life. She also draws on her own experiences and shares advice from experts on how to work through feeling blue and instead, managing to find joy in every day.
The podcast has hosted some big names including Ellie Goulding, Dawn French, Stephen Fry, Russell Brand, Dame Kelly Holmes, Jessica Ennis-Hill and Hillary and Chelsea Clinton.
Despite entering the charts for the first time more than a year ago now, Happy Place still regularly features in the top 10 podcast chart. It also won Podcast of the Year at the Female First Awards 2019, featured in Elle Magazine's 30 best podcasts of 2019 and is regularly mentioned in high profile publications including Stylist Magazine, The Independent and The Guardian.
What makes Happy Place successful?
The podcast series builds on the success of Fearne's top 10 bestseller, Happy. Because the book was such a hit, Fearne knew she was creating something that had already resonated with her audience.
Fearne is very open about the struggles she's experienced throughout her life. Because she's so honest, people find her very relatable and likeable. With the podcast featuring many different guests, it also means that it's highly likely that at some point it's going to feature someone that everybody likes. There's no doubt that whichever celebrity is on the episode will then go and tell all their social media followers to have a listen which is fantastic for publicity.
As well as all her guests promoting Happy Place, Fearne actively posts about it on her social media channels too. With more than seven million followers on Twitter alone, it's the perfect way to let people know that a new episode is out.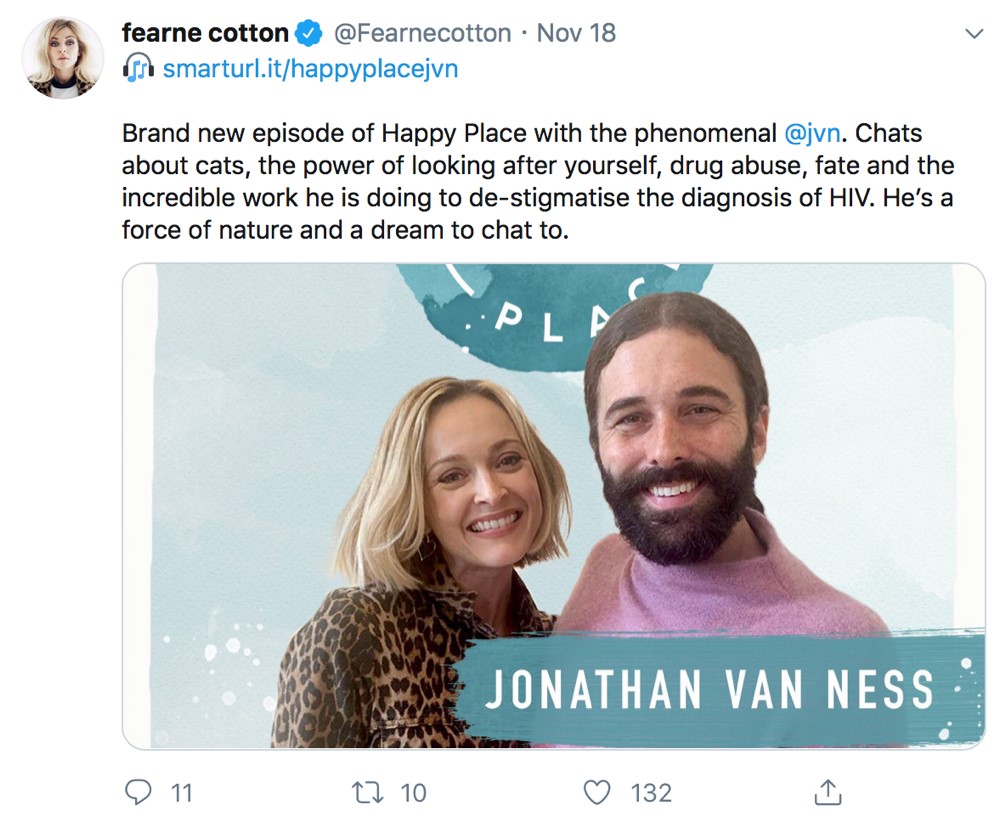 A huge benefit of podcasts like Happy Place is that this is a form of content which can be consumed anywhere. Whether someone's driving to work, sitting on the train, cooking dinner or relaxing on the sofa, they can tune in at any time.
What can your small business learn from the Happy Place podcast?
A valuable lesson your small business can learn here is that there's no need to reinvent the wheel. Find something your business is doing really well and build on this. Fearne's book was such a success she decided to expand on it with the podcast. She knew the interest was already there so there was every chance it would be well received. With a successful book and podcast under her belt, Fearne even went on to host her first Happy Place Festival in 2019.
As well as being one of my great content marketing examples from 2019, the Happy Place also highlights how important podcasts are becoming for businesses of all sizes. Around 7.1 million people in the UK now listen to podcasts each week – a figure which has more than doubled over the last five years.
With more people choosing to engage with this form of media, including podcasting as part of your marketing strategy can be incredibly powerful. By reaching out to people in a fun, engaging and informative manner, you have the opportunity to build a deep and meaningful relationship with your target audience.
If you're new to podcasting, take a look at some of these great articles:
I hope you've enjoyed reading about these top content marketing examples from 2019 and that they've given you some inspiration for the New Year. If you're feeling motivated to crack on with your content marketing in 2020, take a look at these great resources which can help you get started including six content marketing predictions for 2020, this guide to content marketing strategy for small businesses and this helpful content marketing strategy template.