Bing, with a 4.4% share of the UK search market, may be far behind Google, but it can still be a valuable source of search traffic for small businesses.
With some businesses not putting too much effort into optimisation for Bing (and by extension Yahoo), it can pay to give it some attention.
In this article, I'll look at how you can use Bing Webmaster Tools to track and improve your performance on the search engine.
What is Bing Webmaster Tools?
If you're familiar with Google Search Console, then Bing's Webmaster Tools is the equivalent set of free tools designed for Microsoft's search engines.
Essentially, any business with a website that ranks on Bing and wants to learn more about search performance can benefit from using Bing Webmaster Tools.
Bing will index your site whether or not you choose to sign up to the Webmaster Tools, but it can pay to learn more about site performance.
Bing Webmaster Tools allows you to view key insights into your search visibility so you can use the insights gained to improve search performance and therefore drive more sales and leads through Bing.
Broadly speaking, Bing Webmaster Tools allows you to:
Monitor the search performance of your website across Bing and Yahoo
Look at how both search engines crawl your site
Submit sitemaps and URLs to Webmaster Tools for indexing
Remove any content you don't want to be indexed
Monitor security issues such as malware
Test for mobile usability
Carry out keyword research
Microsoft updated Bing Webmaster Tools in February 2020, with more changes set to come. This means that, at the moment, some reports are in the new design while others are still in the 'classic' view.
How to set up Bing Webmaster Tools
Bing Webmaster Tools is free to use and easy to set up:
1. Sign in
You can do this using a Microsoft account or using an existing Facebook or Google login.
2. Add your website
Key in the URL of your site.

3. Verify your website
Next, you'll need to demonstrate ownership of your site so you can view the data and make changes within Bing Webmaster Tools. There are four verification options, which are explained in more detail here.
Import your site details from Google Search Console. If you've already been through the process of setting up a Google Search Console account, then this is a useful shortcut which helps you skip the verification process
Place an XML file on your server
Copy and paste a <meta> tag onto your webpage
Add CNAME record manually to DNS
4. Upload sitemaps
Bing has an explainer here, though if you're importing details from Google Search Console then any sitemaps you've uploaded there can be used.
5. Add users
You can add any extra users you need, as well as setting permissions and access levels.
Five of the most useful reports on Bing Webmaster Tools for small businesses
Once you've added and verified your site, it can take a little time to gather data from Bing Webmaster Tools.
You'll be able to see data on areas like links and search performance within a few days, but it will take longer before you'll have enough data to pick out and track trends in performance over time. The homepage on Bing Webmaster Tools contains a lot of report options.
There's a lot to go through here, so it can help to focus on a few useful reports to get the best value from Bing Webmaster Tools without having to learn to use every single report.
I've picked out five of the most useful reports, which should give you a good overview of site performance and useful ideas for SEO optimisation.
1. SEO reports
This tool points out pages in your site which may not be following SEO best practices and have some room for improvement.
This can help you to identify problems which may be affecting the way your site ranks on Bing and allows you to optimise your site for search by working through and fixing the issues shown.
The reports tool will point out issues such as missing ALT attributes for images, missing title tags, pages which are too large and so on. These are issues identified as potentially affecting Bing performance, but many will also affect Google rankings, so you can optimise for both search engines using this insight.

2. Inbound links 
This report shows the number of links to your site over time, which pages are linked to, as well as details of the linking sites and anchor text used.

This helps you see whether you are gaining or losing links over time, pieces of content that have been successful in terms of attracting links and key linking websites you could target with future content.
3. Search keywords
This provides a useful overview of how your target keywords are performing. You can see:
Clicks from search
Appeared in search: This shows search impressions, which is the number of times a page from your site appeared in Bing's search results
CTR (click-through rate): This is the number of clicks divided by the number of search appearances which shows how likely people are to click your results
Average click position: This shows the average position of the term shown
Average search appearance position: A general stat which shows how well your site is ranking. It's a useful metric, but it can be better to get a small number of target keywords in the top positions rather than achieve a great average position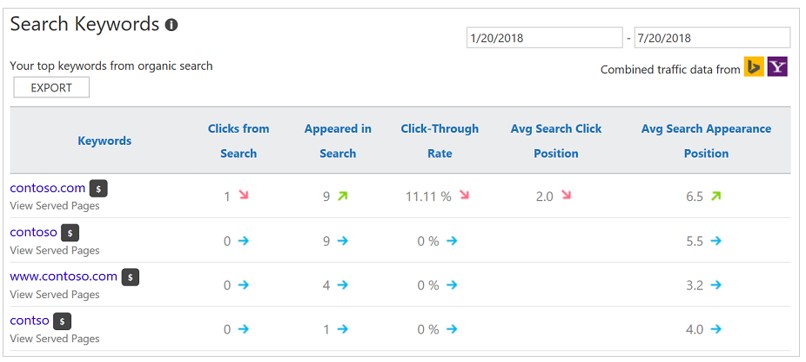 4. Keyword research 
This tool is something Google's Search Console doesn't offer and is very useful for SEO.
Basically, it allows you to input any keyword to view its search volumes on Bing. It will tell you how many searches there were for the keyword in the selected period to help pick out trends in popularity.
It will also suggest keywords related to the term you enter, which is very useful when looking for a range of keywords to target.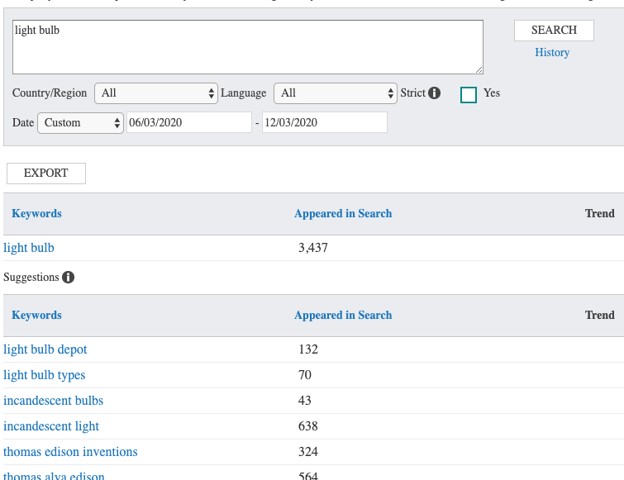 This is very useful when looking to target certain terms on Bing and is a handy tool for keyword research in general.
5. Mobile friendliness test
This tool allows you to submit a URL to see how well optimised for mobile it is, according to Bing's guidelines.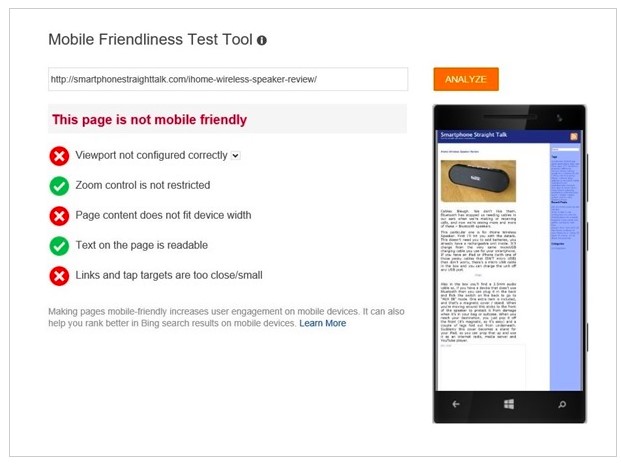 Bing will analyse the page and return with a verdict on whether or not the page is mobile friendly, pointing out areas where the page passes the test and where changes are needed.
The mobile friendliness factors are around user experience, such as content on the page being readable, and links being easy to click without errors. Bing explains the factors in more depth here.
Other reports and functions within Webmaster Tools
Beyond the five reports I've highlighted, Bing Webmaster Tools contains a lot of information for site owners, with some tools more suitable for advanced SEOs.
Here I've summarised some of the remaining reports and tools.
Configure my site
This section allows you to provide input to Bing that will help it to crawl, access and index your site. This is the place to submit sitemaps to provide Bing with more information on the structure of your website, which will help it to be crawled and indexed more effectively.
Indexing means the page in question has been visited by Bing's crawler (Bingbot) and its content analysed and stored in Bing's index. Indexed pages can then be shown in search results.
Sitemaps: Under sitemaps, you can check if there are any failed sitemap submissions which you need to investigate and check for issues with the structure of your sitemaps. You can also see when Bing last crawled the sitemap. If you've updated it since the last crawl you may need to resubmit it. You can also check whether Bing is crawling the right number of URLs on your site

Submit URLs: This section enables you to submit webpages straight to Bing for indexing and can speed up the process. This tool is limited to 10 URLs per day, and to 50 in a month

Ignore URLs parameter: This is a way to tell Bing not to index variables within URLs which don't affect the content of the site. This may be session IDs for example. There are more details on URL parameters here
Crawl control: Allows you to adjust the regularity, speed and times that Bing crawls your site. This is not necessary in most cases
Deep links: Are the links that will often appear underneath brand searches. This tool allows you to block specific URLs from becoming deep links. You can't control which links Bing chooses to show, but this does allow you to block the ones you don't want
Block URLs: In a similar way, you can stop individual pages from appearing in search results
Disavow links: An advanced SEO feature which allows you to tell Bing to ignore links. These may be lower quality backlinks which could potentially affect your site's search ranking. As with Google's tool of the same name, it should be used with caution
Geo-Targeting: Allows you to tell Bing more about the intended geographic audience of your website by linking it with your target country. This can be set at the domain level (the whole website), or you can target sub-domains and even specific pages to a particular territory
Connected pages: Allows you to associate your site with your various social media accounts
Reports and data
This section contains the main reporting tools that allow you to monitor your site's performance on Bing.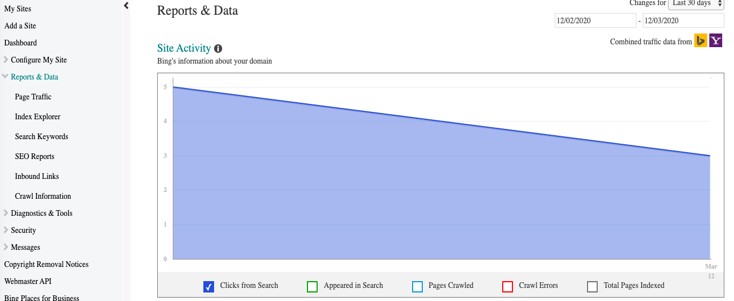 Page traffic: Allows you to view your top pages from organic search in terms of impressions and clicks
Index explorer: Shows you exactly how Bing sees your website, showing all the URLs it has recognised. There's a lot of detail here, so you can see the number of URLs indexed, how often they appear in search results, as well as number of clicks and links
Crawl information: Shows you the pages Bing last crawled and any issues encountered. It will show a status code for each page, making it a good first place to check why specific pages aren't showing in search results
Diagnostics and tools
This section is there to help users identify and correct issues which may be affecting search performance.
Fetch as Bingbot and verify Bingbot: Two options which allow you to see how your pages appear to Bing and to verify that traffic you see is from Bingbot
Markup validator: Tells you if your structured markup data is being read by Bing correctly
SEO analyzer: Allows you to scan individual URLs from your site, analysing pages for search performance and pointing out room for improvement, such as missing H1 tags or image ALT attributes

Site move: A more advanced feature that allows you to tell Bing if you're moving your website to a new domain
In summary
There's a lot going on in Bing Webmaster Tools and in truth it's probably not necessary for most site owners to know all of it. While I've tried to cover the most useful reports and features in this article, it's not an extensive list of everything you can find within the tool. 
On a regular basis, it can be enough to check some of the key reports here, to see how well your site is performing in search results, view key details like inbound links and use tools to optimise performance in Bing's search results.
For small businesses, I'd recommend getting to know some of the key reports, and to take advantage of some of the key, and most relevant, tools, such as keyword research and the SEO analyzer.