If you're at all serious about using your content as an SEO and marketing tool, you'll soon learn that you need two things to make it work well:
Consistency and a good content marketing strategy.
And these two things don't happen by accident. It takes planning and thought – and the perseverance and dedication to stick to a plan once you've made it.
So to make things easier, most content producers use an editorial content calendar as part of their strategy to help plan and track content creation.
It's a fancy name for something that's really quite simple: a scheduled plan for the months ahead that outlines your intended blog posts and the information your team needs to publish them.
But if you've never made a content calendar before, it might sound like a lot of extra work.
So to show you that it's not, I used this article as an excuse to revisit my own content calendar.
In fact, I decided to start from scratch and build it all over again – so you can see exactly how it's done.
You can skip straight to downloading the Excel template here. Or you can read on to see how you can build your own.
But first, let's have a quick look at why you'd want one at all:
Why you need a content calendar
Some businesses can keep a blog afloat without any particular plan in place.
And if that works for you, that's great.
But in reality, your company blog won't be a top priority on a day-to-day basis. You've got a hundred other important things to focus on if you want your business to grow and succeed.
With a shareable editorial content calendar, you'll be able to:
Confidently pass the responsibility of managing the blog to your team – while still being able to keep an eye on their progress
Stay far, far ahead of your publishing schedule – no last-minute rushed ideas, no empty months, and no running out of new posts
Get an overall view of your entire blog and its future – ensuring a good balance of posts across your different content categories, as well as spotting any posts that are falling behind the schedule
Capitalise on timely posts related to recognised dates and events throughout the year – because once those dates have passed, you'll have to wait a whole year to make the most of them again.
What does a good content calendar look like?
There are loads of different ways to approach the construction of a content calendar.
But there are also a few basic requirements that every calendar needs.
So whatever format you choose, you'll need a content calendar that's:
Shareable – by creating your calendar on a collaborative platform (like Google Sheets), your whole team will be able to add ideas, upload links to their posts, and keep each other up to date as they create and edit new content.
Flexible – plans can change, delays can happen, and time-sensitive new ideas can spring up at any moment.
Detailed – it's not just a list of titles and dates. For every planned post, you'll need things like SEO keywords, content categories, deadlines for different stages, and links to the blog posts in progress.
With that out of the way, we're ready to start building. So let's start with the basic structure.

1. Choose the essential information
If you're starting to create an editorial content calendar, you should have already decided how often you'll post to your blog.
That could be anywhere from every day (probably overkill for a small business) to just once a month (probably not enough).
Whatever you choose, this blogging frequency will determine how you break up your content calendar – usually either into weeks or months of the year.
Once you have this frequency in place, you can start to choose the most important information you'll need for each post.
It's easy to go overboard here. Just remember that your content calendar needs to be easy to use for the rest of your team (and sometimes by people in completely different departments).
So where you can, cut out any unnecessary information, and try to keep everything visible without scrolling to the side.
For this example, I've started a blank spreadsheet in Google Sheets (so it's shareable and collaborative).
I've also chosen a blogging frequency of three posts a month, and I've included the following information:
Important calendar dates and events – International Women's Day, Mental Health Month, etc.
The title of the blog post and the content category it comes under
Deadline dates for the first draft, editing, and publication
The relevant SEO keywords to be included
The current status of the post – In progress, Draft finished, Edited, and Published
And a space for you or your writers to put a link to the work-in-progress for each blog post.
There are plenty of other bits of information I could have added (like the intended word count, or any important internal links that need to be included).
But for your own content calendar, you'll need to decide what's essential, and what can be cut to keep things clean and simple.
Here's how the bare-bones structure looks on Google Sheets: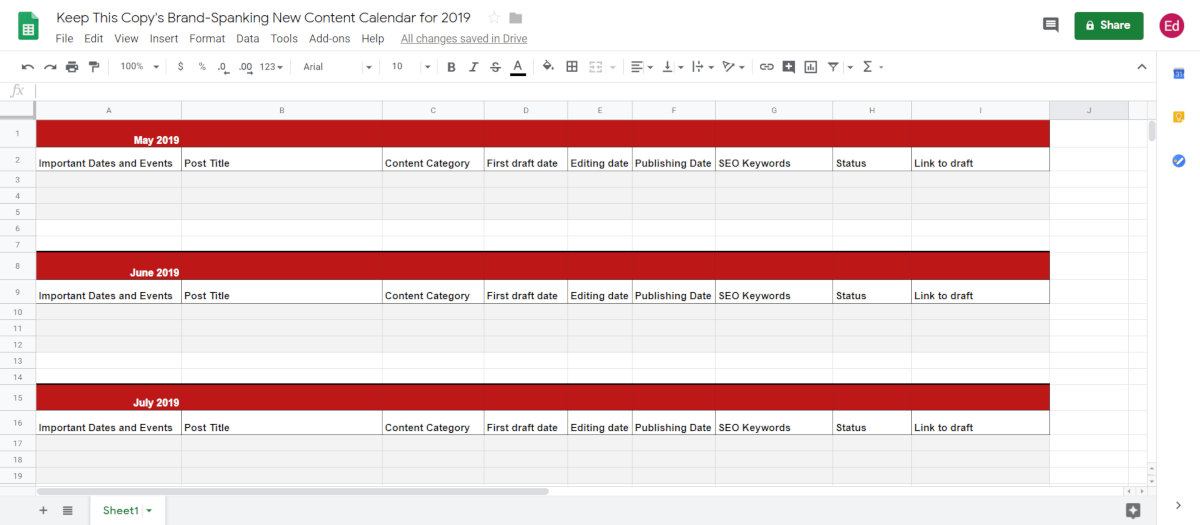 2. Fill out your important calendar dates and events
Now you've got the skeleton in place, you'll need to find the relevant upcoming events that can help to guide some of your content choices.
And luckily for you, there are so many of them that you're sure to find plenty that make sense with your topics and expertise.
Here are a few useful websites to help you get started:
Awareness Days – where you can filter by the month, the type of event, or by individual days of the week
Days of the Year – with a handy calendar that lets you jump to any particular day in the year ahead (or you can browse through a full list for each month)
Wikipedia's List of Secular Observances – a long list of recognised days across almost every country.
As I went through these lists, I saw a couple in May that seemed the right fit for my industry (writing). So I added them into my calendar along with their relevant blog post titles, and a publishing date that makes sense for each event: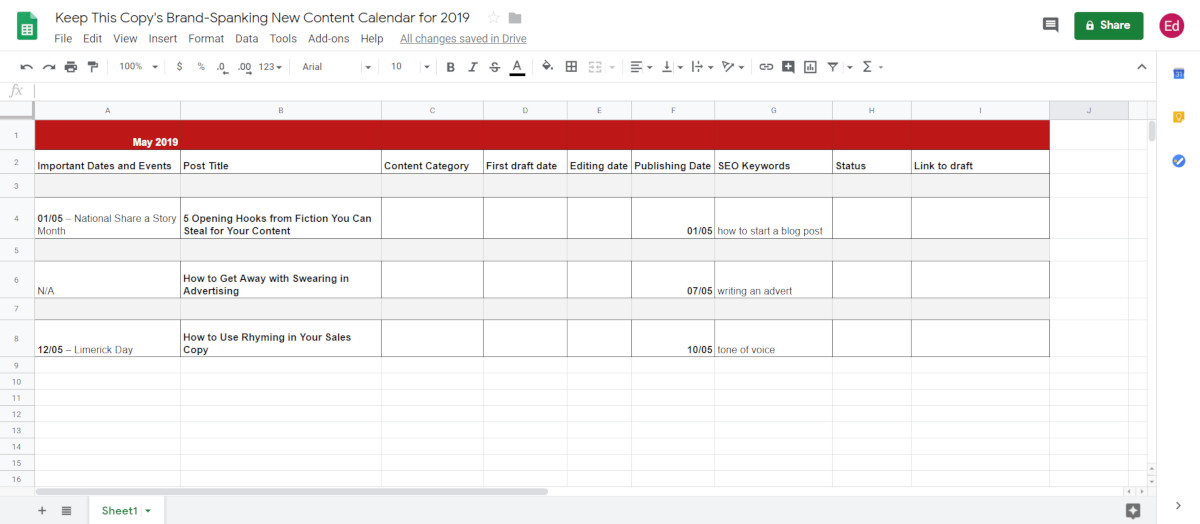 3. Colour-code your categories and current statuses
From here, you should know what to do next:
Fill out each column for each blog post, adding in the relevant details until your calendar for the month (or week) is complete.
But there's an extra little flourish you can add to make things easier for yourself and your team.
By colour-coding both your content categories and the status of each post, it becomes much easier to get a quick overview of the general shape of your plan and your progress: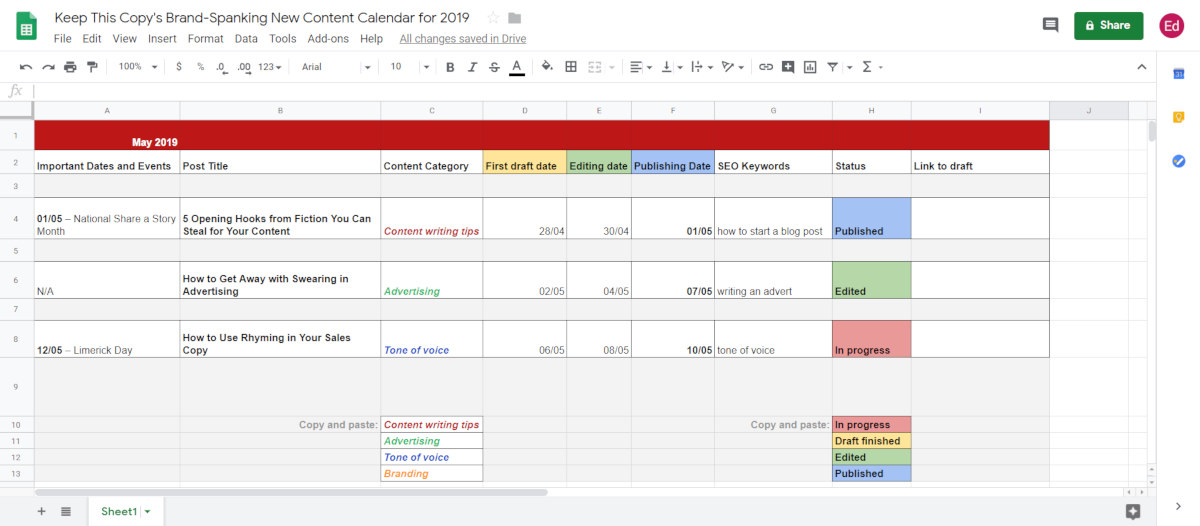 You'll be able to immediately see whether each month has a good balance of each of your different categories (content writing tips, advertising, etc.) – so you won't end up covering the same themes too often.
You and your whole team can get a quick look at which posts are being written, which ones need editing, and which ones are already done and dusted.
(There are also some handy pre-filled cells ready to be copied and pasted in so there'll be no inconsistencies in the final formatting.)

4. Keep your calendar up to date (and far in advance)
Once you've filled out the whole month or week, you're done! (For that month.)
Now you can repeat the process until you've got several months' worth of content planned out and locked in place.
The further ahead you go with your plan, the less likely you are to fall away from your regular posting schedule – which means you're less likely to lose out on search volume or the loyalty of regular readers.
And if you've got lots of evergreen topics planned out (posts full of content that will stay relevant for a long time), you can add an extra level of scheduling security by creating this content as early as possible.
Ready to take your blog more seriously?
Building a solid editorial content calendar is an important first step towards seeing your blog as a long-term asset.
But it's still just a first step. And you'll need all the help you can get if you want to keep your progress consistent.
So as well as creating a shareable, flexible worksheet that your whole team can collaborate on, you could also take a look at a few supporting tools to help make the whole process easier.
In particular, you might want to dig into things like:
The WordPress Editorial Calendar – a free plug-in that lets you drag-and-drop your drafted blog posts into a calendar layout, and easily rearrange and reschedule them with a few quick clicks
CoSchedule – a family of marketing projects (including content management, social media management, and a marketing calendar) that can help you and your team hit deadlines
ContentCal – a calendar-based scheduling platform for sharing content on social media (with plenty of options for teams to collaborate and discuss their created content).
Don't forget to download your template so you can start planning your content straight away.