Building links is a core part of any effort to help your website rank higher in Google search results. However, there's a lot more to SEO than just links, and with 71% of small business owners doing their own marketing and trying to fit it all into an average 6 hours a month, something's got to give.
Fortunately, we've got some killer techniques you can use to build effective, legitimate links to your website without writing a single word of link bait content.
Broken Link Building – A Win-Win
Also known as "dead link building", broken link building refers to the process of finding links relevant to your niche that are pointing to pages that are no longer available (404 or redirected),and replacing the dead pages with your own.
Broken link building is great because it's really a no-lose situation for everyone. Website owners get to clean up dead links on their pages, users have a better Web, and you get a new link relevant to your industry.
How many links can you build with broken link building?
Broken links are an epidemic online. Recent research from WooRank found that 12% of backlinks on the web point to a page that's no longer available, and up to 20% of backlinks are broken or redirected to a page that isn't relevant.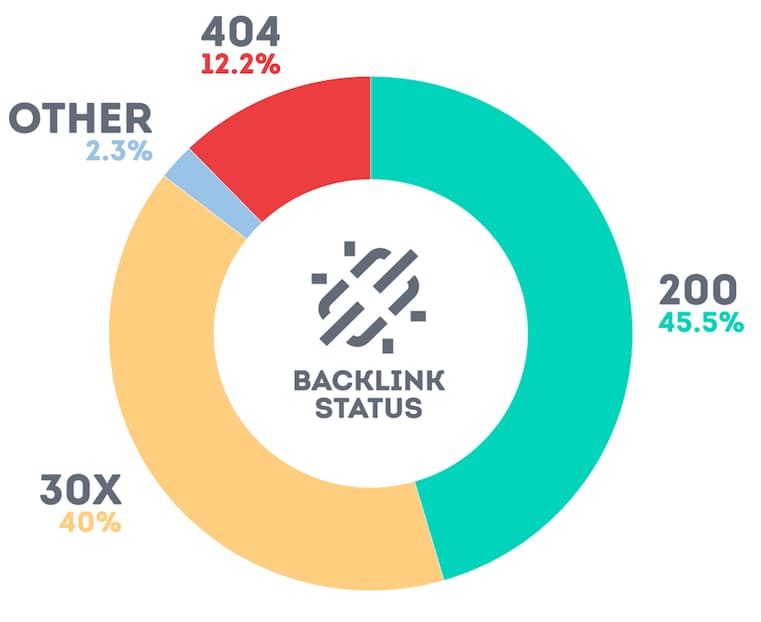 Another study from 2017 found that just 90 publishers had 65,000 broken outbound links across their websites. Other research from 2004 discovered that a page's outbound links have a half-life of about 2 years. Meaning that, after 2 years, half the links on a page will point to a 404 page.
All this goes to show that broken links represent a great opportunity to build links for small businesses.
How to find the right pages with broken links
The first step is to find pages that would be useful to build links from. To do this, search for a keyword on Google using the inurl: search operator to specify the type of pages you want to target.
Let's say that, for example, I own a company called Patio Town that sells patio furniture and I want to build links to my page selling wicker furniture.
In this case, we want to build some links on blog pages, so our query looks like this: inurl:blog wicker patio furniture.
This search does 2 important things:
Finds only pages that contain the word "blog" in the URL.
Finds pages about or relevant to wicker patio furniture.
Note: if you want limit your results to pages that contain an exact phrase, put quotation marks around the keyword. Like this: inurl:blog "wicker patio furniture". You can also use multiple instances of the inurl: operator to further refine your search.
Here is the first page of Google results when I used that query (note: to avoid calling anyone out for having dead links, I've anonymised the domains in the results):
I took a brief look at each of those top 10 results. The first 9 are online retailers like me — not very likely to include a link to a potential competitor's product or content. The last result, however, is to a blog published by a mortgage company that focuses on home improvement, decorating and lawn and garden ideas.
Perfect for Patio Town.
Find broken links
In this step, we'll find broken links on our highly-relevant page that we can replace. For this, I like to use a Chrome browser extension called Check My Links.
Check My Links crawls a webpage, extracts all of the links and then highlights them by status:
We're particularly interested in those last 2 categories.
As it turns out there are 2 invalid links on the page I found: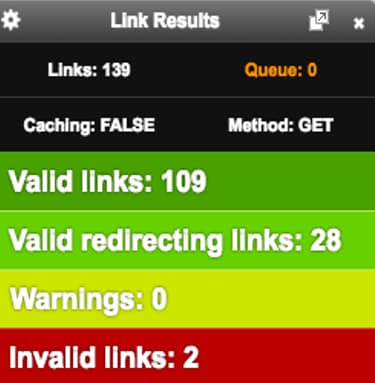 You can just scroll down the page until you reach the links highlighted in red: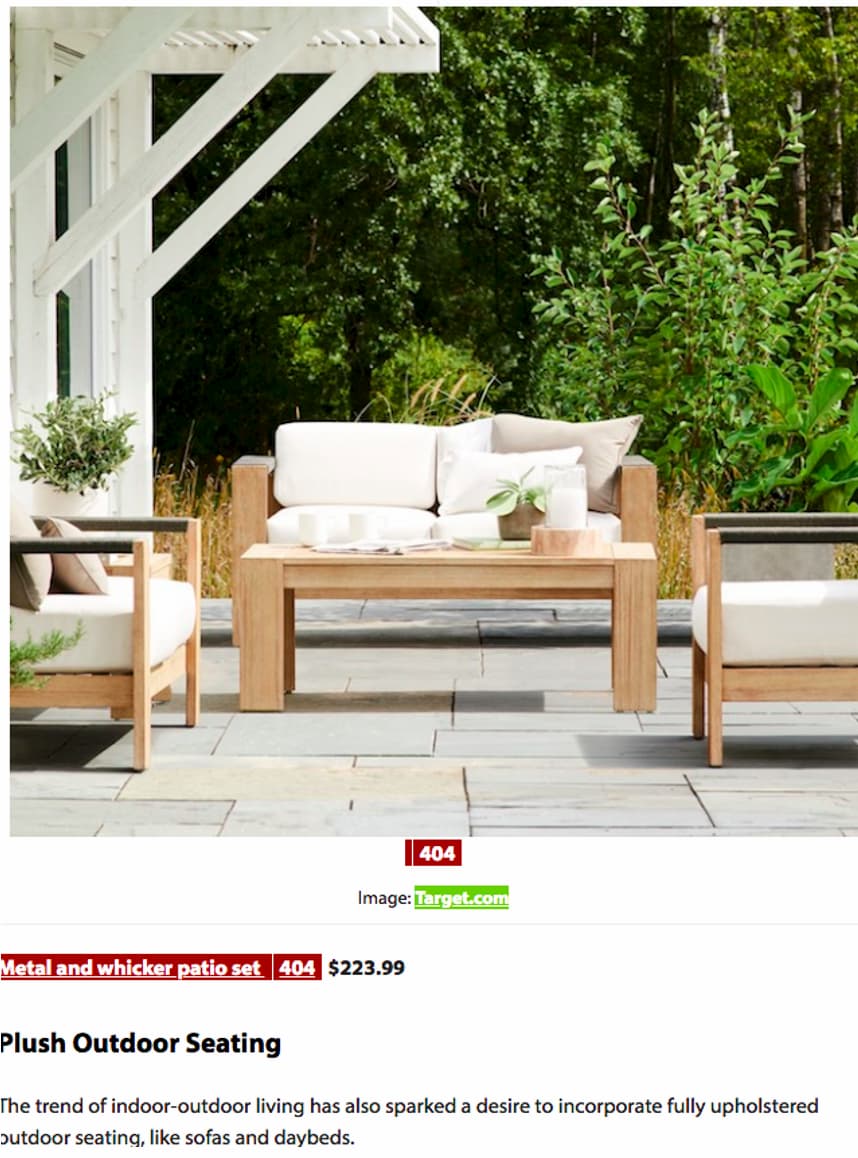 In this case, the 2 broken links are for a product page and product image, both from Target.com.
Fortunately, my Patio Town website also has a metal and wicker furniture set (we'll ignore that "whicker" spelling for now).
Don't ignore the "Valid Redirecting Links" you come across. The WooRank research mentioned above found that 11.4% of redirected links send users to site's homepage. So, while these links won't show up as broken in any link tool, they are also great targets because redirecting to the homepage degrades user experience and SEO.
Now that we've found a nice link opportunity, you could fire off an email to the website owner notifying them of the broken link and suggesting your own page. Or, you could find lots of opportunities for new links.
Find other links to that page
The next step is to find all those websites that are linking to this dead page on Target. Chances are, there are quite a few links I could take for myself.
For this, I like to use Ahrefs.
Simply copy and paste the Target URL into the search bar at the top of your dashboard:

In the results, click on the number under "Backlinks" at the top:

Here we have a list of 79 "live" backlinks. Export this list of URLs and remove the pages that have no chance of linking to you. In this example, that would be the first 2 results, since they're specific to Target: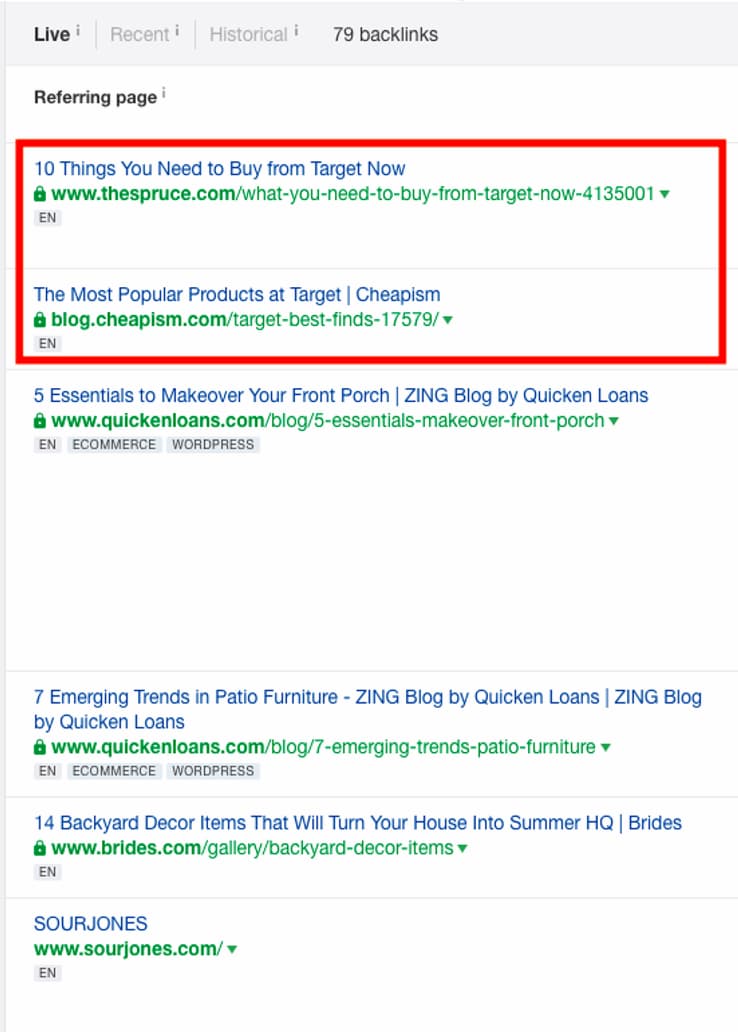 So, while these are the 2 "best" links according to Ahrefs, outreach to these websites would be a waste of time.
Contact those websites
The final step is to contact these websites and pitch your product page and/or content as a replacement. Depending on how many websites you've found, you can manually check for Contact Us pages or use a tool like Hunter or Clearbit Connect (Clearbit has the distinct advantage of allowing 100 searches per month, which is huge for a small business).
Once you have contact information, outreach is a process that will take some fine tuning as you go.
It's hard to predict what your success rate will be for this step since it hinges quite a bit on how actively the website owner manages their website. Or if the business owner manages the website at all.
However, there are some things you can do to maximise your chances for success:
Personalise your emails.
Write your emails manually.
Keep it short and to the point.
Explain why your page is a suitable replacement.
Send 1 or 2 follow-up emails, but not more than 2.
Broken link building outreach should have a pretty good response rate, since you're fixing a problem on the target's website. However, don't get discouraged if you struggle at the beginning. Use it as an opportunity to refine and improve your pitches.
Target your competitors
Broken link building is also a really great way to steal some competitor links for your own. There are 2 relatively quick ways to do this:
Use a tool such as Screaming Frog to find broken links/URLs on their sites. Then use the process above to claim the links to those pages for yourself.
Use a backlinks tool such as Ahrefs to find broken links to a competitor domain. Again, use the above process to claim their links.
You can also use this process if you have a list of websites you want to build links on. Simply use Screaming Frog or DeepCrawl to find broken external links you can replace.
In the case of my fictional Patio Town, I'd curate a list of the top 10 or so UK gardening, DIY and home decorating blogs to find broken links to replace. This can be a quick and relatively easy way to building extremely high value links.
Other options
Broken link building isn't your only option when it comes to building links for your small business without creating any new content.
Provide testimonials to your vendors.
Testimonials and reviews are powerful online tools for businesses. 92% of consumers read online reviews and 88% read reviews to determine the quality of local businesses. So, local businesses are always happy to receive positive testimonials from customers.
Check the websites of your business partners and vendors. If they link to their reviewers' websites, provide a testimonial of your own.
Besides the link building value of providing testimonials, this tactic can also serve to build new relationships and strengthen existing ones.
Obviously, you only want to provide reviews for businesses, services and products you truly would recommend.
Local and small business directories
While most online directories no longer provide much SEO benefit, the same can't be said for local directories that cite a business' name, address and phone number (better known as NAP). Google looks at citations with consistent NAP mentions as trust factors when ranking results for locally-focused searches.
Claim your business' listing in the top local directories in the UK to ensure that all the information is up to date and the same in each place.
Community involvement
Many, many businesses support fundraisers, charities and other community improvement initiatives to help improve their home towns. Getting involved in these initiatives obviously benefits the organisations you support and the communities they serve. They also have the benefit of helping to build some nice links for your website.
Obviously, you should never prioritise building a link over doing good for your community. Fortunately, there a lot of ways you can engage with local initiatives to earn relevant links without building content:
Sponsoring events and fundraisers
Donating to local groups
Offering scholarships
Sponsoring local athletic teams and clubs
Hosting industry meetups, networking events or conferences
"Community involvement" can also refer to online communities you can engage with. In this context, we don't necessarily mean charity work like with offline involvement. Online community engagement is more about:
Answering questions on Quora
Posting useful resources on local forums
Contributing to local industry websites
Commenting on local, popular blogs
These links don't always add much SEO value (they're often nofollow links), but they can help boost awareness of your business and send highly targeted traffic to your website.
In conclusion
For many small business owners, building links to their websites is one of the more arduous tasks required for marketing their businesses. Fortunately, as we've outlined in this piece, there are multiple tactics you can use to build high-quality links to your website without creating a single word of new content.