Gaining market share from any successful competitor can be a challenge, but if your competitors are big-name brands with marketing budgets to match and you're a cash-strapped start-up or SME, this can seem even more daunting.
However, by taking an innovative approach to your marketing collateral and making the best use of your designated ad spend, even the newest online business can potentially compete against the big players to gain their own fanbase and market share.
In this article, I will outline the challenges of trying to compete against big-budget brands on a level playing field, what you can learn from your competitors, and how to build your own customer base and establish brand loyalty without a huge marketing budget.
Why trying to go head-to-head financially against big brands is generally unviable for smaller businesses
If looking at your competitors' ad collateral and marketing campaigns is making you feel like the poor relation, it might seem self-evident that going head-to-head on ad spend against the big hitters within your niche isn't going to work.
When your own ad budget and marketing spend is capped or minimal, trying to compete for market share by throwing cash at the endeavour is likely to leave you penniless and with little to show for it at the end, whilst your competitors continue to rake in the revenue.
It's not just the level of ad spend that your larger competitors possess that limits SMEs' ability to compete, but all of the other elements of marketing that supports this too. Having access to a dedicated marketing department or team of consultants to take care of the research, planning and strategy stages of a campaign to support ads and promotions, as well as the established reputation of the brand in question and the brand loyalty that this brings with it are all factors to consider.
This means that to compete with big brands and established names, you need to learn what you can from the work your competitors have already put in within your niche, and find a way to catalyse this and use it as the basis of an innovative, new or unique approach that will catch your prospects' attention, without breaking the bank.
What your big-name competitors can teach you
Businesses of all sizes and types understandably keep their cards close to their chests when it comes to their plans for marketing campaigns, building brand loyalty and increasing sales. But by examining where, how, and to whom your competitors target their campaigns, you can gain valuable insights that will help you to determine and fine-tune your own approach.
The first step is to establish who else is selling what you sell (or an alternative option) successfully, and examining their marketing endeavours to establish the channels that they use, the type of demographics they target, and how they frame their language style, tone, incentives and calls to action.
This can help you to build up a working picture of the prospects that your competitors have determined are worth their ad spend and efforts, taking out some of the hard work of establishing who and where your own prospects can be found and targeted.
The importance of innovation when you can't compete on an even footing financially
If you know you can't compete on an even footing financially with brands that have a huge ad spend and utilise a multitude of different channels to spread the word, you have to innovate.
Competing like-for-like with a competitor means fighting for a share of the same market and the same prospects; however, by innovating and taking a unique angle and approach to catching prospects' attention, you can potentially pick up those prospects your larger competitors miss out on or deem not worthy of a bespoke-targeted campaign due to the size of the potential buyer pool.
For SMEs, these smaller, more niche prospects pools can be very lucrative, and may soon form the bread and butter of your operation; as can prospects that can be reached with a unique angle and approach that your competitors aren't using.
To get yourself seen by these smaller, more niche prospect pools and new audiences and to catch their attention effectively, you don't just need to find them and show them your wares; you also need to highlight the difference or advantage of purchasing from you. Work your USPs, and tailor your ad approach and brand persona to appeal on an emotional level to people who have not already established loyalty to a competitor, or who might not have considered the need for what you (and your competitors) offer at all.
Cost-effective angles that can work for SMEs when competing against big brands
So, how do you innovate and find the right angle to compete against a big name when cost is a large concern? Here are some approaches to consider.
Find and work your USP
To take some market share from a big competitor, you have to make every ad impression or chance for engagement with each prospect count, because you may only get one chance to get your message across and spark your prospect's interest.
This means you need to establish and commit to highlighting the USPs of what you offer and what you do – what makes you different, better, or more in line with your prospects' preferences than a big-name brand.
A good place to start with this is to look at some of the very features that are apparently hampering your ability to compete in the first place, and turning them into advantages and USPs for your prospects.
Shopping locally is something that is widely considered to be a good thing today, and doing so is a point of pride for many shoppers. Targeting local buyers with a geographically targeted campaign that highlights your role in the local community and appeals on an emotional level to buyers who want to support local businesses is a great place to start.
The small size of your operation might seem like a disadvantage when your competitors are big names, but this is another great USP that SMEs often overlook. People like to feel good about their purchases and to feel a personal connection with the businesses that they support, and if you can give them a chance to do this, you can potentially achieve brand loyalty within just one transaction.
Quirky, eco-friendly, cute? If you handle orders and customer service personally, highlight this benefit and don't miss a chance to point out that your buyers will be supporting a small business and their families and not funding the shareholders of a big brand's next private jet.
Family businesses, mom and pop stores and small partnerships of friends can all make for an appealing brand story too, and again, help to invest prospects in rooting for and supporting the smaller players and not the big multinational conglomerates.
Make smart choices about your ad spend
You're going to need an ad budget to support your campaign, however you choose to tackle it. When your budget is small, spending it wisely is vital because you don't have a lot of margin for error or funds in reserve to recover a campaign that misses its mark.
There are virtually as many theories on how to get the most out of your ad spend as there are ways to spend it, but here are my own suggestions on what has worked in the past for SMEs that have consulted with me about the best way to maximise the yield of a limited ad spend.
Have a clear picture of who you are targeting – determine your prospect demographics and be clear about why the demographics you have chosen are viable targets, and what you've got that can turn their heads away from bigger, slicker brands.
Identify where and how your demographic groups shop online or browse the internet-at-large; the types of social media platforms that they prefer, the groups, pages and accounts they follow, and what they like to do online.
List some of the viable places and ways to reach your prospects, taking into account options including social media, automated ad placements, Google Ads, In-app mobile ads, and other options.
Check out costings and coverage for different channels, such as average cost per click for Google Ads campaigns, and the viability of winning clicks from competitors without breaking the bank.
Look at ways to integrate the same types of ad collateral used by competitors but at a lower cost – such as by picking up the slack with lesser-used keywords and lower-value search terms that pertain to your specific product or offer. These will give you a better chance of competing and winning these smaller groups of prospects that together, can soon form a strong customer base all of their own.
Innovate and look for ways to take a new angle and highlight USPs in a way that resounds with your prospects, but that your competitors aren't using.
Don't try to spread your budget too thinly. This is a big challenge for SMEs who want to get the most bang for their buck and that are wary of placing all of their eggs in one basket, and this is totally understandable. Throwing all of your marketing spend at one demographic, channel or approach is a definite gamble; if it pays off, it can take you a long way, but if it doesn't, it could realistically cripple a new start-up or growing SME with a cashflow problem.
However, one virtually sure-fire way to waste your ad spend is to spread it too thinly, such as by splitting it between an Google Ads campaign with a low capped cost-per-click value, in-app mobile ads and a social media campaign. If you don't have the funds to make an impact across all of these channels at once, you're likely to see your ad budget dwindling quickly with little to show for it.
It may seem counterintuitive, but it is better to do your homework on your prospects and then commit your ad budget to just a couple of demographic targets, channels and approaches than it is to try to juggle too many things at once without a budget to match. Running a dual campaign or targeting two demographics at once provides some security against a lone campaign crashing and burning, without spreading your budget so thinly as to be ineffective.
Another point to bear in mind is that once you have committed to spending on a campaign or approach, you have to allow enough time to see it through and let it achieve its full potential. If you don't see an uptick in prospects or sales right away and funds are tight, many SMEs get very twitchy and pull the plug – when few campaigns, even hugely successful ones, really begin to pay dividends from the outset. Commit to a reasonable timescale to see your campaign through, and only intervene in the meantime if things are going acutely wrong.
Highlight the points that you compete on successfully, and negate pain points
There are likely to be a number of advantages that bigger brands have that most SMEs won't, such as the ability to offer larger discounts, loyalty cards, and other benefits to buyers. To work around this, you once again need to highlight your own USPs and negate or circumvent customer pain points.
Don't try to gloss over or ignore common customer pain points; tackle them head on and address them to remove barriers to selling and to instead, outline the advantages to your own alternative approach (such as, for instance, using a dedicated local courier for deliveries, and hand picking and finishing for goods).
Solicit reviews and commentary from buyers
Many (if not most) net-savvy shoppers will check out product reviews before making a purchase, even if those reviews are on a different website or platform than the product being sold. If you can build up a large number of solid reviews for both your products and your service, this not only increases customer perception, but can also help some of those prospective customers to find you.
You might not be able to achieve top three ranking on Google for the standalone name of the product you're retailing, but if you can achieve a high ranking for searches such as "XYZ product reviews," this will bring shoppers to your website and give you a valuable chance to pick them off, even if they were about to get to the checkout stage with a competitor.
Encourage reviews and commentary on social media platforms too, as these are not only highly sharable and potentially exposed to a large audience, but also will help to make your products and brand pages and accounts on social media easier to find as well.
Establish a brand persona and engage on social media to generate an organic buzz
The holy grail for both cash-strapped SMEs and big-budget brands alike is to generate an organic social buzz around a product or brand that generates its own momentum and provides a highly effective and virtually cost-free form of ongoing word of mouth advertising.
If you as the owner of an SME can achieve this, you might find yourself with more orders than you can handle, but this is rarely a quick or simple process. Managing to put out a viral tweet, video or Facebook post can shine the spotlight on your brand and raise awareness, but to support this (and get people seeing it in the first place) you need to have a strong social media presence and established brand persona and tone of voice in place from the get-go.
Updating social media pages, promoting your content and engaging with prospects takes a lot of time and effort on an ongoing basis. But particularly if your ad spend is limited, making full use of social media and the ways it can be used to reach prospects without spending money is something that every SME should concentrate on.
Invest prospects in your brand story and key players
Getting your product or brand seen by prospects is hard, but it is only the first step. To catch your prospects' attention and incentivise their purchase from you rather than a competitor, you need to give them a reason to do so, and for SMEs, the most effective way to do this is to invest your prospects in your brand story and key players.
Establish and use an appropriate and vitally, consistent tone of voice across all of your online collateral, and make it one that is likable, engaging, and relatable. Humour, self-depreciation, and sharing the ups and downs of the life of an SME can all help to achieve this, as can putting a human face on your brand, or even that of a mascot.
Make prospects like the people behind the brand, and you will make them like the brand too; so don't be afraid to share, interact and engage with prospects to generate a human connection.
Get people talking with topical or seasonal tie-ins
Creating a trending hashtag is lucrative but very hit and miss – with more "miss" for most, and a lot of luck in play for those that succeed. Piggybacking a trend, on the other hand, is much easier; so keep your finger on the social media pulse and check trending hashtags, current events and hot topics, and get in on the game with appropriate, carefully crafted content of your own.
Make sure that your content is relevant, tasteful and has a clear correlation to the topic at hand, otherwise people will immediately disregard your content as spammy or even offensive, which can harm brand perception for the long term.
Seasonal promotions and tie-ins with hot pop culture topics also give SMEs valuable opportunities to get themselves seen by prospects too.
Personalise content
Content personalisation has been proven time and time again to produce a better yield than generic materials, and SMEs can use the same tools and insights to create bespoke product suggestions and personalise automated ads as big brands do.
However, your average SME has a big advantage in this area already as their service is by design more personal than the average big brand can hope to achieve, so highlight the personal nature of the buyer journey, and how the purchase process is taken care of in-house, and by whom.
This is something that skincare and cosmetics brand Lush has pulled off very effectively. Now well within the realms of big brand territory, the same personalised content and experiences that helped Lush to gain its market share in the first place (such as a high level of customer engagement in-store, investment in staff training and progression, and actively seeking feedback and suggestions from prospects) have helped to cement their position and keep Lush growing. This is because offering the personal touch and highlighting the people behind the brand is at the heart of everything that Lush does, and something that hasn't fallen by the wayside as the brand has grown.
The individual products themselves that Lush sells are labelled with a sticker detailing their date of manufacture, along with the name of the person that made it and a CAD-generated image of them too. Small touches like this make all of the difference to buyers within many niches, and can help you to bring in buyers and keep them coming back for more.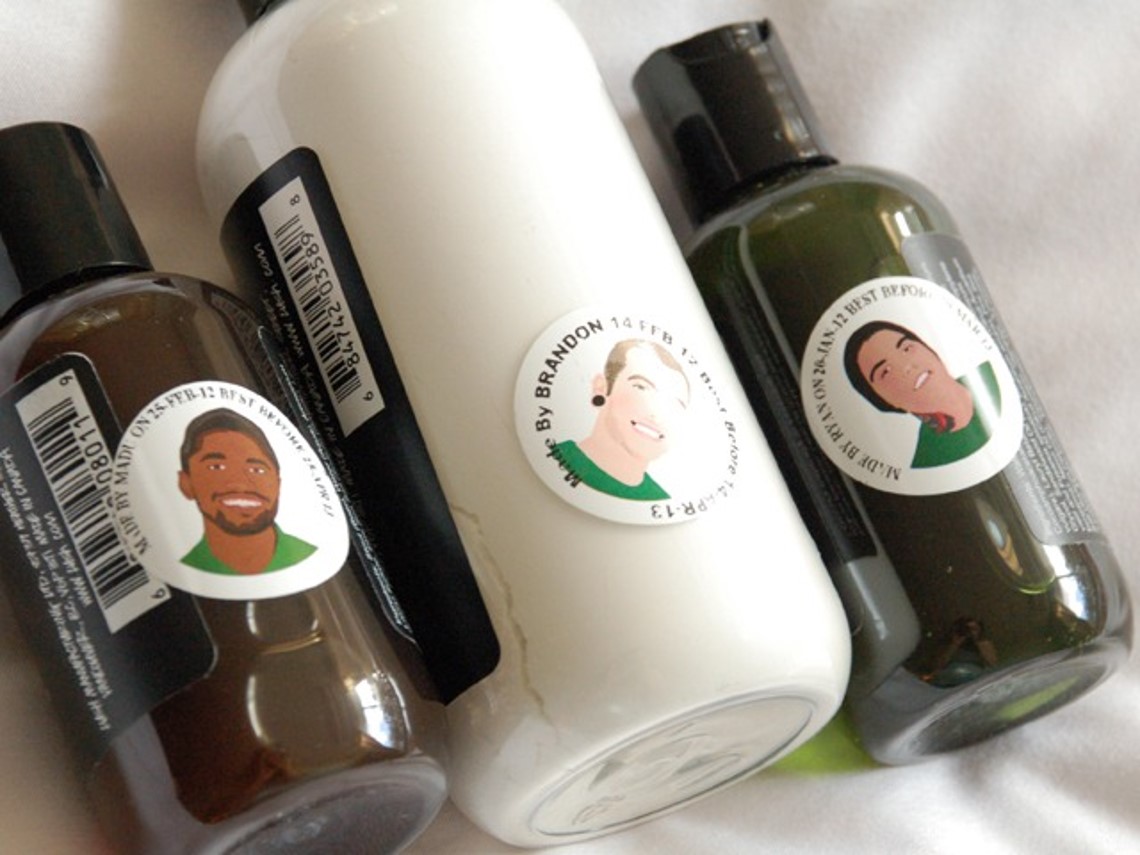 Credit: MakeUpFiles.com 
Go the extra mile
If you are offering the same product as a big-name competitor and can't undercut them on price or quality, you have to be prepared to go the extra mile and offer something that will make your prospects or buyers view your brand in a more positive light.
Anything that will surprise and delight your prospects will not only incentivise repeat custom but also get them talking, so look at adding those little extra touches that buyers want, and that are rarely offered as policy by bigger brands.
Unexpected free gifts, free samples, and incentivising offers such as buy one get one half price and so on all play well with jaded prospects, and those that appreciate the small, personal touches that make them feel valued as a customer.
Make sure that your customer support is beyond reproach too. Make it easy for prospects to get in touch with you, respond promptly, take personal ownership over enquiries, and try to make a personal connection with each prospect that contacts you.
Points to remember
There is a lot to bear in mind and a lot of work to be done when trying to gain market share from a big-budget brand, and it can be easy to lose momentum, get side-tracked, or lose your nerve when you don't see results immediately.
Keeping your momentum going on social media by means of posting and engagement rather than paid promotions is a big challenge and can be time consuming, but if you put the work in, this is a real investment in the future of your brand and its long-term success. However, an early mis-step or controversy that plays out on social media can sound the death-knell for a new or small company.
Be ever-cautious about your brand's reputation and steer clear of generating controversy, polarising opinions on hot topics, and vitally, getting into arguments or coming over defensively when dealing with prospects on social media channels.
Something else that is worth reiterating is the importance of not spreading the ad budget that you do have too thinly across too many prospect pools, platforms or approaches; this is unlikely to pay off, even though it can be daunting to place too much emphasis in one area. Additionally, set deadlines for campaign reviews, and avoid intervening, curtailing, or massively changing the direction of a campaign mid-stream unless something has gone badly wrong.
When competing directly with one or more big brands, you also need to be mindful of saying, doing, or implying anything that could be construed as infringement of copyright, libellous, or otherwise likely to attract the ire of a rich corporation that will protect its income and brand reputation at all costs.
Insult a competing product, attempt to deliberately harm another brand's reputation or cross the line between emulation and copying, and you may soon find yourself buried under an avalanche of legal threats that your smaller company won't have the budget to defend, even if you believe your defence is viable.
This is something that local Fife company the Naked Soap Company found out to their detriment in 2017, when just the use of the word "Naked" was enough to attract the attention of corporate giant L'Oreal, trademark holders for Urban Decay's "Naked" range of makeup products.
However, the Naked Soap Company – now rebranded as the Little Soap Company – turned even this monumental setback into an advantage, gaining traction on social media as users took up the cause of the small, local David to L'Oreal's Goliath. Whilst the company ultimately rebranded in order to avoid a potentially lengthy legal battle they were unlikely to be able to fund, the company's approach to the issue (and the organic social buzz in support of the brand that L'Oreal's threat generated) resulted in national press coverage, an increase in brand awareness and positive perception for the Little Soap Company – and of course, a significant amount of backlash against L'Oreal too.
Even the choice of name for the rebrand to "Little Soap Company" supported this, highlighting the small, local nature of the company itself in contrast to that of its bigger self-appointed competitor.
Whilst attracting the negative attention of a big competing brand is a position that no SME should aspire to find themselves in, it does provide a great example to finish off with of how a start-up SME can take on the big boys with an innovative approach and come out on top with a little luck and lateral thinking.
Enjoyed reading this and want to be your own boss? Check out free guide on how to become self employed.