In SEO terms, a citation is a mention of your business' name and contact details from a third party website.
SEO citations are valuable for a business as they help to improve your online visibility and are thought to be a key ranking factor for local SEO.
In this guide, I'll look at how citations work, why they're important for your business, as well as how to build and measure them.
What are SEO citations?
Let's start with an example. Here's a listing on Tripadvisor for a coffee shop in Bristol.
An SEO citation is an online mention of the name, address and phone number of a local business. It's often referred to as a NAP citation.
They can be found in a range of places, from business directories to social networks and websites.
The example below is a citation, as it shows the name, address and phone number (NAP) of the coffee shop, though it provides much more information such as images, reviews and opening hours.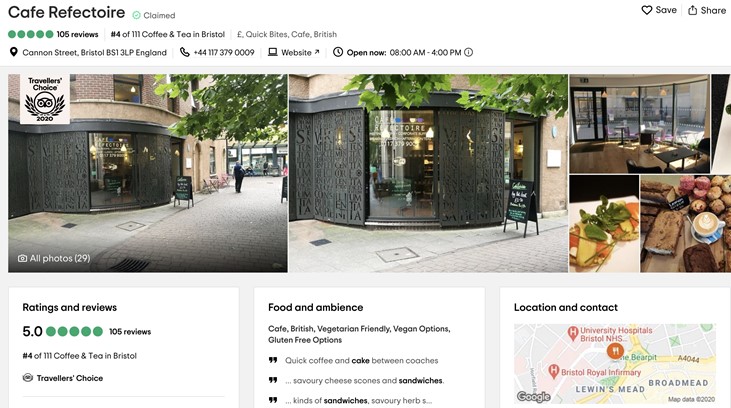 While the NAP is the basic qualification of the citation, the rest is a bonus for the business in question.
Citations may also include many other elements, including:
Opening hours
Directions – perhaps a map embed
A description of the business
Business category, e.g. restaurants/cafes
Images of the business
Videos posted by the business or users
Links to the business website or social profile
Reviews from customers
Email addresses
Key information such as accepted payment methods
Attributes
How do citations affect local SEO?
Citations will have benefits in terms of revenue if they enable more people to find your business and make a visit, but there are also some key SEO benefits.
Google doesn't necessarily spell out the link between SEO citations and local rankings, but experts believe there's a clear correlation between citations and improving local search visibility.
The Moz 2018 local SEO ranking factors study polled SEOs on the things they believe influence local rankings.
In this study, the most important factor by far was Google My Business listings, followed by links, reviews and on-page factors. Citations are ranked as the fifth most important so are still a very significant factor.
Effective local SEO is about the cumulative effect of your efforts, so any ranking factor that can impact your rankings on search engines should be taken seriously. Once you have a Google My Business (GMB) listing and have optimised your pages, then off-page SEO factors like citations should be considered. 
Besides, citations are very often tied up with other SEO activities such as links and reviews, like in the Tripadvisor example above, so it's not always a case of having a separate strategy.
Local citations can impact local search rankings positively and negatively. A business with a good number of citations with accurate data on good quality sites and platforms will send a positive signal to Google.
It tells them a business is popular and endorsed on reputable sites, but the reverse can also be true. If search engines find citations with inconsistent data on lower quality sites it can have a negative effect on rankings. Local citations are not just a numbers game, it's about quality and consistency too.
There are also secondary ways for citations to have a positive impact on SEO. Accurate citations on popular sites can lead to greater web traffic, can help to build links and can lead to more customer reviews.
What's the difference between SEO citations and link building?
There are similarities between the two SEO tactics and there'll be some crossover at times, but there are simple differences.
An SEO citation doesn't have to contain a link back to your site, just the NAP details. A link may come along with the name, address and phone number, but doesn't have to in order to have a beneficial effect.
The crossover between the two means that link and citation building can be complementary. If you're busy building citations, it pays to be aware of the value of links so you can add them to citations where possible.
Indeed, a link along with other business details like address and contact number will be more useful for potential customers too. In the case of a cafe or restaurant, they can check out menus and prices and perhaps book online.
Here's an example from Time Out, showing listing details under a review of a Bristol coffee shop. It's a great example of a useful citation – it comes from a trusted website, has a detailed review and includes NAP details with a link to the website.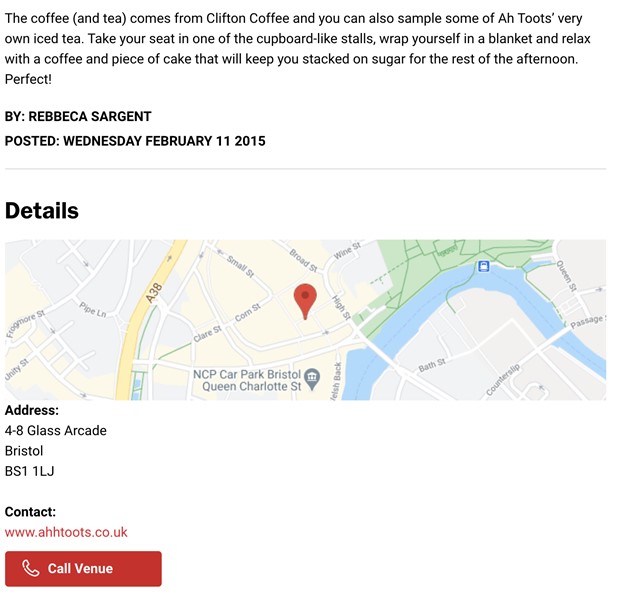 How to build citations for businesses
Citations are valuable for local businesses in two ways:
They allow more customers to discover your business and provides them with the details they need (address and phone number) to give you a call or pay a visit
They can have a positive effect on local SEO rankings, potentially making more search users aware of your business
Building citations for your business is a mixture of finding and filling out those listings you can control and reaching out and using various strategies to gather more citations from useful websites.
It's best to start with Google first of all. A Google My Business listing is essential for effective local SEO and also a great citation to begin with.
Claim your GMB listing and ensure that your business name, address and phone number is correct and remains accurate.
This is the basics for the citation, but extra information from links to images and opening hours will all help in terms of improving local search visibility and driving footfall.
After this, there are different types of citations to look at:
Structured citations: These often come from directories or social sites where the information needed and the listing formats are normally standardised, as on this Facebook page.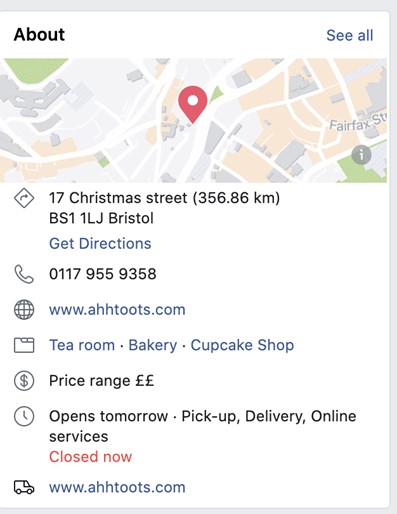 Unstructured NAP citations: These are NAP mentions in different formats, where your details are added to a blog post or perhaps mentioned in the press. These are often harder to control, as they depend upon the writer and editor adding your details.
For example, this listing in the Guardian falls frustratingly short of being a NAP citation for the business, though it is a useful link.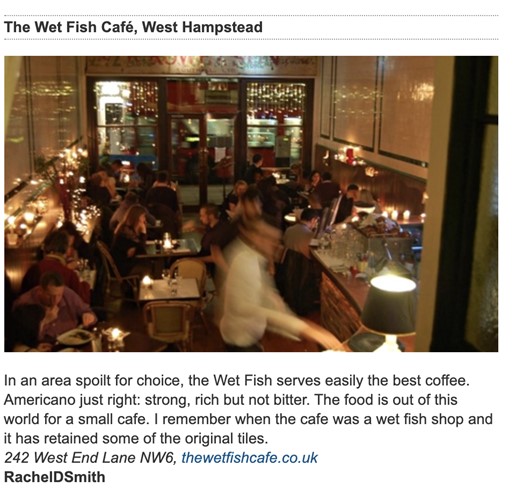 Key tips for building SEO citations for your business
1. Submit to key sites
There are certain directory sites in each country that you should look to for citations. These sites offer an easy way to build citations and improve your business visibility.
You can search for your business on these sites and ensure the information is accurate. It also pays to claim the listing to ensure accuracy, but also to make sure the information added to these sites is under your control.
This useful list contains 30 suggested sites to begin with, but it's by no means exhaustive.
For the UK, these are some of the key sites to prioritise:
Just search for your business on each seemingly worthwhile site. If it's already there, make sure the information is accurate. If it isn't accurate, look for an option to claim the listing (most sites have this) and correct the errors. If it isn't there, add it either manually or through a request.
2. Keep information up to date
Consistent and correct contact information is essential to allow customers to contact you and also sends a positive signal to Google.
3. Find sites relevant to your business category
Directory sites for different sectors can provide you with extra relevant citations and help you to raise awareness within your business category.
For example, Tripadvisor is now essential for many hotels, cafes and restaurants as it's such a dominant review site and one which potential customers are likely to visit. You can claim your listing if it already exists.
4. Make sure all social profiles have NAP data
Each social platform allows you to add relevant data and keep it up to date. Make sure all your social profiles have your name, address and phone number.
5. Only add citations to good quality sites
Quantity of citations does matter to some extent, but only on sites which are considered trustworthy by Google. Citations on more questionable sites can have the opposite effect.
If you're considering adding a citation to a site you don't know well, it's worth checking it out. If it seems low quality, it probably is.
6. Target websites and press mentions
This could be done alongside your existing link building activity, as links are the most valuable result from gaining coverage on publisher's websites. However, it doesn't hurt to provide accurate address and contact information, or to ask the site to add this when they mention your business.
Other unstructured citations may occur as the result of good customer service and keeping customers happy. If you run the best cafe in your town then you'll likely attract mentions and positive reviews from your customers.
The key here is to ask for NAP information to be added when you're mentioned or to ensure it's accurate.
Tracking and measuring the impact of citations on local rankings
There are paid tools that will manage citations for you, adding your site to directories and monitoring progress.
For example, a tool like BrightLocal will identify any citations you have, giving you the opportunity to optimise these and providing a score for each. It can also track where your competitors have citations and you don't, which is useful for identifying new opportunities.
Assessing the impact of citations on rankings isn't straightforward. It's one of a number of factors which may affect rankings and as such is sometimes hard to isolate.
You can keep a record of your citations and find some correlation. For example, if you add 30 citations where previously only a few existed and this improves your rankings, then it justifies the effort.
Another option is to add UTM tracking to the URLs you place alongside citations. Using this you can see which citations are driving traffic to your website through Google Analytics (Google has an explanation here).
Conclusion
Small differences in rankings for local SEO can make a big difference to your visibility. Ranking near the top of page one on a mobile search means potential customers see your business first and can lead to valuable extra revenue.
There are several factors which affect local search and it's important to look to optimise for each of the most significant. Citations are one way to improve the reach of your local business and positively impact your ranking.
Building citations can take a little time, but it's simple to do and is a ranking factor that you can have more control over. Moreover, it can help to provide many potential customers with useful accurate information that can drive more business for you.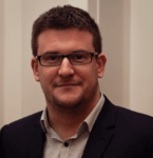 Graham Charlton is Editor in Chief at behavioural marketing company SaleCycle. He has previously worked for Econsultancy and Search Engine Watch, and has written several best practice guides on e-commerce and digital marketing. Follow him on Twitter
Read full profile