We recently submitted a Freedom of Information request to receive data from the Small Business Commissioner (SBC), the independent public body set up by Government under the Enterprise Act 2016, to tackle late payment and unfavourable payment practices in the private sector.
There has been a knock on effect from business to business and this has meant that many of those waiting for vital invoices to be paid have been left in the lurch.
The Small Business Commissioner data showed that between December 2017 and 8th of July 2020 there were 429 complaints specifically related to unpaid or late paid invoices.
The data also revealed which business sectors have seen the biggest impact.
Claiming invoices for business services
Around 23% of all complaints to Small Business Commissioner were from the business sector, making it the highest number out of all sectors included in the data.
According to the Small Business Commissioner, Business Services is any service that supports commercial activity. This could include advisory services, reprographics, design, promotions, HR advice, Health and Safety, marketing, consultancy and recruitment.
However, due to the relatively high number of cases in the consultancy, recruitment and marketing areas of business services, the Small Business Commissioner has subsequently begun recording complaints in these areas separately to enable them to drill down into this sector.
The Small Business Commissioner said: "In a service-based economy, it is perhaps unsurprising that business services feature highly for the receipt of complaints".
There was also a high percentage of those from the construction and engineering sectors at 14% and a further 10% from those in the retail sector.
Business sectors with the most amount of unpaid invoices:
The sectors with the lowest percentages of invoice claims were consumer, financials and recruitment. These three sectors were all sectors that were not too heavily impacted by the lockdown, as they were essential services that were needed by a number of different businesses. We can gather by this data that the businesses that are classed as non-essential to day to day life saw a greater increase in unpaid invoices.
The data also revealed the locations within the UK where businesses had the most trouble collecting their overdue invoices.
Greater London came out on top with 12% of companies that made a complaint about unpaid invoices, followed by West Midlands (9%) and North West (9%).
In contrast, there was 0% of North East businesses contacting the Small Business Commissioner.
Counties with the most amount of unpaid invoices: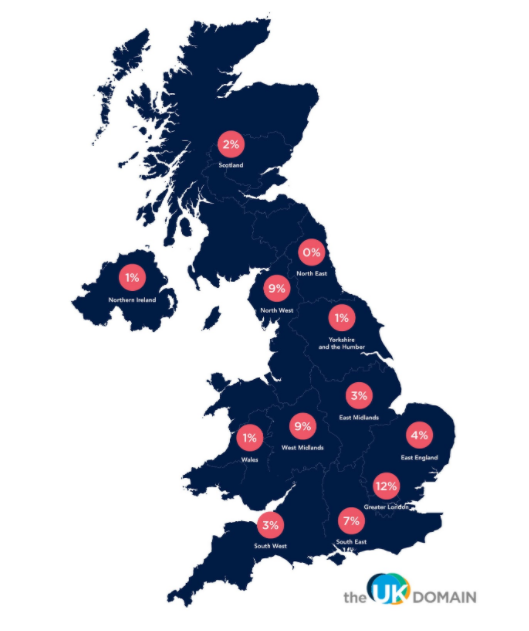 How to make sure your invoices get paid
Here at The UK Domain, we've gone through a few tips in previous posts, such as our post on 'Five steps SME owners can take to avoid late and unpaid invoices' and our post specifically for freelancers; 'A guide to getting paid as a freelancer'. However, here are a few tips to help you start to get paid what you are owed.
Set up payment terms that incentivise prompt payment – Either by setting a late payment fee or interest, or by offering a discount to those that pay you in advance of the invoice due date.
Know when and how to chase up late invoices – Take a gentle approach to start, using a gentle nudge around the time of the invoice due date. If things continue a month after the due date, it may be time to consider taking things a little further.
Have a plan for those that never pay on time – It may be that you have the same culprit time and time again missing invoice due dates. Make sure to have your clients sign an agreement stating that they will pay on time and include late fees or interest rates on late-payment.