After all the effort that is required for new businesses and entrepreneurs to originate a moniker, facing any kind of legal action over that chosen title can be distressing. With larger companies having more legal clout, minor or major similarities can prompt disputes and encourage certain businesses to want to protect the uniqueness of their brands. When a misspelling or typo could potentially direct hordes of customers to another company's goods or services, it's easy to see why businesses might decide to take reactive or proactive measures to protect the identities of their companies.
Likewise, a Chinese whispers style scenario or similar sounding word might do the same when customers run a search for the company, derailing them towards another business through auditory perception whether it's relevant or irrelevant to what they want. Beyond potentially losing customers and avoiding confusion, other plausible reasons behind taking action to have complete control over a name might include wanting to monopolise a trade, commodity, or service, or wanting to solidify a company as being distinctive and inimitable.
Much of this reasoning is suggestive of companies wanting to secure their place in the market. Some legal battles have erupted from the basis of similarities caused by intentionality, such as companies wanting to ride on the coattails of a more successful business, but others have surfaced from seemingly innocent letter groupings. Either way, both have had the capacity to generate a profusion of legal conflicts.
Here are some of the companies that have faced challenges over their brand names:
Singhsbury's
Sainsbury's took legal action against Newcastle corner shop owner Jel Singh Nagra in 2012 due to his store, Singhsbury's, having such a comparable name. Nagra told the Northern Echo that Sainsbury's had threatened legal action, and his family subsequently removed the sign to avoid costly repercussions through the court.
Nagra kept the shop unnamed until June 2017 when he revealed its new name, Morrisinghs. Luckily, supermarket Morrisons saw the humour in the signage and tweeted that "Mr Nagra and his customers obviously have good taste." Nagra stated that the similar name is a big talking point for customers and that it helps his business significantly due to people wanting to come in for the banter.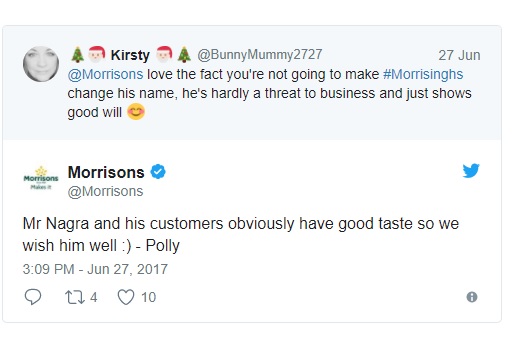 3nder
In 2016 dating app Tinder issued legal proceedings against another app called 3nder, a threesome app, possibly due to the four-letter similarity in both names. 3nder rebranded their company name to Feeld in the same year despite trying to drum up support on Twitter.
ASOS
ASOS paid a £20.2m settlement in 2016 after lengthy disputes from numerous competitors, including a Swiss cycling clothing business called Assos and a German menswear retailer called Anson's Herrenhaus. Many of the court debates centred around ASOS's sale of sportswear. The Swiss company failed in its attempts to get ASOS to change its name when a court ruling settled the matter in 2015, but still received a payout that enabled ASOS to continue selling its own branded sportswear.
Instagram
After being acquired by Facebook in 2012, Instagram had the legal power to shut down apps with similar names that it considered being threats to the brand. Apps such as Insta and Gram faced a clampdown soon after, and app Luxogram received the following letter from Instagram:
"We appreciate your interest in developing products that help people share with Instagram. While we encourage developers to build great apps with Instagram, we cannot allow other applications to look like they might be official Instagram applications or endorsed or sponsored by us.
"As we hope you can appreciate, protection of its well-known trademarks is very important to Instagram. For example, it has always been against our guidelines to use a name that sounds or looks like "Instagram" or copies the look and feel of our application.
"Similarly, as we have clarified in the new guidelines, use of "INSTA" and "GRAM" for an application that works with Instagram is harmful to the Instagram brand. It is important that you develop your own distinctive branding for your applications, and use Instagram's trademarks only as specifically authorized under our policies." (Source: TechCrunch)
For more information on choosing a business name, please see this article: https://www.lawdonut.co.uk/business/starting-up/choosing-a-business-name-faqs