Content marketing continues to remain an effective marketing approach being adopted by businesses of all sizes. In fact, 70% of marketers are actively investing in content marketing and nearly 40% say it's an important part of their overall marketing strategy.
As with most things in the industry, the amount of terms and acronyms can make content marketing seem a daunting prospect to small businesses and sole traders. That's why in today's article I'm going to breakdown and explain what sixteen of the top buzzwords in content marketing mean.
Let's start with a couple of essential definitions, including content marketing itself.     
Fundamentals of content marketing:
1. Content marketing
The Content Marketing Institute defines content marketing as: "a strategic marketing approach focused on creating and distributing valuable, relevant, and consistent content to attract and retain a clearly defined audience – and, ultimately, to drive profitable customer action."
To simplify this further, content marketing describes the process of creating and sharing high-quality content to a targeted audience in a format they want to consume to help drive a desired action from them, for example completing a sale or contacting your business.
One quick myth-buster here, content doesn't just mean blogs but rather encompasses a range of different formats such as videos, emails, podcasts, social media posts, infographics and e-books.
You can find out more about how to create a content marketing strategy in our online guide and find further examples of content marketing from HubSpot.  
2. Owned, earned and paid media
Often owned, earned and paid media are referred to as the pillars of a successful content marketing strategy.
The framework is a way of dividing different content formats, approaches and channels into three different categories based on how your audience consumes them.
For example, owned media encompasses channels that are owned or controlled by your business such as your website, blog and social pages.
Whereas earned media refers to channels that have been publicly generated through relationships and content, such as reviews from customers, coverage in news outlets and mentions on social media.
And lastly, paid media refers to promoting content through paid channels such as via social media ads, remarketing channels and pay-per-click (PPC) campaigns such as on Google Ads.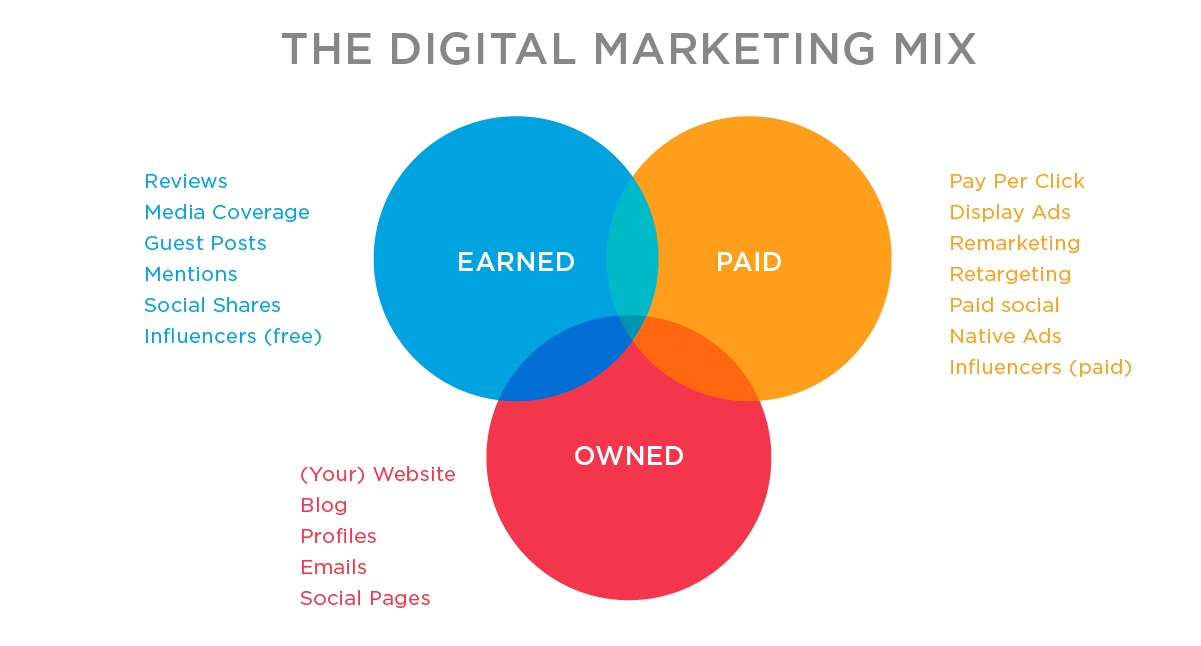 (Diagram based on Searchenginejournal.com) 
Learn more about the difference between owned, earned and paid media here.
Now's let take a look at some definitions for buzzwords and terms around the content planning process.
Content planning:
3. Content audit
A content audit is the process of evaluating existing web content and analysing its performance to identify opportunities to update, improve, delete or re-promote content.
Content audits are often used as a tool to plan future content and rely on analytics, such as how many people have visited a particular blog and which content pieces have the chance to perform well in search engines.
You can learn more about what's involved in running a content audit in this guide from HubSpot.   
4. Editorial calendar
An editorial content calendar is a scheduled plan for the weeks and months ahead that outlines what content you intend to publish and when.
Editorial calendars can come in many forms, from calendar views to Excel sheets or on specifically designed tools. Most editorial calendars track the details of a content piece (title, author, format), when it is due to be published, the key stakeholders involved, SEO keywords and current status (e.g. in draft, approved, scheduled).
Content calendars can also be a good place to mark important calendar dates and events (such as Small Business Week) or your own marketing campaigns.
You can learn more about editorial calendars and download a free template here.
5. Keywords
Keywords are the words and phrases that people use to find what they're searching for online (normally what you type into Google or Bing). Including relevant and frequently searched for keywords within content is an SEO principle that helps search engines understand what your content is about and increases your chances of appearing higher up in search engine result pages (SERPs).

To include keywords within your content, the first place to start is keyword research, which you can find out more about in this introductory guide.
Next up we're going to take a look at the different types and formats of content marketing.
Types/formats of content marketing:
6. Evergreen content
Evergreen content refers to content that stays relevant and valuable for a long period of time. So instead of news articles or statistical pieces, we're talking more about how-to videos, whitepapers and e-books. You can find out more about the benefits of evergreen content and how to create it in this guide.  
7. Long-form content
Long-form content is what you'd expect from the name, content which is lengthier than your typical blog post or online article. There doesn't seem to be an agreed word count to what constitutes long-form content, with some marketers considering 700 words to be long-form and others publishing 3,000+ word articles. Find out about the benefits of long-form content and how to go about producing, publishing and promoting it here.  
8. User-generated content (UGC)
User-generated content (UGC) is content which has been created by people who haven't been paid to produce it. This can be anything from videos to images, but the most common examples are online reviews or organic social media posts that fans share where they are wearing or using a product.
An example would be Coke's #shareacoke hashtag on Instagram which encourages customers to share their pictures with the popular personalised bottles.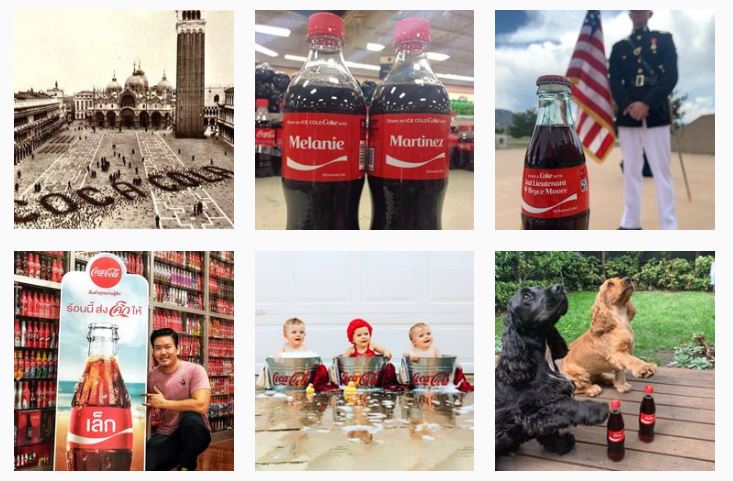 Find out how UGC can help your small business and how to encourage it in this guide.
9. Dynamic content
Dynamic content, or adaptive content, refers to digital or online content that changes based on the behaviour, preferences and data of your customers to create a user experience that's customised for them at that moment.
Some of the most well-known examples being recommendations based on what you've brought on Amazon or watched on YouTube. You can learn more about dynamic content in SEMrush's guide here.
10. E-books and whitepapers
E-book stands for electronic book and is a book that's available to access and read in digital form. Think Kindles and PDF guides online.
Whitepapers are described as authoritative reports or guides and normally cover more complex topics and subjects. Think medical or government reports.
11. Gated content
Gated content refers to content which requires some form of action to access it, such as filling in a form or purchasing a subscription.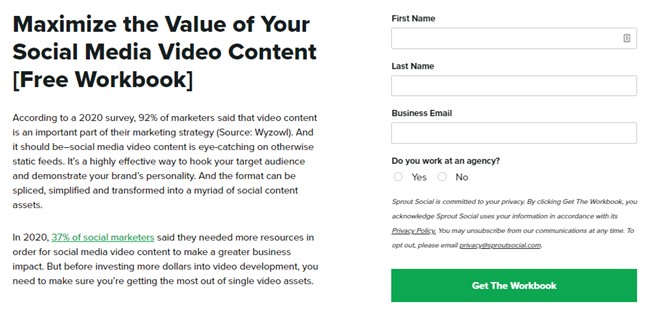 Gated content is a popular technique to collect customer data and encourage customers to join mailing lists and is often found in front of longer, more detailed pieces of content such as e-books, whitepapers and video guides. You can learn more about gated content in this guide.
12. Guest posting/guest blogging
There are two approaches to guest blogging. The first is when a guest contributor writes a blog for your website which you then publish and promote. The second is when you contribute a blog or article to a third-party website and appear as a guest contributor for them.
Both can be effective techniques to reach new audiences and tap into an influencer's network (whether that be through a blog written by them on your website or through a website's reach for an article you've contributed). You can learn more about guest blogging for other websites here.
For our final section, let's explore some buzzwords around content publication. 
Content publication:
13. Content management system (CMS)
A content management system (CMS) allows website owners to create, manage and edit the pages on their websites, think WordPress and Squarespace as examples. You can find five CMS platforms that are ideal for small businesses here.
14. A/B testing
Normally used in email marketing, A/B testing, or split testing, is where two campaigns are run side by side with one variable changed on the second campaign to test the effect. For example, testing different email subject lines with all other variables (content, images, time of send) being the same between the two campaigns to see if one of the subjects gets higher open rates.
Not only reserved for email marketing, A/B testing can be applied to landing pages and call-to-action buttons (more on these below). HubSpot has a great guide to A/B testing here and you can find out more about split testing for email marketing here.
15. Bounce rate
Bounce rate is a website metric which measures how many people arrive on a webpage and leave (or "bounce" away) without taking any action (e.g. clicking to another page.) It is often measured as the percentage of single-page sessions.
A high bounce rate percentage can be an indicator that a blog, piece of online content or webpage isn't performing well, and visitors are clicking straight off once they've arrived. Causes of a high bounce rate could be anything from slow-loading pages to misleading content or weak call-to-actions. Search Engine Journal share 11 reasons for a high bounce rate here.  
16. Call-to-action (CTA)
A call-to-action (or CTA) refers to a phrase, button or form of encouragement that tell a user an action to take and how to take it. In marketing terms, it's more specifically what you want customers to take action on from a marketing campaign.
Examples include download buttons, sign-up pop-ups and free demos. In the screenshot below from AO.com, the CTA would be the green 'register' button.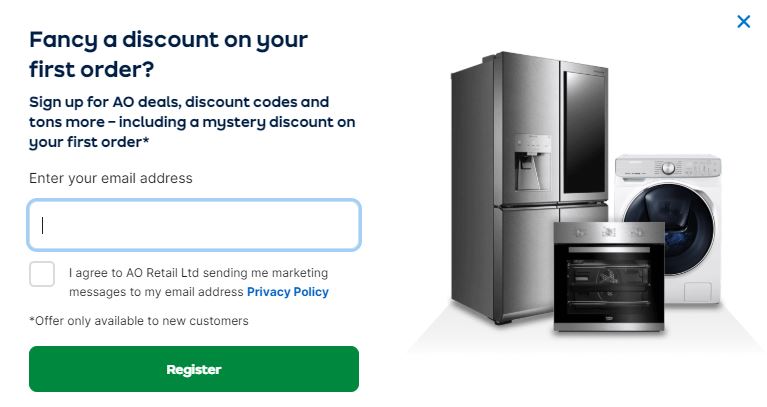 And there we have it! Sixteen content marketing buzzwords explained. Hopefully, you now have a better understanding of some of the formats, techniques and tactics that make up content marketing. Don't forget to visit the helpful resources within the article to find out more about each term and learn how to get started with your very own content marketing strategy here.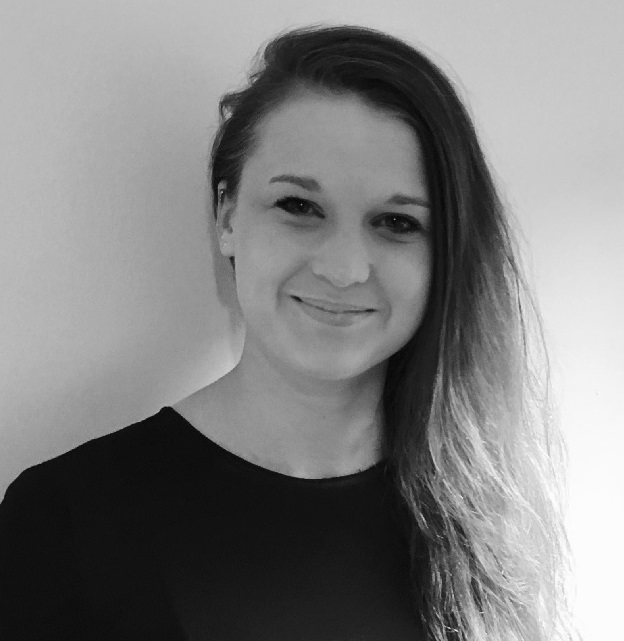 Zoe works as a Content Marketing Executive at the UK Domain. Previously working in advertising and the sporting industry, Zoe has over four years experience in marketing.
Read full profile