Christmas is the biggest retail opportunity of the year, with UK shoppers spending £79 billion in the lead up to Christmas 2017, and £3,134 million on the Black Friday weekend alone, any eCommerce business worth its salt will be focusing on capitalising from consumers' readiness to buy.
Of all your marketing strategies, email is right up there, with email driving around 20% of all festive spending.
Getting your email strategy right is crucial to whether your business benefits from the opportunities the festive season offers up, both in terms of immediate revenue, but also in generating long-term consumer relationships.
1. Start early
It's never too early to start strategizing your Christmas marketing. Marketers often begin the process right after the previous Christmas when insights can be analysed, and lessons learned.
But if you haven't started your email marketing campaign yet, then you still have time. Beginning your campaign from November allows you enough time to send a sequence of emails that will have an impact on your sales.
2. Revisit your personas and define their festive behaviours
With any marketing strategy, it's useful to start with your customer personas. You should have a good idea of how they behave online; what their goals and pain points are. But these may look very different during the festive season.
You might find that you have some entirely new buyer personas – not your usual customers – in the run-up to Christmas.
Outlining these personas is a valuable exercise before you start designing your email campaign.
3. Use your data
Looking back at the last 3 years' worth of Google Analytics and email marketing reports will help you flesh out the behaviour of your personas.
You'll want to look at what your emails are doing to drive traffic, which campaigns are most successful; which were bona fide flops. This way you're in an informed position to tweak the content, subject lines and timing of this year's campaign.
It's also worth knowing the busiest shopping days and times of day so that you can schedule your campaigns at the optimal times.
Key metrics to look out for are:
In your email marketing reports:
Delivery rate – how many emails landed in people's inboxes
Open rate – how many emails were opened
Click through rates – how many emails encouraged clicks through to your website
Conversion rates – how many made a conversion as a result of your email
In your Google Analytics:
Acquisition: which were the busiest dates/times of day
Acquisition – source: which email campaigns have driven the most traffic
For more on advanced email marketing tracking in Google Analytics, read this Smart Insights guide.
4. Build and segment your list
It's not too late to build your email list in the run-up to Christmas. List building should be an ongoing effort, but there are tactics you can employ during the festive season to obtain contact details.
Use your social media to promote discounts and incentives in return for an email address. And use pop-up forms on your site in a similar way.  
Segmenting your list is also a crucial way of ensuring you target the most relevant emails to each of your buyer personas.
There's little to be gained from sending a brand-new customer an overfamiliar mail reminding them of why you're the best place to shop this Christmas. In the same way, sending overly generic emails to your regular customers is also a missed opportunity to upsell.
Clearly segmented lists will make sure you get your message, content and offers right from the start.
5. Plan your email sequence
The first part of this is to make a note of all the main retail opportunities in the run-up to Christmas.
In recent years we've seen the important role of Black Friday (23rd November) and, increasingly, Cyber Monday (26th November). But there are also the lesser-known dates that would be worth making note of:
Grey Thursday (22nd November): The day before Black Friday, it's used as a "soft launch" day on which businesses prep their customers with promotions ahead of the Black Friday rush.
Retargeting Tuesday (27th November): The day after Cyber Monday, this date is a chance for businesses to retarget customers who've abandoned their site the day before.
Throwback Thursday (29th November): This date has been recognised by merchandisers as the day on which Black Friday/Cyber Monday impulse customers return their goods.
Small Business Saturday (1st December): This date has been chosen to gather support for SMEs in the lead-up to Christmas. It's marked out by its hashtag, #SmallBizSat.
Green Monday (10th December): This date was first noticed by eBay as a high point in online sales and is now deemed the Cyber Monday 2.0.
Free Shipping Day (15th December): This date has long been in the marketer's diary, marking the last date at which shipping can be guaranteed to reach the consumer before Christmas.
You can also use your data to support these key dates. Does your data show that you receive a surge in online traffic and conversions on Free Shipping Day 2017? Or perhaps you had a peak on another date altogether.
Now you have your calendar mapped out, you can start to plan out your sequence of emails. Your sequence might look different for each of your segments, so to keep this process simple, use a spreadsheet. Your email marketing software should help you to automate your email sequences. 
6. Personalise your emails
Your email marketing software, whether it be Mailchimp or ActiveCampaign, will let you do basic salutation and subject line personalisation. And you'll have already segmented your contact lists, which will allow you to personalise your email sequences depending on the type of persona you're targeting.
You'll also be able to determine the best send times for your emails, and these might be different depending on which segment you're targeting. Matching your email to the right kind of landing page will help you to achieve better conversion rates.
Personalised product recommendation within an email is estimated to increase click through rates by around 330%. So, if you wanted to go into advanced personalisation, you can use specialist software to recommend products to your existing customers. However, Mailchimp have recently launched their own product recommendation tool.
7. Refresh your design
In the lead-up to Christmas, you can tap into your creativity and have fun with your email design.  In fact, whilst it's important to stay true to your corporate colours during the rest of the year, you can change your palette and font slightly in the Christmas countdown.
Your email marketing software might provide you with some festive templates, or you can start from scratch with your own. But once you've drawn up your templates, you can reuse them next year.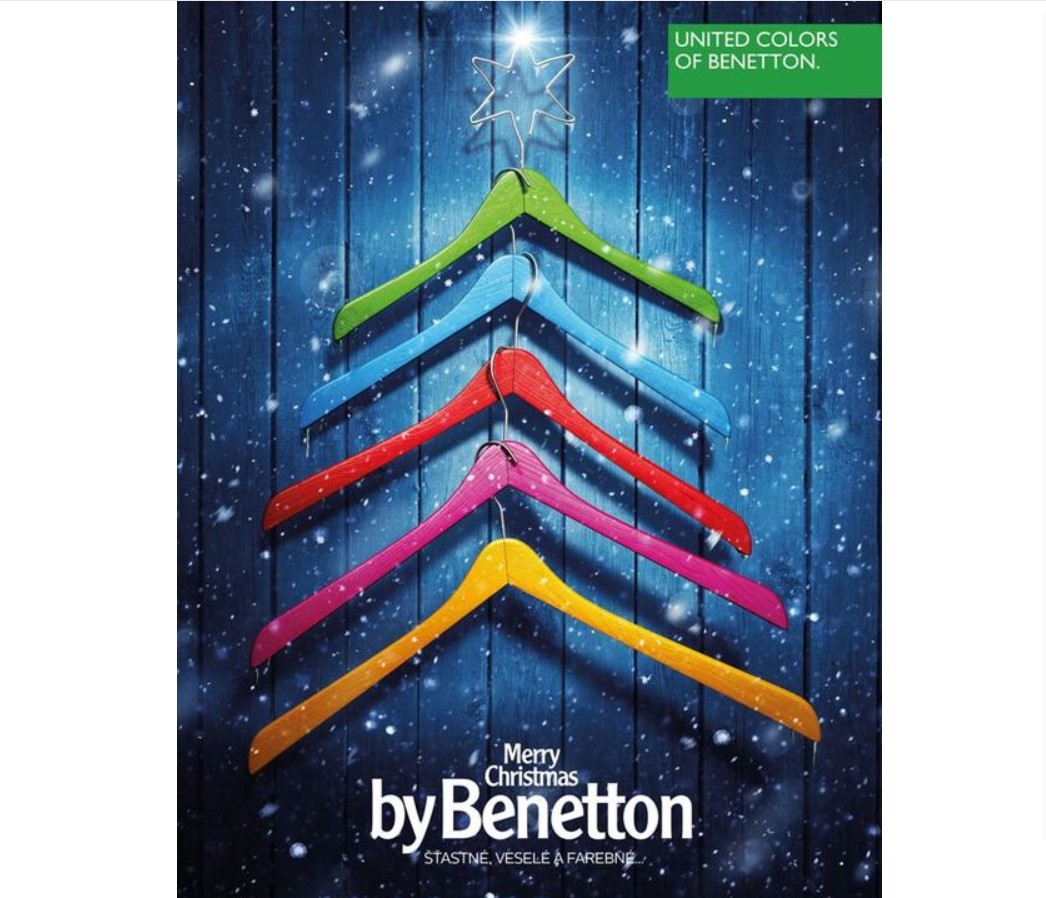 8. Create festive content
Your festive email marketing campaign shouldn't focus entirely on the hard sell. Providing useful content is often a good way of encouraging your audience down the buyer funnel, rather than hitting them with a sales pitch from the get-go.
Downloadable Christmas-themed how-tos – in video or text format – are worth considering. Gift guides are also a hit, allowing people to peruse your products at their leisure.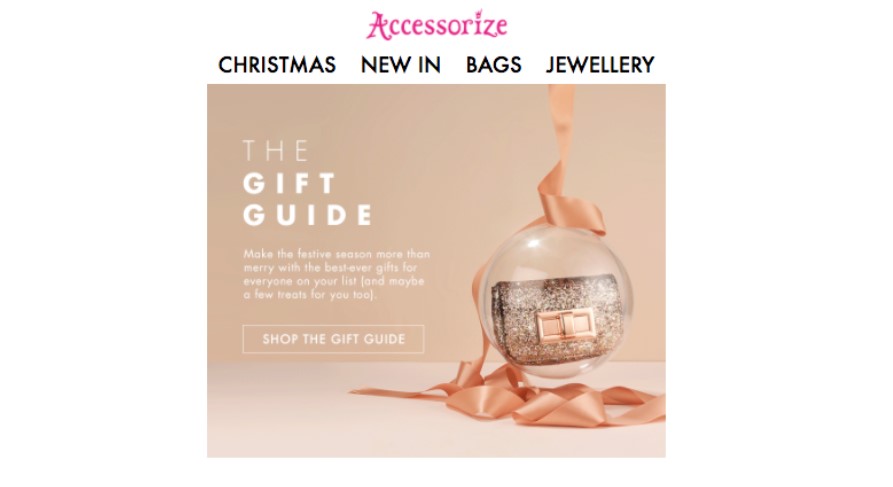 9. Plan your incentives
Very few festive marketing campaigns play out without any sort of incentive. People expect it and are actively looking for bargains.
Go back to your marketing sequencing spreadsheet and determine which incentives should be placed in each email.
Your first couple of emails should probably avoid any kind of promotion, but as you move into December, you can begin to offer free delivery (especially as you get closer to Free Shipping Day). Then as Christmas Day draws closer you can start to offer free next day delivery, or percentage discounts.
10. Perfect your message, subject lines and calls-to-action
How you choose your message, subject line and CTA will depend on where you are in your sequence of emails. It'll also depend on the segment of your audience you're targeting.
As a rule, the earlier on in the season, the more playful you can be with your tone. Festive puns go down well, as do references to Christmas carols ("The 12 days of Christmas").
The closer you get to Christmas, however, the more persuasive you need to be. You're competing for business at this point, so it's time to up your tone, and add a bit more pressure. Your CTA should reflect this by being more prominent and insistent.
Check out the difference between the following two emails from Fat Face. The first, sent in early November, has a very relaxed subject line and tone. It's not pushing you to buy, but just to "shop gifts". Its image is cosy and inviting.
The second email, however, is sent on December 22nd: "This is it! Order by 3pm today….", it's urgent and assertive. The call to action is "shop now", and it's full of incentives such as free delivery, free returns, and next day delivery. The imagery is starker, and overall gives the impression of urgency.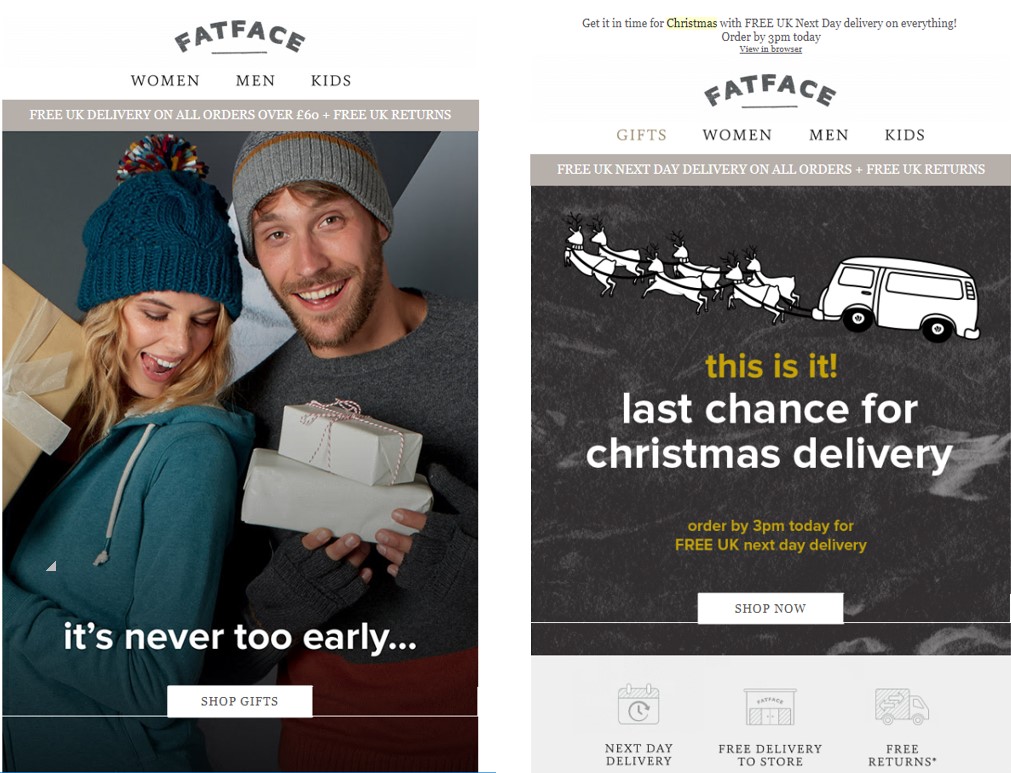 11. Make sure it's optimised for mobile
While more people make purchases on a desktop than on their mobile (3.9% vs 1.4%), the majority of email opens happen on a mobile phone.
By now your email marketing software should be mobile optimised. But it's worth just checking that your emails work well on a mobile screen.
12. Provide help and support in footer
Given that you may be reaching a new audience around Christmas, it's important that you're available to help them with their queries during their shopping experience.
In the footer of each email provide a clear email address and phone number and, if possible a link through to a support page with FAQs.
13. Work on your abandoned cart email
During the run-up to Christmas, abandoned carts are a fact of life for eCommerce businesses. Around 69.23% of customers abandon their shopping cart at some point during their purchase.
While this is frustrating, it's not entirely hopeless. A timely and well-written abandoned cart email can help retrieve about 5% of these customers, which in the context of your Christmas revenue, amounts to a lot of income.
For more on writing the perfect abandoned cart email, read one of our earlier articles.
14. Don't stop on Christmas Day!
It might be tempting to reach Christmas and take your foot off the pedal. But luckily for you, your campaign carries on beyond December 25th.
In fact, two of the busiest online shopping days of the whole period are December 25th and 26th, when consumers are on holiday and sales have begun.
Make sure you've planned your sales strategy in advance and have included this in your campaign sequence.
In summary
Starting your festive email marketing campaign early will help you to build a robust strategy to reach a variety of personas, develop incentives for each stage of their journey, and leave yourself time to respond to your customer's needs in good time for Christmas.
Getting your email marketing right means understanding your audience and what they want from you at Christmas. It's knowing when to keep cool and when to push the incentives and drive sales.
But in this, the busiest time of the eCommerce year, make sure you have fun with your email campaign. Find your inner creative spirit and play with themes and imagery.
But most of all, be authentic to your brand and that will shine through your festive emails.