With 63% of small businesses already on social media and a further 22% planning to set up an account in the near future, organisations all over the world are well and truly embracing the benefits these platforms have to offer.
Of the small businesses currently signed up to the likes of Facebook and Instagram however, 40% don't have a social media strategy. This means it's highly unlikely they're unlocking the full potential of these sites or getting the ROI they long for.
In order to succeed in the competitive world of social media, and get the most out of your Instagram marketing, a strategy is critical. Without it, you're probably just sending out content for the sake of getting something out there.
What exactly is an Instagram strategy?
An Instagram marketing strategy is a detailed document which explains the what, when, how and why for all the content you post on your small business's page. It's a plan, a mix of ideas, a purpose and a journey towards the goals you're aiming to achieve.
By creating this document, you're forcing yourself to understand your audience, what they're looking for, how their needs align with your goals and ultimately, how you can attract them in a way that gets them on board with your business.
All this sounds great but where do you even begin?
How to create an Instagram strategy
Creating an Instagram strategy for the first time can feel a bit daunting. The good news however, is that Instagram can be an incredibly powerful tool when used properly and your strategy is going to help you do exactly this.
This step-by-step guide is packed full of tips and advice which means you'll be on your way to creating fantastic Instagram content of your own in no time.
What should I include in my Instagram strategy?
Step 1: Your goals
The very first question you should be asking yourself is 'why do I want to be on Instagram?' The answer to this question is related to your goals but it can be a tricky concept to grasp.
According to the 2019 Sprout Social Index, nearly half of marketers find aligning their social media campaigns with their company goals their biggest struggle, so it's understandable if you find it hard too.
Below are some great tips to help you begin identifying and defining your goals for Instagram, taking into consideration your wider business objectives:
Tip one: identify a broad objective
If you can determine why your business is active on social media in the first place, this will aid the goal-setting process. Some common examples include:
Increasing brand awareness
Promoting specific products or services
Driving traffic to your website
Engaging local followers and growing a greater community presence
Increasing sales
Generating new leads
Providing a platform for existing customers to boost loyalty
Once you've laid out your broad goals, you can start thinking about the more specific goals which are going to inspire your day-to-day social media activities.
Tip two: write down your SMART objectives
These are far more specific than your broad objectives and they really force you to think about where you're going with your Instagram marketing strategy.
Specific: your goals should be clear, simple and defined. Examples include attracting a set number of new followers by a specific date or selling a certain number of products as the result of a new campaign
Measurable: you want a goal that has one or more metrics such as the examples mentioned above. I'll go into more detail about this later on under 'how will you measure your success?
Achievable: are your goals achievable with the resources you have available?
Realistic: is it really possible for your small business to attract 1,000 new followers a month or post every single day if you're time poor?
Time-sensitive: putting a time frame to your goals will make you more likely to achieve them
Step 2: Your audience
Understanding your audience is a crucial part of your strategy because this will help you determine when to post and what to post.
If you've already defined your buyer personas, you can simply use this information to determine your target audience. If you haven't, it's a good idea to write down what a typical customer looks like for your business.
Have a think about:
Who your customers are. How old are they? Are they male or female? What do they do for a living? Where do they live?
What are they interested in? Do they like entertainment, educational content, information on new products or seeing case studies?
Where do they usually hang out online? Which social media sites do they use most often? Do they look at news sites or do they prefer niche platforms?
When are they usually online? Some audiences tend to be online more during the weekend, some during their daily commute and others at lunchtime or in the evening.
Why do they use the internet? Is it to read the news, find out more information about products, buy products or seek advice?
How are they using the internet? Does your audience like to read social media posts, blogs or watch videos?
Another effective way of identifying your target audience is to analyse your competitors' social media profiles. See what kind of followers they have and the content they're posting. This will give you a great idea of what your target audience should look like. Rather than manually going through other accounts, here are 13 competitor analysis tools you can try.
Step 3: Your brand voice
Your voice and personality is an important part of your Instagram marketing strategy. This is the tone you adopt in your posts, the language you use and the type of content you post.
Are you the type of brand to use emoji's or are they too informal? Do you use slang or formal language? Are you fun and light-hearted or more informative?
Creating a unique personality for your brand is crucial because this is what sets you apart from your competitors and allows your followers to get to know you. It's also important that your audience knows what to expect from you. If one day you're all about silly memes and smiley face emoji's and the next you're talking about serious and complex issues, your message is going to be confusing and people will hit that unfollow button.
When trying to determine your voice and tone, ask yourself:
If your brand was a person, what kind of personality would it have?
If your brand was a person, what would its relationship be with your customers?
What your personality is not (for example, not forceful or pushy)
Which companies have a similar personality to ours?
What do I want customers to think about our brand?
Step 4: What to post and when
The fourth stage of your Instagram strategy involves thinking about the type of content you're going to send out as well as when and how often you're going to post.
When it comes to planning what to post, it's a great idea to write down a handful of themes. This gives you the space to share a range of content to keep your audience engaged. Do try to stick to the themes you've chosen and be consistent with them however. Trying to post about anything and everything can confuse your audience and your identity.
A great example of a brand using multiple themes but sticking to them is the American women's clothing company, Privacy Pls. Everything about their feed is consistent from the order of the posts (every other image is a person) to the filter they use and the nature of the content which is always either a customer wearing their clothes or photos of a building or nature. Their captions are always short and simple as well such as 'beauty in every corner' or 'beach days.'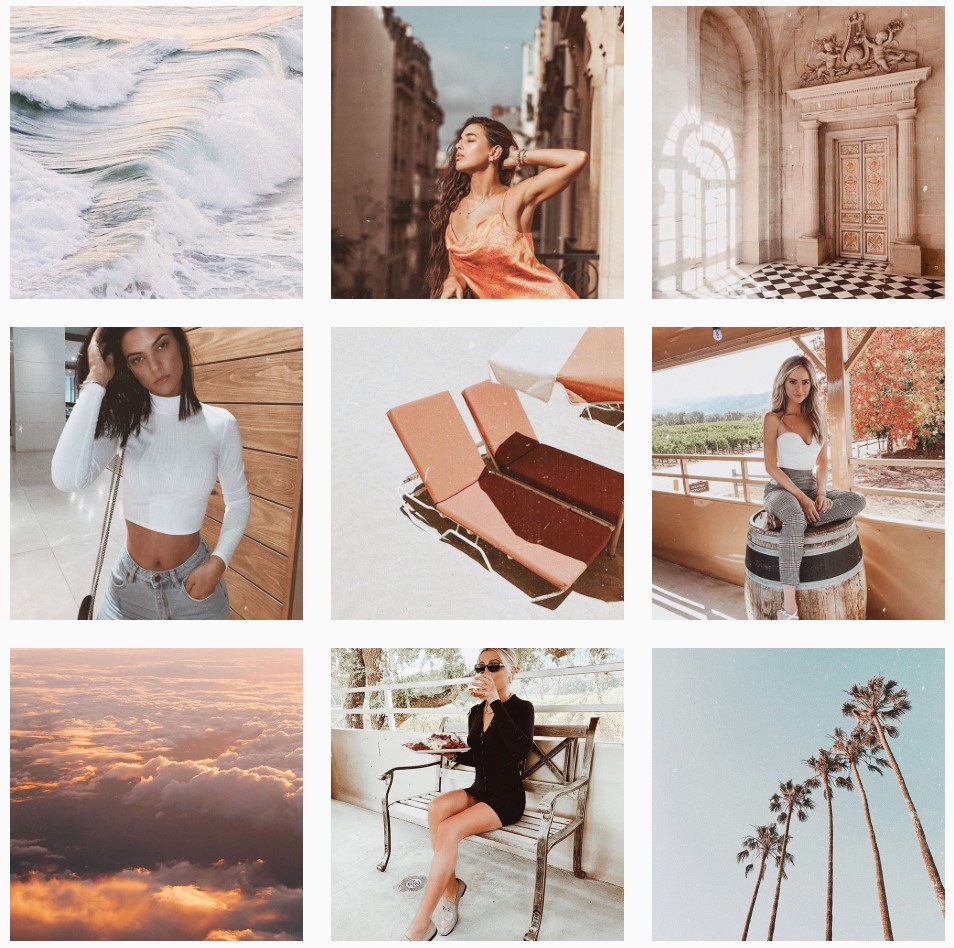 When planning the content for your own page, you want to ensure it's going to resonate with your followers so they like, comment and ultimately, take action. You can achieve this by considering the following:
What goals or challenges do my customers have?
How can I help them achieve or overcome them?
Some great content ideas to get you started include:
User-generated content. If you can get hold of customer photos, this is brilliant content to use. It's fun, authentic, builds trust, helps people relate to you and is a fantastic way to show your products in action. This is a great example of user-generated content from MeUndies. As you can see someone makes the comment 'Can't wait to order these for my boyfriend and I.'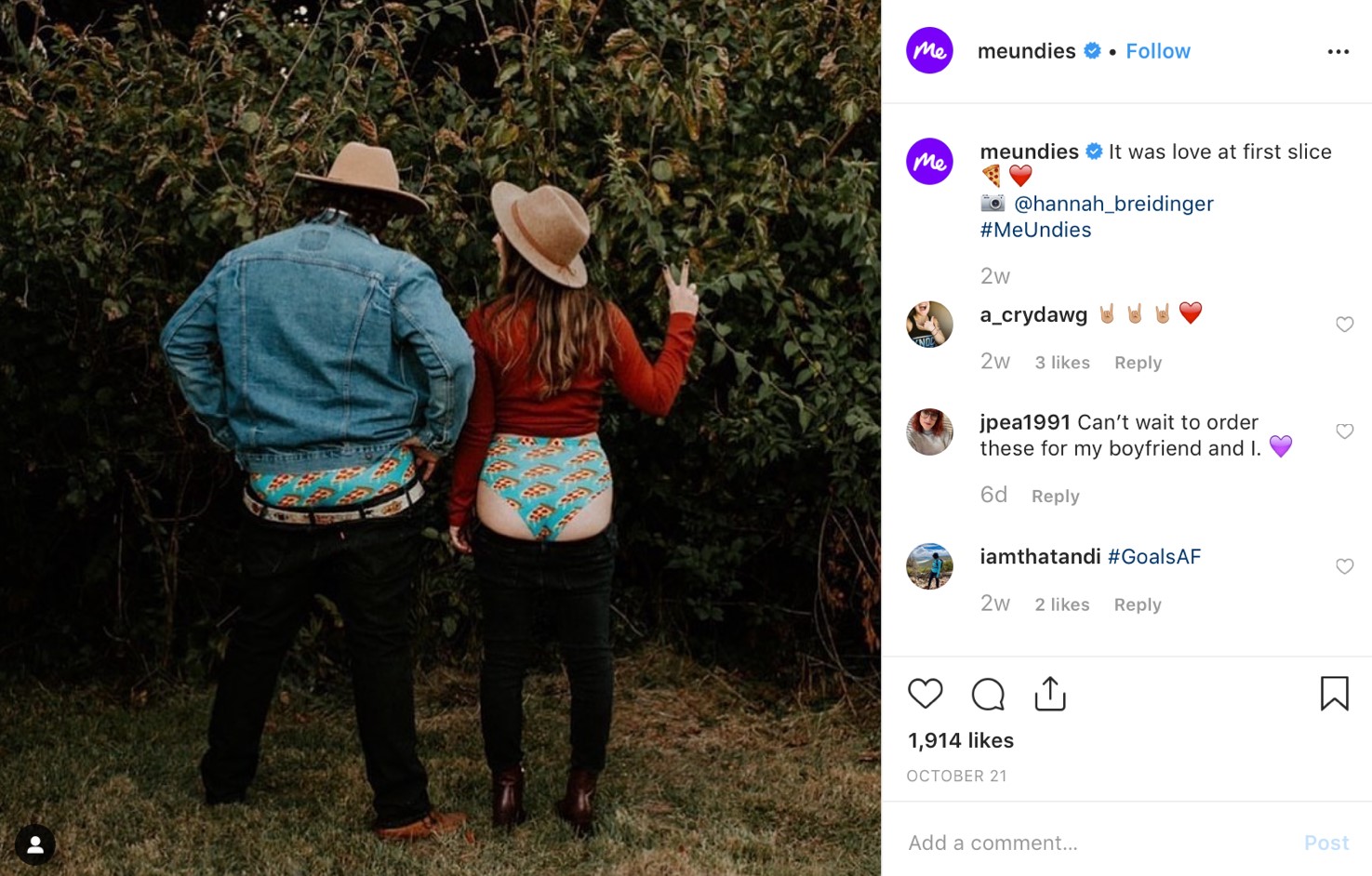 Meet the team and behind the scenes. This type of content makes you more personable and once again, builds trust. Human faces also help to create a personal connection to your brand and tap into people's emotions. Photos showing faces do in fact get 38% more likes compared to those which don't.
Aside from human faces, the other types of photos which typically get the most likes on Instagram include landscapes, historical photos, food and animals. Think about if any of these relate to your business and how you can use them.
News such as a new member of staff, awards you've won or moving office.
Product demonstrations give you a great excuse to create video content. Videos on Instagram receive 38% more engagement than image posts so it's well worth adding a few to your library.
More information about your services
Giveaways and promotions. You can find out more about how contest marketing can benefit SMEs here.
For more ideas on content to post and tips on how to post on Instagram, head over to this Instagram marketing guide for small businesses.
Find further tips and advice on how to write great Instagram captions here and what the best image dimensions are here.
When to post on Instagram
Planning what and when you're going to post means you're far more likely to enjoy Instagram success. Without a content schedule, it's very easy to keep telling yourself you'll post tomorrow. Before you know it, weeks have gone by and your followers haven't seen a single post from you.
Just like you expect your favourite TV show to be on at the same time every week, your followers want to know when they can expect to hear from you. Things often come up in the world of business however which means it's easy to forget or run out of time. Using a scheduling tool is a simple way to get around this problem. Simply write your posts in advance, schedule them in and they will automatically go out at the time and on the day you specified.
If you're new to social media scheduling tools, here's a beginner's guide to managing social media using Hootsuite. Aside from Hootsuite, some other social media management tools include Sprout Social, CoSchedule, Feedly and Post Planner.
It will take some time to work out the best time of day to send out your posts. A great place to start is by looking at your insights. Click on 'audience' and scroll to the bottom and it will tell you the peak times your followers are online. Buffer has also put together a very helpful guide which will help you determine the best time to post on social media.
Step 5: Measuring success
The best way to know if your Instagram strategy is on the right track is to measure your performance using analytics tools.
On Instagram itself, you will be able to track the number of followers you have as well as other valuable insights including how many times your posts and stories were seen, how many interactions your page has received, impressions, reach and growth.
It's also a good idea to write down the number of likes, comments and shares each post gets because in time, this will allow you to build up an accurate picture of the type of content which typically goes down well with your followers.
You can then use a website analytics tool such as Google Analytics to determine how many people have visited your website because of Instagram, how long they spent on your site, which pages they looked at and whether or not they made a purchase.
One final aspect of your Instagram marketing strategy to consider is how you're going to display your plan. Hootsuite has a great free template you can use which makes it easy to outline your goals, identify your target audience, monitor your competition, audit your current social media presence and much more.
To get the most out of your Instagram strategy, have a read of this helpful guide, 'Instagram marketing for small businesses.' Here you will be able to find everything you need to know from how to set up a business account and post stories to knowing what makes a great profile and beating algorithms.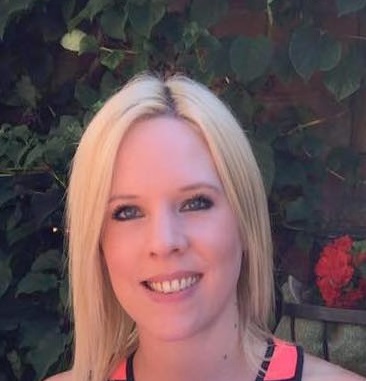 After completing her degree in Journalism, Monique began her career at a digital marketing agency. It was here she discovered a passion for online marketing with a particular focus on content creation for the web. Six years ago Monique set up her own copywriting business, Copyworks Group, which specialises in creating content for websites, blogs, newsletters and social media pages.
Read full profile