If you've thought about creating your own ecommerce website but were unsure how to go about it, this guide aims to point you in the right direction.
It will look at the business case for selling online, whether you already have a physical store, or want to sell purely on the internet. We'll also look at the planning process, and things to consider when selecting an ecommerce platform, as well as the key features and content you'll need. Finally, we'll look at ways you can market your site and build traffic once you're online.
Why you should create your own online shop
It's a question many businesses will have asked themselves over the past few years, as online retail has grown year after year. Some business owners may think they have missed the boat, but it's never too late to launch a site and start selling online.
There are several compelling reasons to create an ecommerce website….
The size of the market and opportunity
Online retail has grown steadily over the past decade, with year on year growth between 10 and 18% since 2009. It continues to grow, and will do for some time. Moreover, internet use is higher among younger age groups, so the trend is that more and more people will move online.
Roughly 14% of all retail sales took place online in 2016, with many more sales influenced by the web. According to stats, 87% of UK consumers made at least one online purchase in 2016.
In short, selling online gives retailers access to a bigger market than they could reach elsewhere, and represents a massive opportunity for retailers to grow their businesses over the coming years.
Your competitors are going online
More small businesses than ever are now selling online, with more planning to take the plunge in the coming months. Indeed, according to the SME Growth Tracker, 64% of small and medium businesses are currently selling online, with almost 90% planning to by the end of 2018.
This can work in a number of ways. If your competitors are already selling online, this gives them an advantage over you, as they are able to grow and reach more customers than you can. If they're offering competitive prices and a strong online presence, they may be acquiring customers which could have been yours.
The flipside of course, is that you can expand your online presence and gain a head start on competitors while they're still thinking about setting up an ecommerce site. And, if they're already selling online, then you have the chance to expand your business, learn from competitors and do a better job than them.
It can improve the performance of physical stores
Your offline store, or stores, may be the focus of your business, but any kind of online presence can help to improve the performance of stores by raising awareness.
An online presence through Google Business listings and social media profiles, helps to get word out about your products and services, and also increases awareness of your shops. These methods are effective, but an online store provides you with an effective presence you can control.
As well as selling directly online a website can be used to display details about stores, from opening hours to special events. It provides a destination for people searching online for your brand, one which you have complete control of.
Appeal to a global market, 24/7
The beauty of the internet for retailers is the access to a massive potential market. Whether you have one store or you're an established international retailer, you have access to the same potential audience through an ecommerce site.
Your website can be visited by any customer in the world with an internet connection, which opens up a whole new international marketplace. Yes, there are considerations in terms of delivering to different countries, but the opportunities are massive.
A more level playing field
On the high street, smaller retailers can struggle to compete with the deep pockets of larger retailers, who can buy the most prominent retail premises and invest in chains of stores.
Online, it's different. It may not be a totally level playing field, as larger retailers have the resources to spend more on website design, customer service, and marketing. However, it's possible to compete with the big guys online, if you have the products people want, provide a great experience for customers, and use your skills to be as visible as possible for customers.
Project a more professional image
A website can be seen as a signifier that you're a serious and trustworthy retailer by potential customers. It tells them that you're professional enough to have created a website from scratch to sell your products and services.
The ability to gather data
The data you have about your customers can make a big difference to the way you sell to people, and your marketing efforts. Of course, selling offline only, you'll still have data on when customers shop and the items they buy, but ecommerce opens up a whole new range of data for you.
For example, you can learn from browsing patterns and the way people use your site to make improvements, while identifying key customer groups enables you to focus on the most valuable segments. Data allows you to constantly improve your website to maximise sales and revenue.
Building a marketing database
Selling online allows you to acquire customers' email addresses and get their permission to market to them in a way that would be much harder to carry out offline.
Improved customer retention
Selling online means you can appeal to a broader customer base and retail customers, even if they are unable to visit your store. It allows you to learn about customers and use strategies to increase the number of repeat purchases.
Amazon and eBay are useful, but no substitute for your own site
Many smaller retailers use marketplaces such as Amazon, eBay or Etsy to test the waters online, and may not move beyond these channels.
They have their place of course, but there are drawbacks. Seller fees and other charges eat into profit margins, while your ability to grow your brand and deal with customers more directly is limited.
It may be harder to access such a large potential customer base through your own online shop, but long-term it provides the best way to grow your business and profitability. Besides, you can sell through your own site as well as marketplaces, they're not mutually exclusive.
It's not as complicated as you might think
Selling online may seem daunting to some retailers. It may seem too technical or time-consuming, but it doesn't have to be difficult.
Sure, you can build your own site from scratch if you have the skills (and the time) but there are now plenty of off the shelf solutions which make it easy to get selling straight away.
Ready to get started? The first step is creating a plan and requirements list. You can also find an overview of all the steps involved in this video:https://www.youtube.com/embed/ExMx3kiggpA?rel=0

How to create a plan and requirements list
Planning is key to a successful ecommerce project, and it pays to plan ahead and carefully consider your options, the choices you need to make along the way, and the resources and skills you'll need to complete the project.
Before you begin, there are several steps you should take. The size of the business will determine this to an extent, but it's important to be clear about the purpose and scope of the project.
Involve key stakeholders in the planning phase
An ecommerce site requires the commitment of all key stakeholders to ensure that everyone is on board with the project. Of course, this will vary depending on the size of your team, but everyone from managers involved in implementation to people involved in the day to day operations of the site need to be involved.
Appoint a project manager
Someone needs to be responsible for the delivery of a project to ensure deadlines are met and the project is seen through to completion.
Ensure you have proper documentation of the project
The development process needs to be documented and any requirements laid out. This helps to ensure that everyone is clear about what is required, and helps to define the scope of the process.
Produce a requirements document
Producing a set of requirements for creating an online store ensures that you consider what is required for the project, and have a constant point of reference as the project is ongoing.
Define timescales and progress
Look at the steps you need to take and the time involved in delivering these. Of course, any timescales are subject to change so it's good to build in some flexibility, but a timescale allows you to measure progress against the plan.
What should be in the plan and requirements list?
The content of the plan will vary between businesses, sizes of teams, and the goals of the project, but these are some suggested areas to look at.
Create your product
If you already have a store, the answer to this may be obvious, or you may have already been inspired to create an ecommerce website by your idea for a product or service. Do some research on the viability of your product. Is it already sold online? How competitive is the market? Can you bring something new to this market?
Find a domain name
There are more detailed guides to this, but it's important to choose a memorable and descriptive domain name which matches your business and products from what is available. Other factors should be considered, such as the type of domain – do you want a generic top level domain, or something country specific like .uk.
Determine pricing for your online store
This forms a big part of your success or failure online. If your prices are too low, you'll struggle to cover costs and make any profit from your online shop. If your price is too high, then you'll deter potential buyers and won't make enough.
First of all you need to consider your own costs. This includes the cost of making or buying the products you sell, the cost of hosting your site and taking payments, taxes, delivery costs, as well as any marketing and advertising you carry out.
From this you can work out what to charge to make a reasonable profit, but not before you check your competitor's pricing. You may be able to charge less and still make a profit, or to adjust your prices to remain competitive.
Figure out shipping options
Delivery is a big part of the proposition for online shoppers, and potentially a major cost for retailers. It's important to scope out the available options for delivery, and to choose a courier which can deliver reliably.
The delivery options you provide are important, as these can form a part of the customer's purchase decision, while you need to consider how much (if any) of the costs of delivery you plan to pass onto the customer.
Choose a web hosting provider
Depending on the ecommerce platform you choose, you may or may not need to choose a separate web hosting provider.
Choose an ecommerce platform
Unless you have the skills and time to build it yourself, the best option is likely to be using an off the shelf website from one of the many ecommerce platforms available. We'll look at this in the next section.
Set up your merchant account
To accept payments online, you'll need a merchant account to take and process credit card and other payments. There are many options here, and it's important to consider factors such as anti-fraud features, the ability to provide payment options which appeal to potential customers, and the fees you incur in receiving card payments.
Want to learn more?
The key considerations when choosing an ecommerce platform
Unless you have the skills to create an ecommerce site from scratch, it's likely you're going to need an ecommerce platform or ecommerce website builder.
Ecommerce platforms are the backbone of any online store, providing the software needed for retailers to manage their website and enable your customers to make purchases.
There are a lot of ecommerce platforms to choose from, with their own individual pros and cons. You'll need to take time and care to consider which platform is best for your budget, business and products.
Pricing and fees
Depending on the combination of options and features you choose, there is a wide variety of pricing options for the various platforms.
Most platforms will have a monthly fee which varies depending on the level of plan you've chosen. On top of this, some will charge processing fees per transaction, while other plans may come without free hosting, meaning extra costs for this. It's important to understand the costs and factor this into your plans and product pricing.
SEO
Search Engine Optimisation should be a key part of your online marketing strategy, and it's therefore important that the ecommerce platform you choose can support the SEO related elements you need to implement.
A search friendly URL and navigation structure, the ability to create a blog, and site speed are among the key factors for SEO. Moz has a more detailed list.
Customer service
The ecommerce platform you choose will become central to your business, so you need to know you can get in touch and receive excellent support if and when you need it.
Software issues and server outages can cost you in lost sales, and you need to know the platform will give you the support you need in these circumstances. Look for availability and levels of support, and the costs involved. Better still, look for reviews from other customers of these platforms to get a sense of customer service performance.
Design options
Most platforms will come with a range of themes for your ecommerce site, free and paid. You may have some strong ideas for your store design, a preference for a minimalist and clear design perhaps, so make sure there are free and affordable theme options that suit your needs.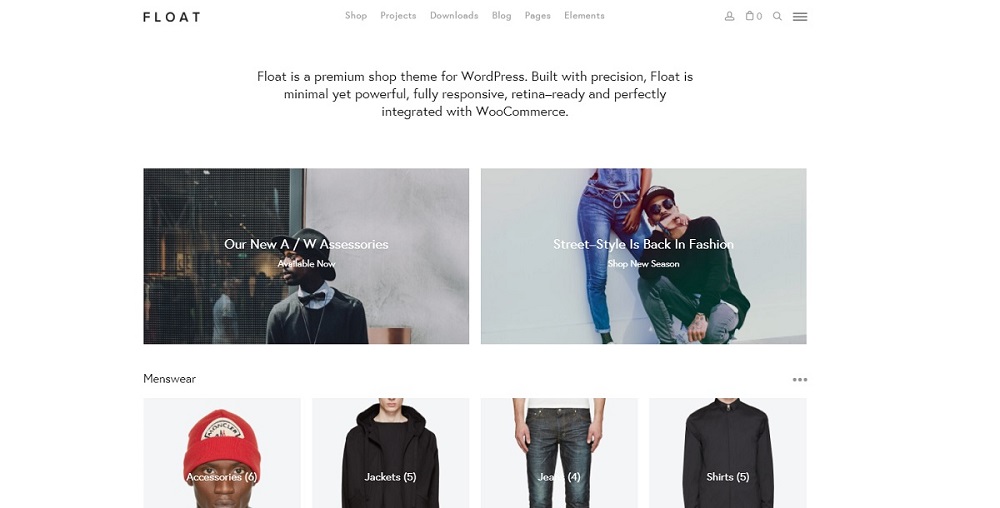 Security and compliance
Any platform you choose needs to be secure for you and your customers. Make sure any platform you use supports HTTPS and SSL Secure.
It also needs to be PCI (payment card industry) compliant. This is a set of standards to ensure that any business, no matter the size, is taking the appropriate steps to ensure payment security. Check out BigCommerce for a detailed checklist.
Does it work on mobile?
Mobile commerce is massive and no retailer should start out online without being able to cater for mobile shoppers.
For some sectors, such as fashion, the majority of visitors arrive via mobile devices. It's therefore important to ensure that your ecommerce platform can allow your visitors to browse and buy without hassle on a mobile device.
Can it scale?
You may start out with one of the more basic ecommerce platform packages, so it's important you can add more features and capacity as you grow your business online.
Look into the availability of plugins and apps, most platforms offer a range of apps to add to your online store. There are apps to add countdown timers and discount codes, customer service apps and more. It's worth looking at the availability of apps before choosing a platform.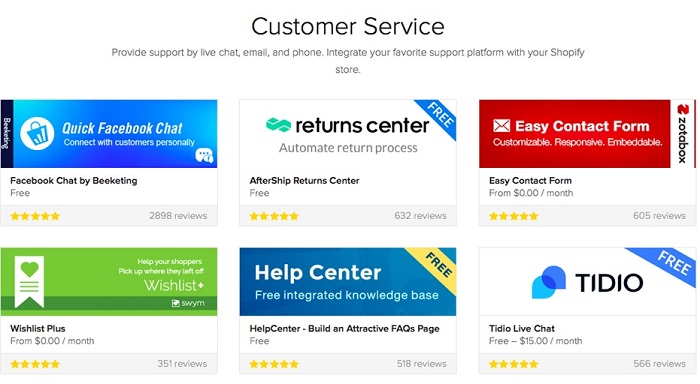 Ease of page editing and content creation
An ecommerce platform provides a template for you to fill in with products, prices, images, descriptions and any other content.
So this work doesn't become a chore, look for a platform with an easy to use CMS (content management system). This will save you a lot of time and effort.
Which ecommerce platform to choose?
This decision should be based on the considerations laid out in this section, and which platform you feel matches your needs and budget most closely. Some popular ecommerce platforms to consider:
There are some excellent articles comparing the features of some of the most popular platforms used by small businesses which are worth checking out:
Key design elements
Your online store needs to impress visitors from the moment they land on the site. Visitors often make snap judgements about the site and whether they'll stick round and browse.
Some aspects of this are subjective – people might not like the colour scheme for example – but there are some elements which shoppers consider essential, and sites need to be generally easy to use.
A consistent and usable design
Websites should be easy to use and understand first and foremost. It may be tempting to get creative with design elements and colour schemes, but anything that distracts customers from the business of browsing and viewing products is a risk.
A consistent visual design using the same theme throughout is a must as mixing and matching creates a more jarring experience for users. Key elements must be clearly signposted – navigation should be clear and easy to find, while calls to action should contrast from other page elements so they catch the attention of shoppers.
Online shoppers have expectations around how websites work, where they can find certain information, how they navigate etc, and it pays to match these expectations.
Mobile responsiveness
With around 50% of visitors to retailers coming via mobile, the ability to service mobile users effectively is key. The ecommerce platform you choose should accommodate mobile users, but you also need to consider design elements that are easier to use on a smaller screen.
For example, checkouts with plenty of space between form fields make it easier for mobile users to enter payment details without experiencing problems that may cause them to abandon purchases.
Clear navigation
Shoppers need to be able to browse through your site and find the products they're looking for with ease. Therefore navigation needs to be intuitive, while a clear site search function should be there to offer a more direct route when people know which product they are looking for.
Also, people are used to navigating most sites in a similar way, with navigation options at the top of the page, menus showing product categories and subcategories, and so on. It's important not to confuse potential customers and make their experience more difficult by trying to be different.
Product pages
Product pages are key. This is where customers make a decision on whether to make a purchase or not, based on what they see on the page.
There are key design elements to include on product pages, and these are two of the most important:
Images. Product images are massively important to give customers a good impression and understanding of the product. Use good quality images, and different views to show products from various angles.
Calls to action. These are the buttons and links customers need to click on to take key actions such as adding items to their shopping basket, or moving on to the next stage in checkout. It's important that these calls stand out from the page so customers are clear about the steps they need to take.
Contrast and size is key here. For example, making calls to action a clear colour makes them stand out on the page.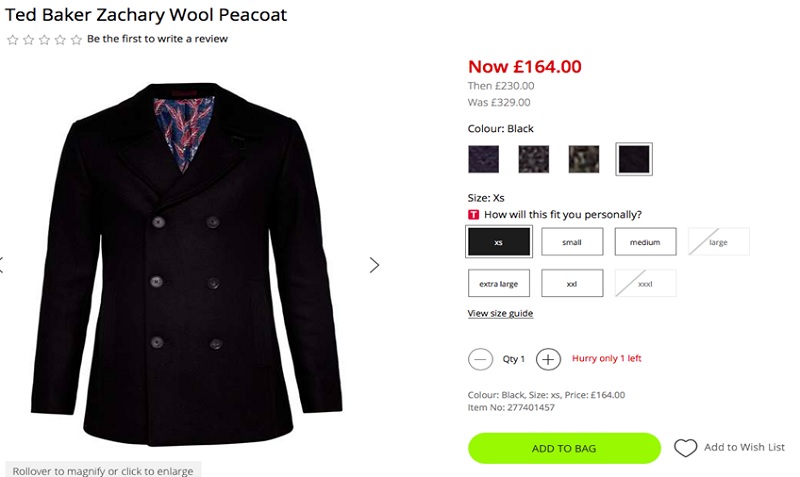 Checkout process
Checkout is a key area of your site. Even if customers have had a good experience on the site and found products they're happy with, a poorly designed checkout process can deter people from completing a purchase.
Here are some key areas to consider:
Make it easy to enter the checkout. Some sites make customers register, which can deter people from entering the checkout. Instead, consider a guest checkout which will get customers entering payment details without any barriers.
Make forms easy to complete. Form filling is necessary to complete a purchase, so make it easy to use so customers don't become frustrated and leave without making a purchase.
Payment options. Providing alternative payment options like PayPal can help you appeal to more customers. Indeed, a study by postnord found that 40% of UK online shoppers would use PayPal for online purchases.
Secruity. Checkout pages need to be secure, while features like clear contact details and trust marks can offer further reassurance to shoppers.
Want to learn more?

Key content you need to include
Content will play a big part on your online store, and every piece of content you create can help to sell your products, convey useful information to customers, and help to improve your search engine performance.
Product copy
Whether you're selling paperclips or antique watches, you're going to need some copy which describes the product and its uses, and helps to sell it to visitors.
There are a number of approaches you can take with product copy, and this may depend on the products and your brand tone of voice.
For example, the J Peterman company takes an idiosyncratic and very entertaining approach to selling its clothing, which works well for them, and is a good way to make its brand stand out from the crowd.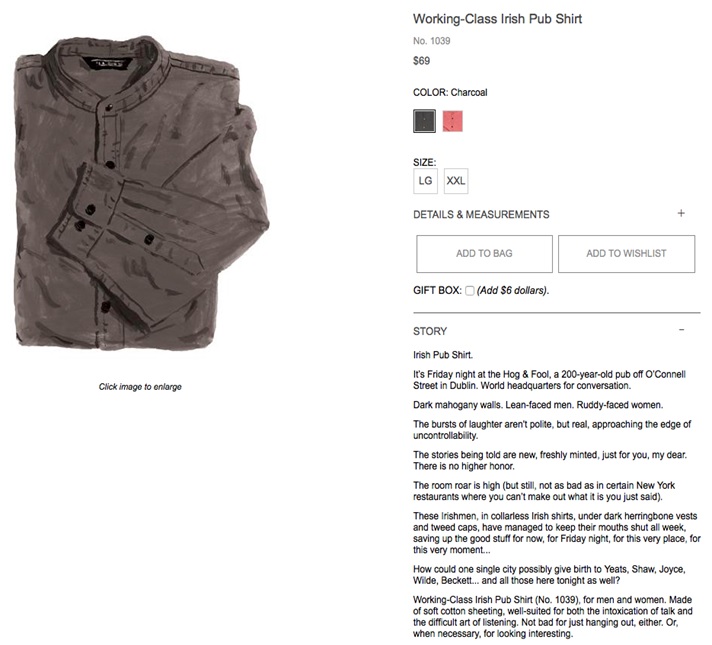 For other products, such as electrical goods, you may need to take a more pragmatic approach, describing the details and features so people can make an informed decision.
Here are a few things to think about when writing product page copy:
Brand tone of voice. The copy should reflect the brand and target audience and be appropriate to the product.
Highlight key features and benefits. Tell people how the product will help them, highlight clever and useful features which make it worth buying.
Explain the product. Some products need more explanation than others, but potential customers should be clear about how a product works.
Make product copy easy to read and scan. Formatting matters here, so highlight key points and organise text and information so people don't have to work hard to find information.
Think SEO. Product copy should primarily be written for customers, but there is an opportunity to rank for product related terms here.
Videos
Video can improve conversion rates and help to convey details and information about products which isn't always possible to do with copywriting.
It needn't be expensive to produce videos. They could be shot on an iPhone or digital camera and uploaded to YouTube, but they can still help sell your products. This approach may not be suitable for every site or product, but video is something to consider when creating product pages.
Blogs
Blogs can be used to talk about your products, convey useful information to customers, or just to entertain. It's important to put the effort in here, as a half-hearted blog will not do much to help your site, while well-written and regular blog content can help to improve your website's search rankings.
What you blog about will depend on the products you sell – it could be content designed to help customers use your products, or perhaps to entertain. Even boring businesses can create interesting blogs.
Micro-copy
Micro-copy refers to the small pieces of copy which help customers by offering guidance and explanation around the site.
It may be information about the number of available items in a particular size, or text next to form fields which explains what information is needed.
It plays an important role in making the site easier to use. For example, a piece of text explaining password requirements avoids potential customer frustration from rejected passwords.
Reviews
According to BrightLocal, 84% of consumers trust reviews as much as personal recommendations, and they are now a key part of the research process for many online shoppers.
Adding reviews to your site is a great piece of social proof which helps to build trust with shoppers, as well as giving them useful information which helps them to decide on a purchase. It may take time to build up a good number of reviews on a new site, but by asking customers to review items they've purchased, you can start to get some useful feedback to add to product pages.
FAQs
Frequently asked questions provide useful information to your customers that they can find easily. This saves them time calling or emailing with queries, and reduces pressure on you and your team.
You can start with the obvious potential queries and build it out as you recieve more questions from shoppers. It's also good to include contact details for customers who can't find the information they need.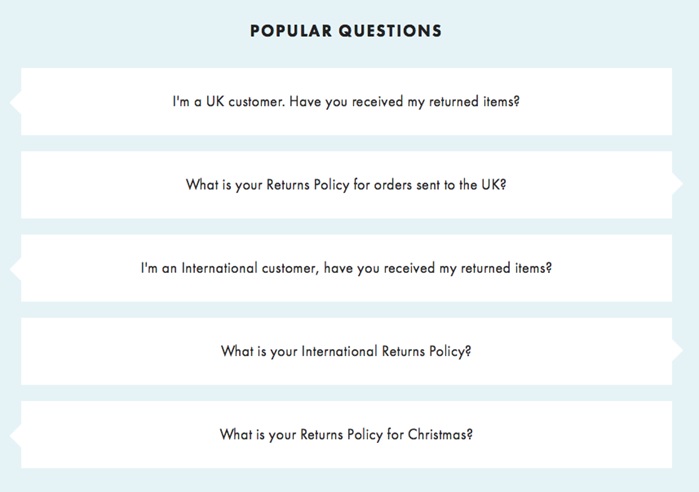 Delivery and returns information
Delivery costs and times, as well as returns can be a key factor in a customer's decision to make a purchase, so it pays to be clear and upfront with this information. Place this information where customers can see it. Links to this from product pages and during checkout help, while it should also be available on FAQs pages.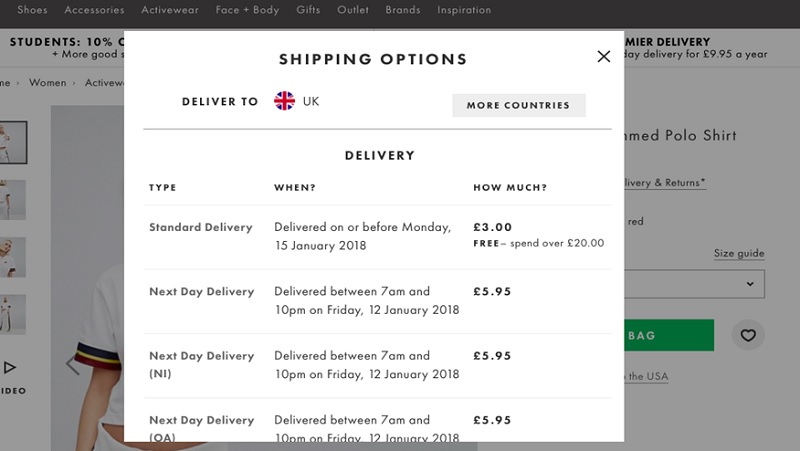 Privacy policies
These are essential, particularly with the imminent arrival of new GDPR regulations in 2018. They tell customers how their data is used and processed, and should be easy to find for customers that want to review them.
Terms and Conditions
Terms and conditions set out the rules of conduct between you and your website visitors or customers and are a requirement for any ecommerce site.
Want to learn more?
How to build traffic to your new site
Once an ecommerce site is up and running, it can take some time and effort before the traffic starts to come. There are a number of ways to build traffic to your online store. With some of these methods you should appreciate that it can be a long game, but there are some shortcuts if you are prepared to pay.
SEO
First of all, ensure you're indexed by Google and the other search engines by submitting sitemaps to Search Console and Bing Webmaster Tools.
Once you've done this, get the basics in place. There is a detailed guide to SEO for new sites here with lots of useful tips, and I'd especially recommend the following:
Internal linking. This is an area you can control yourself, and a good internal linking strategy helps you to send the right signals to Google about which pages you think should rank for specific terms. For example, by linking consistently to a category page for 'slippers' from other pages on the site, it tells Google that the page should rank when users search for the term.
Blogging. This is a great way to get some relevant content out which helps your site rank in its chosen niche. The key is to commit to regular content and produce unique blogs that fit with your brand and products that people will want to read. It's not a tactic that will yield fast results, but over time you can build a blog audience and links to your site that will help drive traffic.
Google My Business. A listing on GMB is free to create and appears prominently in search results for your business name and local search results related to your business.
PPC
Unless you're targeting a very niche set of keywords related to you business, it's going to take time for your site to rank prominently on the search engines, and you may find it very difficult to reach the top positions in some industries.
Paid search (PPC) is a shortcut to higher search positions if you're prepared to pay for it. PPC ads appear at the top and bottom of search results pages, above the organic results. You'll pay for each click through from a PPC ad, with the amount depending on how competitive the term is.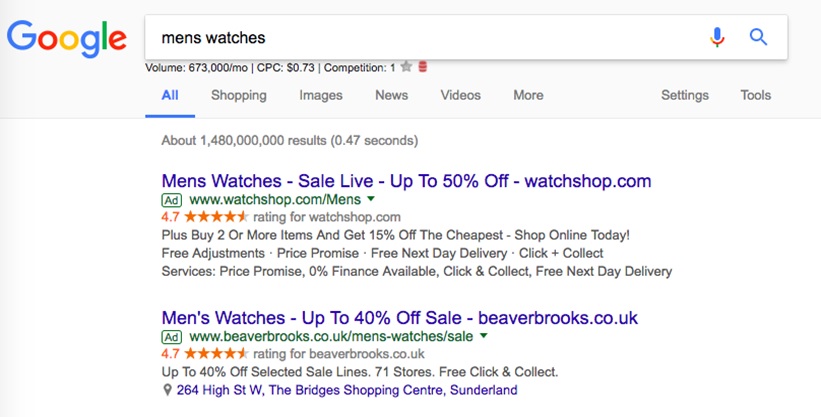 This is a great way to drive some traffic quickly, though you'll need to ensure that you can convert enough of these visitors to make this tactic cost-effective.
Promote your site through offline channels
If you've launched a website, promote it in your existing stores. Posters and flyers can be used to tell people they can also shop with you online.
Email marketing
You may already have a list of customers to email about your new site, but if not it's time to start building an email database.
You can ask site visitors and new customers to sign up so you can send them emails with product offers and updates. It will take time to build up a sizable list, but email offers one of the best returns (ROI) of any marketing channel.
Social media
Perhaps you're already on social media, in which case you can promote your new website to existing followers, otherwise it's good to get onto the most relevant social channels for your business.
Like blogging, social media can take time and effort to produce results, but with the right content it's possible to build a following and drive traffic to your site. You can also participate in any niche social media sites or forums within your industry. If you're helpful and informative, it's a great way to build awareness of your business.
Reach out to press and bloggers
Identify relevant news websites and bloggers in your niche and pitch to them the news of your site and products. This can generate useful coverage, and perhaps some links to help improve your search rankings.
Work hard on keeping customers happy
Your existing customers may be one of the best ways to market your new ecommerce site, as happy customers often tell their friends and family how they enjoyed your products and site, and leave positive reviews for other potential customers to see.
In addition, happy customers are more likely to buy from you again while of course, the reverse is true. A bad experience means negative reviews and customers who won't return to buy again.
Make an effort with service for your customers, deliver on time, and handle any customer questions and complaints well, and you can start to build a reputation for great customer service.
Want to learn more?